Overview
Recent polling has seen a shift in favor toward the U.K.'s Leave campaign. Though still marginally in the minority according to the latest Financial Times poll of polls, the data would suggest that the race is now substantially closer than even two weeks ago. This swing has seen the Brexit risk premium once again become elevated in the relevant financial assets, most notably sterling.
However, polling data is notoriously misleading, and we believe looking at the implied probability provided by bookmaker odds gives a much more accurate reflection of the potential for Brexit. Based on that metric, impacted assets are offering exceptional value by over-pricing the likelihood of a successful Leave campaign.
The extent of the risk premium
Our focus will be on the euro/sterling exchange rate "eurgbp" for simplicity, though the same argument can be made for a host of U.K. and sterling exposed equities which have suffered due to similar factors and now offer exceptional value. The accompanying chart highlights the extent of sterling's weakness in recent months, currently standing at c.6.3% year to date at £0.783, having traded as high as £0.809. Roughly 2.3% was added between June 3rd and 6th and can be traced back to the swing in the polls.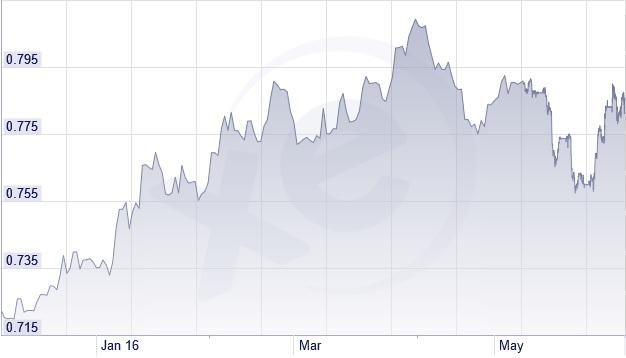 Polling data is misleading
On such emotive topics as national sovereignty, polling data can be greatly misleading. For example, in the lead up to the 2015 Scottish Independence referendum, polling data just 12 days ahead of voting day suggested that voters would choose to break ties with the U.K., only for the ending result to be a comprehensive victory for the other side.
The reasoning for such disparities could be traced to a variety of factors, including the obvious statistical elements like sample selection, testing methods etc. One could also argue that on emotive issues of this form, voters may be reluctant to voice support for the status quo (in these cases remaining in the U.K. for Scotland and remaining in the European Union for Britain), and as such tell pollsters one thing, but ultimately vote differently. As such, basing a risk premium on headline grabbing swings in potentially unrepresentative polls seems unwise.
Bookmaker pricing offers a more accurate depiction
For a more accurate and independent assessment of the likelihood of a Leave vote, we believe the implied probability provided by bookmaker odds to be a superior source. As the table below highlights (source: oddschecker.com), the average odds offered by a large sample of European and U.K. based bookmakers imply a 60% probability of the Remain campaign winning, far more than the current 45% suggested by averaging polling data. The table also highlights that the recent swing in the polls has resulted in even greater value being offered versus 80% implied probability seen on May 20th (editing note: the probability has since moved further in the favor of the Remain camp and stands at 66%, also the implied probabilities do not sum to one as a result of the way bookmaker pricing works).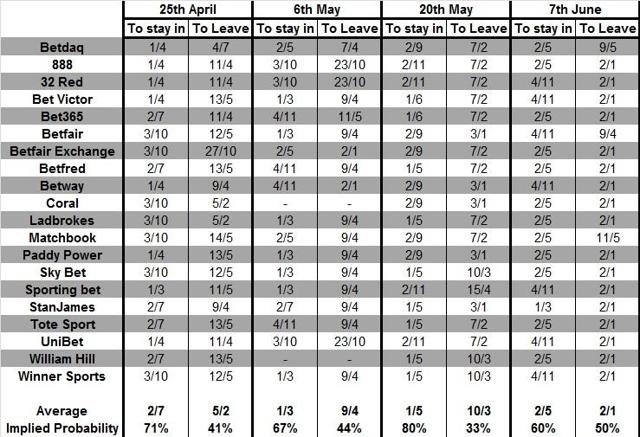 As such, we are advocates of taking advantage of the heightened risk premium currently ascribed to U.K. based assets, in particular sterling, and expect to see the currency trade back toward levels seen in late 2015 and early 2016, close to £0.72 (though we would note that nearly 7 months of uncertainty surrounding the referendum has clearly caused a headwind to the U.K. economy which may ultimately be reflected in sterling trading closer to £0.74 against the euro in the near term).
Gaining exposure
Given the broad based nature of the risk premium, and how it has been large baked into all U.K. focused assets in one form or another, potential avenues to take advantage are numerous. The most direct way is clearly through sterling, either with the CurrencyShares British Pound Sterling Trust ETF (FXB) or the iPath GBP/USD Exchange Rate ETN (GBB). Alternatively, non-U.K. based investors could consider any of the well known FTSE listed direct equities, like Vodafone Group (VOD), Royal Dutch Shell (NYSE:RDS.B), GNC Holdings (GNC) or GlaxoSmithKline (GSK), which would carry less U.K. domestic risk. Equally, a wholly domestically focused alternative would be the likes of Lloyds Banking Group (NYSE:LYG) or Barratt Developments (OTC:BTDPY). Clearly the direct equity route also carries stock specific risk.
Conclusion
Ultimately we believe there is an unwarranted risk premium being ascribed to the likelihood of a successful Leave campaign, based on what we expect will ultimately prove to be overly pessimistic polling data. As such, we would utilize the opportunity to gain exposure to sterling and U.K. based asset to take advantage of the unwind of the premium following the June 23rd referendum where we expect the Remain campaign will prove successful.
Supporting Documents
Disclosure: I/we have no positions in any stocks mentioned, and no plans to initiate any positions within the next 72 hours.
I wrote this article myself, and it expresses my own opinions. I am not receiving compensation for it (other than from Seeking Alpha). I have no business relationship with any company whose stock is mentioned in this article.
Editor's Note: This article discusses one or more securities that do not trade on a major U.S. exchange. Please be aware of the risks associated with these stocks.