We constructed a heat map that contains most of Latin America's ADRs-or at least the most traded ones. We also included country ETFs. We will provide you with a weekly update and some basic analysis on what is happening in our all-LatAm sample. Comments are based on closing prices for the previous week (i.e., Friday 10).
We begin with country ETFs. During the past week, Colombia's bullish equity index (NYSEARCA:GXG) rallied 4.0%. Argentina's bullish ETF (NYSEARCA:ARGT) increased 2.1% last week. Other than those two indices, the rest of our sample remained flat or on the red. A surprise was seen in Peru's ETF (NYSEARCA:EPU), which declined 1.8% in the week that followed the electoral outcome, which showed that Pedro Pablo Kuczynski defeated Keiko Fujimori by less than 50,000 votes. This performance could just be a partial correction to the massive rally of the last 6 months (+42.1%).

Delving down to country specifics and starting with Argentina the best weekly performance was Tenaris (NYSE:TS), which increased 8.1% in the period, followed by Pampa (NYSE:PAM) and Arcos Dorados (NYSE:ARCO), which rose 7.5% and 6.7% in the week, respectively. Tenaris announced last week that it is participating in Usiminas' capital increase. TenarisConfab subscribed to 4.2 million ordinary shares for a total amount of BRL 20.9 million (6.2 million), and also indicated its willingness to subscribe to ordinary shares that remain unsubscribed following the completion of the second subscription round (if any).

Moving on the Brazil, EMBRAER (NYSE:ERJ) fell 2.9% in the week. The company announced the plan of succession for its CEO, appointing Paulo Cesar, who has worked for the company since 1997, and is currently responsible for the Commercial Aviation division. The stock's weak performance seems to reflect that investors were caught by surprise and didn't welcome the appointment. Meanwhile, PETROBRAS (NYSE:PBR) rallied in the week 6.2% after presenting a 6.2% MoM recovery in domestic oil output, reaching a YTD average of 2.02 million bpd, 5.3% below the target of 2.14 bpd. The recovery is mainly due to the record production in pre-salt, with the entry of new wells connected to the FPSO Cidade de Marica in the Lula field, and to the conclusion of some scheduled maintenance. The oil output in the pre-salt area reached 928k bpd (15.9% MoM).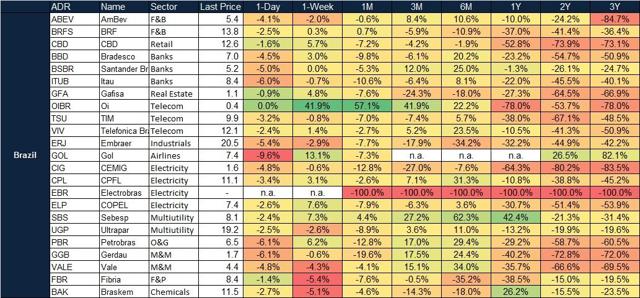 In Chile, at the macro level, affected by a discouraging performance in mining, economic activity climbed in April at its lowest rate in twenty months (+0.7% YOY). At the corporate level, ENDESA CHILE (EOCA) announced the sale of its 20% stake in GNL Quintero to Enagas Chile. The sale of this stake was priced in, as the company had confirmed the hiring of a bank that was assisting it with the asset sale. The agreed price for the transaction with Enagas Chile was $200 million, and ENDESA said that it should generate a net income of $139 million. Meanwhile, LATAM (LFL) delivered its strongest capacity contraction in Brazil year-to-date. Capacity rose 0.3% YOY in May. The company continues to expand on the international (+7.5% YoY) and domestic SSC (+7.3% YoY) fronts, while reducing its exposure to Brazil. LATAM registered a 14.9% YoY capacity cut in the country, as it continued to strongly reduce its exposure to its weakest market. Demand rose 1.2% YOY, mainly due to the healthy performance in the domestic SSC (+8.8% YoY) and international (+6.6% YOY) fronts. Finally, SQM (NYSE:SQM) rallied 4.7% during the week. The company specified the cost-cutting strategy, followed by the Mackenzie strategy, which will allow SQM to save $100 million, involving only 60% of its total operations. Moreover, SQM stated that it should reach 100% of the total operations by 2017, with new potential cost reductions for the coming years.

In Colombia, Avianca (NYSE:AVH) rose 8.8% during the week, explained by its strong traffic performance, which contrasts markedly with its Chilean peer, LATAM. Avianca has rallied 74.8% in the last six months, well above the rest of ADRs in our Colombian sample. Aside from Avianca, Tecnoglass fell 5.0% in the week. The stock has significantly underperformed all other Colombian ADRs over the year.

In Mexico, industrial production reinforced the idea that Mexico's domestic growth keeps relying on private consumption. In April, industrial output reported its 6th MoM setback in seven months (-0.7%), while the indicator dropped 0.9% YOY-its weakest annual reading in 31 months. ANTAD's sales were released during the week. Department stores were the main highlight of the period, posting an 8.9% YOY SSS retreat. Taking into account April and May together, Department stores' SSS increased 9.7% YoY. At the corporate level, Televisa (NYSE:TV) declined 5.3%. The company has declined 10.7% in the last 6 months and 34.9% in the last year. Only ICA (NYSE:ICA) and America Movil (NYSE:AMX), which declined 84.0% and 40.7% in the last year have performed worse than Televisa, which keeps losing market share and TV audience.

Finally, in Peru, Pedro Pablo Kuczynski won the presidential election with 50.12% of the votes (vs. Keiko Fujimori's 49.88%)-a difference of 41,438 votes. Nonetheless, Peru's electoral office (ONPE) warned that thousands of unclear votes from Sunday's run-off still had to be examined by electoral scrutineers. The turnout among the 23 million eligible voters was 80%, well above the continental average. At the corporate level, Grana y Montero (NYSE:GRAM) increased 5.2% in the week, now accumulating an impressive 130.7% rally in the last 6 months. Buenaventura (NYSE:BVN) increased 130.6% in the same period. Almost there.

Disclosure: I/we have no positions in any stocks mentioned, and no plans to initiate any positions within the next 72 hours.
I wrote this article myself, and it expresses my own opinions. I am not receiving compensation for it (other than from Seeking Alpha). I have no business relationship with any company whose stock is mentioned in this article.
Editor's Note: This article covers one or more stocks trading at less than $1 per share and/or with less than a $100 million market cap. Please be aware of the risks associated with these stocks.