Whiting Petroleum (NYSE:WLL) shares have been recovering over the past month, rising over 10% on the back of the rally in crude oil prices. This recovery in Whiting shares is not surprising since the company has lowered its cost base enough to benefit from higher oil pricing by marshalling its assets in a smart manner during trying times.
A strong asset base has fostered margin resilience
Considering that Whiting has assets in two lucrative plays such as the DJ Basin and the Bakken, where the annual net present value of each rig is approximately $41 million, it is now on track to stage a recovery along with crude oil prices. In fact, as shown in the chart below, the two assets mentioned above are among the best in the industry, which is a positive for Whiting Petroleum: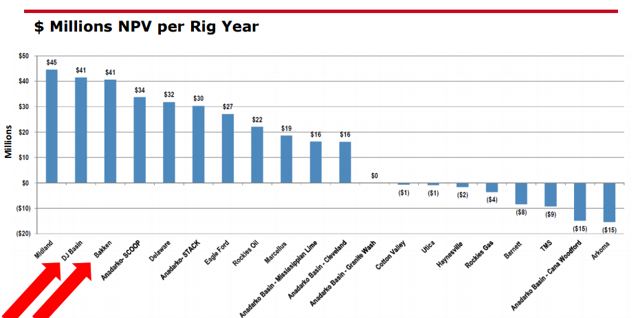 Source: Whiting Petroleum
Whiting is using these assets to its advantage by increasing production at lower costs, as a result of which it will be able to generate higher margins in the future as the oil price recovers. In fact, Whiting has already managed to keep its gross margin decline under control as can be seen in the chart below, and this indicates better things in the future: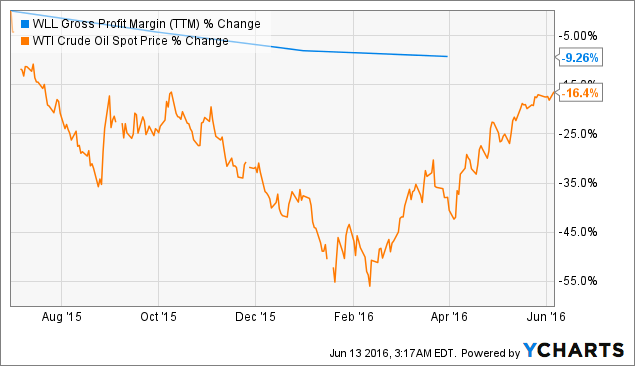 WLL Gross Profit Margin (NYSE:TTM) data by YCharts
As can be seen above, Whiting has recently managed to reduce the gross margin decline rate slightly even though oil prices were down in the first quarter. Now as the oil price has recovered Whiting is in a better position to accelerate margin growth on the back of further improvements in its asset base. Let's see how.
Enhanced completion activity will drive more productivity
In the Bakken's Williston Basin area, Whiting Petroleum is carrying out enhanced completion activity so that it can increase its estimated ultimate recovery rate. In fact, it has completed nearly 50 wells in this region since the beginning of 2015, using more than 5 million pounds of sand per frac with initial production of 120 days.
Driven by the higher usage of frac sand, these wells are tracking close to a 900 MBOE EUR type curve as compared to the 700 MBOE EUR type curve that Whiting was witnessing earlier. This is shown below: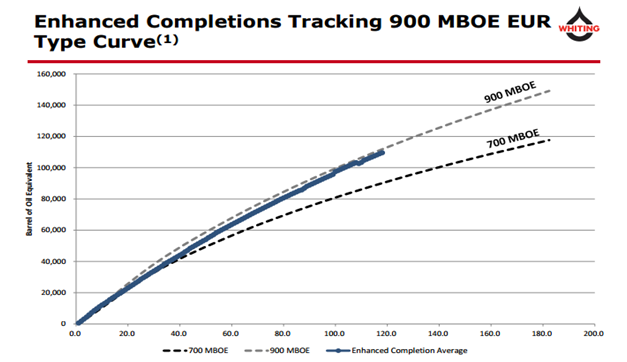 Source: Whiting Petroleum
More importantly, Whiting Petroleum has approximately 446,000 net acres in this area, with 99% of the wells ready to go online. This is a positive sign as utilizing 99% of its core acreage for production should improve Whiting's productivity going forward and enhance its rate of return.
Additionally, there is a good chance that Whiting will be able to further lower its cost base going forward on the back of a favorable agreement that it has struck with a partner as discussed below.
Finding new ways to reduce costs
In the first quarter of 2016, Whiting Petroleum struck an agreement with another operator. As a part of this agreement, Whiting's partner pays approximately 65% of the total well costs to earn a 50% working interest for 44 wellbores in the Williston Basin. Thus, Whiting has made a smart move by transferring its well costs to the other party in the agreement and getting higher production in return.
This is a key reason why Whiting issued an upbeat outlook for the ongoing quarter and the full fiscal year last month. This is because the company can effectively keep its production at robust levels at lower capital expenses.
In addition, Whiting Petroleum is also lowering its lease operating and exploration expenses. Last quarter, Whiting reduced its lease operating costs by 22.7% to $8.56 per BOE on a year-over-year basis. Moreover, its exploration expenses for the quarter fell by a substantial 57.6% to $1.54 per BOE. The following table clearly shows the gains made by Whiting Petroleum on the cost front: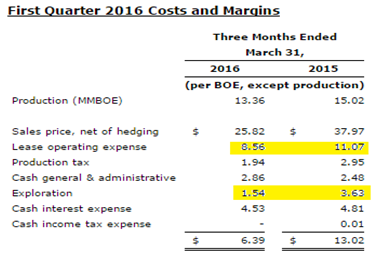 Source: Whiting Petroleum
As observed in the snapshot above, Whiting's cost reduction efforts have allowed the company to offset the lower crude oil and gas price realizations to some extent, which fell 25% and 60% on a year-over-year basis last quarter.
Conclusion
Whiting Petroleum is consistently reducing its costs in smart ways and keeping its production profile intact at the same time. Also, it is focusing on production areas where it can recover more oil at lesser costs in a bid to generate strong returns, which will act as a tailwind for the company in times of better oil prices. Moreover, Whiting has managed to keep its margins in better shape due to its strong asset base. Thus, on the back of these three points and a recovery in oil prices, Whiting Petroleum looks like a good investment for the long run.
Disclosure: I/we have no positions in any stocks mentioned, and no plans to initiate any positions within the next 72 hours.
I wrote this article myself, and it expresses my own opinions. I am not receiving compensation for it (other than from Seeking Alpha). I have no business relationship with any company whose stock is mentioned in this article.