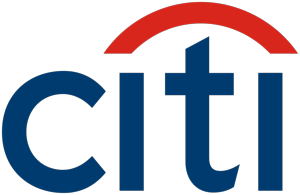 Citigroup, Inc. (NYSE:C) shareholders are growing impatient, understandably. The bank's shares have lost a quarter of their value in the last year, and Citigroup has not been able to shift investor sentiment in a positive direction. In fact, Citigroup's shares again retreated two and a half percent on Friday on concerns over a Brexit vote and lower crude oil prices. With Britain voting in a referendum at the end of the month over whether the country will stay in the European Union, uncertainty has crept back into global markets, driving share prices lower. Weaker crude oil prices added to growing uncertainty, too, and investors will also have to watch what the Federal Reserve is going to do in terms of raising interest rates.
In a related piece on Bank of America (NYSE:BAC), "Bank Of America: Negative Catalyst?", I contended that a Federal Reserve decision to maintain the current federal funds rate target range of 0.25-0.50 percent would likely be a negative catalyst for shares over the short haul. That is because Bank of America, and Citigroup for that matter, crave higher interest rates because it will boost their Net Interest Income. Therefore, if the Federal Reserve decides to leave the federal funds target range unchanged, NII tailwinds will be delayed, which could potentially lead to a minor sell-off in financial stocks.
The Federal Reserve put an interest rate hike unusually openly on the table in May, but weak employment data at the beginning of June have raised new doubts about whether the Federal Reserve will push a rate hike through or not.
Steep Discount To (Growing) Accounting Book Value
The Brexit referendum on June 23, 2016 has the potential to be a disruptive event for global stocks. And if the Federal Reserve continues to postpone higher interest rates, Bank of America and Citigroup are the first in line whose valuations are likely going to take a hit.
That being said, though, Citigroup is already quite cheap, selling for 61 cents on the dollar. Citigroup said that its accounting book value at the end of the March quarter was $71.47/share, and its tangible accounting book value was $62.58/share. Citigroup's tangible accounting book value has also grown at a good clip over the last eight quarters, advancing ~11 percent. Today, Citigroup's shares are selling for a 30 percent (!) discount to its tangible accounting book value. Investors are highly unlikely IMO to overpay for Citigroup at such prices.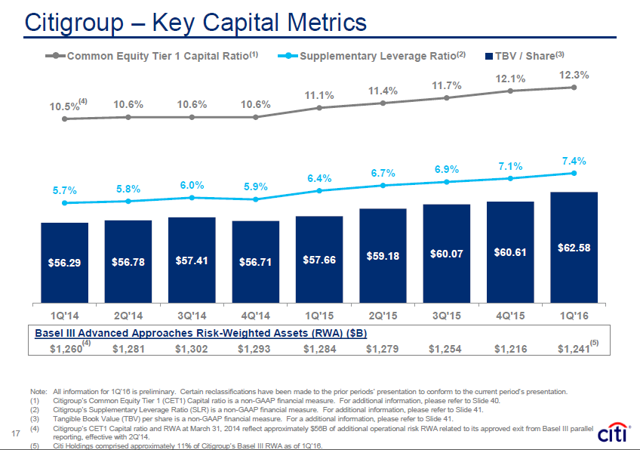 Your Takeaway
Though Citigroup has grown its tangible book value over time, the bank sells for a steep margin of safety. Citigroup may already be cheap, but might get even cheaper in the coming weeks when investors have to digest a Federal Reserve interest rate decision, and a Brexit vote, which could turn out to be quite disruptive for global stocks. Citigroup's tangible accounting book value has risen 11 percent since the 1st quarter of 2014, underscoring that Citigroup is on the right track. As far as I am concerned, investors may want to hold on to Citigroup at this point, even if stock markets slide in the coming weeks, since Citigroup's reward-to-risk ratio and valuation discount are tilted in favor of shareholders.
Disclosure: I am/we are long BAC.
I wrote this article myself, and it expresses my own opinions. I am not receiving compensation for it (other than from Seeking Alpha). I have no business relationship with any company whose stock is mentioned in this article.