Are you an investor or a speculator? That's one of the big questions hidden within The Intelligent Investor, by Benjamin Graham. Graham clearly suggested being an investor was better. However, what makes the financial market so exciting is that there are a lot of speculators out there. And leveraged ETFs, which are currently facing SEC scrutiny, are perfect ways to gamble. That's fine, as long as you realize and accept the risks.
The gold rally
Between mid-January and the end of April, commodities were in rally mode. Which is the back drop behind giant gold miner Barrick Gold's (NYSE:ABX) impressive 145% gain over that span. But there was another gold investment that totally blew that gain away, with an advance of 475% over the same span! That's an astounding gain for what amounts to just over a third of a year.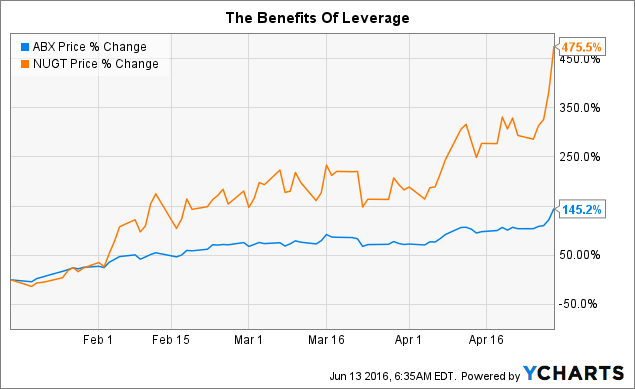 ABX data by YCharts
What went up so far so fast? Direxion Daily Gold Miners Index Bull 3x Shares (NYSEARCA:NUGT). Essentially, this exchange traded fund, or ETF, is designed to track a basket of gold miners and move three times that basket. The company also offers Direxion Daily Gold Miners Index Bear 3x Shares (NYSEARCA:DUST), a cute if not ominous symbol, that moves three times in the opposite direction-meaning if the gold basket goes down, DUST goes up three times the loss.
If you are looking for a way to really juice your returns on an investment in which you have a high degree of conviction, these types of leveraged ETFs are tailor made to your needs. But what about the risks? For example, during the gold rally DUST lost over 90% of its value. So if your high conviction trade was that gold prices would keep heading lower, and you bought DUST, you would have basically lost your shirt as gold moved higher.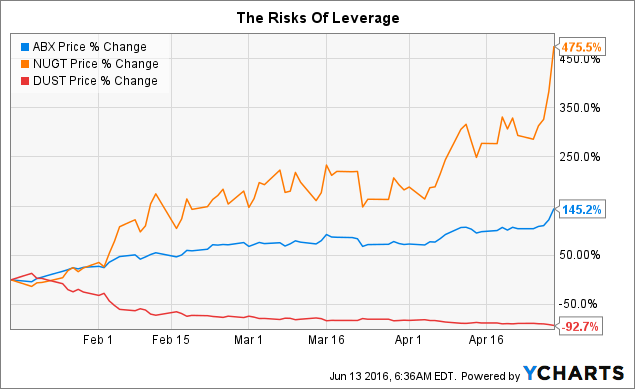 ABX data by YCharts
Here's the gun
These types of securities are, clearly, meant for active and sophisticated traders. However, the SEC is thinking about curbing the amount of leverage that these types of ETFs can take on, with three times leverage squarely in the SEC's cross hairs. It looks like two times ETFs might be able to keep going. Although you might wonder why the SEC ever allowed these securities to be brought into existence in the first place if it thinks they are so worrisome, that's an issue for the history books-they are here and the SEC is thinking about doing something.
The problem is really that, in the wrong hands, a three times (or even a two times) ETF can be like playing Russian Roulette. It might work out well when you pull the trigger, but when it goes against you the effect is pretty catastrophic. DUST's 90% decline in roughly three months or so is the perfect example.
With the market again flirting with all-time highs despite still lingering structural and economic issues, I think now is a pretty good time for the SEC to be talking about risky investments. (Actually, I'd say they are too late, but better late than never, I guess.) And that risk goes well beyond gold, since there are leveraged ETFs that trade around broad based indexes like the S&P 500, sectors like technology, sector niches like biotech, bonds, and markets in foreign countries. There are any number of ways to score big or shoot yourself in the head.
It's a daily thing
There's one other issue that's worth noting about these securities, they only achieve their objective on a daily basis. So, over the long-term, they aren't designed to triple (or double) an index, just on a single day. That means that long-term performance can materially deviate from the triple that's implied in the name. It's why DUST and NUGT both include the world "daily" in their names.
To give you an example, SPDR S&P 500 ETF Trust (NYSEARCA:SPY) is up around 3% so far this year. So, in theory, you'd expect a three times S&P 500 ETF to be up around 9%. But that doesn't play out, with Direxion Daily S&P 500 Bull 3x Shares (NYSEARCA:SPXL) up only 6.6% or so. Now it's kind of hard to complain about a 6.6% gain versus a 3% gain, but why the difference?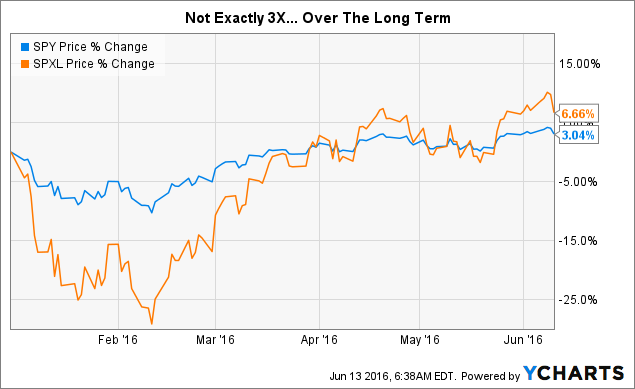 SPY data by YCharts
The chart above provides a pretty clear answer. In the early part of 2015 the S&P moved swiftly lower. SPXL did exactly what it was expected to do and tripled the index's performance each day. In this case, that meant losses three times as large as the index loss. This put SPXL in a relative performance hole. It took the ETF until roughly April to get back to even with the non-leveraged index. This is a great example of why you need to fully understand what you are buying so you don't get hit with an unexpected surprise.
Not the time for leverage
I have material concerns about the current state of the markets and would caution that now isn't the time to increase risk via the use of excessive leverage. In the case of three times ETFs I'd argue extreme leverage is a better choice of words. Yes, you could make a lot of money. But you could also lose a lot of money if your bet turns out to be wrong. I'd even be cautious about closed-end funds that use leverage, usually in the 20% to 30% range, if you are only looking to own them for a short period of time.
That said, for aggressive investors looking to try and time the markets, these types of heavily leveraged ETFs are great options (for as long as they last, anyway). For everyone else, however, multiple ETFs are a loaded gun and the SEC is right to at least bring those risks to light as loudly as it can. And now is a good time for that warning. Sure, the SEC let this cat out of the bag years ago and putting it back in now is going to be hard. But at least the regulator can try to help those who don't realize they are playing with a loaded gun stop themselves before they get shot.
Disclosure: I/we have no positions in any stocks mentioned, and no plans to initiate any positions within the next 72 hours.
I wrote this article myself, and it expresses my own opinions. I am not receiving compensation for it (other than from Seeking Alpha). I have no business relationship with any company whose stock is mentioned in this article.