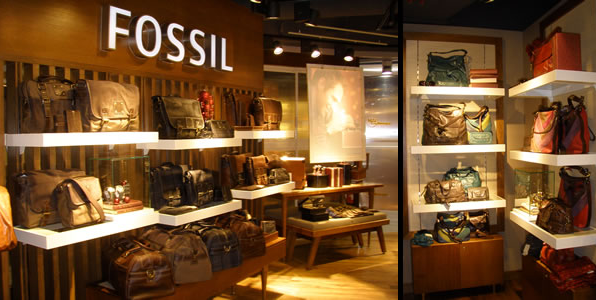 Watch and accessory retailer Fossil (NASDAQ:FOSL) has been absolutely decimated in the past two years or so. The company's formerly robust and profitable business has given way to enormous competitive challenges including the fairly new wearables category that has seen Fossil cede revenue share to companies like Fitbit (NYSE:FIT) and Apple (NASDAQ:AAPL). I've been on the wrong side of this one in the past and with shares making new lows again following the Q1 report, surely longs are wondering where the bottom may be.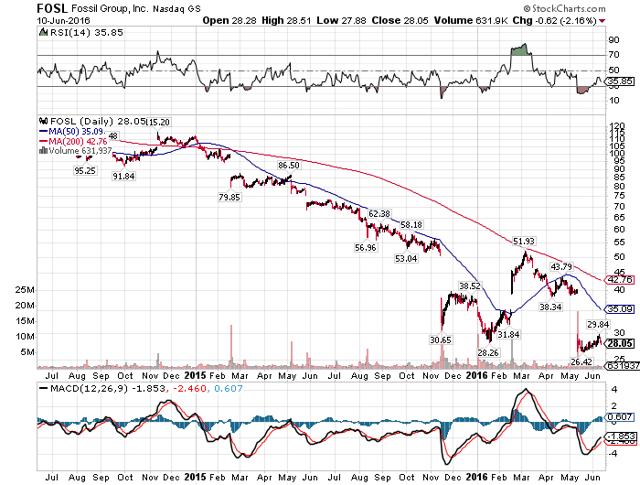 Fossil has been struggling for several quarters now as it continues to lose in the marketplace to newcomers in the wearable category. Competition in that space is intense as well but of course, a person that purchases a wearable isn't likely to also purchase a watch since they can't be worn at the same time. That means that any gains made in the wearables space are directly taken from traditional watch sellers like Fossil. We are told that Fossil is entering the wearables category later this year but at this point, it may be too late.
Rather than focusing on the quarter itself, I'll hit some highlights that help shed some light on the operating environment Fossil finds itself in. Q1 looked a lot like other recent quarters for Fossil but the real problem with this one is that we are in a new fiscal year which means Fossil's comparables are much easier this time around than they were last year. Business fell off a cliff in 2015 and investors were obviously expecting comps to pick up based upon that for Q1. That didn't happen and shares were mercilessly pounded for it.
Revenue was awful whether you exclude forex or not, losing 7% on a constant currency basis. The bottom line is that Fossil's watch category is getting crushed but its jewelry category was even worse in Q1, losing 11% of its revenue base. Those kinds of losses aren't sustainable for any retailer and given that Fossil was already beaten down, losing revenue in that fashion is catastrophic. The wearables the company plans to produce in the coming quarters may help stem the tide of watch revenue losses but it also may not do anything at all.
Weak sales led to even weaker gross margins - another problem Fossil had in earnest last year - as that number ceded 250bps to 52.8%. Fossil said it lost margins to mix shifts, forex and promotional activities, none of which have much hope of abating anytime soon. The dollar continues to see relative strength against many currencies and given the very weak sales performance from Fossil, I can't imagine the company will suddenly stop promoting to move product. That would likely result in even worse top line performance and that is something it cannot afford.
And while the company produced lower operating costs in Q1, the drastically lower sales number produced significant deleveraging of its SG&A, losing another 310bps. That, combined with the loss in product margin, sent operating margins from a still-respectable 7.7% in last year's Q1 all the way down to just 2.2% this year. That is why investors are scared; very weak sales aren't helping but this kind of operating margin isn't sustainable for Fossil at virtually any valuation.
It caused S&P to cut Fossil's rating to junk status and to be honest, it is bringing up the possibility of the company posting a quarterly loss for the first time in a long time. Operating margins that thin are subject to huge swings to the upside and downside so if we see more sales weakness from Fossil, we could easily see a quarterly loss in the near future.
Earnings are supposed to be half of what they were last year and estimates continue to fall each time Fossil reports. Investors are beyond out of patience with Fossil and with good cause; this company cannot seem to get in front of enormous losses in revenue and a too-late wearables offering is probably not the savior the company needs right now. Guidance was much better for the rest of the year than it was for Q1 but I'd offer that investors don't really have any reason to believe the guidance. Fossil continues to see marked weakness in virtually everything and with weak sales deleveraging operating margins to razor-thin levels, there's really nothing to cling to here for the bulls.
I made the mistake of underestimating the impact of wearables on Fossil's business in the past as I thought watch buyers and wearables buyers were two different customers. As it turns out, that is not the case and the zero sum game of wearables and watches has taken its toll as the category is very crowded at this point. Fossil's guidance is really quite meaningless to me right now because the company has shown no ability to turn things around thus far. I don't think the wearable products Fossil has planned will matter because it is so very late to the game and with the rest of the business mediocre at best, I think Fossil will continue to struggle.
I'm most worried about operating margins because Fossil has already made cuts so further losses in revenue will be very difficult to absorb. Shares are still at better than 13 times this year's earnings, an amount I can't understand any longer. Fossil's earnings are in freefall with no respite in sight so a fair multiple is probably 10 or less. For that reason, despite the fact that shares are near their lows and that the company has a buyback authorization for better than 60% of the current float - yes, I said 60% - I think Fossil is going lower. It has no ability to buy back $800+ million in shares anytime soon so the buyback authorization doesn't excite me. And with Fossil ceding shares to other wearables players, I think the pain will continue. If you want to own Fossil I think you can wait until later this year or even next year and get it for a better price after earnings bottom. I don't know when that will be yet but I'm fairly certain it hasn't happened yet.
Disclosure: I/we have no positions in any stocks mentioned, and no plans to initiate any positions within the next 72 hours.
I wrote this article myself, and it expresses my own opinions. I am not receiving compensation for it (other than from Seeking Alpha). I have no business relationship with any company whose stock is mentioned in this article.