According to the International Energy Agency, 700 GW of renewable energy will come online between 2015 and 2020. To put that in perspective, that amount of green energy is equal to more than double the total power generating capacity of Japan. It's also more than the total electricity demand of China, Brazil, and India -- combined.

Source: NextEra Energy Inc.
Obviously, renewable energy -- such as solar, wind, and hydroelectric -- is going to be one of the largest mega-trends of the next few decades. Dividend investors seeking to cash in on the coming bonanza should consider adding the following four dividend growth stocks, which have the potential to supercharge your diversified dividend portfolio for decades to come.
NextEra Energy and NextEra Energy Partners
In addition to supplying power to over 9 million Floridians, NextEra Energy, Inc. (NYSE:NEE) is America's largest supplier of renewable energy. In fact, about 44% of NextEra's 45 GW of total generating capacity comes from solar and wind, which serves customers in 27 states and Canada. More importantly for new investors is the fact that NextEra Energy has big growth plans for profiting from the green energy gold rush.
Between 2017 and 2018, NextEra plans to bring online up to 5.4 GW of new solar and wind projects. That's in addition to the 4 GW it will have added in 2015 and 2016. To help fund this growth, NextEra Energy Inc. has set up a yieldco called NextEra Energy Partners (NYSEMKT:NEP). This allows the utility to tap debt and equity markets to recoup the construction costs.
The way it works is that NextEra Energy Partners raises money through debt and selling additional shares to purchase NextEra Energy, Inc.'s wind and solar projects. Because each project comes with extremely long-term, fixed-price power purchase agreements (PPAs), NextEra Energy Partners has extremely steady cash flow. This is what funds its generous and fast-growing dividend. In fact, NextEra Energy Partners' average remaining contract duration with large creditworthy utilities is 19 years.
In terms of dividend growth, owing to the enormous pipeline of both existing and upcoming solar and wind projects under construction, NextEra Energy Partners expects to grow its payout by 12%-15% through 2020. Since a good rule of thumb for total returns is yield + long-term dividend growth, this means investors could be looking at potentially 15%-20% returns over the next five years.
| | | | |
| --- | --- | --- | --- |
| Utility/YieldCo | Forward Yield | Q1 Payout Ratio | Projected Long-Term Payout Growth Rate |
| NextEra Energy Inc. | 2.8% | 63% | 8.5% |
| NextEra Energy Partners | 4.4% | 35% | 12% to 15% through 2020 |
| NRG Yield | 5.8% | 51% | 15% through 2018 |
| 8Point3 Energy Partners | 6.3% | 24% | 12% to 15% through 2018 |
Sources: Yahoo Finance, Fastgraphs, 10-Qs, earnings releases, investor presentations, and management guidance.
While NextEra Energy, Inc. doesn't have nearly as appealing a payout as some of these yieldcos, for a large diversified utility its analyst-projected long-term dividend growth is still very impressive. Of course, analyst estimates can always be wrong. However, NextEra Energy Partners, thanks to the regular dividends as well as the incentive distribution rights it pays to NextEra Energy, Inc., makes me think that those projections are reasonable. After all, NextEra, Inc. management is expecting adjusted earnings to grow between 6% and 8% annually through 2018, and its low dividend payout ratio has plenty of room for expansion.
NRG Yield
NRG Energy, Inc. (NYSE:NRG) has nearly 48 GW of generating capacity and serves as sponsor, general partner, and management for its yieldco, NRG Yield (NYSE:NYLD). NRG Yield already owns 6 GW of total power capacity, 66% of which is solar and wind.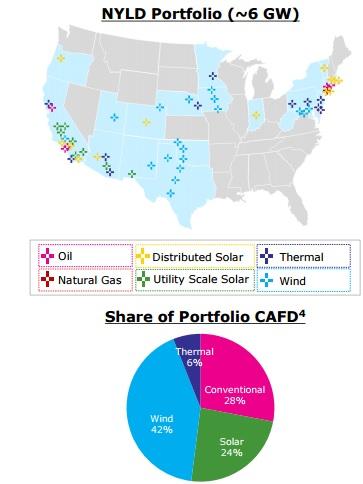 Source: NRG Yield investor presentation.
Owing to the remaining 2.15 GW of renewable capacity NRG Energy, Inc. owns or has under construction, NRG Yield expects to be able to grow its dividend by 15% annually through 2018. The cash flow backing this plan is secured under PPAs with an average remaining term of 17 years.
What about after 2018? Will NRG Yield's dividend growth fall off a cliff? Given that current state renewable portfolio standards for 2030 require at least 60 GW of new green energy capacity, I expect this yieldco to continuing generating many more years of strong payout growth.
8Point3 Energy Partners
8Point3 Energy Partners (NASDAQ:CAFD) has both First Solar (NASDAQ:FSLR) and SunPower (NASDAQ:SPWR) as sponsors and general partners. Having the backing of America's two largest and most financially secure solar panel manufacturers makes this pure-play solar yieldco a top choice for dividend investors.
CAFD launched with an IPO portfolio of 432 MW of solar projects under an average PPA term of 22 years. However, decades of strong dividend growth come from First Solar's and SunPower's development pipeline of over 13.7 GW of current and potential projects in over 25 countries. Thus, 8Point3 Energy Partners has the potential to become a truly global solar utility, one set to benefit from over 430 GW of projected solar expansion projected to be constructed between 2016 and 2030.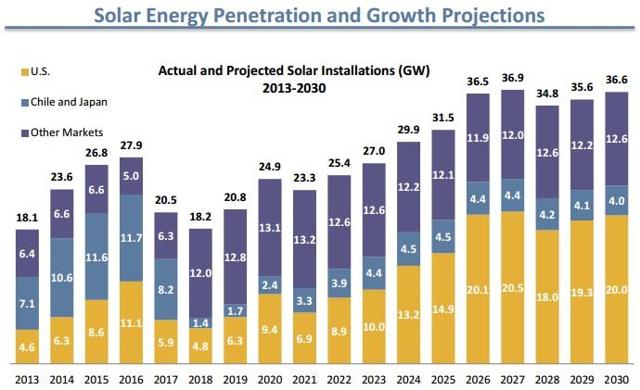 Source: 8Point3 Energy Partners investor presentation.
Risks to Consider
As bullish as I am about these four high-yield renewable dividend growth stocks, all investments come with some risks.
For the yieldcos, the largest risk is the simple fact that renewable energy prices continue to drop quickly over time. That means that when those long-term PPAs expire, they'll likely have to renegotiate much lower energy prices with their utility customers. That, in turn, could slow the rate they can grow cash available for distribution and thus greatly slow the rate of distribution growth.
In addition, because the yieldco business model is similar to that of MLPs and REITs in that the majority of cash flow is paid out to investors, you'll want to watch these stocks' balance sheets closely. Too much debt could result in unsustainable dividends if their leverage ratios violate the debt covenants they have with their creditors.
| | | |
| --- | --- | --- |
| Utility/YieldCo | Leverage Ratio | Interest Coverage Ratio |
| NextEra Energy Inc. | 3.96 | 3.39 |
| NextEra Energy Partners | 9.42 | 1.42 |
| NRG Yield | 7.27 | 1.26 |
| 8Point3 Energy Partners | 4.26 | NA |
Sources: Morningstar, investor presentations, 10-Qs, and Gurufocus.
Luckily, management at these yieldcos is rather conservative and long-term-focused, which is why I don't expect their debt loads to get out of hand. For example, 8Point3 Energy Partners plans on maintaining a leverage ratio of around 4.0, while NRG Yield has a plan in place to steadily decrease its leverage ratio to a sustainable 3.5.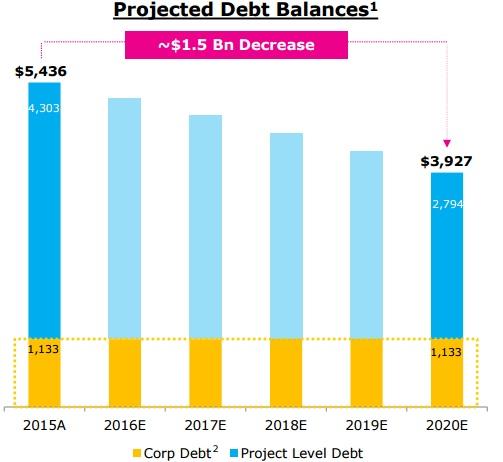 Source: NRG Yield Investor presentation.
Finally, because the yieldco business model relies on large amounts of external funding, all three yieldcos are at somewhat at the mercy of investor sentiment -- which can turn on a dime. In addition, NRG Yield, 8Point3 Energy Partners, and NextEra Energy Partners -- despite their utility business models -- are all far more volatile than traditional utilities such as NextEra Energy, Inc. Just take a look at their respective betas, which compare volatility to that of the S&P 500:
NextEra Energy, Inc.: 0.38
NextEra Energy Partners: 1.92
NRG Yield: 1.02
8Point3 Energy Partners: N/A
High volatility isn't a problem for long-term investors who stand to benefit from adding on dips. However, for risk-averse investors with short time horizons (such as retirees), large drawdowns might be something they wish to avoid.
Bottom Line: These Names Offer an Attractive Way for Dividend Investors to Profit From the Rise of Renewable Energy
While the long-term business model of renewable energy yieldcos has yet to be proven, for those long-term investors who don't mind the high volatility, NextEra Energy Partners, NRG Yield, and 8Point3 Energy Partners offer both high current income and strong payout growth prospects for many years to come. Meanwhile, more risk-averse investors should consider NextEra Energy, Inc., as no other utility stands to benefit as much from the growth of green energy.
Disclosure: I/we have no positions in any stocks mentioned, and no plans to initiate any positions within the next 72 hours.
I wrote this article myself, and it expresses my own opinions. I am not receiving compensation for it (other than from Seeking Alpha). I have no business relationship with any company whose stock is mentioned in this article.