Digital Cash Expected to Grow
Apple (NASDAQ:AAPL) is positioning itself to become the leader in the emerging electronic payment space, which even at this early stage already has a number of participants, including Alphabet (NASDAQ:GOOG) (NASDAQ:GOOGL) with Android Pay, Samsung (OTC:SSNLF), Wal-Mart (NYSE:WMT) and many others. We expect Apple to discuss its mobile wallet at WWDC, which begins today in San Francisco.
Mobile wallets are a niche product at this early point. Domestically, only 0.2% of all in-store sales were paid for using smart devices in 2015, according to research firm eMarketer. Apple Pay launched domestically in October of 2014, in the UK in July of 2015 and in China and Singapore more recently. Shortly after its launch, CEO Tim Cook noted in the company's 1Q15 conference call that "2015 will be the year of Apple Pay."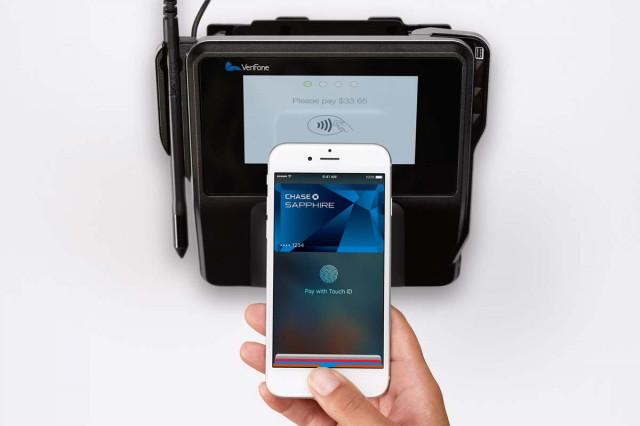 However, Apple Pay did not gain the traction that management anticipated. Consulting firm First Annapolis conducted a survey of 1,300 people and found that awareness and usage of Apple Pay declined slightly from spring 2015 to December 2015.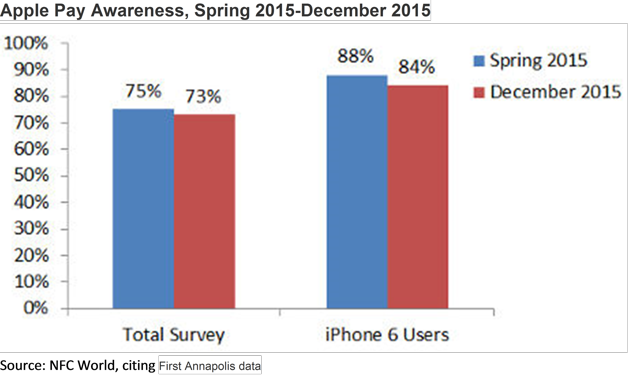 Nevertheless, Apple management recently noted that "Apple Pay is growing at a tremendous rate, with more than five times the transaction volume of a year ago and 1 million new users per week. There are more than 10 million contactless-ready locations in the countries where Apple Pay has launched to date, including over 2.5 million locations now accepting Apple Pay in the United States, and more expansion of Apple Pay is coming soon."
Despite the slower than expected 2015, First Annapolis also believes that Apple Pay has strong prospects. The consulting firm notes that although "early adoption of Apple Pay may not be as high as expected and appears to have plateaued since the initial launch in October 2014, usage is likely to continue to increase with the proliferation of other mobile payment solutions which should expand the merchant acceptance base and broaden the availability and visibility of mobile payments in general."
Many in the payments space are optimistic that the overall electronic payments market will grow. Over the years, payments have become increasingly card-based, with credit, debit and pre-loaded cards replacing checks and cash for many purchases. Now electronic payments are expected to gain market share compared to cash and checks.
Shift to Electronic Commerce
According to McKinsey, "The U.S. merchant payments landscape is undergoing a period of rapid, technology-driven change... Consumers use the new tools to move dynamically between computer, mobile device and in-store experiences while shopping."
McKinsey forecasts that total electronic payments volume will grow by about 7% per annum over the next five years, driven primarily by continued expansion of digital commerce and rising electronic payments acceptance at small merchants.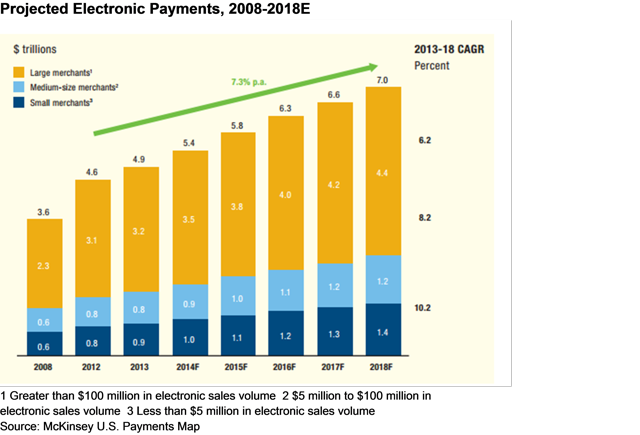 Until recently, POS (point of sale) electronic transactions had been constrained by older POS infrastructure that could not accept electronic payments. This is changing as retailers upgrade technology. As a result, transactions continue to shift to online and mobile, driven by expanding access to the internet - an estimated 438 million mobile devices in the U.S. accessed the internet in 2013, and this metric is expected to reach more than 690 million devices in 2018 - and the increasing adoption of electronic payments.
Worldwide e-commerce spending as a percentage of total retail expenditures is projected to reach 9% in 2018, up from 6% in 2013, according to the eMarketer Report. This trend is forecast to continue, reflecting rising consumption among younger, internet savvy users. eMarketer estimates that e-commerce will grow at double-digit rates domestically for the next couple of years. According to electronic and POS payment solutions provider Ayden, mobile accounted for 28.7% of total online payments in 2Q15, up from 27.2% in 1Q15.
Moreover, mobile payment options enable many small businesses to complete transactions they could not accept before because they were not equipped to take credit card payments. Mobile contactless payments also are generally faster and more convenient for many types of transactions than credit as they enable consumers to pay for purchases by passing their phone near a point of sale terminal. Growing mobile penetration is expected to further fuel increased spending via mobile devices. With its sizable share of the smartphone market despite concerns about iPhone sales, which fell 18% y/y in the March 2016 quarter, we believe Apple is well positioned to be a leader - if not the leader - in electronic payments.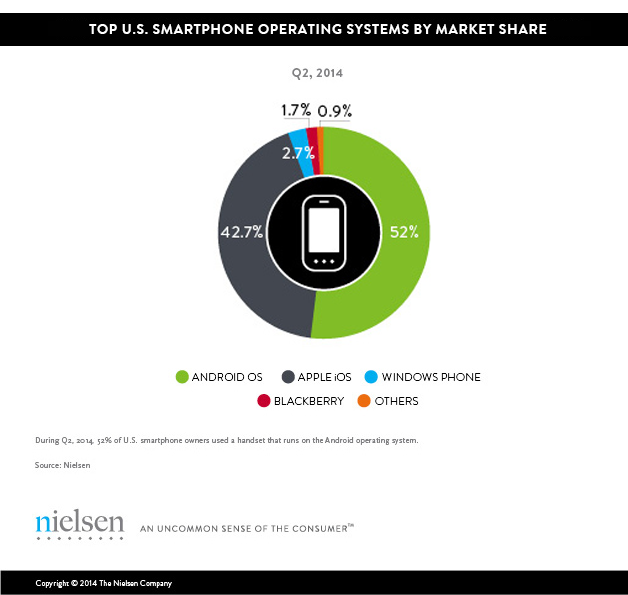 The U.S. has lagged other markets in electronic payment adoption but is expected to catch up. According to First Data (NYSE:FDC), the slower U.S. adoption is "primarily due to the greater complexity of its financial and communications ecosystems," including a "diverse array of handset manufacturers, mobile network operators, financial institutions, and payment networks," which have had difficulty reaching agreement on m-commerce standards and economics along the value chain. The mobile percentage of total e-commerce transactions in the U.S. is slightly lower than the worldwide average, at 29% compared to 34% globally.
"[T]he evolution of the U.S. retail payment infrastructure has been comparatively slow," according to MasterCard (NYSE:MA). U.S. infrastructure is expected to catch up, reflecting the convenience mobile POS payment technology offers both customers and merchants. Consumers can pay for purchases by passing their phone near a point of sale terminal, as noted, using NFC (near-field communication) technology, which allows two devices placed within close proximity to exchange data, as long as both devices are equipped with an NFC chip.
Moreover, small businesses are often denied service by traditional credit card providers and therefore have strong incentive to offer a mobile payment option. An estimated 20 million domestic vendors do not accept card payments today, according to Square (NYSE:SQ). According to a Hospitality Technology study, 38% of restaurant businesses surveyed plan to develop or deploy a mobile POS solution.
Growing mobile penetration and increased consumer reliance on mobile shopping apps that provide price comparisons or product reviews also are expected to fuel mobile device spending. There are roughly 1.3 billion active credit and debit accounts globally compared to about 5.3 billion active mobile phone accounts. Recent data indicates that mobile payment is growing globally at approximately 50% each year.
The transition to EMV (Europay-MasterCard-Visa (NYSE:V)) technology is another likely catalyst for growth. EMV is a global standard for credit cards equipped with computer chips. This technology is different from the traditional metallic strip on older credit cards. Moreover, as of October 1, 2015, if a retailer does not have an EMV-compliant terminal, it could be liable for any transactions found to be fraudulent, according to First Data. The SPA (Smart Payment Association) notes that 2,060 million payment chip cards were shipped globally in 2015, up 34% versus 2014, fueled partially by EMV upgrades in the U.S.
"Demand for contactless payment cards continued to surge in geographies where the technology already has a foothold. In 2015, 56% of all smart card shipments globally (excluding the Americas) featured contactless technology - a 24% growth as compared to the year before," according to the SPA.
According to a MIT Technology Review, "Momentum for mobile payment technologies was building even before Apple Pay debuted... Some 17 percent of all smartphone users reported making a point-of-sale payment with their phone in 2013, up from 6 percent in 2012, according to a U.S. Federal Reserve survey. In-person mobile payments in the United States more than doubled in 2014, to $3.7 billion, according to Forrester Research. Meanwhile, as services such as Uber (Private:UBER) and stores like Starbucks (NASDAQ:SBUX) allow people to pay via mobile app, transactions that once brought out the wallet are disappearing into the phone, where they are faster and should be more secure. You can use your existing credit card accounts, but you never have to pull out the physical cards."
Apple Pay at WWDC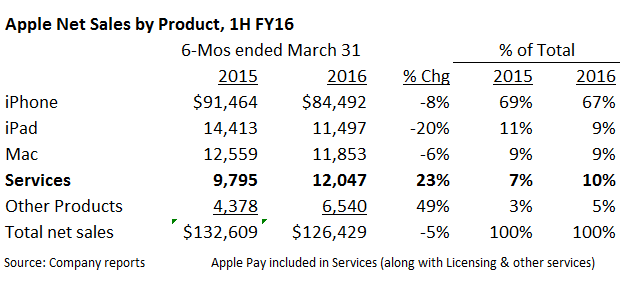 Management is expected to discuss Apple Pay at its developer conference this week. As noted, the service had gotten off to a slower than expected start, but we remain optimistic about its prospects. Services revenue, the category in which Apple Pay is recorded, grew 23% in the first half of fiscal 2016 to 10% of total revenue from 7%. (Apple Pay is just one component of Service revenue.) It has not yet made a meaningful impact on Apple's financial results, but is still an extremely young service.
Management is optimistic that Apple Pay will increase its financial contribution to Apple. On its recent earnings conference call, the company noted that Apple Pay "doesn't provide a meaningful financial contribution at this point, but as we look at the amount of transactions that are going through Apple Pay right now and we think ahead for the long term, that could be an interesting business for us as well."
We expect management to discuss the service at WWDC this week. Features that might debut at WWDC include an expansion of the service to web browsers, a person-to-person enhancement and additional geographic market launches. We agree with management that Apple Pay could become "an interesting business" for Apple.
Disclosure: I/we have no positions in any stocks mentioned, and no plans to initiate any positions within the next 72 hours.
I wrote this article myself, and it expresses my own opinions. I am not receiving compensation for it (other than from Seeking Alpha). I have no business relationship with any company whose stock is mentioned in this article.