I recently wrote an article discussing valuation in which I used Realty Income (NYSE:O) as an example of an overpriced stock. Some comments on the article suggested that my analysis of the stock's valuation wasn't deep enough. So, here's a bit more to work with.
Dividend Yield
When I looked Realty Income, I used dividend yield as a valuation metric. Some investors don't recognize yield as a valuation tool, but it can be truly useful in this regard. That's because, unlike earnings, dividends tend to be more stable over time. So you can get a sense for what investors are willing to pay for a company by watching the historical dividend yield trends.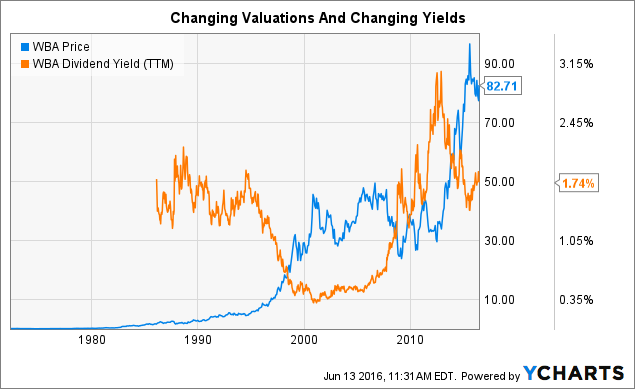 Walgreens Boots Alliance (NASDAQ:WBA) is an example I like because it was the "fish that got away." If you look at the history of the yield, there's a story to be told (this is the brief overview version, at best). It traded in a range for many years and then, leading into the 2000 peak, the yield started to shrink materially. Essentially, valuations were reaching extreme levels during a boom period for the markets. Then, Walgreens (it didn't combine with Boots until just a few years ago) started to up its dividend more aggressively. However, the yield kept moving up, too, eventually getting back into the range that existed prior to the 2000 run-up. And then something odd happened, there was a spike to nearly 4% (which is when I almost bought the stock). That was at a time when Walgreens wasn't doing quite as well as it had and industry watchers were questioning its growth prospects. Then, it inked a deal with Boots, and investors started to get more comfortable with the name and its future, bringing the yield back down. That yield spike was a great time to buy the stock if only I hadn't insisted on a 4% yield...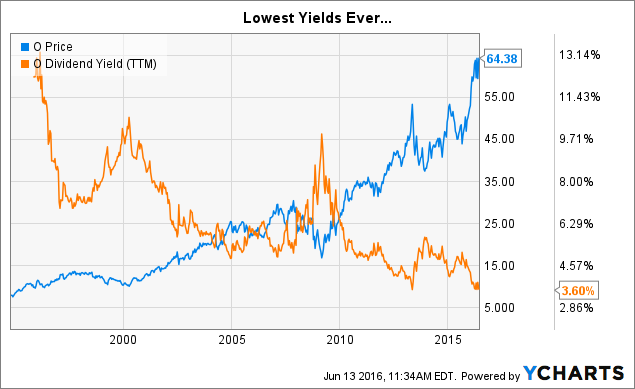 Now look at Realty Income's yield chart. The yield is basically lower than it's ever been before. That strongly suggests the shares are expensive today.
How About AFFO?
But if that's not enough to convince you that Realty Income's shares are dear today, how about a different metric, price to adjusted funds from operations, or price to AFFO? Taking a look back at Realty Income's stats between 2000 and 2010, it generally traded at a price to AFFO level of between 10 and 15. Then, in 2010, price to AFFO started to shift higher, reaching basically 20 in 2012.
During the first-quarter conference call, Realty Income's management reiterated its full-year 2016 guidance for AFFO of between $2.85 and $2.90. At the low end of that range, Realty Income's price to forward AFFO is currently around 22. At the high end, its price to forward AFFO is 21.7. Essentially, the valuation for Realty Income appears to be getting higher and higher. Just like what looking at the historically low yield suggests.
It Could Never Happen
Some readers have suggested that valuation is less important than the regular and reliable growth of the dividend. I won't argue with that logic, so long as an investor is willing to hold on to the stock through thick and thin. And don't fool yourself, holding through the trouble spots can be very hard, even if the dividend is still being paid.
For example, if Realty Income's price to AFFO were to drop to 15 it would suggest a share price of about $45 or so, using 2016's guidance. If price to AFFO were instead 17.5, it would suggest a price of roughly $50. A price to AFFO level of 20 would lead to a share price of around $58.
Since the shares were trading at around $63 when I wrote this, a price to AFFO of 20 would mean a decline of 8%. That's livable, but keep in mind the annual dividend is about $2.40 a share. So the share price drop would be equal to about two years' worth of dividends. A price to AFFO of 17.5 suggests a price decline of nearly 22% from recent levels or nearly five and half years' worth of the current dividend. Going all the way to a 15 price to AFFO, which was toward the top of the range between 2000 and 2010, would mean a decline of 30% from current levels. That's about seven and half years' worth of dividends.
It's easy to say you'll hold on through a bad spell when the shares of something you own are trading at premium valuations. It's harder to do so while you watch an investment fall. And if you believe that Realty Income couldn't possibly fall that much, the current dividend would only equate to a 5.3% yield at a price of $45 a share. That's hardly a shockingly high yield and one that Realty Income's yield history suggests is reasonable, if not still a little low.
In fact, I'd be more worried that there's a major REIT or market dislocation and that Realty Income's price to AFFO goes back to the low end of the range it was in during 2000 and 2010. Using a price to AFFO of 10 suggests a price of around $30, or less than half of what it is today. Could you hold on through that kind of pain? Before you say that could never happen, look at the Internet bubble and the housing bubble. If we are in a yield bubble driven by the Federal Reserve's artificially low rates, that kind of a drop, even if it's only temporary, isn't out of the question.
I like Realty Income, Honest
I'm not trying to bash Realty Income. I think it's an incredibly well-run REIT. That, however, doesn't mean it's a good value at today's prices. If you don't care about the valuation, that's fine. My only warning is that it's really easy to "not care" when prices are high and a lot harder to "not care" when they start to fall. Maybe I'm wrong and Realty Income's stock will never fall in any meaningful way, but the history of the stock market suggests that's not the most likely outcome.
Disclosure: I/we have no positions in any stocks mentioned, and no plans to initiate any positions within the next 72 hours.
I wrote this article myself, and it expresses my own opinions. I am not receiving compensation for it (other than from Seeking Alpha). I have no business relationship with any company whose stock is mentioned in this article.