I firmly believe that Polaris GPUs of Advanced Micro Devices (NASDAQ:AMD) are likely to get inside the next generation of Apple (NASDAQ:AAPL) computers. AMD's decision to sell its first 14-nanometer Polaris GPU for just $199 dimmed the chances of Nvidia (NASDAQ:NVDA) winning back some Mac business this year. Consequently, Apple's upcoming GPU needs could help push AMD's stock even higher this year.
Apple choosing the Polaris GPU will help AMD improve its campaign against Nvidia. Yes, AMD has been retaking market share in GPUs from Nvidia over the last few months. However, as of Q1 2016, Nvidia still enjoys a wide lead in desktop and mobile GPUs. Apple's ability to sell 4-5 million Macs every quarter can boost sales of Polaris GPUs.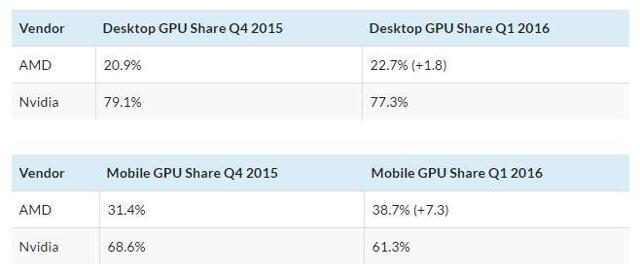 Source: Wccftech.com
The rumor that Apple will use Polaris GPUs started in April. Fudzilla again claimed four days ago that its sources revealed AMD's Polaris GPUs will be used inside the 2016 versions of the iMac and MacBook. This lingering gossip is fortified by the fact that Apple has indeed recently been favoring AMD over Nvidia. The most expensive current models of Macs are now using discrete GPUs made by AMD.
With the circumstantial/real evidences mentioned above, I conclude that Nvidia is not getting any discrete Pascal GPU purchase orders for Apple computers this year. The cheapest Pascal GPU, the GTX 1070 which will retail for $380, is endangered by AMD's low-balling $199 Radeon RX 480.
Why Retaining The Mac Business Is Important
As far as I know, other than Apple, there is no other top PC manufacturer that heavily favors Radeon GPUs. Losing the Mac business could really hurt AMD. On the other hand, the economic benefit from Apple choosing Polaris over Nvidia's Pascal is pretty obvious - AAPL's money can help AMD complete its turnaround story.
Getting 3 to 8 million discrete GPU orders from Apple will help AMD pay interest on, or even reduce, its $2 billion long-term debt. We cannot deny that AMD still carries some of the debt burden that it incurred when it bought ATI/Radeon nine years ago.
The more PC vendors that buy Radeon GPUs, the better it is for AMD's future. I cannot exactly say that Apple will buy Polaris GPUs at an average price of $199. But if we guesstimate that Apple will pay an average price of $40 and then multiply it by 8 million units, AMD can possibly gain $320 million/year.
Consistently getting $320 million every year from Apple is an important tailwind for AMD.
My $320 million/year guesstimate could even go higher. AMD's investors should take note that unlike the stagnating iPhone business, the Mac division is a growing contributor to Apple's top line. From just contributing 2.16% in 3Q 2015, Mac revenue accounted for 10.1% of Apple's revenue in 2Q 2016. Consequently, there's the strong probability that the growing annual sales of Mac computers will continue. Stronger Mac sales benefits AMD.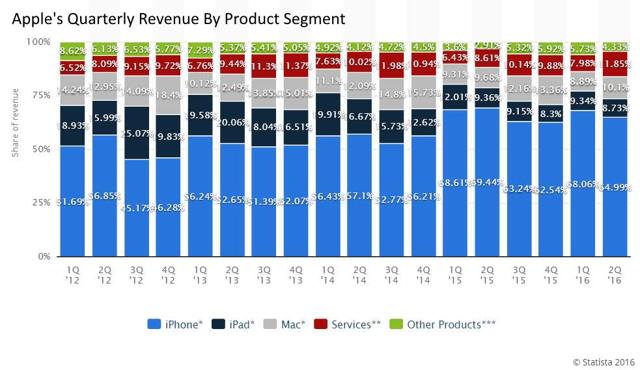 Another Reason Why Apple Will Again Use AMD GPUs
AMD's more affordable Polaris GPUs will help Apple sell more pricey laptops and desktop computers. There are still people who look down on Intel's (NASDAQ:INTC) integrated GPUs. As a Mac user since 1998, I know Apple likes selling computers that are more expensive than its equivalent Windows counterparts. Consequently, getting a cheaper AMD video card (rather than an Nvidia one) helps improve the gross margins on Mac computers.
I also think that Nvidia is not in any mood to match AMD's low pricing for Polaris GPUs just to win some deals from Apple. Nvidia's balance sheet is so healthy that it can easily shrug off Apple snubbing its GPUs. I say this because Nvidia's GPU products are no longer limited to consumer PCs. Nvidia's GPUs are now at the forefront of deep-learning computers.
Apple Also Benefits From AMD's New GPUs
AMD and Apple have a symbiotic relationship. Apple favoring Radeon GPUs is helping AMD survive. The chart below also explains why discrete or stand-alone Radeon GPUs are important to the Mac. Intel's recent integrated GPU solution is still very unsatisfactory to Mac-based gamers. No decent Mac-based gamer will tolerate the 22 fps Diablo III performance of Intel's high-end Iris Pro 6200. Intel has the best x86 CPUs, but Apple still needs AMD to make its Mac more palatable to gamers.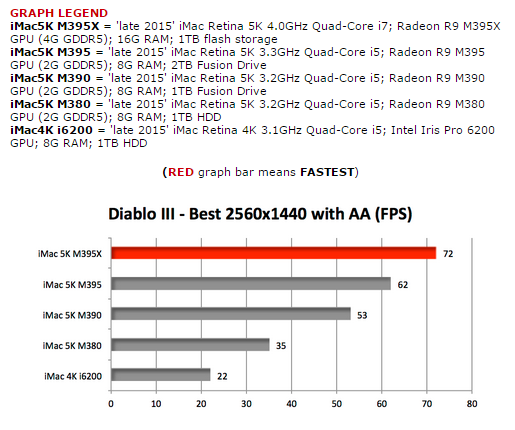 Source: Barefeats.com
For gamers and multimedia editors, the cheaper Radeon RX 480 is obviously the better choice over the $380 GTX 1070 of Nvidia. For less than $200, MacBooks and iMacs could tout virtual reality features and excellent benchmark scores. The Radeon RX 480 is already identified as the 67DF:C7 Polaris GPU, which VideoCardz.com discovered as very competitive against the Radeon R9 Fury. The Radeon RX 480 also outperformed the $629 Nvidia GTX 980.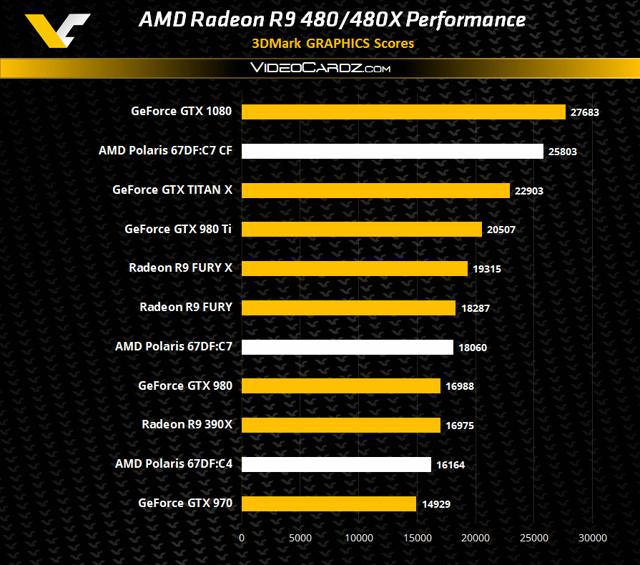 Source: VideoCardz.com
Final Thoughts
Reasonable pricing, not benchmark scores, is most likely why Apple will keep using AMD-made video cards. Nvidia's Pascal GPUs might perform better than Polaris GPUs, but they will cost more. In my long years of using Macs, Apple never made the slight differences in game-centric benchmark scores, an important selling point for its computers.
I rate AMD as a Buy. Tim Cook will choose the Polaris GPUs over Nvidia Pascal because they allow Apple to get more money out of every Mac sale. The screenshot below should illustrate clearly why Apple will choose Polaris GPUs. The first Polaris GPU offers a great value-for-money deal for PC manufacturers and consumers.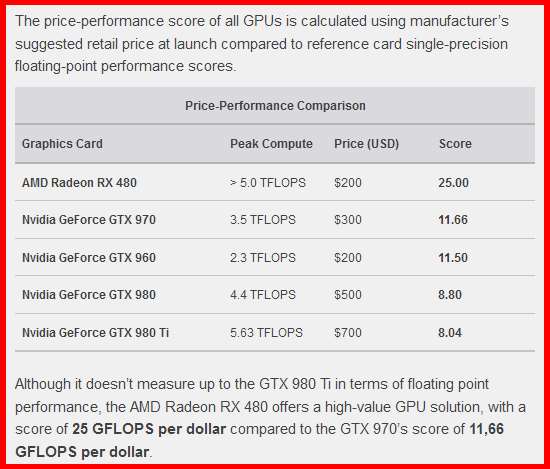 Disclosure: I am/we are long NVDA, AAPL, INTC.
I wrote this article myself, and it expresses my own opinions. I am not receiving compensation for it (other than from Seeking Alpha). I have no business relationship with any company whose stock is mentioned in this article.