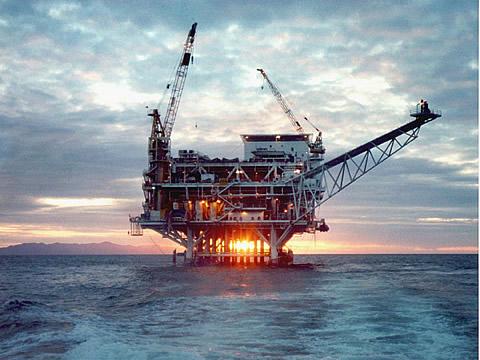 Picture: Drilling rig in the Gold fo Mexico - Wikipedia.
Oil is back up to $50 per barrel. Will oil companies redeploy rigs to begin offshore drilling again? This is the question many investors, like me, are trying to answer in order to guess successfully what is the best investment strategy going forward?
Oil prices have rallied over 80% since the January low (look at the chart below.) Supported, mainly, by a US oil production decisively falling.
U.S. production is forecast to average 8.6 million barrels a day this year, compared with 9.4 million a day in 2015, according to estimates from Energy Information Administration. Output slid to 8.74 million barrels a day through May 27, the lowest since September 2014, according to weekly EIA data.
Supply disruption in Canada in May, due to an uncontrolled fire
Nexen has issued a force majeure for all of its May production of Canadian heavy crude, two sources said on Thursday. Four major oil firms have now declared force majeure, a contract clause to remove liability for unavoidable catastrophes. The fire that blazed through oil sands hub Fort McMurray, forcing the evacuation of about 90,000 people last week, has moved into sparsely populated woodlands further east.
and, Nigeria bombing.
On the other hand, global demand is now seen rising, pushing the market players to speculate that this positive trend is for real, and is here to continue.
However, the street is not far from logical and tends to react more emotionally than rationally, which increase manipulation and volatility.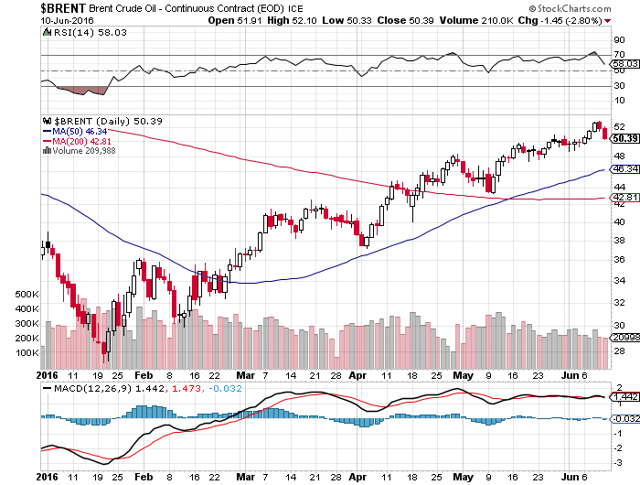 Few early signs seem to confirm that the $50 per barrel has already a small effect on the US shale. The US rig count was 414 (388 inland) on June 10, 2016, up 6 from the previous count on June 3.
| | | |
| --- | --- | --- |
| US | June 10 | June 3 |
| Oil | 328 | 325 |
| Gas | 85 | 82 |
| Miscellaneous | 1 | 1 |
| Total | 414 | 408 |
Major Basins variance.
| | | |
| --- | --- | --- |
| Ardmore Woodford | 1 | 0 |
| Arkoma Woodford | 2 | −1 |
| Barnett | 2 | 0 |
| Cana Woodford | 24 | −2 |
| DJ-Niobrara | 12 | −1 |
| Eagle Ford | 30 | 1 |
| Fayetteville | 0 | 0 |
| Granite Wash | 7 | 1 |
| Haynesville | 17 | 2 |
| Marcellus | 23 | −1 |
| Mississippian | 5 | 2 |
| Permian | 142 | 0 |
| Utica | 12 | 1 |
| Williston | 24 | 2 |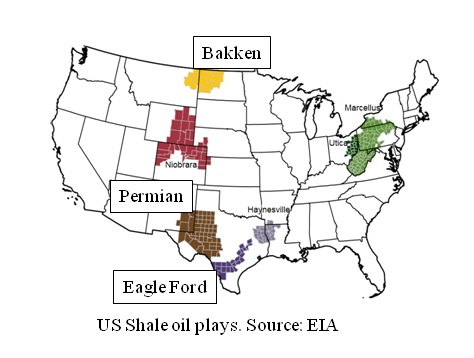 However, the offshore rig count was stable at 21.
A recent Bloomberg article indicated that Citigroup Inc. sees a "sweet spot" for the shale, between $50 to $70 a barrel. Others see the "sweet spot" between $40 to $70.
Oil has surged from a 12-year low earlier this year, putting it within range of a "sweet spot" for shale output that Citigroup Inc. sees between $50 to $70 a barrel. Prices have gained amid disruptions to global supply and a slide in U.S. production, with 500,000 barrels a day cut from the market as the rig count fell to the lowest level since 2009. West Texas Intermediate oil for July delivery climbed 2.2 percent to settle at $49.69 a barrel on the New York Mercantile Exchange, the highest close since July 21.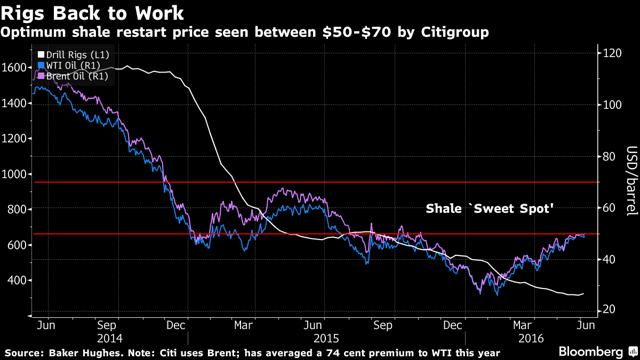 Nevertheless, whether or not the optimum shale "restart price low range" is $50, is still something that can be debated, and it is not two weeks of rig increase that will prove anything.
However, what we can say, is that the oil prices have reached a level that seem a support for the oil industry and particularly for the onshore conventional drilling.
The rig count doesn't respond immediately to price signals and there is typically a delay of three to four months, Morgan Stanley analysts including Adam Longson wrote in Monday's note. While the increase in drilling is not enough to materially change the outlook, there is some evidence that drilling is returning to the "best" acreage, they wrote.
The time lag of three to four months that Morgan Stanley is indicating above, is the most crucial element that differentiate the shale to the offshore drilling, in general, whereas, we should differentiate also the shallow and the deepwater, as well.
Basically, the "sweet spot" for the shale could be translated into a range of $55 to $75 for the offshore drilling, based on the graph below.
Offshore drilling is a little more expensive than the shale roughly by a factor of $5~ per barrel, in my opinion, but could be considered as nearly equivalent, due to the drastic costs reduction in offshore drilling these past few months.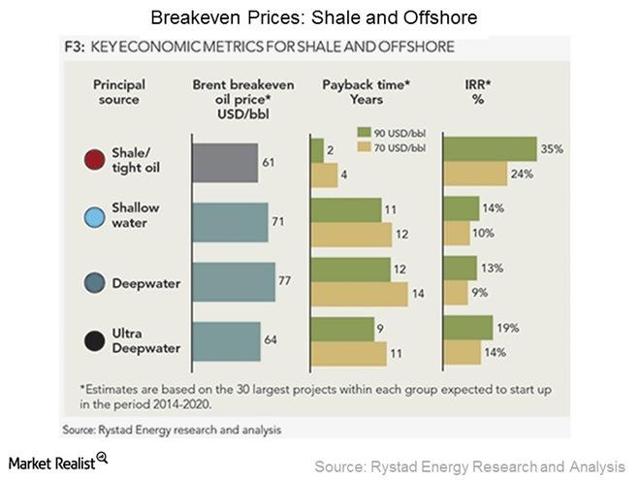 Conclusion:
The Offshore drilling industry is a capital-intensive industry, where a great amount of CapEx must be advanced for a long period of time -- as much as 5 years or more -- before it can be translated to an effective oil production.
The onshore drilling is quite different in that aspect, and allows more flexibility and adaptability in a changing oil price market environment like we experienced today.
Obviously, the offshore drilling sector will need a longer time to respond positively to oil prices increase, at around $60-$70 per barrel, which is the range that, I believe, could trigger a significant change in tendering activity.
Big oil operators are not changing their exploration capEx strategy --offshore drilling -- as quickly as they will react to a higher oil price in the shale drilling segment. They will require more time and a consistent rally until end of 3Q'16 or eventually 4Q'16, to decide eventually to allocate more CapEx for offshore drilling and exploration. A move that I see starting slowly next year.
Until then, the offshore drillers will be confronted with a tough market environment, with little to no contract potential for the remaining of 2016. Most of the offshore drillers will have to subsist on their contract backlog and hope for no further termination.
Therefore, assuming a recovery late next year, the offshore drillers may be trading at a very attractive price per share now, and it is perhaps the perfect time to start accumulating on any weakness.
A few companies that I can recommend in this sector are:
1 - Transocean (NYSE:RIG) with an impressive backlog or Transocean Partners LLC (NYSE:RIGP) as a good alternative.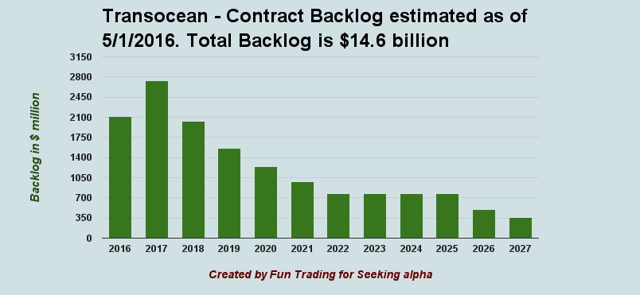 2 - Noble Corp (NYSE:NE)

3 - Rowan Companies (NYSE:RDC),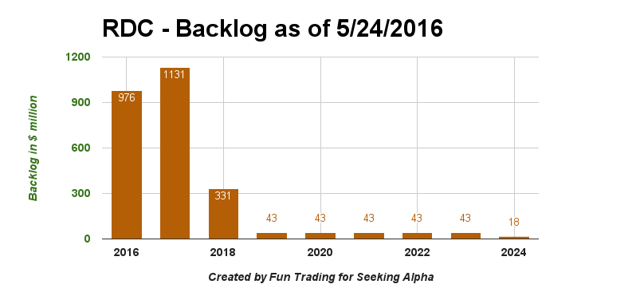 4 - Diamond Offshore (NYSE:DO),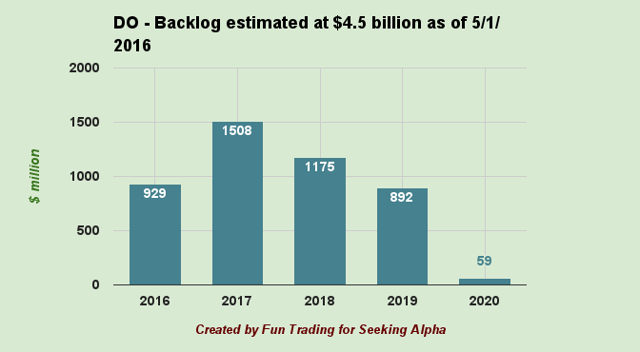 5 - Ocean Rig UDW (NASDAQ:ORIG),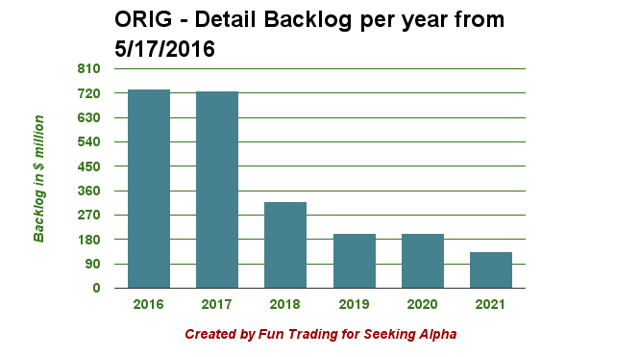 6 - Ensco Plc. (NYSE:ESV),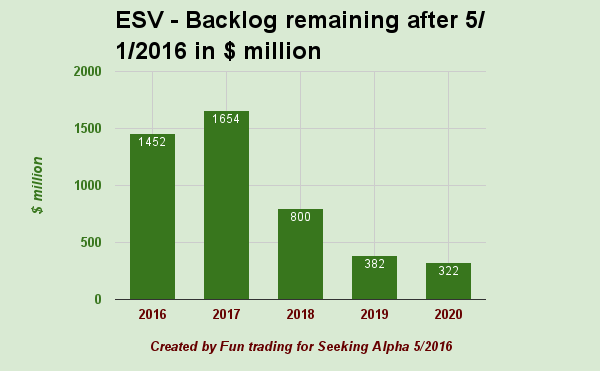 7 - Seadrill Ltd. (NYSE:SDRL) or its alternative Seadrill Partners LLC (NYSE:SDLP) for the ones who can handle more risk to get a higher profit potential.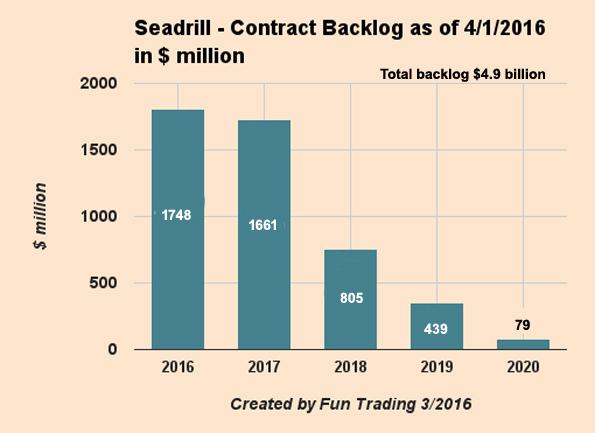 Important note: Do not forget to be one of my follower for the Offshore drilling sector and get updated frequently. Thank you
Disclosure: I am/we are long RIG.
I wrote this article myself, and it expresses my own opinions. I am not receiving compensation for it (other than from Seeking Alpha). I have no business relationship with any company whose stock is mentioned in this article.
Additional disclosure: I own different long position in most of the stock indicated here. I also trade these stocks frequently.