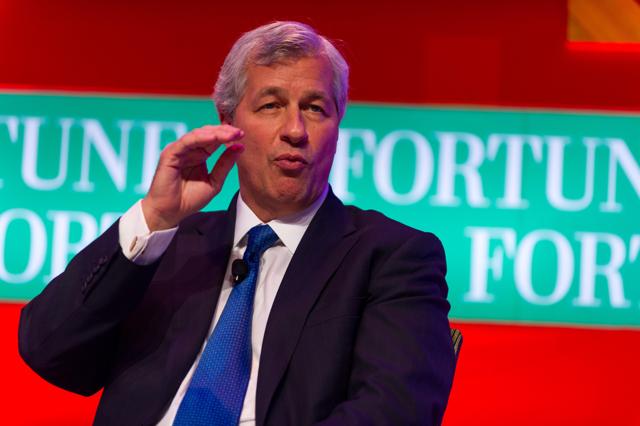 We've been saying that banks have as soon as this year to pass living will resolution standards or are at risk to having more serious capital requirements along with a chance for divisional shut-downs or divestitures. Investors are keeping tabs on stress tests but living will resolution plans will add an extra layer of capital requirements.
For JPMorgan (NYSE:JPM), we think the Fed's remedy request letter is almost unattainable. We view each page as another risk due to the complexity of each request. Thus 30 pages, 30 risks. We would guess they will fail again which will likely reduce their ability to use capital which will lower returns and further shrink credit in the industry.
The Fed told JPMorgan in their April 12th letter that they needed to remedy deficiencies to their Living Will Resolution Plan by October 1st of this year. We will review the deficiencies specific to JPMorgan and the likelihood that they meet Fed requirements.
Dimon Prefers Complexity
The backdrop however is that JPMorgan's CEO, Jamie Dimon has said that he thinks being bigger is better (Bloomberg). Being bigger gives the bank more flexibility and more opportunities. Smaller would mean lower profit and lower return potential.
Dimon has said that the size of their balance sheet is a protection for the company.
The Fed doesn't agree
Despite the bank's large asset base and balance sheet, the Fed doesn't agree. The Fed argues that in practical terms, in a time of crisis, JPMorgan cannot access that capital in a way that would be efficient enough to avoid a bail-out. Therefore the size, according to the Fed, is a risk to the company and the banking system, not a benefit.
Here are some of the key points to the Fed's concerns.
Liquidity: Inaccessible In Default
The Fed believes that JPMorgan will not be able to send liquidity between "material entities" (divisions). That is a major issue for many of the failed banks. This is a key trap for banks that we feel may be without a solution. To get around this they would likely have to redraft operating agreements, divisional operating structures and agreements, client operating agreements, among other steps.
For a complex organization, it is unlikely.
Clients may not agree to new contracts because it would mean that JPMorgan would need to have more control over inter-party transaction assets in the event of a default. Since two parties have their hands on assets, JPMorgan may not have control of the assets. Clients would need to give up core instrument contract rights, that we believe, clients would not want to concede.
Too many parties have their hands on assets that JPMorgan would want to move to cover liabilities in the event of a default. It is called encumbered assets. In the event of a default, JPMorgan may not be able to move those assets to the deficient entities because clients or counter-parties have those assets "encumbered."
Living Will About To Force Banks To Much Higher "Practical" Capital Ratios
The Fed suggests that (Page 8) JPMorgan should hold more assets at its parent rather than at the many divisions. If they do, in essence, it would reduce the available capital for business.
The stress test capital ratios would, in that case, overstate a banks health. Stress tests are raising capital ratios already. Living will says that even though the ratios are moving up, banks can't practically get their hands on that capital if they need it in default. That tells us to expect even higher capital requirements in order that a bank CAN get their hands on capital in crunch-time.
The banks will need higher capital ratios in "practice," not just by the numbers.
Living Will Showing Fed Need For Higher Stress Test Standards
The living will process may be showing the Fed that the stress test numbers don't really save banks. Since the Fed is not satisfied with the living will responses, you see that the Fed is, bottom-line worried about bank performance in crisis.
Isn't that what capital requirements are designed to protect against? You see from the living will failures that the stress tests are not as important in times of stress as the practical realities of grabbing that capital to avoid a bail-out. Thus, that capital requirement will likely need to be raised.
In effect the Fed is demanding, through living will, much higher capital ratios in practice than the stress test headlines call for. This creates a double squeeze on capital and business.
Fed's Specific Requests Of JPMorgan
The Fed advised JPMorgan to hold "high quality liquid assets at the parent to meet unanticipated out-flows at material entities." This is as opposed to currently holding a more meaningful percent of those assets at a divisional level.
The Fed also says "the firm should not assume that a net liquidity surplus at one material entity can be moved to meet liquidity deficits at other material entities."
Why? They are encumbered. Other outside parties have their hands on them. If the assets sit at the divisions JPMorgan can't easily get to them in a default. JPMorgan needs to bring those assets inward to their parent entity which tightens available credit capacity to clients at the divisions.
You can see that this spells higher coverage ratio requirements. Since the current capital can't be accessed in reality, the coverage ratio overstates the banks health if it were a more strenuous scenario. This is why the Fed wants to raise capital requirements.
Which Dimon Says Is Not Good
When responding to Fed calls for higher CCAR standards Dimon said, "That's not good for us... That's going to be more capital."
That was his response to stress tests. We think living will is an additional and tougher layer because it is unattainable and can spiral those requirements.
Fed Asks for Legal Entity Rationalization
The Fed said JPMorgan was deficient to show a "Less complex legal entity structure." (P 11)
That, to us, is clear language looking to break-up too-big-to-fail. Failing to meet this language, which we also see as next to impossible to attain, is ultimately only remedied by a break-up.
Fed Asks For Derivatives And Trading Remedies
The Fed is asking JPMorgan for a cogent plan to unwind huge amounts of notional trades. We've reported that the overall industry notional value of such trades is up over 75% since 2007. This was one of the key factors to the grinding of the system back in 2008. Now that the system is so much larger and JPMorgan is a leader, we don't see it getting any easier, especially in a way that would avoid a bail-out.
We don't expect JPMorgan to be able to easily remedy this either.
The Risk In Plain Terms
"In the event that the 2016 Submission does not adequately remedy the deficiencies identified by the Agencies in this letter, the Agencies may jointly determine pursuant to section .6 of the Resolution Plan Rule that JPMC or any of its subsidiaries shall be subject to more stringent capital, leverage, or liquidity requirements, or restrictions on their growth, activities, or operations."
Remember, this is in addition to stress test capital.
What defines restricting growth, activities, or operations? It's clearly broad which can include many actions slowing JPMorgan's ability to lend and do business, hurting returns.
What's the law that the Fed is leaning on in .6? It's 381.6.
"The Board and Corporation jointly determine that the divestiture of such assets or operations is necessary to facilitate an orderly resolution of the covered company under the Bankruptcy Code in the event the company was to fail."
Election Timing
Deficiencies are due in October. The Fed can take about a month to reply. That is knee deep in elections. We do not think that will stop the Fed because this is perceived to be important to the nation.
Upcoming Stress Tests
Stress test results will be out June 23rd. We think there is a chance banks fail. Based on understanding what the Fed is asking banks in living will standards, capital requirements, in practical terms, are biased to go much higher.
Fed governor Daniel Tarullo, according to Bloomberg said that banks will have "substantially higher levels of capital" or "take steps to reduce your systemic footprint."
Here's a quote from a recent WSJ correction.
"Fed governor Daniel Tarullo has consistently honed annual bank stress tests and often made conditions tougher. An earlier version of this article incorrectly said that he has said he plans to make them tougher each year."
Even though the WSJ corrected their statement, we don't think it's unfair to assume the Fed wants tougher standards each year.
Overall Fed Tightening A Directional Sign As Well
Since the turn of the year the Fed has been leaning towards higher rates.
We've shown that Fed capital flows are also leaning towards tightening for the first time in years (Is The Fed Buying Stocks)(In Fed We Trust, Fed-Led '08 Meltdown Exposed, It's Setting Up Again)
The trend is to tighter credit standards.
Stock Price
We think that a tightening of financial standards is a clear negative. We are looking ahead to serious catalysts that are already showing the Fed is not letting down. They already failed 5 large banks.
Besides lower returns, we think any break up, initially will lock up the banking system, tightening lending and slowing the overall economy. We think it will be a negative hit to the markets. Since the banks are at the center, they likely get hit worse.
Conclusion
The 30-page (30 pages 30 risks) Fed letter to JPMorgan has a timetable that is approaching. The stress test results are also due out in 10 days. Regulations are clearly moving towards tighter standards. Tighter standards hurt returns and profits and limit bank flexibility.
JPMorgan is in the center of that too-big-to-fail push. We see risk for the bank.
Elazar Advisors, LLC specializes in earnings and predicts, analyzes and reacts to earnings and earnings events as well as developing current company and macro stories with a hedge fund perspective.
If you want Elazar's analysis on Seeking Alpha, scroll to the top of the article and hit "Follow." Elazar also writes real-time pieces as earnings and news are reported on Seeking Alpha. If you want to be among the first updated, be sure to check the box for "Real-time alerts on this author" under "Follow."
Disclaimer: All investments have many risks and can lose principal in the short and long term. This article is for information purposes only. By reading this you agree, understand and accept that you take upon yourself all responsibility for all of your investment decisions and to do your own work and hold Chaim Siegel, Elazar Advisors, LLC, bestideas, their related parties, and its authors harmless. #in, $spy, $qqq, $iwm, $vxx, $ycs, $fxe, #elazaradvisorsllc
Disclosure: I/we have no positions in any stocks mentioned, and no plans to initiate any positions within the next 72 hours.
I wrote this article myself, and it expresses my own opinions. I am not receiving compensation for it (other than from Seeking Alpha). I have no business relationship with any company whose stock is mentioned in this article.