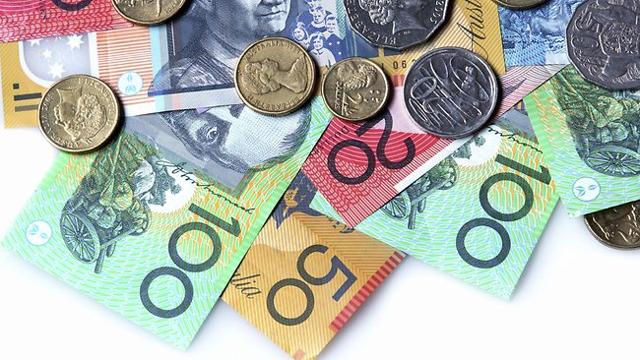 As some readers will be aware, we are very bearish on the Australian dollar (NYSEARCA:FXA). We have been shorting it against the U.S. dollar (NYSEARCA:UUP) with good to mixed results for some time now. It had looked like it was going to provide excellent results until the Federal Reserve's expected rate hike plans failed to gather momentum. Originally we had anticipated there being at least one, or maybe even two rate hikes, by this point in the year. But here we are now in the middle of the year and it isn't looking like June or July's FOMC meetings will produce anything of note. With the U.S. dollar weakening rather than strengthening, it is undoubtedly testing the patience of Australian dollar bears including ourselves. But we are in it for the long-run. Which according to one of Australia's leading fund management companies, BT Investment Management, could mean a drop as low as 40 U.S. cents.
To be quite honest as much as we would love to see it drop this low, we are not nearly as bearish as this. Instead we are looking for the currency to drop to the low 60s. But Vimal Gor, BT's head of income and fixed interest, makes some valid points about how the Australian dollar could suffer from a shock drop in value. He believes that the combination of Australia's increased reliance on foreign capital and its falling interest rates puts the Australian dollar at a greater risk than much of the market thinks, due to its "lavish" pre-global financial crisis-style spending. Gor believes that Australia's reliance on foreign capital to fund its spending is very different to other countries with zero or negative interest rate policies. He stated that:
Economic growth in Australian dollars has been so weak for a number of years, even as real economic growth continues to show some pretty encouraging headline numbers ... Yet we keep sending this growth overseas through high imports and paying out on past borrowings. This trend has deteriorated in the last year meaning we have to borrow from and sell assets to the rest of the world at a new, faster pace.
Gor has pointed to weakness in Australia's latest GDP numbers as being a sign that a dramatic drop in the Australian dollar was likely. Saying:
A shock downside could easily see it move to 40c against the US Dollar if current trends continue, commodities fall to lows again and economic growth deteriorates.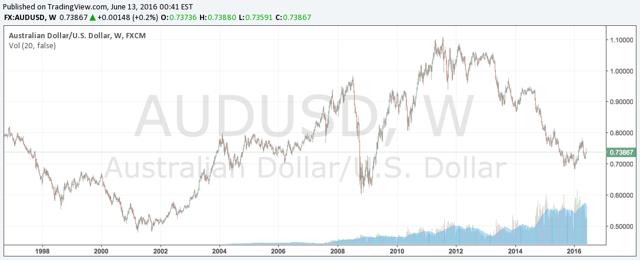 Sourced from DailyFX
The Australian dollar has been at these low levels before.
As distant as 40 U.S. cents seems, the Australian dollar is no stranger to these lowly levels. In 2001 the Australian dollar dropped as low as the high 40s at times, and that was when rates were at normal levels. The current 1.75 percent interest rate is the lowest in its history, so it is anybody's guess how low the Australian dollar could go if rates go lower from here and the Federal Reserve starts to gradually increase its own rates to normal levels again.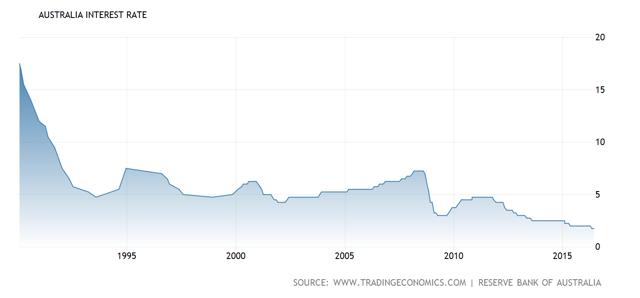 Although the Reserve Bank clearly wants the Australian dollar to depreciate, with many believing sub-70 U.S. cents is the target, we don't think it will want it to drop to the levels that Gor predicts. An Australian dollar dropping into the 40s could potentially shift the Australian economy from deflation issues to high inflation issues at the drop of a hat.
65 U.S. cents in the shorter term.
Looking at the shorter-term, we still see 65 U.S. cents as the next stop for the Australian dollar. Currently the market believes there is a 19 percent chance of the Reserve Bank of Australia cutting interest rates to 1.5 percent at its next meeting on July 5. Personally, we think the Reserve Bank will wait patiently to see if the Federal Reserve raises rates in July before acting. So, as far as we are concerned, the next rate cut will likely come at its August meeting.
Between then and now we expect the Australian dollar to float around the 73 to 74 U.S. cents range. Strong economic data out of the United States could start it on a path lower, but until there is a dovish statement from Janet Yellen, or rates are cut by the Reserve Bank, we don't expect it to have enough momentum to head below 70 U.S. cents.
What we are doing.
We continue to short the Australian dollar with 65 U.S. cents the target. At today's price this means a 12.1 percent return for investors. Or those brave enough, could use double the leverage with the ProShares UltraShort Australian Dollar ETF (NYSEARCA:CROC). This would make the return a huge 24.2 percent, which is quite fantastic. In our opinion, it is inevitable that the Australian dollar will drop to this level. It certainly has taken a lot longer than we ever anticipated, but those that are patient will be rewarded.
As always, best of luck with your trades!
Disclosure: I/we have no positions in any stocks mentioned, and no plans to initiate any positions within the next 72 hours.
I wrote this article myself, and it expresses my own opinions. I am not receiving compensation for it (other than from Seeking Alpha). I have no business relationship with any company whose stock is mentioned in this article.
Additional disclosure: Short FXA, long UUP