Legendary fixed income investor Bill Gross made headlines this week with a salacious tweet from Janus Capital: "Global yields lowest in 500 years of recorded history. $10 trillion of neg. rate bonds. This is a supernova that will explode one day."
Even as global stocks have slowly climbed over the past several weeks, we have seen an inexorable move lower in global sovereign bond yields. The last time the ten-year U.S. Treasury yield (NYSEARCA:IEF) was this low was mid-2012 during the escalation of the European sovereign debt crisis. The flight-to-quality into U.S. Treasuries pushed the yield on the 10-year down to a low of 1.43% on July 25th, 2012. We closed Friday at 1.64%.
On that date in the summer of 2012, the S&P 500 (NYSEARCA:SPY) closed at 1338. Fast forward nearly four years, and the broad domestic equity market gauge is 57% higher, but the rates market is hurtling back towards historic lows. Rates are even lower in most of the developed world. Given the rapid descent in global bond yields, I thought it would be helpful for Seeking Alpha readers to frame the current global levels.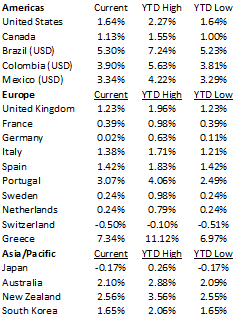 There are a lot of interesting observations to be had about this chart, and about global financial markets.
· Rising Risk: One of the key risk measures in fixed income markets is duration. Duration carries a dual meaning as the weighted average timing of cash flows and as interest rate sensitivity. As yields move lower, the duration of a fixed income instrument typically extends. A 10-yr Treasury with a 1.64% yield - like the U.S. Treasury today - has a duration of around 9.26. A 10-yr Treasury with a 4.63% yield (the average in 2007) would have a duration of 8.11. As rates have moved lower, durations have extended. In this example, duration has extended by 14% as yields have fallen. For Seeking Alpha readers, it is important to understand that while compensation for risk has fallen, interest rate risk has increased. Very low nominal yields and longer duration can combine to produce large price swings for a given change in yield.
· Peripheral Pricing: Italy and Spain, heavily indebted and slow growth southern European economies, have sovereign yields that trade through that of the United States. It is prudent for the market to price extraordinary monetary accommodation to last in the European Union longer than in the haltingly normalizing United States, but the risk premium applied to peripheral Europe seems especially low. The potential for Brexit or continental elections in 2017 to again challenge the fabric of the European experiment loom as risks that may be mis-priced.
· German Gains: The 10-yr bund is now yielding 0.019%. If you invested 1 million euros in the German 10-yr bund, you would earn $190 of interest per year. The German 2-yr yields -0.55%, and investors are paying a premium (101.11) to earn a zero coupon.
Global sovereign yields are pricing in a slow growth and deflationary or disinflationary environment. Even if you believe that the prospects of the domestic economy are more positive, higher U.S. interest rates relative to the rest of the world could send the dollar higher, potentially weighing on earnings of multi-nationals and commodity prices.
How long can historically low sovereign yields last? Nobody knows with certainty...which is why Gross' supernova is happening "one day." The balance sheets of global central banks dwarf other market participants. The old adage "don't fight the Fed" has been supercharged globally. Predicting the market reversal in global bonds has humbled many economists and rate strategists over the last several years.
I do believe that ultra-low yields are not going to leave us in 2016 given the expansion of extraordinary accommodation in Europe and looming market tail risks (Brexit, China deceleration, U.S. elections). Gross is no longer talking about shorting German bunds as the trade of a lifetime even as bond prices have hit new highs. While the U.S. has begun to normalize policy, the Fed's ability to raise rates is challenged by the continuation of financial repression in much of the developed world, which is pressuring the U.S. rates curve lower.
While bond markets could continue to stay in historically expensive territory, investors should be wary about the broad market effects of a re-pricing of rates as markets approach record low yield levels. During the "taper tantrum" in 2013, we saw a sharp re-pricing of rates markets negatively impact risky asset prices; as yields move lower and durations extend, the potential for a sharp re-pricing rises.
As the sentiment in equity and fixed income markets have diverged, Seeking Alpha readers should have an awareness of global sovereign bond yields. Certainly, these yields seem to be pricing in a more bearish outlook than the U.S. equity markets, which are trading again near all-time highs.
Disclaimer: My articles may contain statements and projections that are forward-looking in nature, and therefore inherently subject to numerous risks, uncertainties and assumptions. While my articles focus on generating long-term risk-adjusted returns, investment decisions necessarily involve the risk of loss of principal. Individual investor circumstances vary significantly, and information gleaned from my articles should be applied to your own unique investment situation, objectives, risk tolerance, and investment horizon.
Disclosure: I am/we are long SPY.
I wrote this article myself, and it expresses my own opinions. I am not receiving compensation for it (other than from Seeking Alpha). I have no business relationship with any company whose stock is mentioned in this article.