The Treasury market did well over the past week, and yields closed at new year-to-date lows. The weak non farm payroll report shifted the narrative going into the June FOMC meeting slightly, but debate remains about prospects for a July hike. Despite the shift, sentiment among leveraged funds remains marginally bearish on the bond market (at least as of Tuesday, June 7,as seen in CFTC futures data).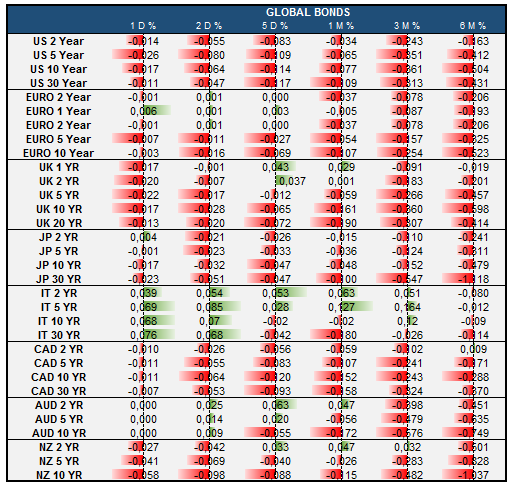 Momentum toward lower bond market yields and relatively poor equity market performance have become more supportive of owning duration. The carry profile of most bond markets is less supportive of duration over weights than buyers would like, to be sure. But that simply reflects the flatness of most yield curves relative to history and the related dearth of term premium globally. With business cycle surprises mixed over recent weeks, any deterioration in global data would certainly turbo charge the recent rally. The year started with a bullish tone, and I think that tone is reasserting itself now. The market expects the upcoming FOMC meeting to lay out a more realistic path for policy rates (more gradual and cautious, i.e., dovish), the BoJ to ease policy in what will be a close call in the eyes of markets, and investors to get more nervous over the possibility of a vote for the UK to leave the EU.
The Federal Reserve released its Flow of Funds report for 1Q16 on Thursday, June 9. Overseas investors net bought the largest amount of coupon-bearing US Treasuries during the quarter, in all likelihood. While both broker-dealers and overseas investors bought just over $100bn Treasuries in total, overseas investors bought $14.2bn T-bills and $102.8bn "other Treasury securities" (coupon-bearing securities). Overseas investors have dominated the Treasury market since the financial crisis. And they have owned roughly that percentage of the market since March 2008. In addition, overseas investors and the Federal Reserve together own just shy of 57% of the Treasury market outstanding. Clearly, changes in marginal demand from overseas investors will have an outsized impact on the Treasury market. Given the low level of sovereign bond yields outside of the US and our expectation for those levels to remain low, we think overseas investor ownership share of the Treasury market will increase this year.

Looking into the more granular positioning data reveals that the remaining bearish sentiment among traders at leveraged funds is concentrated in the Eurodollar futures complex. Given we expect a more dovish dot-plot from FOMC participants (see our FOMC preview), we think there is more room for sentiment to become less bearish, especially among traders of Eurodollar futures. As traders continue to cover short positions in the coming weeks, I expect 5-year Treasuries to outperform both outright and on the curve.
The market expects support for break evens at the upcoming June FOMC meeting. I believe the underperformance of 5y5y break evens vs. oil, "close attention" from Fed chair Yellen and a new low in University of Michigan long-term inflation expectations increase the chances that the FOMC may acknowledge increased risk to inflation expectations. Lowering of the 2017 and 2018 dots to suggest a lower rate path could also be bullish for break evens. Looking at annual TIC data showing foreign holdings of TIPS, one sees that foreign investors hold a higher fraction of overall TIPS outstanding, suggesting that domestic investors have been net sellers of inflation protection in recent years, which is consistent with the decline in inflation risk premiums embedded in break evens in recent years. Lastly, auction allocation trends in TIPS suggest that foreign investors have been stable investors in TIPS auctions. Stable auction allocation vs. increasing ownership in TIPS outstanding suggests that it is not an increase in demand from foreign investors that has increased their TIPS holdings, but rather they have simply been the marginal buyer when TIPS are sold by domestic investors.
Disclosure: I/we have no positions in any stocks mentioned, and no plans to initiate any positions within the next 72 hours.
I wrote this article myself, and it expresses my own opinions. I am not receiving compensation for it (other than from Seeking Alpha). I have no business relationship with any company whose stock is mentioned in this article.