Overview:
On June 8th Micron (NASDAQ:MU) issued a terse 113 word press release announcing that the Inotera buyout announced on Dec. 15th, 2015 was on hold for unspecified reasons and no update would be provided until "the latter part of calendar 2016" whatever that means. This has led to massive speculation on Seeking Alpha and elsewhere on what this means for Micron going forward.
I have been a critic of Micron in the past starting with my first Micron article on March 16, 2015 "Intel And Micron: Stock Prices Are In The Doldrums For Good Reason" and "Micron: I Told You To Wait, Now I'm Telling You To Wait Some More". But when Micron's price fell below $10 in late April I became a buyer "Micron: At Under $10 A Share Even I Would Be A Buyer " and in fact have predicted a $25 price by 2018 "10 Reasons Why Micron Will Be $25 By 2018 ".
In this article I will explain why I don't think the delay will have any significant effect on the long term performance of Micron's stock price.
"I learned to embrace risk, as long as it was well thought out and, in a worst-case scenario, I'd still land on my feet."
Eli Broad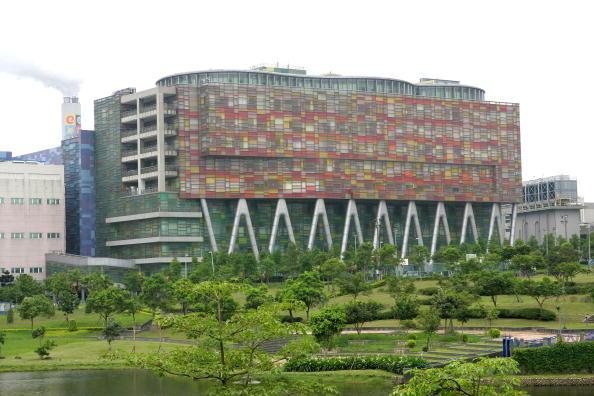 Inotera headquarters, Taoyuan, Taiwan
Maybe Micron is not sure future DRAM prices will justify the price.
One of the reasons the Inotera looked good to me was Micron CFO Ernie Maddock (Q1 2016 Earnings Call) stating it would generate $600 million in free cash flow the first year.
"Based on current market conditions Inotera's operations should on average generate north of $600 million of incremental free cash flow for a year for Micron. "
But with DRAM prices down maybe the new thinking is borrowing $2.5 billion is not the best use of corporate resources.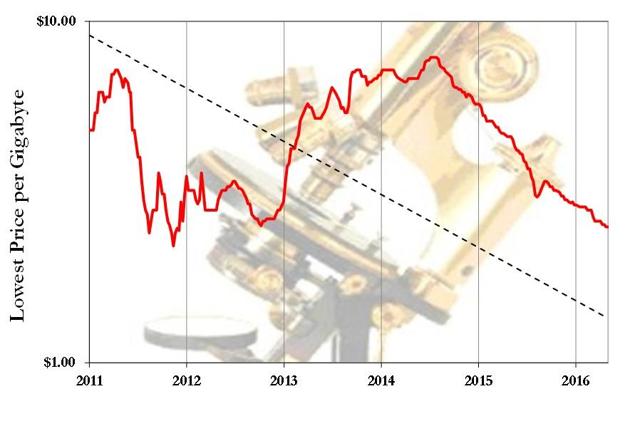 Source: thememoryguy
And the stock price is down more than 15% too.
Part of the deal is Inotera's other part owner Nanya Technologies taking MU shares as payment for their portion of Inotera.
"In addition, we have the option to finance up to $1 billion worth with Micron stock sold to Nanya "
So that may be another $150 million cost in a declining DRAM market.
There doesn't appear to be any breakup fee so maybe Inotera has a better offer.
China's Tsinghua Group has been sniffing around memory companies like the newest dog in the pound for the last couple of years. In July 2015 they offered $23 billion for Micron. With Tsinghua's holding company Unigroup raising $80 billion last year investment dollars are not a problem. In fact they have made significant investments in three Taiwan companies just in the last year.
"Unigroup's shopping spree has also taken its executives to Taiwan, where the company invested a combined US$ 17.4 billion in three chip makers last year. Closed in Taiwan were deals for a 24.9 percent stake in Apple Inc. supplier Siliconware Precision Industries Co., 25 percent of ChipMOS and 25 percent of Powertech Technology Inc. - three companies with a combined 18 percent of the global market for semiconductor testing services."
Source: caixan.com
Buying part of Inotera would give Tsinghua a backdoor way to access Micron's 20NM IP.
So maybe no deal is a good deal for Micron shareholders.
With all of the above, especially the vagaries of DRAM pricing, maybe the worst case scenario is the deal goes thru and the best case scenario is the deal does not go thru. DRAM is a commodity product and prices are subject to the needs of the largest producers namely Samsung but also soon to be Tsinghua and its new $12 billion fab. I talked about this issue in this article "Micron: Should We Bury 3-D NAND's 'Disruptive Cost' Right Next To DRAM's 'Oligopoly Pricing?'".
When you have that huge CAPEX you run the lines as fast as possible regardless (almost) of price just to amortize the huge cost. Micron is the tail on the Samsung DRAM dog and is going to be wagged whenever the big dog wants. I talked about that issue here "Today's News Shows Samsung Is A Long-Term Threat To Micron And Intel".
Over the next two years it is going to be 3-D NAND and 3-D Xpoint that drive Micron's share price.
Memory is still 60% of Micron's revenue but I think that percentage will go down over the next few years. According to Micron 3-D NAND will ship this summer, good news for long-suffering Micron shareholders. That all by itself should give the stock a well-deserved boost.
Whether Micron's 3-D NAND is superior to Samsung's is to be determined but with 3-D NAND having a CAGR of about 92% between now and 2019 it almost doesn't matter - Micron's NAND sales will increase substantially.
And then in late 2017 or early 2018 3-D Xpoint sales will ramp up and with less competition than DRAM or NAND should provide higher margins for Micron although it might cannibalize some DRAM and NAND sales.
Conclusion:
This latest imbroglio with Inotera is just another example why new management should be brought into Micron. It seems like the left hand doesn't know what the right hand is doing and a big part of the low stock price is lack of confidence in management. Maybe the best case scenario is new management regardless whether the Inotera deal goes thru or not.
But because the price is so low, near book value at this point, any good news will drive the price higher. And I think there is some very good news coming over the next 18-24 months and that is why I have a buy on Micron with a $25 price target in 2018 or sooner..
And if management is replaced so much the better.
If you found this article to be of value please scroll up and click the "Follow" button next to my name.
Disclosure: I am/we are long MU.
I wrote this article myself, and it expresses my own opinions. I am not receiving compensation for it (other than from Seeking Alpha). I have no business relationship with any company whose stock is mentioned in this article.