FuelCell Energy (NASDAQ:FCEL) has had a roller coaster ride on the stock market so far this year. Even though the stock is up almost 15% so far in 2016, it has witnessed a steep drop of almost 28% over the past week. Most of this decline can be attributed to FuelCell's weak second-quarter results that were released on Thursday last week, with the company missing estimates on both the top and bottom lines.
In fact, FuelCell's revenue of $28.6 million was slightly lower than last year, while its loss of $0.56 per share also increased as compared to the year-ago period. As a result of such weak results, FuelCell Energy shares have tanked considerably in the past week. But, in my opinion, this is an opportunity to buy more shares in FuelCell Energy as the company is primed for a strong performance in the long run. Let's see why.
Carbon capture will present a huge end-market
FuelCell Energy is in the midst of a big opportunity in the form of carbon capture. I say that this is a big opportunity because the use of this technology will allow the capture of 90% of carbon dioxide that's released into the air by burning fossil fuels to generate electricity or to carry out other industrial processes.
More importantly, the captured carbon dioxide can be used for commercial purposes such as an injection gas by oil and gas producers for enhanced oil recovery, apart from being used in carbonated drinks, food processing, and chemicals. Now, looking ahead, as the government's Clean Power Plan comes into force, the sources of carbon dioxide will start diminishing due to a decline in power plants fired by coal.
In fact, the U.S. government projects that carbon emissions in the electricity sector will come down by 32% in 2030 as compared to 2005 levels. This will lead to a drop in the supply of carbon dioxide, thereby leading to an increase in its price. According to an analysis by Synapse:
"The proposed Clean Power Plan together with other existing and proposed federal regulatory measures place economic pressure on CO2‐emitting resources in the next several years, such that it is relatively more expensive to operate a high‐carbon‐emitting power plant."
As a result of the cap in carbon dioxide emission, Synapse, in its mid-case scenario, forecasts that the price of carbon dioxide per short ton will increase from $20 per ton in 2020 to $35 per ton in 2030. Then on, the price of carbon dioxide is anticipated to rise to $85 a ton in 2050. This will lead to an increase in carbon allowances or taxes.
As a result, those power plants with cleaner operations will have to bear a lower cost of carbon taxes, and this is where the carbon capture and storage technology comes into play. Additionally, it should not be forgotten that by 2050, half of the world's power generation will be done by fossil fuels, thereby giving FuelCell Energy an opportunity to tap these markets with its carbon capture technology.
Therefore, it is not surprising to see that Transparency Market Research anticipates this particular market to clock a healthy annual growth rate of 27.18% until 2019 when it will be worth $6.8 billion. In my opinion, FuelCell Energy is well-placed to make the most of this opportunity since it is partnering with Exxon Mobil (NYSE:XOM) to help bring the carbon capture technology to market in an affordable and scalable manner.
What FuelCell is doing in carbon capture?
FuelCell Energy is trying to bring an innovative solution to the carbon capture market by way of its fuel cell technology, in association with Exxon. According to FuelCell CEO Chip Bottone:
"Our carbon capture solution involves - solves this problem in a novel way. Because carbon capture is a side reaction of a normal electrochemical power generation process occurring within our carbon in fuel cells, our carbon capture system efficiently concentrates the carbon dioxide to generate power at the same time.

Because these systems generate a revenue stream of electricity, they provide power plant operators a way to meet their compliance obligations, while receiving a return on their investments as compared to simply an increase in operating expenses."
Therefore, FuelCell's method of capturing carbon not only reduces emissions, but also generates electricity at the same time. In this way, power plants will have more than one commercial avenue to sell their captured carbon dioxide apart from the uses mentioned earlier in the article. More importantly, by using fuel cells to capture carbon dioxide, FuelCell Energy will also be able to cut out around 70% of the nitrogen oxide that creates smog, a feat that cannot be achieved using traditional carbon capture processes.
More specifically, FuelCell Energy and Exxon Mobil will be feeding the exhausts from coal and natural gas-fired power plants into fuel cells, where the resulting reaction will lead to the generation of a concentrated carbon dioxide stream to be captured. Using this process, FuelCell plans to tap a market whose global potential is worth more than $25 billion even if it can sell the technology to just 1% of existing power plants in certain markets across the globe.
More importantly, by partnering with Exxon, FuelCell Energy has made a smart move as it now has the backing of a big company that has already achieved impressive greenhouse gas emissions in the past few years, and plans to tap a third of the global carbon capture and sequestration capacity. This is shown below: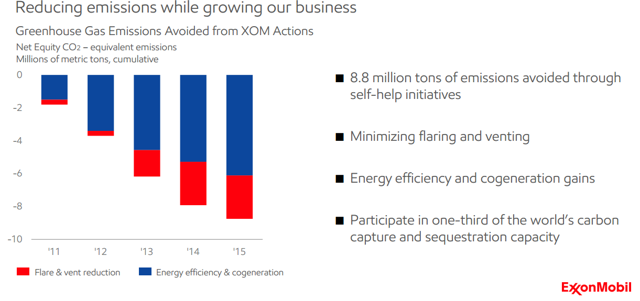 Source: Exxon Mobil
Conclusion
Hence, if we look past the weak results put up by FuelCell Energy last week, the company has got strong prospects for the long run. It has the right partner and is focusing on the right technology to grow its business in an exponential manner over the long run as the end-market potential shows. Thus, I think that investors will be making a smart move by buying FuelCell Energy shares on the pullback given the long-term opportunity.
Disclosure: I/we have no positions in any stocks mentioned, and no plans to initiate any positions within the next 72 hours.
I wrote this article myself, and it expresses my own opinions. I am not receiving compensation for it (other than from Seeking Alpha). I have no business relationship with any company whose stock is mentioned in this article.