The New York Post is reporting that, according to a survey by Harris Poll, Chipotle (NYSE:CMG) has been unseated as the most popular brand selling Mexican-inspired food in the United States by Moe's Southwest Grill. In fact, it has not just lost the top spot it had held for three consecutive years, it's dropped behind Taco Bell (NYSE:YUM) in second, Qdoba Mexican Grill (NASDAQ:JACK) in third, and Baja Fresh Mexican Grill coming in fourth. This news sounds very ominous, but should shareholders be running for the exits? We don't think so.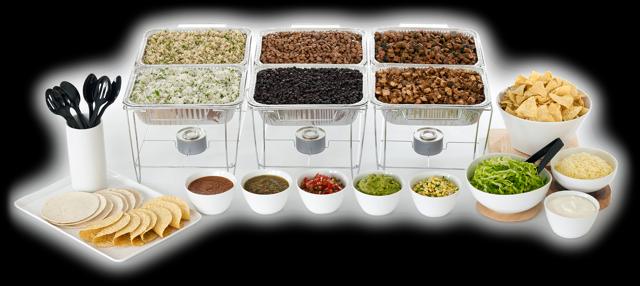 Moe's Southwest Grill is owned by Focus Brands, which in itself is an affiliate of the Atlanta-based private equity firm, Roark Capital Group. It's been operating since 2000 and has around 600 locations across the United States. Its growing popularity could be a concern and shouldn't be taken lightly, as we do see Moe's as a direct competitor to Chipotle. It boasts that it has "20 incredibly fresh ingredients, like all-natural chicken, grass-fed steak and organic tofu to create one-of-a-kind meals." With offerings like this, it wouldn't come as a huge surprise if many Chipotle-defectors headed to Moe's during the E.coli issues. Especially considering the marketing tactics Moe's undertook during the crisis. On February 8 when Chipotle closed its store for its four-hour food safety meeting, Moe's placed a full page ad in the USA Today stating that "We're open, especially on February 8th".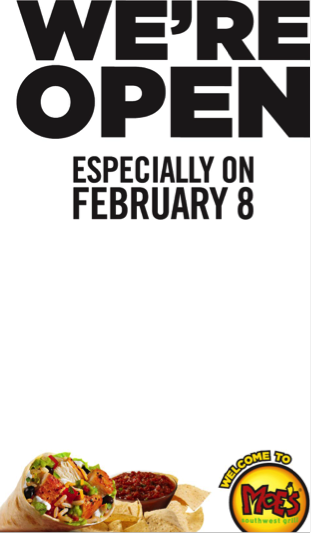 (Source: Yahoo Finance)
Whilst it is disappointing to see Chipotle's brand drop below the likes of Moe's and Taco Bell in this poll, we do have to stress that it is just a random poll and its true value is not easily verified. As these respondents have signed up to earn reward points in exchange for surveys, we would hardly call this group a fair representation of the nation. But equally so, we won't dismiss it entirely. Clearly many consumers are still viewing the Chipotle brand negatively due to the negative press regarding the E.coli outbreak. This isn't surprising. It can take time in our experience, to move on from such a thing. Which could mean investors need to continue to remain patient for a little while to come.
Which is exactly what we're doing. The share price is admittedly testing our patience, but we do feel certain that things will eventually improve to the point that the growth story starts again. There's a lot of room for growth in the domestic market, with room for Chipotle to more or less double its footprint in the United States in our opinion. As of the end of the last quarter, there were 2,023 Chipotle restaurants domestically.
There are a lot of arguments out there against this happening, though. Many have talked about menu fatigue as being one reason why growth could slow, but we don't feel this is a problem at all. Maybe a limited time offering could spice things up now and then for some consumers, but we feel that the majority are largely satisfied with what is available to them. One of the most popular burger restaurants in the US is In-N-Out Burger. Although privately owned, it appears to be growing at a strong rate despite having an incredibly basic menu. Sometimes keeping it simple can be best.
We don't expect it to be long until Chipotle moves forward. Once consumers are weaned off of coupons, we expect it will be full steam ahead for top line growth. There have been a lot of anecdotal statements floating around about long queues in certain Chipotle stores. Whilst it is great to hear that there are stores that are back to being as busy as ever, it isn't enough to warrant an investment on. This could be a completely isolated incident in an area with little to no competition. Still, we intend on holding onto our position through the next few quarters as the company finds its feet.
Outside the Chipotle brand, we are very bullish on the Better Burger plans the company has, and its plans to grow its ShopHouse and Pizzeria Locale concepts further. Although information on the new brand is scant, we feel that diversifying its business in such a way will prove to be very valuable over time. The company's marketing and branding is of the highest level in our view and we feel confident that these brands will grow into meaningful parts of the overall business.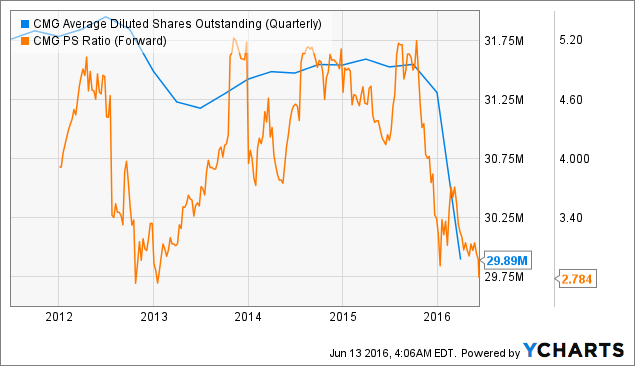 In our opinion this is a great time to be buying Chipotle shares. It may have lost a recent popularity competition, but this is a fantastic business at a great price. Valuation is very tricky at the moment, but we believe pricing the shares on a forward price-to-sales ratio works well. Based our view that the company will see top line growth resume in 2017, we forecast sales to come in at $5 billion in the next fiscal year. With a forecast 29.8 million shares outstanding and a forward price-to-sales ratio of 3, we have a target price of $503.35. This represents upside of approximately 24%.
Although this seems excessive, the share price was trading at this level just three months ago. The share price may go lower before it goes higher, but in the long-term we are confident that eventually it will make a new all-time high again. If you can give the company time to find its feet, we have little doubt you will be rewarded.
Disclosure: I am/we are long CMG.
I wrote this article myself, and it expresses my own opinions. I am not receiving compensation for it (other than from Seeking Alpha). I have no business relationship with any company whose stock is mentioned in this article.