Oil prices have risen by almost 35% this year after dropping by 30% in 2015. While the price is still not enough to spark a rebound in US drilling activity, it has prompted Continental Resources (NYSE:CLR), the largest operator at the prolific Bakken formation to begin finishing its inventory of drilled but uncompleted wells.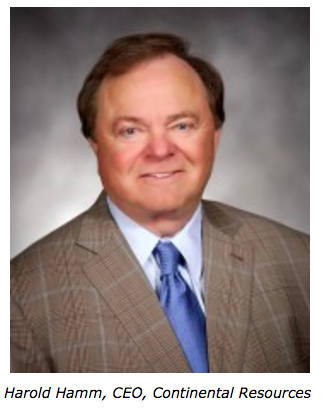 The significant decline in crude prices since 2014 forced a number of oil producers to conserve cash by delaying the expensive fracking work which is required to bring the oil and gas wells online. Consequently, the industry was left with a large inventory drilled but uncompleted wells (DUC). At the end of last year, there were a little less than 4,300 DUCs in the US, mainly located in the four key shale plays - Permian Basin, Bakken formation, Eagle Ford and Niobrara. North Dakota, home of the Bakken formation where Continental Resources is the largest operator, had 945 DUCs in December, according to the state's energy agency. A major advantage of DUCs is that they allow oil producers to quickly ramp up production, within a couple of weeks, if commodity prices bounce back.
In a recent interview with Bloomberg, Harold Hamm, chairman and CEO of Continental Resources who has also been making news due to his support for presumptive Presidential nominee Donald Trump, said that the oil supply glut has all but disappeared and the world could face a deficit of up to 2 million barrels a day next year, which will lift oil prices. Due to the improvement in oil price environment, the company is now drawing down on its inventory of DUCs. This way, it can meaningfully grow its production without actually adding any new rigs. In fact, Continental Resources does not plan to deploy additional rigs to drill new wells until oil crosses the $60 a barrel mark or comes in the $70 range.
Hamm's view on increasing drilling activity when oil crosses the $60 mark is consistent with what we've heard from a number of other major shale oil producers recently, such as Devon Energy (NYSE:DVN) and Hess Corp. (NYSE:HES). Continental Resources, like some of its peers, has become more cautious in the downturn. The company, which has been growing production at strong double-digit rates, has abandoned its growth-at-all-cost strategy, which is a step in the right direction. Instead, the company is now more focused on turning profits and generating strong returns for shareholders than ever before.
Continental Resources has reduced this year's capital spending (non-acquisition) to just $920 million from $2.7 billion last year in order to preserve cash. The large cut will lead to production of around 205,000 barrels to 215,000 barrels of oil equivalents per day in 2016, down from 221,700 boe per day last year. That would be a sharp turnaround for the company that continued to grow its output at double-digit rates even in the face weak oil prices. In 2015, at a time when WTI tumbled from $53 a barrel at the start of the year to $37 by December, Continental Resources increased its output by 27%.
But Harold Hamm remains one of the most optimistic voices in the industry, giving oil price forecasts that sound a bit unrealistic. In 2014, when oil dropped from north of $100 a barrel to $80, Hamm predicted a quick rebound. He even monetized the company's hedges to prepare for a sharp upturn in oil prices. Continental Resources was the only oil company in the US which canceled its hedges. That turned out to be an ill-timed decision that left the shale driller naked to further weakness in oil prices that followed.
This time, Harold Hamm believes oil prices could touch $70 by the end of the year and could even tough $80 a barrel next year. This is the most bullish oil price forecast I've heard so far this year. Now, a number of industry experts and analysts have increased their oil price estimates. Even Goldman Sachs, an oil bear which once talked about crude bottoming at $20 a barrel, now believes that the market is rebalancing sooner than expected, thanks in part to supply disruptions in Nigeria, Libya and Canada. The investment bank now sees crude increasing to $60 a barrel by the end of next year. Others, like UAE's economy minister Sultan Bin Saeed Al Mansoori, are more optimistic and expect crude to rise to $60 as soon as this year. But almost no one sees crude hitting $70 in 2016.
If crude actually climbs to $70 a barrel this year, then Continental Resources stock, which has already gained ~80% this year, will move even higher. The company will start deploying rigs on its lucrative positions in the Bakken, STACK and SCOOP, leading to increase in production, profits and cash flows. In this scenario, Continental Resources, which has been struggling with large losses, might turnaround this year. But I believe this is largely wishful thinking.
Although the oil market is rebalancing, near record levels of production from some major producers like Saudi Arabia and Russia, increase in output from Iran to four million barrels per day, inaction from OPEC and resumption of supplies from Canada and Libya following disruptions which knocked off more than 1.2 million barrels per day of oil flows, will keep a lid on any oil price appreciation this year. Although Continental Resources will benefit from an increase in oil prices to $50 or even $60 a barrel this year, a $70 oil price environment which could fuel its turnaround seems highly unlikely.
Disclosure: I/we have no positions in any stocks mentioned, and no plans to initiate any positions within the next 72 hours.
I wrote this article myself, and it expresses my own opinions. I am not receiving compensation for it (other than from Seeking Alpha). I have no business relationship with any company whose stock is mentioned in this article.