According to a recent research note, Credit Suisse is sounding a little bearish on Kroger (NYSE:KR). It has cut its price target from $36 to $34, implying downside of almost 8% from the last close price. Credit Suisse analysts are expecting deflation, difficult comps, and weaker fuel earnings to hinder the supermarket giant's results. Whilst we don't disagree that these forces could be headwinds, we expect the market to have priced them in and Kroger to still produce the goods making it good value now for those with a medium- to long-term outlook.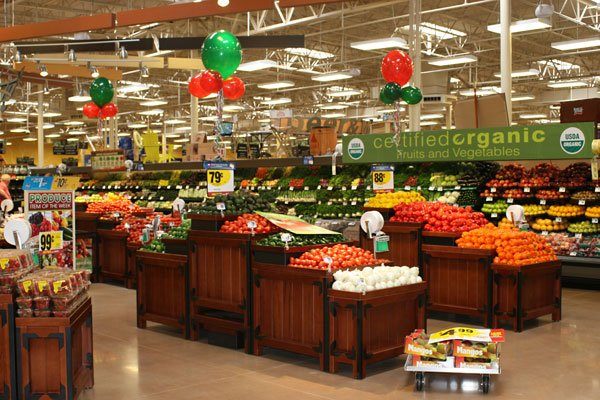 It is fair to say that food deflation will be a big hindrance for revenue and for comps for a little while to come. But whilst lower-priced dairy, meat, seafood products, and fuel have been causing its overall sales growth to slow and miss analyst revenue estimates in the fourth quarter, it's not necessarily all bad news. During the last quarter, meat saw deflation of around 5%, according to management. This meant that meat became for affordable for many customers, which drove volumes and gross profits higher. It was a similar story with milk, which acted as a drag on comps but still produced solid profit for the company. We believe the market is aware of these factors and expects it will have been factored into estimates.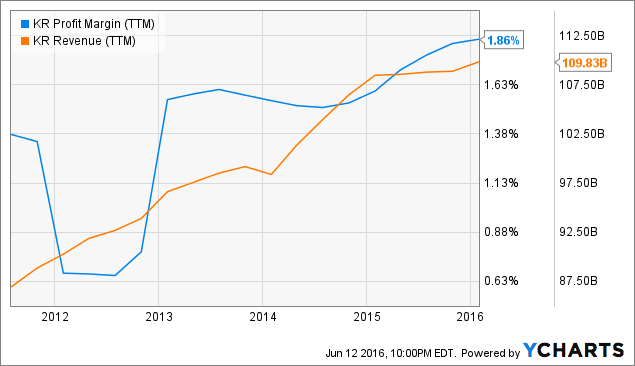 Food deflation doesn't worry us too much as long as we continue to see its profit margin still expanding at a good rate. As the chart above shows, this margin is still slender as ever, but it is increasing profitability at a time when sales are harder.
We feel that sales may get a boost at the expense of Wal-Mart (NYSE:WMT). Its decision to close 269 of its underperforming stores, with 154 of these in the United States, should give Kroger a lift in certain locations. Target (NYSE:TGT) is another company that has been closing stores as well. Albeit, these numbers are much lower with 13 stores expected to close, but we have a slight feeling that more could be on the way as management gets ruthless with its underperformers.
But it's not all plain sailing, and there are potential headwinds in the future. Some believe the growth of ALDI in the United States could be a huge threat further down the line. The discount retailer is often able to undercut other retailers in many areas of food retail because approximately 90% of its assortment are exclusive to ALDI. This exclusivity means the company can avoid the hidden costs of advertising and marketing. As well as this, ALDI's unique delivery requirement of having boxes exposed on one side, means deliveries are ready for the shop floor immediately, without any labor needed for the stocking of shelves.
Furthermore, the launch of 365 by Whole Foods Market (NASDAQ:WFM) appears to have been received well. It is still incredibly early for the brand and we would expect it to take many years for it to make a noticeable difference to Kroger's business. Kroger has shown many times before, though, that it is willing to take on Whole Foods. So we are not overly concerned at this stage.
In our opinion, ALDI and 365 by Whole Foods Market have a key place in the market, but we feel that most Kroger shoppers want more choice than either of these retailers can provide. If the United States were to fall into recession and times became hard, ALDI might win more market share, but as things stand we are confident that Kroger is positioned well to continue providing its long-term targeted bottom line growth rate of 8% to 11% per year.
With this in mind, we are expecting full-year earnings per share to come in at around $2.29, which would be an 11% increase from $2.06 in the last fiscal year. On the top line, we expect slower growth of around 6.5%, which will mean revenue of $116.95 billion.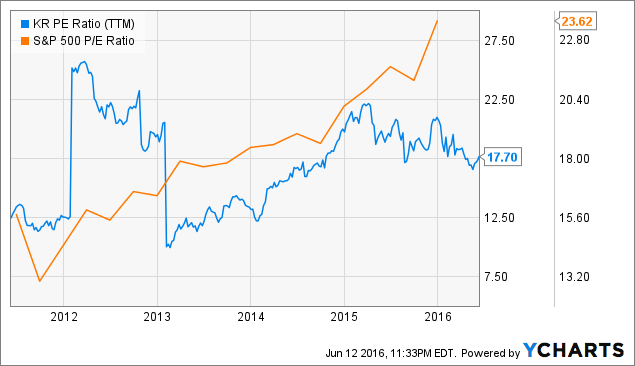 We feel confident paying 18 times earnings for Kroger's shares. This is quite a discount to the rest of the market, and for the potential earnings growth that lay ahead, we think it is a bit of a bargain for those looking for a medium to long-term investment.
Our target price based upon full-year earnings per share of $2.29 and a price to earnings ratio of 18 is $41.22. This equates to a return of almost 12%, or over 13% if you factor in the forecast dividend.
Credit Suisse may have concerns about Kroger, but we certainly don't. We are hopeful its first-quarter earnings release next week quells any fears that the market might have, allowing the share price to start its run up to $40 and beyond.
Disclosure: I am/we are long KR.
I wrote this article myself, and it expresses my own opinions. I am not receiving compensation for it (other than from Seeking Alpha). I have no business relationship with any company whose stock is mentioned in this article.