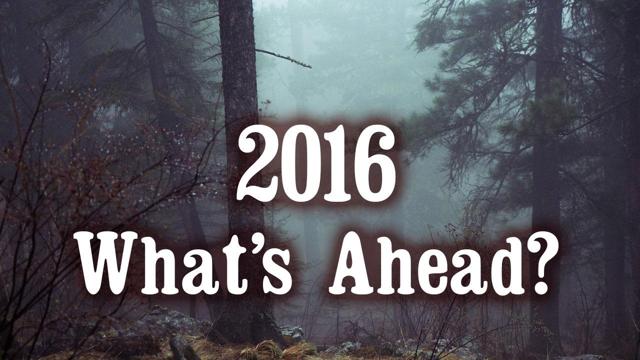 source: Stock Photo
When measured against the 2016 low of a little over $26 per barrel, oil does look like it has made significant progress that will help many producers, but the fact is the price of oil is still too low for many in the energy sector, and it looks like it'll struggle to surge past the $50 mark on a sustainable basis, contrary to the rebalancing narrative being spun by OPEC and other competitors that benefit from investors believing those assumptions.
In line with the overall oil sector, money managers have conflicting outlooks for where oil is heading. For example, short positions in WTI increased from hedge funds, which climbed by 24,324 to 77,701, according to data from CFTC, cited by Bloomberg. Those on the long side of the trade were up 17,065, resulting in overall net-long positions dropping by 3 percent.
Brent on the other had a more bullish outlook from professional manages, who boosted their longs contracts by 5,326 for the week, according to ICE Futures Europe. Short positions were 389,251 lots less than long positions.
The most important piece of information to me is the ongoing underestimating of the U.S. shale industry, which over the last couple of weeks, in response to higher oil prices, has added more rigs. This will continue if management teams believe oil has found a higher range. As always, the problem there is the better shale producers are adding more supply than expected, and that will put downward pressure on oil. In other words, there is no way of knowing at this time whether or not projected production declines in the U.S. are accurate or not. This makes investing in oil a speculative investment for the remainder of 2016.
It's shocking that U.S. shale industry is still underestimated by some
It is clear to be that some analysts, traders and financial writers are either in complete denial about the strength of the U.S. shale industry, or they are clueless as to the meaning and consequences of the addition in global oil supply coming from it.
Some get, as acknowledged when OPEC is deridingly called dead - sometimes in exasperation by some who want things to continue on as they have in the past, where predictability accompanied the oil market. Those days are now long gone, at least until we find out how quick and high global demand for oil rises, and how shale producers are able to respond to that demand. That will probably take two to three years before we have a fairly accurate picture of what that market will be like.
That said, OPEC won't be the swing producer as it has been in the past, but the U.S. shale industry will be.
As for now, quality shale producers are already adding rigs in response to higher oil prices, which if it continues, will probably add more supply to the market than is currently being priced in. That will put downward pressure on the price of oil.
Concerning shale in and of itself, as I've mentioned a number of times it is not another supply cycle as in the past, but a complete and total disruption of the oil market. Those that don't or won't understand this are going to continue to be surprised at how strong the shale industry in the U.S. really is. I think we're going to see that play out through the rest of 2016 if the price of oil remains in a range of $45 to $50 per barrel. I don't think the projections of $60 to $70 per barrel by the end of 2016 are based in reality.
For that to happen it would have to come from further outages and low production from U.S. shale producers. Neither of those scenarios are likely; although in the case of outages there will probably be further disruption in Nigeria. That's already priced in and not likely to be a factor for the rest of 2016 unless militants get much more aggressive and there isn't an effective response from the Nigerian military.
Last week U.S. oil production actually increased by about 10,000 barrels per day. If it continues to add supply, the entire narrative concerning the expected drop in U.S. shale supply would have to be thrown out.
The challenge for shale producers is that would bring shrinking revenue, margins and earnings. Until there is a true and sustainable rebalancing of the market, this is what the industry will face into 2017 at minimum. It'll take that long in my opinion for demand to catch up with supply. Again, significant and ongoing outages and disruptions could hasten that outcome, but that would still only be temporary catalysts that couldn't and shouldn't be counted on.
Rig count and output levels
A major factor in the outlook for shale production has been the rig count, which when falling, was a measure of oversupply coming from the U.S. The problem there was strong shale companies continued to surprise during that period of falling rigs in operation by making amazing improvements in productivity from their wells on average.
Consequently, almost every time there was a decline in rigs supply was much more resilient than expected. So now that the rig count has started to climb once again, I'm looking for that to be the case on the upside as well. What I mean by that is production will continue to exceed expectations, which will be magnified by adding more rigs.
If I'm correct on this, than the increasing number of rigs will almost surely put a ceiling on the price of oil until there is a rebalancing of the market, with demand overcoming the productivity gains of shale producers. We're not there yet, so it will remain a drag on oil.
How much higher the rig count will go and at what pace will be determined by the conviction of various managements on the price of oil for the rest of 2016. For example, Continental Resources (NYSE:CLR) CEO Harold Hamm is very bullish on oil prices, recently stating they could climb to as high as $72 per barrel by the end of the year. If that is similar to what other leaders are thinking, the number of rigs could climb a lot higher than expected.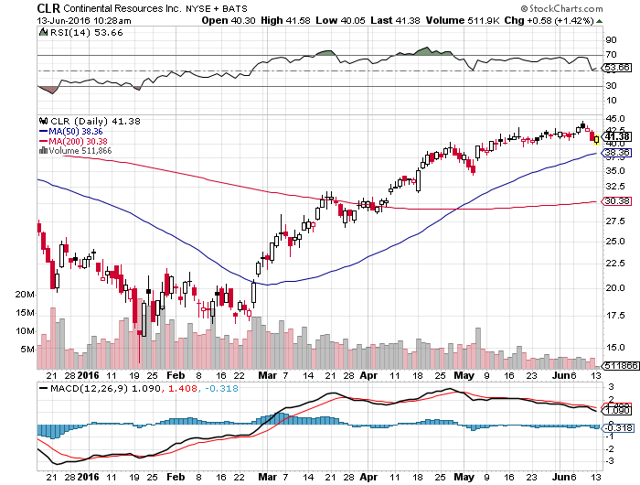 source: StockCharts.com
Pioneer Natural Resources (NYSE:PXD) is another company looking at oil in a more bullish manner. It is a good example of a company that has beat production estimates because of improved productivity at its wells. It had originally guided for a range of 211,000 to 216,000 barrels of oil equivalent per day, but was able to average approximately 222,000 barrels of oil equivalent per day. In response to the improved output, the company has raised its production guidance to 12 percent for the year, up from the 10 percent it was looking for before.
Thinking the price of oil may be sustainable, Pioneer has hinted it is thinking of adding more rigs. Other companies have made similar comments. Those decisions will be the major factor through the rest of 2016 as to the price range oil will operate in. This assumes no more major surprises on the geo-political and natural side of things.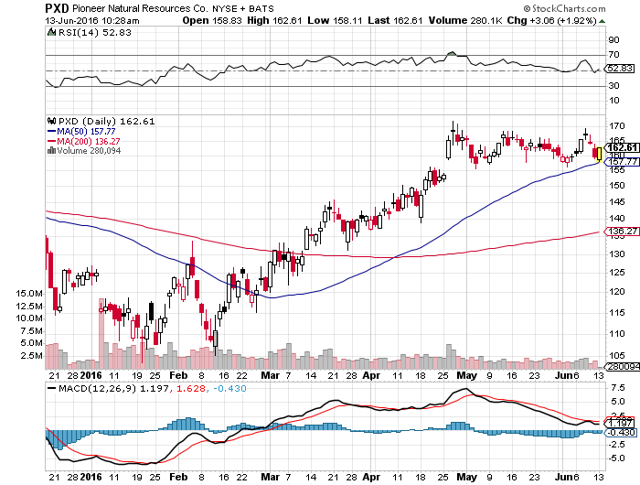 source: StockCharts.com
My thought at this time is Hamm and others are far too bullish in the short term, and we're likely to see incremental increases in the number of rigs added, rather than a huge increase. Even so, it will produce a powerful psychological effect on the outlook for oil, which should damper the price outlook. The reason is the question will be raised as to whether or not the demand will outpace supply now that concerns are growing over the weakening Asian economies, led by China.
Asian economies
On the demand side the key thing to watch will be Asia, with particular focus on China, which has been buying up oil to boost its stockpiles; a practice it has historically engaged in with most commodities when they're at desirable price points.
Most concerns are whether or not China will or can continue to buy oil at current levels because of its growing debt and industrial overcapacity. Another factor is if China has the storage capacity to meet its stockpiling strategy.
A report from the China Association of Automobile Manufacturers shows vehicle sales climbed to 2.1 million units in May, an increase of 9.8 percent year-over-year. So far in 2016 vehicle sales are up 7 percent through May. For this reason it's possible Chinese demand for the rest of 2016 could remain fairly strong.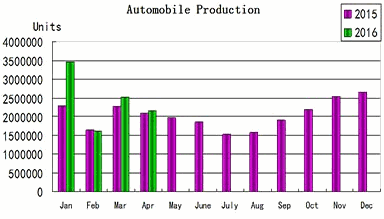 source: CAAM
It'll be determined by whether or not growing debt and industrial challenges offset the apparent increase in demand for gasoline, as reflected in higher vehicle demand.
Also important is data from Japan, where its business survey index (NYSE:BSI) found large manufacturers' sentiment had fallen from minus 7.9 in the first quarter to minus 11.1 in the second quarter.
China and Japan are the two largest Asian markets.
Conclusion
There is nothing that could conclusively reflect the price range of oil for the remainder of the year, although I'm looking at $45 - $50 per barrel, primarily because I see shale producers adding more supply to the market than anticipated, and when combined with the increase of supply from several OPEC producers, it will outpace the 1.2 million per day increase in oil demand expected throughout 2016.
But even if the price of oil is stronger, it would have to jump into the mid to upper $60s to make any real difference. That would mean a lot more demand than supply, which would cut down on inventory. I can't see anything that would generate those types of results outside of much weaker shale production them I'm including in my model.
For that reason I see oil continuing to be a highly speculative investment in the months ahead, with only the major players or low-cost shale producers being safe to take or add to a position.
Disclosure: I/we have no positions in any stocks mentioned, and no plans to initiate any positions within the next 72 hours.
I wrote this article myself, and it expresses my own opinions. I am not receiving compensation for it (other than from Seeking Alpha). I have no business relationship with any company whose stock is mentioned in this article.