Seeking Alpha is a great tool for institutional investors and retail shareholders. Every single opportunity in the market is normally noted here. Sometimes, this is quite annoying for authors, because it is difficult to find articles, wherein other writers have not talked about this idea before. In this case, I found this opportunity at my own, and then I saw this article, this one, and another one talking about the same idea.
Since the cited pieces are old, so I will describe the current situation of the stock, the letter sent by an activist and will explain why this is about to jump.
Support Inc.
Support Inc. (NASDAQ:SPRT) ("Support") provides a cloud-based software solution for companies to maintain interactions with their customers. It is headquartered in Redwood City, California.
The main product advertised by the company is Nexus:
Cloud (Nexus) is an SaaS offering that provides significant levels of automation and analytics that enable companies to deliver superior technology issue resolution while improving both the customer experience and operational performance.
[10-K]
Support.com Cloud offering (Nexus) provides different cloud applications (You can find further information about its products in the last 10-K):
"1. Agent Support - our flagship application for automated guidance for customer support agents leading to more productive and engaged support teams, a more consistent support experience and higher customer satisfaction.

2. Self-Support - a newly released application for contextual self-service support for end-consumers either via the web or mobile apps leading to lower customer effort, a better customer experience and higher customer retention and loyalty.

3. Embedded Support - a Software Development Kit (NYSEARCA:SDK) allowing access to support guidance to be integrated within web sites or mobile apps for a seamless product experience"
[10-K]
In addition, the company sells end-user software products:
Our end-user software products are designed to maintain, optimize and secure computers and mobile devices. Our principal software products include products designed for malware protection and removal (SUPERAntiSpyware), PC, smartphone and tablet maintenance and optimization (Cosmos), and PC registry cleaning and repair (ARO). [10K]
Strategy, costs and restructuring
The company's main goals are to "grow and diversify revenue,
and enhance profitability". In order to fulfill these goals, the company expends mainly on R&D, sales and marketing.
The expenses on R&D are about $7 million, and this figure has been very stable during the last ten years, which shows the commitment of the company with this activity. So far, Support has obtained three U.S. patents: "Enhanced Browser Security", "Secure Computer Support System", and "System and Method for Remotely Monitoring a Plurality of Computer-Based Systems". These patents along with other intangible assets that the company owns may be very interesting for a strategic buyer.
You can have a look at the following chart to have a fair idea about the way the company expenses its revenues:
The SG&A expenses are also very important. These expenses along with the number of new employees hired from 2010 to 2015 make me think that the company did not restructure effectively. I think the net income declined sharply in the last year because the management was incapable of maintaining a competitive environment in the company. I could find the following text in the last 10-k about their last restructuring plan in 2013. I am not aware that the management and the Board understand the current situation of the company, given this small restructuring plan:
In the fourth quarter of 2013, the Company implemented a reduction in our work-from-home agent and corporate workforce to reduce our ongoing cost structure. The Company reduced its agent workforce by 210 employees, and its corporate workforce by 15 employees. The affected employees were terminated as of December 30, 2013, with certain corporate employees remaining with the Company for a limited time thereafter. As a result, we recorded a restructuring charge of $317,000 in cost of services, $11,000 in research and development expense, $45,000 in sales and marketing expense and $58,000 in general and administrative expense in the fourth quarter of 2013. The restructuring charge was comprised of employee termination costs. As of December 31, 2013, the balance on this restructuring obligation was $431,000, which we paid in cash during the first quarter of 2014. [10-K]
Financials
I do not like looking at so small companies such as this one. It has $42 million market cap as of June 13, 2015. However, this case is a little bit different. The company shows no long term debt. Its cash per share is said to be $1.12, and its book value per share is $1.23, whereas the share price is currently $0.77. Its revenue per share is $1.29. Finally, no one believes that its stock price could fall more, as the amount of shares short is almost zero.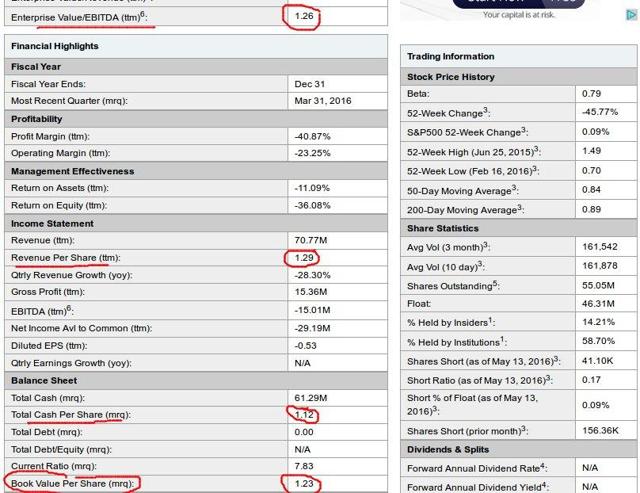 (Source)
When you find a hidden gem such as this one, you just need to find a very good catalyst to justify the investment. In this case, we have one: an activist investor bought a big stake and is trying to elect some new directors to the Board of Directors of the company. I think if the activists sell the company, the buyer should pay at least the amount of cash inside. This means that we could make at least 60% return.
Shareholders' return and Activist
In 15 years, the value destruction in this company was very important. Support made its IPO at a price of $30, and the current value of the stock is $0.785. It was a matter of time that some shareholders complained about it.
VIEX Capital Advisors, LLC, is a hedge fund created by Mr. Eric Singer. This activist investor invests in "sub-$1.5 billion" market cap companies in technology. I could not find the amount of assets under management (If you know it, please write a comment), but the minimum investment is $1 million and its management fees are 2% and 20%. I could find some information in this report written in 2014 about the hedge fund industry:

(Source)
I could also find some information about the companies that he manages right now in his Linkedin profile: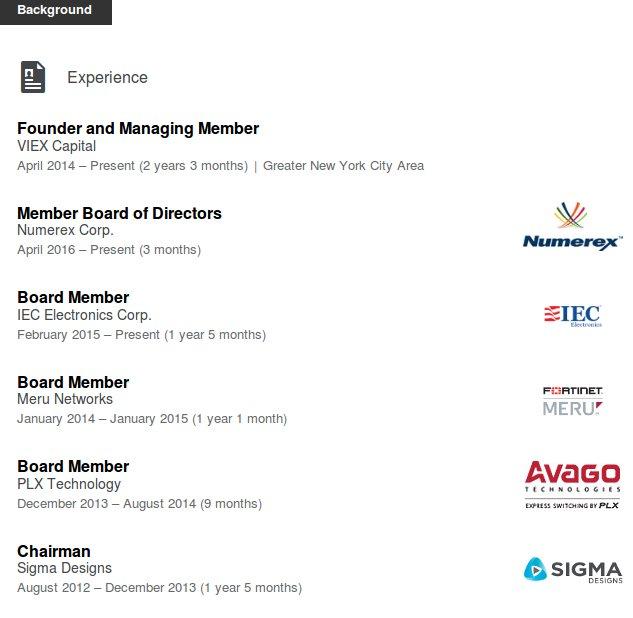 (Source)
We can learn a bit from what happened to the companies, in which this hedge fund manager worked. In finance, I believe on the following words: "The past is the future with the lights on":
PLX Technology was bought by Avago in June 2014. This was an all-cash deal that valued PLX at about $298.3 million.
Meru Networks was targeted by the activist in 2015 and was bought by Fortinet in the same year. The buyer paid $44 million in cash.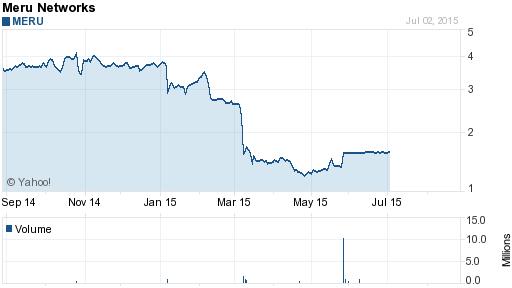 (Source)
I think this activist knows very well how to prepare an underperformed technological company to be bought. This is surely what will happen to Support. Mr. Eric Singer owns, at this point in time, a large stake in this company, and started a campaign to elect five directors:
VIEX Capital Advisors, LLC, together with its affiliates and the other participants in its solicitation, collectively the largest stockholder of Inc., with ownership of approximately 14.9% of the Company's outstanding shares, announced today that it has issued a letter to stockholders in connection with its campaign to elect five highly-qualified directors at the Company's upcoming annual meeting of stockholders on June 24, 2016.
(Source)
Conclusion
This is a fantastic opportunity. We found a company that is cash rich, has no debt, has some patents and an activist investor wants to return all that value to the shareholders.
I think that the stock is quite small, and not many investors saw it. This is the reason that the price is still at that level, even after the activist investor has sent the letter.
Disclosure: I/we have no positions in any stocks mentioned, and no plans to initiate any positions within the next 72 hours.
I wrote this article myself, and it expresses my own opinions. I am not receiving compensation for it (other than from Seeking Alpha). I have no business relationship with any company whose stock is mentioned in this article.
Editor's Note: This article covers one or more stocks trading at less than $1 per share and/or with less than a $100 million market cap. Please be aware of the risks associated with these stocks.