Source: MPLX.
The worst oil crash in over 50 years has presented a great opportunity for long-term dividend growth investors in the energy industry. One of my favorites is MPLX (NYSE:MPLX), one of the fast growing, refiner sponsored midstream MLPs that IPOed in the last few years.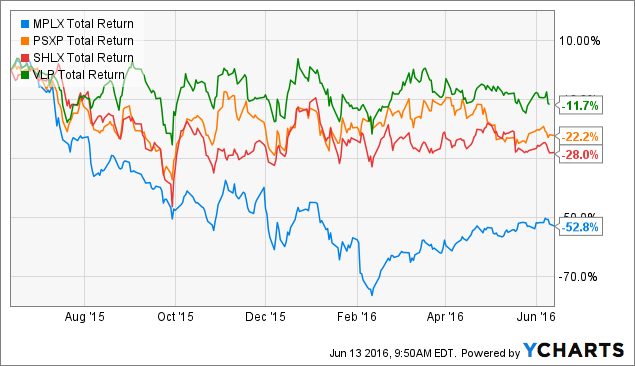 MPLX Total Return Price data by YCharts.
As you can see, in the past year MPLX has badly underperformed its peers: Phillips 66 Partnersm (NYSE:PSXP), Shell Midstream Partners (NYSE:SHLX), and Valero Energy Partners (NYSE:VLP). Let's examine why Wall Street turned so negative in regards to this fast growing midstream MLP. More importantly, I'll explain why it looks like the worst is likely over for what could prove to be one of the best dividend growth opportunities of the next decade.
What went wrong with MPLX
Back in 2015 MPLX's sponsor and general partner Marathon Petroleum Corp. (NYSE:MPC) arranged a $10 billion buyout of MarkWest Energy Partners. MarkWest is a juggernaut in the gas gathering and processing industry in America's largest and fastest growing shale gas formations; the Marcellus and Utica shale.
However, there were two problems with this mega-merger. First it was paid for by issuing a lot of new units and taking on $4.2 billion of MarkWest debt. This meant existing investor dilution, more reliance on equity markets for future growth, and a temporarily less secure payout coverage ratio.
It also represented a change in MPLX's underlying business model. Up until the merger MPLX's cash flow was entirely generated by its sponsor's drop downs. Marathon Petroleum, as one of America's largest independent refiners, owned a lot of midstream assets and could arrange to sell it to its MLP under long-term, fixed-fee contracts with minimum volume guarantees. This ensured fast growing and stable cash flow with which to grow the distribution, and hopefully the unit price.
However, MarkWest's assets now give MPLX exposure to natural gas price risk that it previously didn't have to worry about. For example, in the first quarter post merger MarkWest's assets actually decreased distributable cash flow, or DCF, by $16 million. On the other hand, now that gas prices have rallied a bit things are improving. In Q1 of 2016 MPLX reported that DCF increased 314%. This indicates that, should energy prices continue to recover, MPLX might be able to beat lowered market expectations and generate strong potential capital gains.
Excellent growth potential as far as the eye can see
The MarkWest merger was originally designed to allow MPLX to continue its previous 25% payout growth rate through 2020.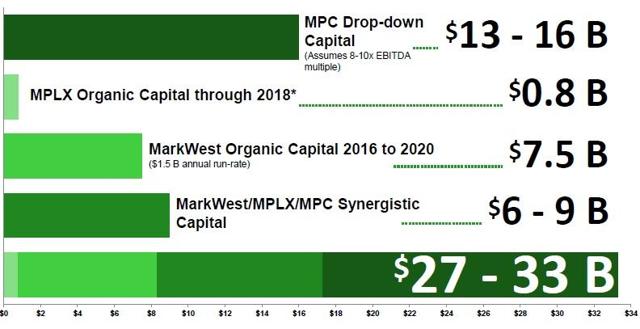 Source: MPLX investor presentation.
With a potential growth and drop down pipeline of $33 billion that could still happen...IF energy prices manage to recover over the next few years. In fact, given MPLX's small size such a growth backlog could offer decades of strong payout growth and market crushing total returns.
How does it compare to its competitors?
| | | | |
| --- | --- | --- | --- |
| MLP | Forward Yield | Q1 Distribution Coverage Ratio | Projected Distribution Growth Rate |
| MPLX | 6.1% | 1.18 | 12% to 15% in 2016, 10+% in 2017 |
| Phillips 66 Partners | 3.5% | 1.15 | 30% through 2018 |
| Shell Midstream Partners | 2.8% | 1.40 | 28.9% through 2018 |
| Valero Energy Partners | 3.1% | 2.0 | 25% through 2017 |
The MPLX price crash has left it with: a very attractive yield, a still secure distribution, and solid growth prospects. While true that payout growth guidance is nowhere close to the impressive scale of Phillips 66 Partners, Shell Midstream Partners, or Valero Energy Partners' projected payout growth rates, if management can hit those targets then MPLX investors could still be looking at long-term total returns of around 20%. That's because studies show that a good rule of thumb for long-term total returns is yield + payout growth.
BUT how realistic are its competitors forecast growth rates? Management and analyst projections are all well and good, but as the oil crash has shown, growth plans can go off the rails with little warning. Luckily for Phillips 66 Partners and Shell Midstream Partners they have massive growth runways courtesy of their respective sponsors Phillips 66 (NYSE:PSX) and Royal Dutch Shell (NYSE:RDS.A)
In fact, Phillips 66, America's largest independent refiner, owns an enormous supply of midstream assets and is planning on expanding those further. For example, Phillips 66 management has stated that it is investing $2.8 billion in 2016 into new midstream infrastructure and by 2019 will have added up to $9 billion in new midstream projects.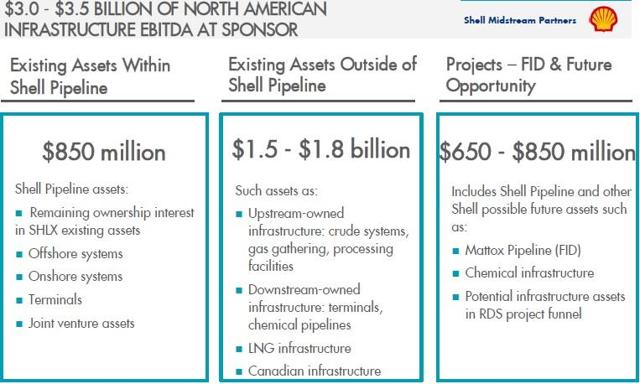 Source: Shell Midstream Partners investor presentation.
Meanwhile, Royal Dutch Shell is the third largest publicly traded oil company on earth. Its North American midstream assets alone are capable of offering its MLP excellent growth potential for the next five years. After that? Well Shell recently spent a fortune to acquire LNG giant BG group and should Shell Midstream Partners end up acquiring all of Shell's international midstream assets that could provide a decade or more worth of growth runway.
Valero Energy Partners, with a smaller sponsor, has the smallest growth potential but that is only relative to the enormous scale of Shell Midstream and Phillips 66 Partners. With Valero's existing midstream assets its MLP should be able to grow like a weed for the next five years. In addition its best in class coverage ratio and rock solid balance sheet means that it should be able to keep rewarding investors with strong and sustainable payout growth for several years after that.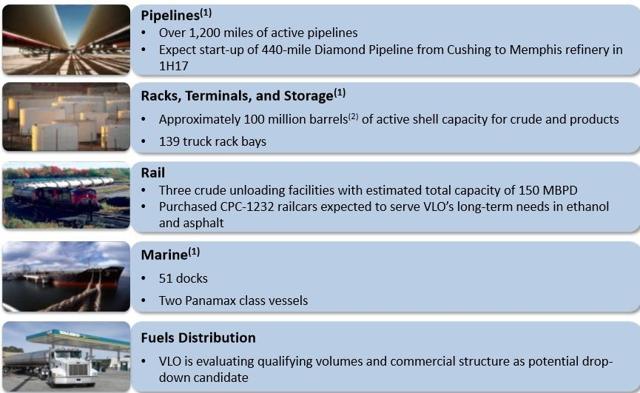 Source: Valero Energy Partners investor presentation.
Risks to keep in mind
Before investing you need to always ask yourself "what are the risks to this investment thesis". In the case of MPLX, as well as its impressive peers, there are several risks to watch for going forward. First is excessively leveraged balance sheets.
| | | |
| --- | --- | --- |
| MLP | Total Debt/TTM EBITDA Ratio | Interest Coverage Ratio |
| MPLX | 13.94 | 2.11 |
| Phillips 66 Partners | 4.49 | 5.64 |
| Shell Midstream Partners | 0.21 | 30.30 |
| Valero Energy Partners | 1.99 | 17.27 |
The midstream MLP industry is highly capital intensive and since the business model calls for paying out a good deal of cash flow to investors much of these MLPs' future growth will be funded with debt and equity. As we saw with Kinder Morgan (NYSE:KMI) last year, too high a debt burden can create an over reliance on fickle investor sentiment. That in turn can derail an MLP's growth plans, no matter how big the potential growth backlog is. It can also jeopardize the current distribution because a violation of debt covenants usually means an immediate suspension of distributions until debt is brought back under control.
While MPLX appears to have a crazy high leverage ratio keep in mind that it took on $4.2 billion in MarkWest debt all at once and hasn't had a full year to benefit from that it's acquisition's EBITDA. None the less, management is making deleveraging a priority this year and so in the near term this MLP will be relying exclusively on equity markets to fund additional drop downs. While MPLX's unit price has doubled since its February low, the oil crash might not be over yet. Should its price once more fall into the toilet than management might find its ability to achieve even its much lower sustainable payout growth projections difficult.
Another risk to consider is MPLX's new natural gas price risk. While US LNG exports and the growth of natural gas power plants should help alleviate the recent gas glut remember that energy prices are incredible volatile and almost impossible to predict.
For example, the International Energy Agency is now predicting that global natural gas prices could stagnate due to oversupply through 2021. That means that new drilling in the Marcellus and Utica shale, (the key growth catalyst for MPLX's MarkWest assets), could languish. Thus much of that potential $33 billion growth backlog might disappear should gas prices prove to make those projects not economically viable.
Bottom line: One of the best ways to potentially profit from the future of American energy
While the MarkWest Energy Partners merger seems to have temporarily hurt MPLX's fantastic growth story, it appears the MLP is getting back on track. With: a very generous present yield, still strong payout growth prospects, and lowered market expectations, I think the current price represents an excellent opportunity for your diversified dividend portfolio. That's especially true if oil and gas prices recover over the next few years.
Disclosure: I/we have no positions in any stocks mentioned, and no plans to initiate any positions within the next 72 hours.
I wrote this article myself, and it expresses my own opinions. I am not receiving compensation for it (other than from Seeking Alpha). I have no business relationship with any company whose stock is mentioned in this article.