Overview
WestJet (TSE: WJA) (OTC:WJAFF) (OTC:WJAVF) is a Canadian airline based out of Calgary, Alberta. WestJet began operating as a low-cost airline in 1996. By 1998, WestJet had flown three million passengers. The company went public in 1999 at $10 per share. Over the 20 years in operation, WestJet has rapidly expanded its business. In 2000, the airline expanded its business into eastern Canada. Four years later, in 2004, WestJet expanded again into U.S. cities such as Los Angeles, Orlando and Tampa Bay. WestJet grew its business into Europe, flying from Newfoundland to Dublin. In spring of 2016, it will begin flying to London, England (Gatwick airport). The constant expansion has helped WestJet grow its earnings year after year.
Fundamentals
P/E - 9.32
Market Cap - $2.90B
Enterprise Value/EBITDA: 8.32
Book Value per Share - 16.40 - the book value per share has consistently increased, meaning the value of the business is increasing as well.
Business History/Operations
WestJet has been extremely successful in expanding and growing its business across the world. In its 20-year history, it has reported profits in 19 years. WestJet has survived through various economic conditions over the past 20 years. 2015 marked the 11th consecutive year of profitability. 2015 was an exciting year for WestJet because it expanded WestJet Encore, added new routes to London, England, and expanded its fleet. The airline added 12 new Boeing 737-800NGs, 9 new bombardier Q400s, and 2 Boeing 767-300ER. WestJet also discarded 5 Boeing 737-700NGs. The move to add new aircraft was done because of new routes to the United States and to optimize its fleet. In late 2015, WestJet began operation of the new Boeing 767-300ER.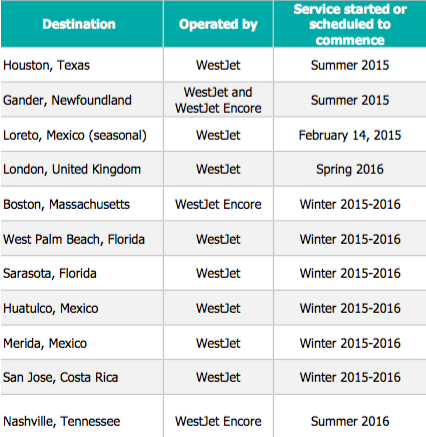 (Source: WestJet Annual Report 2015)
The chart above shows the new routes that have been added in 2015, and will be added in 2016.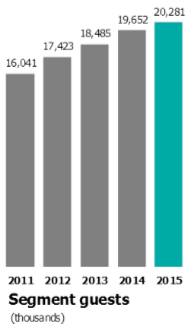 (Source: WestJet Annual Report 2015)
Alongside the expansion of its fleet, WestJet flew 20 million passengers in 2015. It has constantly increased its customer base by attracting new passengers every year through effective marketing. The expansion into new locations also attracts more customers.
Competitive Advantage
I believe the strongest advantage WestJet has over its competitors in Canada is the pricing model. WestJet offers cheap ticket prices for flights in Canada and to international destinations. An example, I was traveling from Toronto to Vancouver last month. I decided to compare the prices between WestJet and Air Canada (OTCQX:ACDVF). A single one-way ticket with WestJet would cost me C$510. On the other hand, a single one-way ticket with Air Canada would cost me C$632. The cheap prices continue to lure new passengers in Canada and around the world.
Financial Information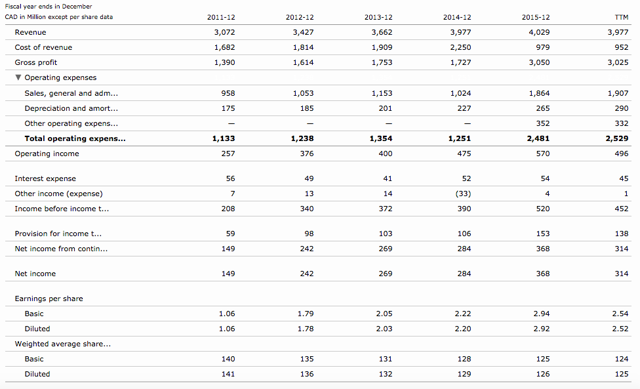 (source: Morningstar)
The five-year income statement above shows consistent revenue and net income growth. WestJet has been profitable through its expansion endeavors. The increase in sales proves that most of the revenue is coming from the increasing number of passengers using WestJet.
Risks
The airline industry is susceptible to the overall performance of the economy. If the economy contracts and goes into a recession, WestJet could face business problems. There is also a housing bubble brewing in Canada. The Canadian economy is already weak due to low oil prices. If the housing bubble bursts, Canada can face a major recession, which can threaten the airline industry. The low oil prices have reduced expenses. However, if oil prices continue to rise, the earnings could decline.
Conclusion
WestJet provides an opportunity to invest in a growth stock because the company is continuously expanding its business into new destinations and reaching more customers across the world. WestJet is rapidly growing and it can possibly become the biggest airline in Canada.
Disclosure: I/we have no positions in any stocks mentioned, and no plans to initiate any positions within the next 72 hours.
I wrote this article myself, and it expresses my own opinions. I am not receiving compensation for it (other than from Seeking Alpha). I have no business relationship with any company whose stock is mentioned in this article.
Editor's Note: This article discusses one or more securities that do not trade on a major U.S. exchange. Please be aware of the risks associated with these stocks.