Shares of Facebook (NASDAQ:FB) are sinking in trading today amid news that notorious short-seller Andrew Left is short the stock. According to Left, the platform is losing relevancy. He says:
"...Facebook [is] losing share to Snapchat and overstaying its welcome in other niches. I am not saying Facebook is a bad company, [it] just will not be a $330 billion company in a year."
We have heard this argument before. We have actually heard it several times before. In 2013, we heard that FB was losing its cool among teenagers as they opted for Snapchat instead. The story repeated in 2014, with people saying FB's penetration of the young adult market decreased as the demographic shifted to Snapchat. Throughout 2015, we heard the same story in articles such as this, this, and this. Yet, despite the story of FB 'losing its cool' being around since 2013, the stock price has more than quadrupled in that time while the user base grew more than 45% from 1.11 billion to 1.62 billion.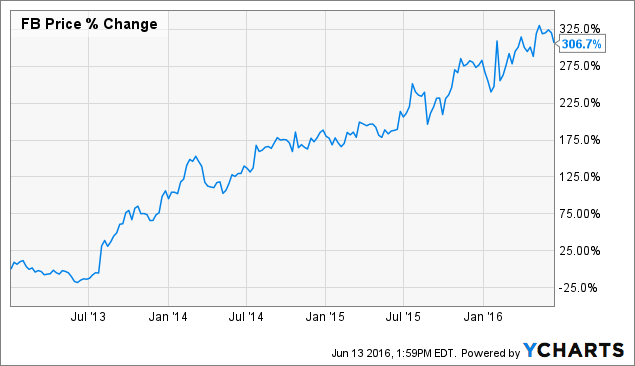 We aren't saying that FB isn't losing its "cool." FB is losing its "cool" among teens and young adults simply because it is quite hard for teens and young adults to look "cool" on a platform their parents, grandparents, aunts, and uncles use. The party isn't "cool" when your mom and dad are there.
What we are saying, though, is it doesn't matter. In other words, this loss of "coolness" is not a valid reason to short the stock. The fading of "coolness" has been a trend for 3 years, but the stock has quadrupled and the user base has grown 45%. Why? Because although the platform isn't "cool" anymore, everyone still uses it. While teens and young adults are flocking to Snapchat to post their ephemeral pictures and videos (the "cool" stuff), they still remain on FB for other reasons.
FB has successfully transformed from an entertainment platform to a utility: a place where users can access the latest news stories (Trending), get reviews on services (Services), discover things to do (Places), check the scores of games (Sports Stadium), message essentially anyone on the platform if you know their name (Messenger), create and organize groups (Groups), and tap into the biggest network of social selling (Pages), among a multitude of other things. Further consolidation with attempting to make Messenger an e-commerce marketplace and creating a Yelp (NYSE:YELP) killer will only serve to boost FB's functionality and cross-generational appeal. In essence, the number of features available on FB means that it is wholly distinct from Snapchat. It doesn't need to be 'cool' to grow. It needs to be necessary. For all the reasons already listed, we argue the platform's necessity is only growing.
Relating the discussion back to young adults and teens, FB for them is essentially a cross between LinkedIn (LNKD) and Snapchat. To young adults, LNKD is pure business, no play, while Snapchat is all play, no business. FB is a little bit of both. It is still social media site, so not a LNKD comp, but it retains a semi-serious, semi-mature feel that is far different than the "10-seconds-and-its-gone" vibe Snapchat embodies. All three platforms are necessary, all three are unique, and all three will grow concurrently at rapid rates over the next several years.
Back to the investment thesis, we disagree with Left that the stock isn't worth $330 billion. We actually think it is worth much more. The stock is trading right around 31x operating cash flow and 45x free cash flow on an EV basis. These multiples are discounts to trailing growth which has persisted at high levels for several quarters. Operating cash flow grew 75.5% Y/Y in 1Q16, and has grown 75%+ Y/Y in each of the past 3 quarters. Meanwhile, free cash flow grew 54.5% Y/Y in 1Q16, and has grown 50%+ in each of the past 4 quarters.
It is similar story on the bottom-line. With LTM Non-GAAP EPS of $2.63, FB is trading at 43x trailing earnings. While this is not cheap in a traditional sense, it is a major discount to the company's MRQ earnings growth of 83.3%. The 43x trailing P/E multiple is also a discount to what MSFT just offered for LNKD. A takeover price of $196 per share and LTM non-GAAP EPS of $3.01 means MSFT offered 65x trailing earnings for LNKD. We think it is a strategic move at this point in time to buy FB at a discount to LNKD (53x versus 65x) given FB's stronger position, more growth potential, and less economic sensitivity.
We are adding to our FB position here despite being fully aware that FB's "coolness" has worn off. While coolness is fading, necessity is growing, and we think the world's most necessary social platform is worth much more than $330 billion.
Disclosure: I am/we are long FB, LNKD.
I wrote this article myself, and it expresses my own opinions. I am not receiving compensation for it (other than from Seeking Alpha). I have no business relationship with any company whose stock is mentioned in this article.