Scanning through the news and articles about Microsoft's (NASDAQ:MSFT) acquisition of LinkedIn (LNKD) today, consensus seems to be clear: the price tag on the deal might have been too high.

Credit: Microsoft, LinkedIn and Gograph.com
But to understand the acquisition, by far the largest in MSFT's history, one must look at it from the perspective of the acquirer and try to see the opportunities.
CEO Satya Nadella wrote a letter to his employees today. In it, the CEO makes it clear that, above all, he is looking at the LinkedIn acquisition as a way to "reinvent productivity and business processes." In other words, the deal is an attempt at vertically integrating workplace solutions by being present at the many different stages of the professional cycle.
At an individual level, it starts with pre-professional networking and the job search, areas in which LinkedIn has been dominant as the leading professional network platform for a while now. But then it continues with professional development, through LinkedIn's Lynda and, most importantly, with the integration of productivity tools, including Microsoft's Office, SharePoint and Skype. A sales representative at Company XYZ, for example, who originally found his or her job through LinkedIn, could not only generate sales leads through the same platform, but also manage calendar (MS Office), meetings (Skype), and share documents (SharePoint) more seamlessly, provided that the many tools are properly integrated, without ever having to leave the Microsoft umbrella of products and services - all with a single sign on. In the end, the hypothetical salesperson could very well have an all-Microsoft experience in the office, from 9 a.m. to 5 p.m., and never have to seek (or encourage his or her employer to seek) workplace productivity solutions elsewhere.

Source: graph compiled by DM Martins Research. Credit to thinkstockphotos.com
At the enterprise level, LinkedIn's platform could not only serve as the recruiting tool that it already is, but it could also combine with Microsoft's ERP (enterprise resource planning) system, MS Dynamics, to allow clients to better manage their employee and client databases.
This most recent attempt at vertical integration, in my view, is strategically Microsoft's 2016 version - although much subtler and less novel - of what the company managed to accomplish by introducing MS Office, IE and Windows 3.x/95 in the first half of the 1990s. The company's idea back then was not necessarily to offer the best available operating system, or the best word processor and spreadsheet combo, or the best web browser - Microsoft's products might in fact have been inferior to others available in the market, purely from a technical perspective. The idea, instead, was to offer the personal computer user a complete-package solution that would keep him or her "hooked" to the brand and coming back for more.
But is the acquisition justifiable?
Strictly from a strategic perspective, I can find arguments to support the Microsoft-LinkedIn combination. This is not to say that the path to monetization from the deal is clearly carved, but the pieces could potentially be arranged in a way that create value to Microsoft.
The problem, in my opinion, lies first and foremost in the price.
The LinkedIn acquisition is, by a long stretch, Microsoft's biggest acquisition: $26.2 billion vs. runner-up Skype Technologies, at $8.5 billion. In fact, LinkedIn was priced this morning higher than Microsoft's multi-billion dollar acquisitions of Skype, Nokia mobile phones and aQuantive combined.
The $26.2 billion price tag values LNKD at over 55x the company's 2016 EPS - much higher, for example, than Facebook's (NASDAQ:FB) 32x, Twitter's (NYSE:TWTR) 28x or Google's (NASDAQ:GOOG)(NASDAQ:GOOGL) 21x. If you factor in the $510 million in FY15 pre-tax SBC (share-based compensation) expenses into the equation, LinkedIn is now valued at an astonishing trailing P/E of 150x. I believe this last metric to be much more insightful, since LinkedIn has had a history of compensating employees lavishly with company shares, and Microsoft will need to find a solution, either through cash payroll payments or share dilution, to retain top talent from the acquiree.
In terms of the premium paid on the acquisition, LinkedIn's 49%, while a large number at first glance, actually compares favorably to many other of Microsoft's large acquisitions in the past 15 or so years. Still, $8.6 billion in goodwill seems like a sizable chunk of cash to be paid for the professional network company.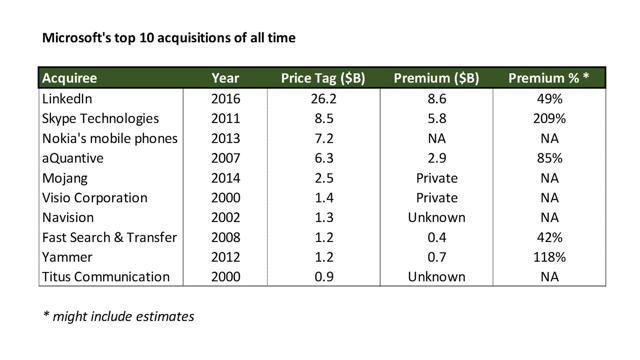 Source: DM Martins Research, using data from Wiki and multiple news sources
Lastly, Microsoft will still have to deal with the same issues LinkedIn had been facing prior to the acquisition announcement. Both revenues and MAU (monthly average user) growth had been declining as of late - perhaps an expected phenomenon, as most companies would be pressed to sustain revenue and MAU growth rates at 30% or 40% levels for very long. And as I highlighted on my most recent LNKD article, all of the company's GAAP operating expenses, from S&M to R&D to G&A, have been rising faster than revenues over the past 4 years.
With the closure of the acquisition and the integration efforts probably dominating the meeting agendas over the next 2 years at least, I wonder how much effort LinkedIn's leadership team will be able to devote to these equally important issues.
Disclosure: I/we have no positions in any stocks mentioned, and no plans to initiate any positions within the next 72 hours.
I wrote this article myself, and it expresses my own opinions. I am not receiving compensation for it (other than from Seeking Alpha). I have no business relationship with any company whose stock is mentioned in this article.