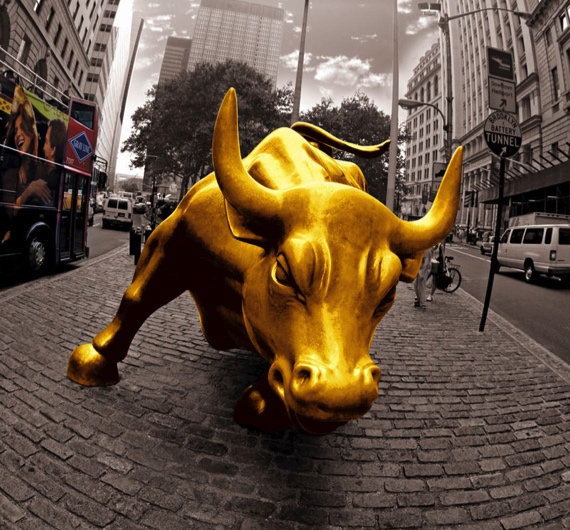 Introduction
Every week, we closely monitor net speculative positions on the COMEX as well as ETF holdings inasmuch as the historical economic behavior of gold prices suggests that over a short-term horizon (<3 months), gold prices are largely influenced by changes in the forward fundamentals, reflected in changes in net spec length, ETF holdings, and central bank reserves.
Speculative positioning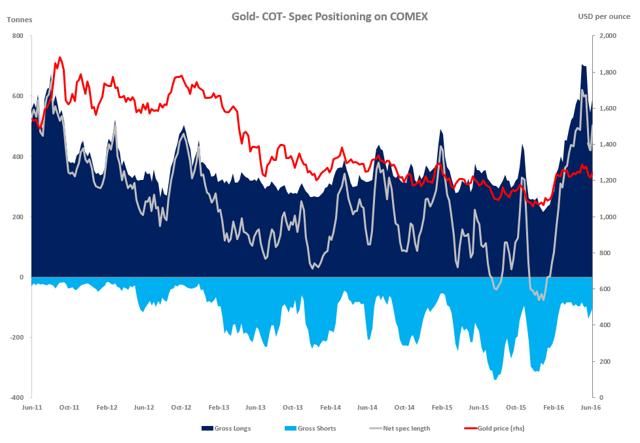 Source: CFTC.
Gold. According to the latest Commitment of Traders (COT) report provided by the CFTC, money managers, viewed as a relevant proxy for speculators, raised their let long position for the first time in three weeks as of June 7. Over the period covered by the data (i.e. May 31 - June 7), the gold price rose 2.38 percent.
The net long fund position rose 81.52 tonnes or 19 percent w/w to 502.82 tonnes. The strong improvement in gold's speculative positioning was mainly the result of long accumulation and was further reinforced by short-covering.
This improving spec sentiment came with no surprise in the sense in which the macro environment became clearly more positive for the bullion. The trigger was undeniably the disappointing US jobs report, released on June 3. The US economy added only 38,000 jobs in May, its lowest since September 2010, well below market consensus of 160,000 and down from 123,000 in March. While the unemployment rate fell to 4.7 percent from 5.0 percent in March, it was for a negative reason, namely a fall in the labor force.
In light of the market's tendency to overreact to single monthly reports, investors revised sharply down their expectations regarding the path of US rate increases, which in turn pushed the dollar and US real interest rates much lower. This produced a significantly positive environment fo r gold, prompting speculators to rebuild their long positioning in the process.
Gross longs: they increased their positions by 56.42 tonnes w/w, marking the first weekly increase in the gross long position in three weeks. Although the increase in gross longs was decent, it was not sufficient to offset long liquidation of 155.64 tonnes that took place in the last two weeks of May. Considering the current friendly environment for the bullion, we are not surprised to see longs coming back easily in the market. Still, it bears noticing that they hold a high exposure so the room for long liquidation and, therefore, lower gold prices, is large.
Gross shorts: they covered 25.10 tonnes of short contracts w/w, marking the second straight weekly fall in the gross short position. It is clear that shorts are currently unwilling to re-engage in the current environment. But given that the gross short leg is at an extremely low level judging by historical standards, we believe that buying pressure coming from further short-covering is likely to be limited.
The net long fund position remains below its 2016 high of 620.26 tonnes (May 3). Although further increases in net speculative long positions are possible in coming weeks, especially if macro and political risks were to intensify, we continue to work under the hypothesis that the net long fund position has already reached a high and thus, is set to fall in the second half of the year. Having said that, we are willing to admit that our view can change due to the current high level of uncertainty, especially coming from the British referendum, characterized by an uncertain outcome ("Leave" or "Stay") and uncertain repercussions on the financial markets. Still, we tend to believe that the market usually acts in anticipation, which implies that financial players have already hedged their portfolios in case of "bad outcomes". As a result, although some media, politicians, and gold dealers are calling for "the end of the world" in case of a "Brexit", it is unlikely to happen. To be sure, volatility in asset classes may rise, but not too significantly. As a resulted, speculators may not be inclined to overextend their already high net long position.
Investment positioning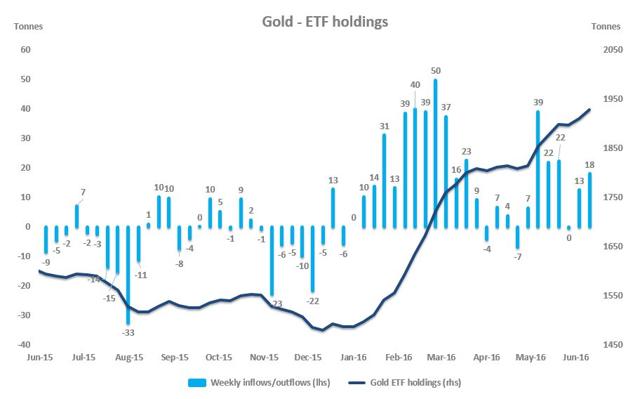 Source: FastMarkets.
Gold. ETF investors boosted their holdings for a second consecutive week as of June 10, pushing total ETF holdings up to a fresh 2016 high of 1,928 tonnes, marking its highest level since October 2013.
ETF investors bought a total of 18.01 tonnes over June 3-10 after accumulating 12.55 tonnes in the previous week. As a result, ETF investors have bought 31.18 tonnes so far in June, compared with 82 tonnes bought in May, and 14 tonnes accumulated in April. In the year to date, ETF investors are net buyers of 447 tonnes of gold, with February marking the largest month inflow of 185 tonnes, according to FastMarkets expectations.
ETF buying remains steady in the current environment. Contrary to speculators, investors did not overreact to the weak US jobs report. They bought about 8.0 tonnes of gold on June 3, slowed their buying on June 6, 7, and 8, before boosting the pace of their purchase on June 9 (+6.0 tonnes) and June 10 (+10.0 tonnes).
This confirms our intuition outlined in our previous Weekly: the recent run-up in gold prices has been more the result of renewed speculative buying interest on the Comex rather than a significant increase in investment demand via ETFs.
Are gold ETF inflows likely to continue?
Gold ETF buying will continue to be driven by actual and expected risk-aversion.
ETF inflows were impressive at the start of the year, mainly because China sent negative shockwaves to the broad financial markets, forcing investors to protect their portfolios. But ETF inflows continued in the months after because investors, although inclined to rebuild long positioning in risky assets, felt the necessity to have a hedge as the financial turmoil in early 2016 left them doubtful and political risks were on the rise. As result, investors who decided to implement a long equity/long gold strategy were greatly rewarded.
Looking ahead….
ETF inflows are likely to continue because investors will probably feel the increasing need to boost their assets in gold in case of a sudden financial panic caused by a "Brexit". That said, we like to emphasize that first, a "Brexit" is far from certain although recent polls released this weekend put this outcome ahead by a range of 1 percent (The Sunday Times) to 10 percent (The Independent), and second, the political repercussions and the market reaction on the financial markets are also unknown.
Our intuition is that because investors are "over-fearing" the consequences of a possible "Brexit", an effective "Brexit" will probably be a "non-event" in the financial markets, with no clear market impact. The longer term consequences could be nevertheless far-reaching. As a result, we do not think that a "Brexit" would result in a noticeable increase in gold ETF holdings. Alternatively, a "Brexstay" will not necessarily translate into strong ETF outflows because yes, political risks will be lower, but many other political clouds will remain, like the US presidential election in November, so market fears of risk-aversion and the need from investors to have a hedge in a long risk portfolio will remain elevated.
Bottom line: investors should not adopt a myopic view ahead of the British referendum due to the considerable amount of "white noise"; rather, they should continue to run their well-diversified portfolio and hold gold in the tune of 5-10 percent of their global portfolio and re-assess the situation after the vote.
But before the British referendum, the June 14-15 FOMC meeting is likely to attract investors' attention. While no rate increase is expected at this meeting, this meeting will be important because the Fed will update its forecasts regarding its economic outlook and the appropriate path of monetary policy normalization. This could potentially induce some outflows should the Fed succeed to convince the market that the US economy is resilient (i.e., the May jobs report was an outlier rather than the start of a trend) and therefore, a gradual removal of policy accommodation will be warranted.
In conclusion, while ETF outflows could be possible this week due to the Fed's meeting, we think that inflows are likely to remain steady during the remainder of the month and in the months ahead because actual and expected risk aversion is likely in the current challenging macro/political environment.
Spec positioning vs. investment positioning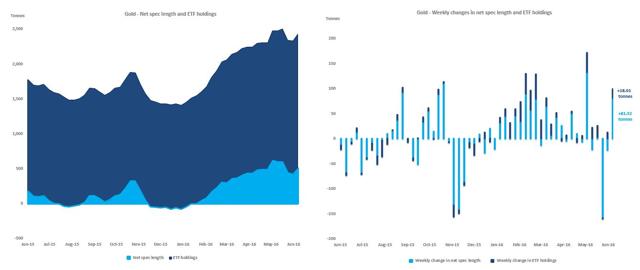 Source: MikzEconomics.
SPDR Gold Trust ETF (NYSEARCA:GLD) positioning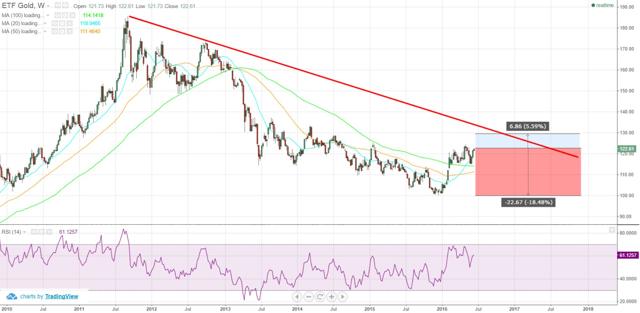 Source: TradingView.
GLD continued to post a solid performance of 2.45 percent for a second straight week over June 6-10. This was driven by a combination of speculative buying and investment buying.
It is painful to see gold prices continuing to rise whereas we decided to close our long GLD position on June 3 at a small loss. Still, risk-management is key in trading and we lost faith in our "long hypothesis" so the most conservative approach was to take the exit.
We currently see no clear trading ideas over a one-month horizon given the high level of uncertainty stemming from the British referendum. From an investor point of view, however, we continue to think that holding gold at 5-10 percent in a well-diversified risky portfolio with a horizon of 5+ years remains interesting.
Finally, as can be seen on the long-term chart above, we remain of the view that risks to prices over a 6-12 month horizon are skewed to the downside.
About: SPDR Gold Trust ETF. Includes: PowerShares DB Gold ETF (NYSEARCA:DGL), VelocityShares 3x Inverse Gold ETN (NASDAQ: DGLD), DB Gold Double Long ETN (NYSEARCA: DGP), DB Gold Short ETN (NYSEARCA: DGZ)
Disclosure: I/we have no positions in any stocks mentioned, and no plans to initiate any positions within the next 72 hours.
I wrote this article myself, and it expresses my own opinions. I am not receiving compensation for it (other than from Seeking Alpha). I have no business relationship with any company whose stock is mentioned in this article.