Think for a moment of all of the essential infrastructure the global economy requires to function - roadways and railways, ports and pipelines, electrical transmission and distribution systems, telecommunications infrastructure. Without these essential assets, the economy would essentially shut down. This is one of the reasons I purchased units Brookfield Infrastructure Partners when it first went public and continue to purchase additional units every quarter through the company's DRIP plan. It has a stake in all of these essential assets.
Brookfield Infrastructure Partners (NYSE:BIP) owns and operates a global portfolio of premier, long-life assets with attractive attributes, as they are:
Diversified both by geography and by industry;
Typically regulated or contracted on a long-term basis;
Generate stable cash flows;
Require relatively minimal maintenance capital expenditures; and
By virtue of high barriers to entry and steady, predictable returns, have continued to appreciate in value over time.
About 47% of earnings before interest, taxes, depreciation and amortization (EBITDA) is from low-risk regulated operations, while 42% is governed by long-term contracts, providing stability and predictability.
These attributes contribute to minimizing competition and enhancing the stability of returns.
Brookfield Infrastructure Partners LP, a Bermuda-based limited partnership, is a spin-off company of Brookfield Asset Management (NYSE:BAM) and began trading on the New York Stock Exchange in 2008. Since the units were listed on the Toronto Stock Exchange in September 2009, they have posted an annualized total return of 23.5%, including distributions.
Brookfield Asset Management is a strong parent and partner to Brookfield Infrastructure. Not only does it provide management and administrative guidance and assistance, but together they excel at scouring the globe to uncover and acquire high-quality companies at attractive - at times distressed - prices.
Institutional partners are a key to doing deals, particularly in weaker equity markets. BIP is not dependent on the state of the capital markets due to its relationship with Brookfield Asset Management, which has backstopped capital, in addition to the BAM-led private infrastructure funds that invest alongside BIP. Having access to committed private capital allows BIP to participate in acquisitions even in weak equity markets, as well as to take on larger deals.
In addition, BAM's broader funds outside of infrastructure allow BIP to enter into complex transactions which other strategic investors may not be able to execute; for example, to put infrastructure assets into BIP and non-infrastructure assets into a BAM-led private equity fund.
Brookfield Infrastructure's business segments include Utilities, Transport, Energy, Communications Infrastructure and Other. Its Utilities segment consists of a "regulated terminal," which is a coal export terminal; "electricity transmission," which consists of approximately 11,100 kilometers of transmission lines in North and South America, and "regulated distribution," which consists of approximately 2.6 million electricity and natural gas connections. Its Transport segment provides transportation for freight, bulk commodities and passengers. Its Energy segment provides energy transmission, distribution and storage services. Its Communications Infrastructure segment provides services and infrastructure to the media broadcasting and telecommunications sectors.
Within these segments, BIP's diversified mix of assets include rail tracks, toll roads, container ports, energy transmission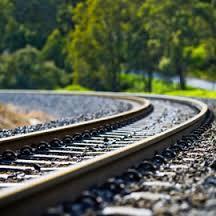 and distribution, pipelines, coal terminals and communications towers. The assets are geographically diverse as well, situated primarily in North and South America, Europe and Australasia.
Brookfield Infrastructure continuously assesses acquisition opportunities with similar attributes to continue to drive growth in its business - and its distribution - which makes its current yield of about 5.05% even more appealing.
Units of Brookfield Infrastructure Partners trade on the New York Stock Exchange under the symbol BIP and on the Toronto Stock Exchange under the symbol BIP.UN.
The company's stated objective is "to own and operate a globally diversified portfolio of high-quality infrastructure assets that will generate sustainable and growing distributions over the long term for our unitholders."
Investment Thesis
I bought units of Brookfield Infrastructure Partners when it first listed on the TSX in 2009 because the investment thesis for the company was simple, solid and straightforward, and it remains so today.
Infrastructure is a massive and growing sector globally. In both developed markets and emerging economies, there has been a significant underinvestment in infrastructure over many decades. As a result, globally, there is an enormous infrastructure deficit and existing infrastructure is increasingly obsolete. For this reason, it is a key policy for governments to facilitate and cooperate in infrastructure investment to upgrade existing and build new infrastructure, with the added benefit of stimulating and supporting economic activity.
User demand for infrastructure assets tend to be relatively inelastic because of the essential nature of many of the services. As a result, they exhibit a lower correlation to economic cycles compared to other sectors. Some assets, such as electricity and gas distribution networks, in which BIP itself is engaged, are often regulated, which usually results in an increase in the predictability of return.
Current Estimated Infrastructure Investment Requirement
| Geography | Estimated Funding Gap |
| --- | --- |
| United States | US$3.6 trillion |
| Canada | C$200 billion |
| Europe | €1 trillion |
| Australia | A$700 billion |
Source: Standard & Poor's
Constraints on government fiscal budgets have resulted in a significant need for private capital to fill the funding gap. Globally, demand for private infrastructure capital continues to grow because of these government budget constraints.
Infrastructure as an asset class offers numerous attractive benefits to investors, including:
The ownership of real assets, together with these assets' critical underpinning for the provision of essential services, often to a diversified end-user base;
Typically high barriers to entry;
High degree of regulation for certain infrastructure asset classes;
Performance characteristics that are more resilient to varying economic cycles; and
Proven potential to deliver stable, low-volatility, long-term cash flows, often with some form of inflation protection - all contributing to providing attractive, inflation-hedged total returns.
Infrastructure requires high initial capital investment and is often associated with regulated assets. Both act as impediments to potential competitors entering the market. Such assets often enjoy monopolistic or near-monopolistic market positions, as it is often economically unsound, or legally not possible, to build competing infrastructure.
Infrastructure investment offers diversification for investors because of its lower correlation with other major asset classes. Investment in quality infrastructure has historically delivered attractive risk-adjusted returns because of its relatively low volatility and strong returns, particularly over the medium to long term.
Now, seven years after my initial investment in Brookfield Infrastructure, the investment thesis remains intact. Based on the Partnership's results through the years and the quality of the management team, I expect that the business - and the distribution - will continue to grow through a continued combination of astute acquisitions and organic investment.
Brookfield Infrastructure checks off the attributes I look for in a stock: a market leader with a boilerplate business model and a wide economic moat; solid, long-life, appreciating assets; predictable cash flows; a rising distribution; and a management team that's seen the movie before, has an established record of success and is focused on generating value for shareholders. Investing in a company and management team with these enduring attributes means owning a proportional share of a business that possesses superior growth opportunities and can prevail in difficult conditions.
The company has a solid record of generating growing cash flows from its investments and passing them along to investors in the form of growing distributions. With governments and corporations experiencing credit stress, BIP is ideally positioned to lever its position and its corporate relationship with Brookfield Asset Management as a high-quality buyer with a global footprint and a low cost of capital to continue to add to its asset portfolio.
Brookfield Infrastructure offers a combination of stable, long-term, income-oriented returns together with a track record of capital appreciation. The experienced infrastructure asset management teams within the unique partnership of Brookfield Infrastructure and Brookfield Asset management represent good potential to enhance total returns through their active asset management.
A great business in a great sector can be destroyed by poor leadership. If you doubt this, think back to the disasters of Jonathan Schwartz at Sun Microsystems, Chuck Conway at Kmart, Eckhard Pfeiffer at Compaq, or John Sculley at Apple (NASDAQ:AAPL), who made numerous mistakes, the most egregious of which was to fire Steve Jobs. This list is far from exhaustive.
Strong CEOs attract and retain strong talent. Once I've satisfied myself that a company is a market leader with a sound business model and defensible competitive advantage, my next step in making an investment decision is to examine carefully the executive team, starting with the CEO, to satisfy myself that it is composed of exceptional leaders with years of relevant industry experience and a demonstrated record of achievement.
In my first article for Seeking Alpha in January, citing RioCan (OTCPK:RIOCF) as a solid investment for the long term, I stated that, in my opinion, RioCan CEO Ed Sonshine is among the best CEOs in Canada. Mr. Sonshine was recognized for his success when he was voted Canada's Outstanding CEO of the Year for 2013. Brookfield Asset Management's Bruce Flatt is another CEO I would put in this same "rare gem" category. The same year Mr. Sonshine was named Canada's Outstanding CEO, BAM CFO Brian Lawson, a key member of Mr. Flatt's management team, was named Canada's CFO of the Year. The two men have been a team now for almost 15 years - as I said, strong leaders attract and retain strong talent.
In an interview with The Globe and Mail on May 3, 2013, upon receiving the Top CFO award, Mr. Lawson recognized Mr. Flatt as an invaluable mentor and business partner:
"We really do operate much as a partnership in the firm. (Mr. Flatt) offers tremendous leadership - not just with the senior leadership team but with the entire firm. He has a great ability to be supportive, approachable, relaxed, empowering, while still clearly setting the path and being in charge."
Bruce Flatt joined Brookfield Asset Management 26 years ago, in 1990, and has been CEO for the past 14 years. Under his leadership, BAM has grown its global presence to become the world's second-largest alternative asset manager, behind only The Blackstone Group (NYSE:BX), with 700 investment professionals in 100 offices across more than 20 countries.
In a rare on-camera appearance, Mr. Flatt sat down with Bloomberg anchor Erik Schatzker for almost half an hour for a candid, exclusive interview about the firm's investments in real estate, infrastructure, renewable energy and private equity. The interview is a primer on strategic infrastructure asset management.
Brookfield Infrastructure is currently executing five exclusive deals in Brazil with potential outsized returns for electricity and natural gas transmission assets purchased during the country's current recession. BIP management knows to strike while the iron is hot, as the opportunity window will begin to close as Brazil starts to show signs of stabilization.
The company's electric and gas utilities in Britain are displaying exceptional growth, aided by the rollout of smart meters, and will likely overtake rail next year as BIP's largest business. BIP acquired 200,000 smart meters during its first quarter this year and expects the total number to climb to 700,000 over the next 12-24 months, representing a total capital cost of about $220 million. The company is well positioned to participate in additional opportunities relating to the U.K. smart meter rollout.
BIP's growing capital backlog, which has now reached record levels, benefits the company's strategy of establishing platforms that allow it to deploy capital organically and at higher returns. This organic platform growth strategy should underpin the 6-9% target FFO growth and complement the company's traditional growth upside driven by M&A, which has periodically pushed FFO growth into double digits. BIP now has visible FFO growth into the low double digits from organic platform initiatives, with further upside from M&A.
The initiatives described above, together with other identified organic investment opportunities mean that Brookfield Infrastructure should be entering a period of sustained strong returns.
Brookfield Infrastructure Partners offers an attractive combination of above-average distribution yield, plus annual FFO growth over a multi-year period likely exceeding management's 5-9% long-term target range.
The analyst consensus price target for BIP moved higher to $49.00 per unit, following the company's Q1 FY16 results announcement. Part of this was incorporating the addition of Asciano (OTC:AANOF) in the company's business model, as well as increasing the valuation of NGPL as a result of new expansion projects.
Solid Q1 FY2016 Results Support Investment Thesis
Brookfield Infrastructure's CEO, Sam Pollock, remained upbeat on the company's first-quarter FY16 conference call on May 5, when he stated, "We are very excited that our current backlog of projects, which has never been as large, could lead to another period of outperformance."
BIP's Q1 FY2016 results met analysts' expectations. Funds from operations (FFO) totaled $234 million, or $1.02 per unit for the quarter, in line with analysts' consensus estimates of $1.02 and up from $0.89 in Q1 FY2015. On an annual basis, the company noted that the overall FFO results delivered constant currency growth of 11%.
First-quarter results benefited from strong organic growth, contributions from the company's newly acquired investments and dividends received from its toehold interest in Asciano, which more than offset the impact of foreign exchange. BIP's payout ratio for the quarter was 65%, in the middle of its target range of 60-70%.
The company's Utilities segment generated FFO of $100 million in the first quarter, compared to $95 million the prior year. The increase came from continued strength in connection activity in its UK regulated distribution business, inflation indexing and commissioning of capital into the rate base over the past year.
BIP's Transport segment generated FFO of $94 million in the first quarter, consistent with last year. Results in local currencies improved by 10%, benefiting from tariff growth across its operations, higher volumes at its Brazilian rail business and cost reductions at its Australian rail operations.
The Energy segment generated FFO of $40 million in the first quarter, compared to $28 million in the prior year's Q1. The improvement reflected incremental contribution from BIP's increased ownership of its North American natural gas transmission business and "same-store" organic growth of 20%, driven by operating efficiency gains at the natural gas transmission business and growing contribution from its district energy business.
The company's French communications infrastructure business, which it acquired in March 2015, generated FFO of $19 million in the first quarter, which was ahead of expectations.
BIP's Q1 results were a solid start to 2016, with FFO per unit up 15%. The company has a strong balance sheet, with $3 billion of liquidity, leaving it well positioned to capitalize on investment opportunities in the broader market. The company substantially added to its backlog of organic growth opportunities, including smart meters in the UK and transmission investments where it can generate stable cash flows and meaningful returns immediately.
Of the eight analysts surveyed by Reuters Estimates that cover Brookfield Infrastructure Partners LP, the consensus rating is a Buy.
Organic Growth, Accretive Acquisitions and Capital Recycling Efficiency
Brookfield Infrastructure has always maintained a strong focus on capital efficiency, funding its growth capex from a number of sources. The Partnership has a long history of regularly recycling capital, selling mature assets at robust valuations and redeploying the proceeds into assets with lower valuations and a more attractive growth profile. Moreover, when asset values have been high, BIP has decelerated the pace of acquisitions, and when the share price has been weak, it has bought back shares.
Likewise, the Partnership has a strong history of organic growth at high returns. I believe BIP will continue to generate organic cash flow growth through a combination of regulatory frameworks and contractual structures that provide for annual inflationary growth, assets with fee-based revenues that are GDP-sensitive, reasonable growth-capital deployment into existing businesses and larger capital projects levering off the existing businesses.
Brookfield Infrastructure is engaged in three advanced transactions in which it will deploy almost $500 million of capital, all of which will be funded from existing liquidity. In March, BIP and an Australian partner, together with institutional investors, announced an agreement to acquire Asciano, a leading Australian port and rail logistics business for A$12 billion. Upon completion, the Brookfield consortium will own Asciano's port businesses in a 50/50 joint arrangement with Australian partner Qube (OTCPK:QBBHY) and 100% of a ports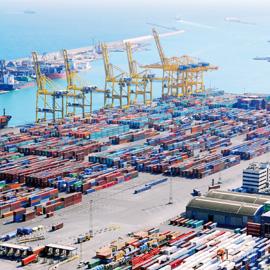 services business. Brookfield Infrastructure has committed to invest a minimum of US$350 million. On top of its investment, it will earn A$95 million from its share of the break fee plus a gain on the toehold in Asciano that it acquired in November last year. In combination with BIP's global shipping relationships, this partnership is well positioned to maximize the value of these operations. The company expects the transaction to be completed in the third quarter of 2016.
In addition to Asciano, BIP continues to work with Abertis (OTC:ABFOF) in progressing the privatization of its Arteris toll roads business in Brazil. The company views this as an opportunity to invest in a quality network that will deliver attractive returns over the long term. In addition, the Brazilian government has a strong motivation to improve the roads in Brazil and is providing incentives to owners like BIP to participate in that program.
The third transaction is the previously announced acquisition of the Niska Gas Storage (NYSE:NKA) business in North America, which the company and its institutional partners say is progressing well and on track to close in July.
The company is also re-entering the electricity transmission business in Brazil, where it has initiated several projects and plans to build a business with substantial scale. BIP has signed an agreement with Actividades de Construccion y Servicios (ACS), a Spanish construction company, for the buildout of 1,200 kilometers of transmission lines over the next five years. Combined with the three projects signed last year, BIP expects to invest approximately $200 million over the next several years.
Existing businesses are also contributing to significant growth prospects. With a record backlog of $1.7 billion in committed organic growth projects, including the rollout of smart meters in Britain, gas pipeline expansions in the United States and electricity transmission projects in Chile, we appear to be entering a period of outperformance for the units.
The company is progressing on a number of expansion projects for its partially owned North American natural gas transmission business (NGPL). It has begun construction of the Chicago Market Expansion project, which will provide 240 MMcf/day of incremental, long-term contracted capacity into Chicago from the business's existing interconnect with the Rockies Express pipeline. BIP's share of the cost is about $40 million; the project is on schedule to be completed by the end of 2016. The company is also progressing the first phase of its Gulf Coast Reversal project, which is anchored by a 20-year, 385 MMcf/day contract with a large LNG operator. BIP is investing $105 million for its share of the capital costs and expects the project to be in service in 2018.
It is also capitalizing on opportunities to expand its Chilean transmission franchise, having secured two new transmission projects, acquired a development project from a local company and received approval for 10 system upgrades. The combined capital cost attributable to BIP for these initiatives is approximately $110 million. Construction on the projects will commence over the next 12 months.
Safe and Stable Income, Steady Growth in Distributions
A key reason I bought Brookfield Infrastructure was its rising distribution, and the Partnership has not disappointed. In early February, it hiked its quarterly payment by 7.5% to $0.57 per unit - the eighth increase since Brookfield Infrastructure was spun off from Brookfield Asset Management in 2008. Keep in mind that as a limited partnership, BIP's distributions (which are paid in U.S. dollars) are taxed differently than dividends.
BIP's distribution policy targets a distribution level that is sustainable on a long-term basis, while retaining sufficient liquidity for capital expenditures within its current operations and general purposes.
Despite the outsized yield, the distribution appears safe; the payout ratio for the quarter was 65% of FFO. This is the midpoint of management's target range of 60-70% FFO, which maintains the safety of the distribution.
Brookfield Infrastructure's stated goal is to increase its distribution by 5-9% annually and given the company's projected growth, I expect it will meet or exceed that goal.
Based on the current distribution of $2.28 annually, the units currently yield an attractive 5.05%. (Brookfield Infrastructure declares distributions in U.S. dollars, but trades on both the Toronto and New York stock exchanges.)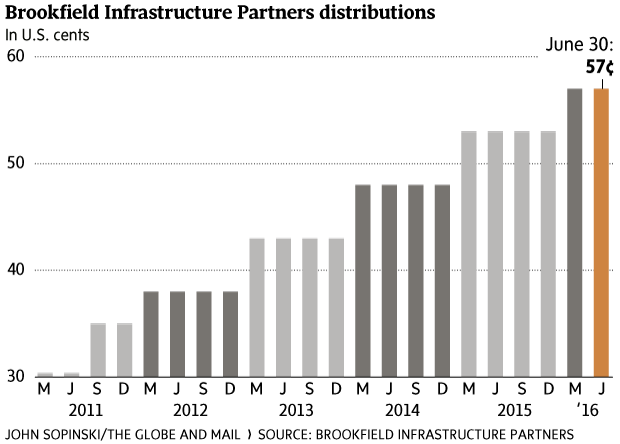 Brookfield Infrastructure's strategy is paying off for dividend growth investors. In addition to the current yield of 5.05% and a sustainable payout ratio of 60-70%, BIP has grown its dividend at a compound annual growth rate of 12% in each of the eight years since its inception. Brookfield expects to grow its dividend by about 10% annually going forward. Importantly, it accomplishes this with a share price that is considerably less volatile than the overall market (and has considerable room for growth).
Potential Risks
There is no such thing as a risk-free stock. In fact, there is no such thing as a risk-free return. Most people only associate risk with loss. While stuffing the money under the mattress will avoid stock market risk, it simply exposes that money to other risks, such as purchasing power risk, or inflation risk. In other words, the "risk of avoiding risk."
In my article on BCE, I described it as a "widows and orphans stock." I would describe Brookfield Infrastructure in the same way. BIP has an extremely low-risk model - with a higher yield and competitive dividend growth rate - which are its most attractive features.
The company invests in a diversified portfolio of infrastructure or "real assets," including ports, railroads, utilities, toll roads, pipelines and telecom towers. Not only are they essential assets, they also offer high barriers to entry and long-term, stable cash flows that are regulated or underpinned by take-or-pay contracts.
While I see this as a positive environment for Brookfield Infrastructure, as I stated above, no investment, including infrastructure, is risk-free. It requires strategic asset allocation decisions, a detailed understanding of jurisdictions and regulation and unique asset management skills to mitigate risks and support investment returns.
Brazil is a near-term risk or headwind for the company (while also having the potential to be a strong tailwind in the future). While the focus has generally been on its depreciating currency and the weak economy, there are bright spots in the existing business. The greatest potential long-term upside is BIP's ability to acquire attractive, high-quality assets in Brazil at attractive valuations. For example, BIP management was positive on the prospects of acquiring contractually-backed electric transmission assets. While investment in Brazil is not without risk, the Brookfield stable has operated in the country for more than 100 years.
In addition to BIP's exposure to the Brazilian economy and currency, other headwinds or risks the company is currently facing include its exposure to iron ore in Australia, acquisitions that do not add value or fail to gain the confidence of investors, negative regulatory and/or legal issues/decisions, an increase in interest rates or equity risk premiums, potential tax issues in its multi-jurisdictional environment, foreign exchange rate risk impacting the value of non-US$ generating investments and closing of pending transactions on terms and conditions consistent with our assumptions.
The focus of my articles for Seeking Alpha is on attractively valued, large- to mega-cap dividend growth stocks with sound business models, strong management teams and wide economic moats - "Forever Stocks." I strive to provide an in-depth analysis of the companies I research. I wrote this article from the perspective of a long-term investor who follows a straightforward, four-part strategy:
Identify a company with strong competitive advantages;
Satisfy myself its competitive advantages are enduring;
Invest in this company when it is trading at a fair price; and
Hold the stock forever, unless there is a significant change to the fundamentals associated with the company.
Brookfield Infrastructure Partners fits this mold, and I will continue to hold my full position in BIP.
If you found this article helpful, please "Follow" me on Seeking Alpha to receive a notification whenever I publish a new article.
You may also be interested in recent articles I have written for SA, which focus on stocks that fit the investment approach I summarized above. Here is a link to my other articles.
Do you have other attractively valued, large-cap, dividend growth companies that interest you? If so, please let me know in the "Comments" section beneath this article and I will do my best to research and write about them.
Disclosure: I am/we are long BIP.
I wrote this article myself, and it expresses my own opinions. I am not receiving compensation for it (other than from Seeking Alpha). I have no business relationship with any company whose stock is mentioned in this article.