Valero Energy Corp. (NYSE:VLO)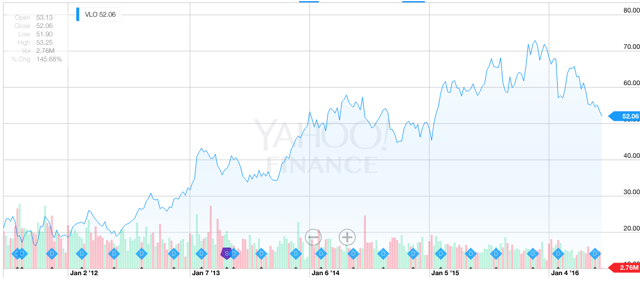 Recent Stock Price: $52.06
Shares Outstanding: 469.80 million
Market Cap: $24.29 billion
52-Week Range: $51.68 - $73.88
Valero Energy is a Fortune 500 company and the world's largest independent petroleum refiner as it owns 15 petroleum refineries with a combined throughput capacity of 3 million barrels per day. In addition, the company owns 11 ethanol plants, a 50-megawatt wind farm and renewable diesel production from a joint venture. Its marketing brands include Valero, Ultramar, Texaco and Shamrock.
Following a first-quarter earnings miss, the stock has sold off quite a bit after reaching highs of $73.88 per share back in November of 2015.
However, I think the sell-off has created a buying opportunity given its stable operations, the stock's valuation, its solid dividend and yield and the potential for further dividend increases and an expected uptick in demand for gasoline as we enter the summer driving season, which should strengthen Valero's refining margins.
Here are some reasons I've been adding to my existing position in Valero Energy:
Quarterly earnings miss...but gasoline demand should pick up
In Q1 earnings reported in May, Valero announced adjusted earnings of $283 million, or $.60 per share. However, its net income was $495 million, or $1.05 per share, when you include an after-tax benefit of $212 million ($.45 per share) related to changes in the company's inventory values.
Refining earnings fell from $1.6 billion in Q1 2015 to $695 million this quarter, which was attributed to weaker refining margins, due to "higher refining industry production levels and a warm winter."
Other factors for the decline included reduced margins on petrochemical products and narrower crude oil discounts. Below is a snapshot of the company's refinery earnings over the past five years:

(Credit: Valero Energy Q1 highlights)
You'll see in the company's Q1 highlights that its operating expenses per barrel remained low at $5.31. However, its throughput margins fell to $7.96, which led to a drop in operating income per barrel of $2.65 - the lowest profit per barrel since Q3 of 2014.
The bottom line is that lower "crack spreads" - the profit margins made by Valero from refining crude oil - weakened this past quarter and hurt Valero's earnings. This can be blamed on higher oil supply and simply not enough demand in the quarter.
However, there is reason to be optimistic going forward. For one, we are about to enter a busy summer driving season, which increases the demand for gasoline as more drivers hit the road.
According to the U.S. Energy Information Administration (EIA), during the 2016 summer driving season, projected motor gasoline consumption will average 9.5 million barrels a day, an increase of 120,000 barrels a day (1.3%) compared with last summer. Overall in 2016, Gasoline consumption is forecast to increase by 170,000 barrels a day (1.8% increase) to 9.33 million barrels a day, which would be the highest annual average gasoline consumption on record.
Readers also can track crack spreads in Scotia Howard Weil's weekly refining report. In this report (on page 5 and 6) you'll see that regional crack spreads have already picked up quite a bit in the current quarter to-date.
For example, East Coast crack spreads have averaged $9.64 this quarter, up from $6.31 in Q1; West Coast spreads are up to $18.59 from $17.28 in Q1.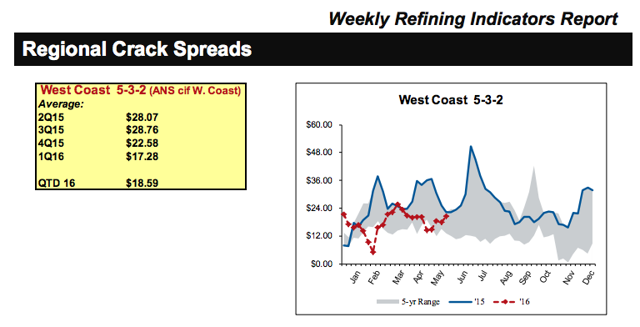 (Credit: HowardWeil.com)
In addition, West Coast crack spreads typically peak in July, as you'll see in the above chart.
Dividend track record
On May 12, the company declared a quarterly dividend of $.60 per share, which is the same amount it paid in the first quarter, but a $.20 increase from the $.40 dividend it paid last year.
The dividend has been increasing steadily since 2010 when it was just $.05 per share each quarter. Below is a chart of VLO's dividend history over the past five years.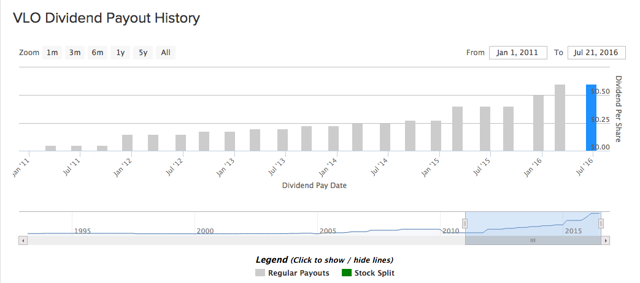 (Credit: Dividend.com)
And with a payout ratio of just 42.3% (according to Dividend.com), the company has some room to increase this dividend further. The stock now yields a healthy 4.62%. The company aims to deliver 25% annual distribution growth into next year.
Solid balance sheet
Valero also benefits from a strong balance sheet in my view.
The company ended the first quarter with $7.3 billion of total debt but also $3.8 billion of cash and investments. Its current assets stand at $14.8 billion, compared to $6.7 billion in current liabilities, so working capital is strong. The company's debt to capital ratio is a very conservative 20%.
The stock is undervalued
Perhaps most importantly, Valero shares are dirt cheap.
Its EV/EBITDA ratio now trades at ridiculously low levels of 3.78. The stock also carries a book value per share of $43.97, which is only slightly below the current share price of $52.06. The stock carries a trailing P/E ratio of 7.23 and a forward P/E ratio of 7.59, according to Yahoo Finance.
The stock is severely undervalued compared to some of its peers. For example, Marathon Petroleum (NYSE:MPC) carries a P/E of 9.48 and a forward P/E of 8.13, with an EV/EBITDA of 6. Marathon also carries total debt of $11.57 billion compared to its $18.7 billion market cap. PBF Energy (NYSE:PBF) carries an EV/EBITDA of 5.17 and a forward P/E of 5.58, but the stock also is highly leveraged with $1.85 billion in debt (compared to PBF's market cap of $2.41 billion).
So while its competitors also look cheap, Valero looks like it's the most undervalued and carries less balance sheet risk than its peers.
The bottom line
In conclusion, Valero Energy's stock has sold off from its 2015 highs as the company reported weaker than expected first quarter results.
However, its refining margins should improve in Q2 as gasoline demand picks up this summer, as over the long-term, I see margins remaining healthy. The stock is undervalued, pays a nice dividend and has solid upside potential in my opinion. I plan on adding more shares soon to my position.
Disclosure: I am/we are long VLO.
I wrote this article myself, and it expresses my own opinions. I am not receiving compensation for it (other than from Seeking Alpha). I have no business relationship with any company whose stock is mentioned in this article.