(Note: this article was written before the Orlando shooting...)
Smith & Wesson (NASDAQ: SWHC) reports earnings after the close on June 16th. SWHC shares have shot up during the past few years, but ran into some heavy armor in the first week of April and have declined a staggering 23% since April 1.
The decline has been attributed to "slowing gun sales" - as if we are in the midst of a vast secular change in demand. However, this has been mere speculation based on April-May FBI Background checks monthly data. Note also that background checks aren't always closely correlated with actual gun sales because concealed carry license holders can buy multiple guns with one background check.
There are rational reasons to believe:
The 23% selloff from April 1 is overdone.
The prophecy of a secular slowdown in gun sales ignores seasonality.
Because there has been so much concern about softness in demand, there will most likely be a Relief Rally if SWHC even announces just OK earnings on Thursday, June 16.
The foregoing assertions will be addressed below...
FIRST, SOME BACKGROUND...
As the largest US maker of handguns, Smith & Wesson has seen unprecedented demand due to two primary factors:
Fear of 2nd Amendment restrictions by President Obama and Hillary Clinton has triggered a continual stream of gun purchases.
Mass shootings (e.g. 2012 Colorado Aurora Theater) and terrorist attacks (San Bernardino and Paris) have instilled fear in many who feel a need to protect themselves and their families.
As you can see from the chart below, SWHC shares are now trading at the same price as in December 2015 (e.g. no reward for the significant growth in the past 6 months).
After various analysts and financial news stated in early April that they were seeing slowing in demand (with no mention that it's probably just typical seasonality), SWHC shares plummeted and have been in a two-month consolidation pattern since. The recent sharp decline on June 3rd and June 6th came after the May FBI Background checks data was released, showing a seasonal 12.9% sequential decline from April to May.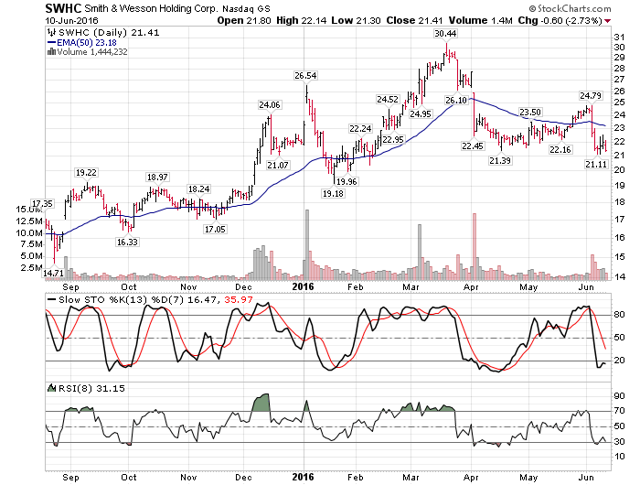 WHY IS THE 23% SELLOFF OVERDONE?
One has to ask: "Have the company's prospects deteriorated 23% since April 1st that much to justify the 23% decline in share price?"
Even if sales are slowing seasonally, that doesn't diminish the fact that FBI Background Checks always pick up in late summer/fall/winter - without exception.
On June 10th, Wedbush put out an earnings preview stating: "While we believe SWHC will significantly outperform this number due to share gains and channel fill, we are modeling a FY17 firearms segment sales decline of 2% and an overall sales decline of 1%"
OK... so does an overall sales decline of a mere 1% justify a 23% decline in shares since April 1st??
There are many potential catalysts such as the potential army contract that could double the $600 million annual revenues the company makes if SWHC is chosen in 2017. An early read on that will come in August.
There is also the wind-up to the 2016 Presidential election in which Hillary "will come in with Gun Control Legislation blazing" per Jim Cramer on Mad Money June 10th. The presidential election will certainly stir interest in 2nd Amendment rights and thus trigger more gun sales, which makes a "win-win" situation for SWHC per Cramer. He suggested (starting at 8:15 in this: Mad Money video) to buy half before SWHC's earnings and half after earnings.
From a technical standpoint SWHC's chart shows an April selloff and a June selloff, but a long 2-month consolidation pattern between $21-$24 and the stock is currently oversold on a Stochastic basis.
Why APRIL-MAY FBI Background Check Declines May Be Nothing More Than Typical Seasonality...
While reviewing the data below, keep this chart in mind. It shows a continuous uptrend - even including the recent April-May background check data (Note the predictable seasonality):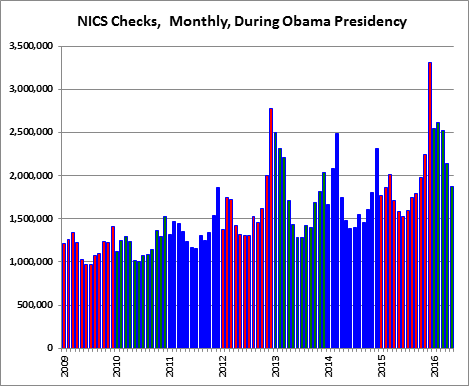 Graph courtesy of NRA Institute for Legislative Action
Upon examination of the raw FBI Background Check data (click here), one gains a very clear picture of the seasonality of the data.
FBI Background Checks have dropped from March-April and from April-May for the past 17 years - without exception!
The last four decreases in FBI Background Checks from April to May were 13%, 8%, 15% and 16%, respectively for May 2016-2015-2014-2013. So the May 2016 decline is well within seasonal norms. But that's not what the media has been telling investors...
The April-May seasonal sequential decline in background checks does not represent a dramatic shift away from gun purchases. In fact, the FBI background checks this year are running at a much higher trendline than last year with the recent May 2016 background checks data showing an 18% Year-Over-Year increase over May 2015! April 2016 was a 25% over April 2015.
For every year in the past 17 years of FBI data, if one decided to interpret April-May seasonal slowing as if "the sky is falling" - they'd be wrong every time! This is because FBI Background checks consistently ramp up starting in about August and continue at high levels through March. December FBI Background Checks are sometimes almost double the numbers in April or May. So 17 years of historical background check data would indicate gun sales are very likely to go much higher after July. With the Presidential election this year, gun sales could ramp up even sooner in June/July leading up to the Democratic and Republican conventions.
The world is a dangerous place and another terrorist attack or mass shooting can cause a surge in the FBI Background Checks data in an instant. That's another reason why the usual April-to-May seasonal decline in checks may not have any reliable predictive value.
Why a RELIEF RALLY is likely when SWHC announces earnings on Thursday, June 16?
There is so much misconception that an April-May sequential slowing in FBI Background Checks means SWHC's business is deteriorating - when it's merely typical historical seasonality. All the company needs to do is meet or beat earnings expectations and issue conservative guidance - and the stock should rally. The uncertainty will be lifted and investors will look ahead to SWHC's forthcoming catalysts listed above.
The company has announced plans to branch out into other niches such as the "Rugged Outdoors" market for higher margins and to dovetail nicely with the Spring seasonality in gun sales. There might be more color on this plan at/before the earnings conference call.
There is a large short interest in the stock (16.7% of the float) as of the last measurement date on May 16. If the company's EPS significantly exceeds expectations, short-covering on a thin-float stock often triggers extra upside volatility during earnings releases.
Market misconceptions are one of the best ways to make profitable investments. This seems to be the case now with SWHC. Interestingly, SWHC has historically blown out EPS estimates time and time again in recent years.
Disclosure: I/we have no positions in any stocks mentioned, but may initiate a long position in SWHC, RGR over the next 72 hours.
I wrote this article myself, and it expresses my own opinions. I am not receiving compensation for it. I have no business relationship with any company whose stock is mentioned in this article.
Additional disclosure: The author makes no warrant for the accuracy of the content herein other than the links provided to traditional online sources of information for verification purposes. Additionally, investors shall not take any comments stated herein as advice to buy or sell any equities and if investors do so, they acknowledge that they have done their own proper due diligence and proceed at their own risk. The author is not employed by any companies (or their agents) discussed herein.