The REIT sector that investors have loved the most during the past couple of years is self storage. This popularity has made it quite difficult for new investors to initiate positions in the "Big 4" self-storage names: Public Storage (NYSE: PSA), Extra Space Storage (NYSE: EXR), CubeSmart (NYSE: CUBE) and Sovran Self Storage (NYSE: SSS).
However, last week, the high-flying self-storage REIT sector began to come back down to earth.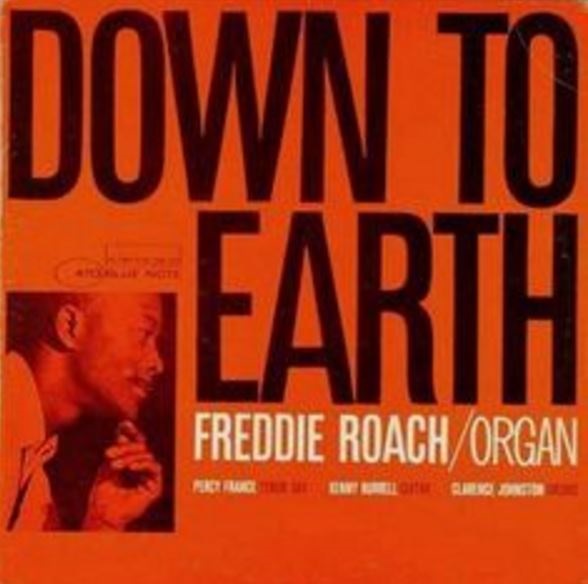 Source: Pinterest.com
No worries. Long-time owners of these shares are still way ahead of the game, and the investment thesis for this sector remains intact. In fact, Extra Space has been the top-performing REIT in any asset class over the past 10 years, with over 800% price appreciation.
Silver Lining Playbook
Additionally, there is now another fast-growing REIT for investors to consider owning, along with a couple of the sector favorites.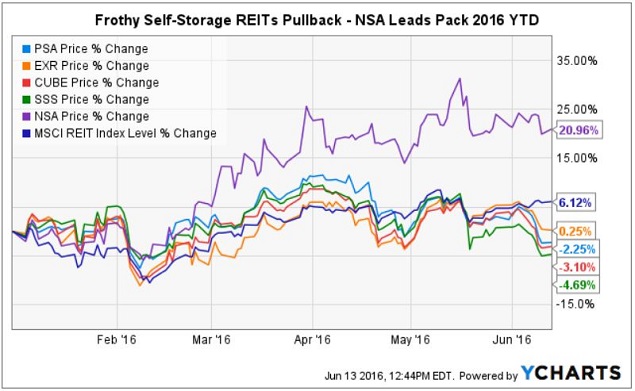 Rising star National Storage Affiliates (NYSE: NSA) joined the sector as a small-cap IPO in 2015.
National Storage was one of my small-cap picks for 2016, and as the Y-Chart indicates, it has performed quite well.
One of the reasons is that NSA pursues a unique growth strategy focused on attracting large private regional operators to join by contributing their facilities and continuing to run the business. These regional operators gain the advantages of a branded national web site, 24/7 call center, revenue management software, lower cost of capital and centralized accounting.
Why Self-Storage Works
The typical length of lease contracts varies from sector to sector among REITs. Freestanding retail net-lease contracts can be for 10 years or longer. Healthcare REITs often enter into long-term leases with operators on a triple-net basis. This makes those REIT income streams more dependable or bond-like.
This can be a dual-edged sword. In a rising interest rate environment, the price of these REIT shares is often under downward pressure by investors who demand a higher yield. Conversely, REITs that can grow same-store NOI by increasing contract rents are often viewed as more attractive in a rising rate environment.
Keeping that in mind, I recently made this case for owning self-storage REITs:
One advantage that self-storage has over most other REIT sectors is the ability to adjust rents on a monthly basis to take advantage of market supply and demand. Additionally, self-storage benefits from the continued drop in US homeownership. On average, renters move three times as often compared to people who own their residences.

After the Great Recession, bank lending standards tightened, and it became difficult for local developers to finance the development of new self-storage projects. Notably, self-storage facilities open 100% vacant and can take three years or more to stabilize occupancy at 80% or more. The lack of supply of new self-storage properties has resulted in record high occupancies in many markets, and savvy operators have been pushing rents higher.

While the entire industry benefits from the strong supply/demand fundamentals, the Internet has changed the way that customers search for storage. That is one reason why mom and pop operators are finding it increasingly difficult to compete. The national and large regional players can afford to spend the money required to rank highly when customers use Google to initiate their search.

However, the publicly-traded REITs' technology advantage doesn't stop there. The REITs have 24/7 call centers and revenue management systems that help monitor inventory and implement real-time pricing strategies on a market-by-market basis.
During the Great Recession, self-storage REITs were impacted negatively, but not as drastically as some other sectors. Self-storage also bounced back more quickly.
I think that the industry is even better prepared today to weather a similar economic downturn due to higher occupancy, the technology advantages over small operators, the higher percentage of renters in the US, and solid balance sheets with little floating debt.
Public Storage
When it comes to paying offense and defense at the same time, the $42 billion cap Public Storage is a particularly solid pick. Public Storage is an S&P 500 company with an A-rated balance sheet. CEO Ron Havner has previously stated that when the going gets tough, "the 'Big Dog' eats first."
While the large scale of Public Storage can make it a slower grower than some of its peers, that isn't always a bad thing. Public Storage can spread G&A and marketing costs over a much larger portfolio, which gives it operating leverage. The company also has very little debt on its fortress balance sheet, which contributes to high margins and impressive operating cash flow.
Public Storage is the only one of its REIT sector peers with active in-house development capability. This is another area where "size matters." Because new facilities open 100% vacant, smaller REITs simply can't afford to take the risk of much new development or banking land for future development.
One of the reasons that self-storage has performed so well has been the relative dearth of new construction in most markets. Investor appetite for this asset class has driven down acquisition cap rates, making acquisitions expensive for stabilized, institutional-quality, self-storage facilities.
Meanwhile, Public Storage has recently passed on several acquisition opportunities because the company is able to develop ground-up at a significant discount to portfolio asking prices.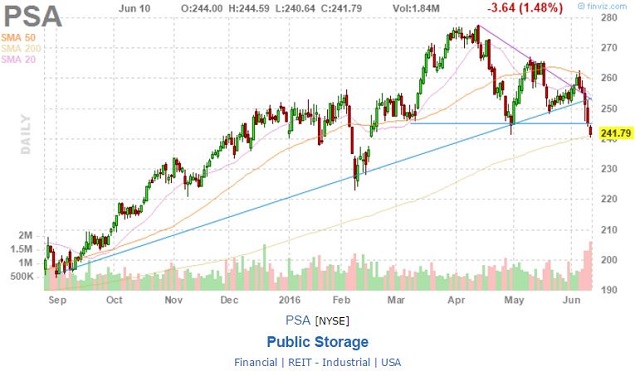 All of these factors contribute to Public Storage historically trading at a premium multiple and, therefore, offering investors a lower initial yield. However, many dividend and income investors are willing to trade off lower yield for the ability to sleep well at night.
Notably, during the past five years, the PSA quarterly dividend distribution has increased from $0.80 to $1.80 per share, for a CAGR of 20%. Not too shabby for a blue-chip or "SWAN" REIT.
During the last week, PSA shares dropped by (-7.1%), finishing the week at $241.79 per share - right at the 200-day moving average. Based on Q1 2016 results, core FFO per share grew at a 13.9% clip YoY, and the distribution increase last quarter was 5.9%, to $1.80 from $1.70 per share.
Long-term investors looking to add some PSA shares might want to consider nibbling here. However, I wouldn't back up the truck. The analyst consensus 12-month target price is $254.40 per share, implying just a 5% increase.
Extra Space Storage
There's little to say about the top-performing REIT over the last decade that has not already been written. CEO Spencer Kirk and his team have done a marvelous job of growing the portfolio, while also growing FFO per share and the dividend at a torrid pace.
There are a couple of areas where I think Extra Space has an edge contributing to relative outperformance: 1) An aggressive revenue management algorithm, which results in strong organic NOI growth; and 2) The leading third-party management platform, which, in addition to fee revenues, provides a pipeline of properties for future acquisitions along with a large JV portfolio.
Extra Space owns 734 storage properties, plus another 353 under management, and 254 JV properties also flying the flag of the EXR brand.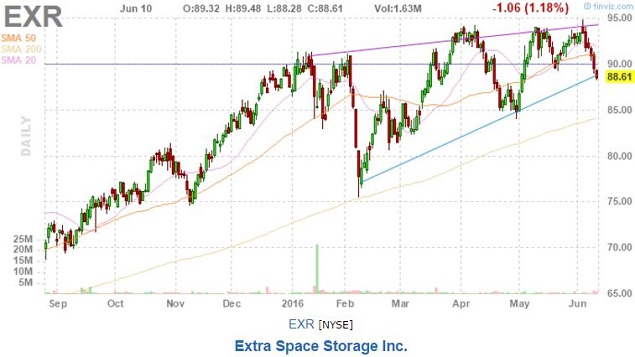 During the past 52 weeks, EXR has traded in a range of $63.36-94.81 per share.
Last week, Extra Space gave back (-5.3%), but is still significantly above the 200-day moving average.
Q1 2016 Earnings Highlights
On May 2, Extra Space announced earnings for Q1 2016, including same-store revenue growth and NOI growth of 9.1% and 12.3%, respectively. The strongest markets for EXR were in Atlanta, Dallas, Los Angeles, San Francisco and Tampa/St. Petersburg.
On the earnings call on May 3, management gave color that these markets were up "double digits."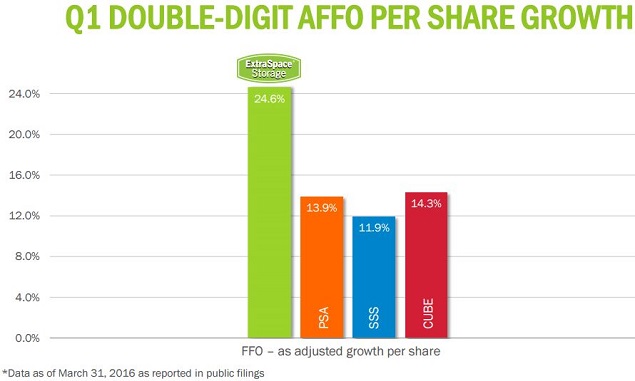 Source: REITWeek June 2016 presentation for all EXR slides
EXR mentioned on the earnings call that 98.2% record Q1 occupancy continued to rise 30 bps during the month of April.
Traffic from the Extra Space website, call center and mobile remained strong compared with the same period last year. Notably, customers utilizing mobile devices continue to track well into double-digit growth for the company.
Its rent increases in January and February were in the 9-10% range. The Extra Space revenue management program includes automatic increases after five months, and then each nine months thereafter, subject to an abatement adjustment if they rise too fast.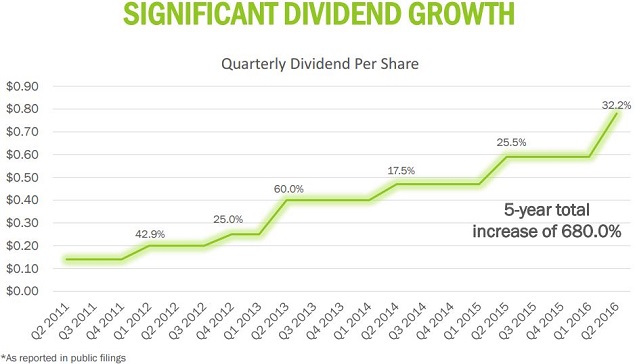 Notably, Extra Space has a program to acquire purpose-built institutional grade facilities at C of O (certificate of occupancy), in addition to its acquisition and redevelopment initiatives.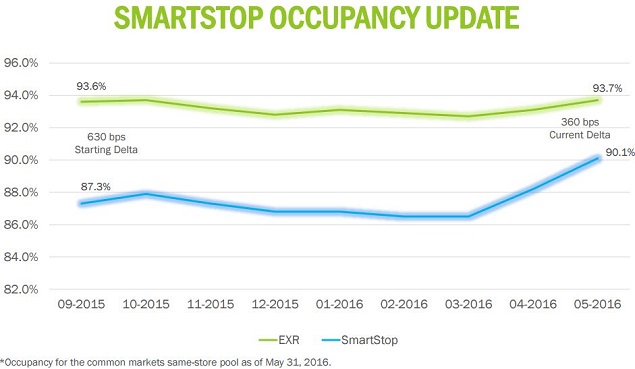 In addition, EXR is integrating its recent $1.4 billion acquisition of the SmartStop portfolio, which has a large footprint in strong California markets.
The SmartStop portfolio also has embedded same-store NOI growth potential from rolling out the Extra Space revenue management and marketing program.
National Storage Affiliates
National Storage is the new kid on the block, an opportunity for investors to get in closer to the ground floor of a publicly traded self-storage growth story.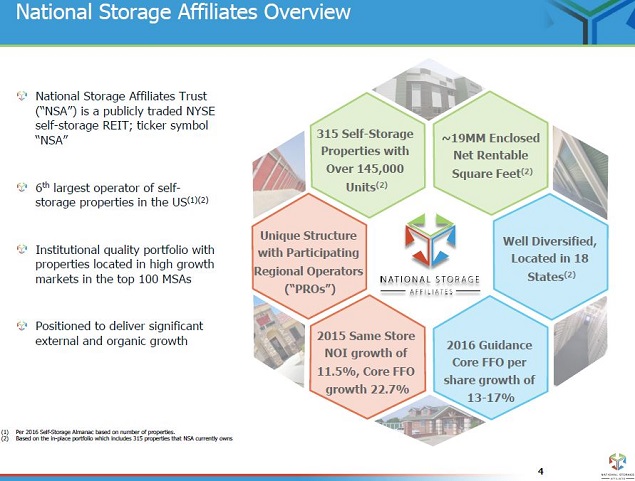 Source: NSA - May 2016 presentation (for all non-attributed slides)
The key differences between National Storage and the Big 4 really boil down to two main areas: 1) The PRO, or Preferred Regional Operator program, which allows larger private owners to partially cash out, which continuing to operate their portfolios and participate in the upside; and 2) The ability to move the growth needle from a much smaller base.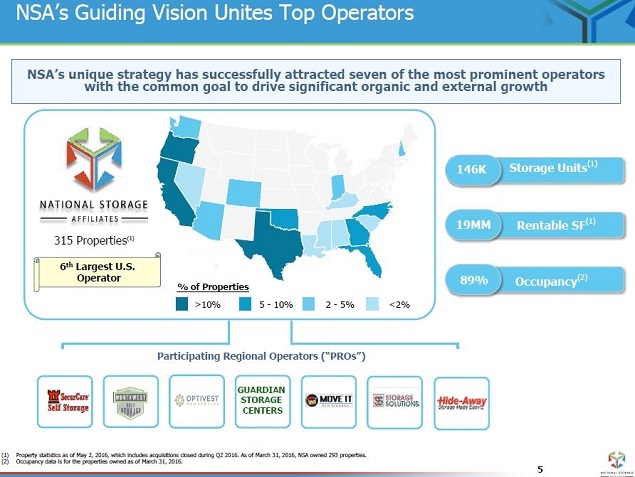 NSA still has a market cap of under $1 billion, including common shares and OP/SP units which are issued to PROs, in addition to cash at closing.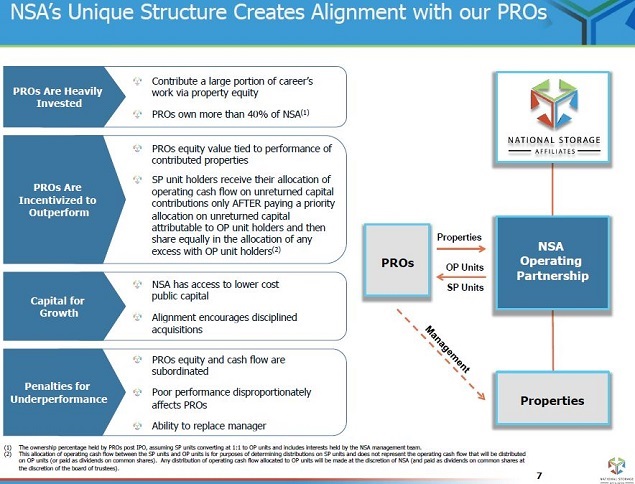 The smaller size gives National Storage an advantage when it comes to moving the growth needle, which helps to drive total shareholder returns.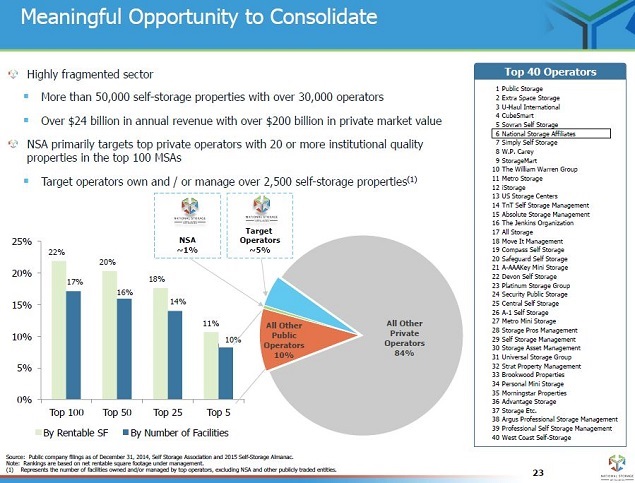 In addition to targeting the top 5% of private self-storage operators with its PRO value-add proposition, existing regional platform companies have their own captive pipelines of managed and JV facilities.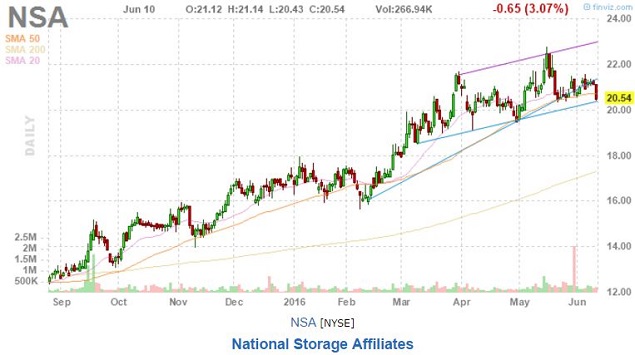 Since the 2015 IPO, National Storage has traded in a range of $11.50-22.78 per share.
Last week, NSA shares exhibited relative strength, only giving back (-3.5%). The two remaining Big four REITs, CubeSmart and Sovran, traded down by (-7.6%) and (-6.4%), respectively.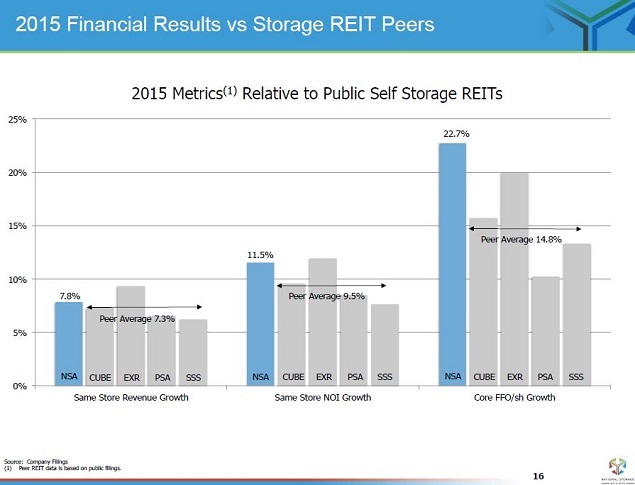 When it comes to operating metrics, NSA stacks up well when compared with the Big 4. Notably, the $11 billion cap Extra Space storage also leads the pack, albeit off of a far larger base.
Investor Takeaway
When it comes to building a REIT portfolio, investors have a choice of an active or a passive approach. In order to create alpha, active investors need to overweight top-performing sectors and avoid slower-growing or declining sectors.
It is a widely held belief by many industry experts and REIT management teams that self-storage still enjoys favorable supply/demand fundamentals in most markets. The industry continues to be fragmented with many small operators, and is ripe for further consolidation.
I feel that Public Storage provides a great foundational holding for this sector despite a slower growth trajectory. When the going gets tough, it's nice to own the Big Dog.
Extra Space Storage is pricey for a reason. It is the real deal when it comes to accretive self-storage growth, dividend growth and total return track record. However, investors are going to have to pay up for growth in order to participate in the next decade of strong returns. As of this writing, the EXR yield was still a decent 3.5% for investors willing to bite the bullet and initiate a position.
National Storage offers the highest yield and the potential to deliver growth at a much faster rate over the next few years. Of course, there is a trade-off. Any newly minted publicly traded company also represents more risk. However, the PROs have been in the business for many years. These are industry veterans who are local sharpshooters when it comes to identifying candidates for one-off acquisitions in their regions.
The NSA management has shown the ability to execute on their game plan since the IPO. The most recent 10% dividend increase announced by the board on May 26th, from $0.20 to $0.22 per share, is the third increase in just the past 12 months.
I think investors looking to initiate a position in this sector should consider owning all three of these names for a balance of potential growth, proven growth and a blue-chip for stability in this top-performing REIT sector.
I relentlessly hunt for diamonds in the rough and rising stars, in addition to closely following data centers, covering REIT blue chips and breaking news. Please consider following me as a Seeking Alpha author if you would like to be notified when my future articles are published.
Disclosure: I/we have no positions in any stocks mentioned, but may initiate a long position in NSA over the next 72 hours.
I wrote this article myself, and it expresses my own opinions. I am not receiving compensation for it (other than from Seeking Alpha). I have no business relationship with any company whose stock is mentioned in this article.