All eyes will be on retail stocks and the SPDR S&P Retail ETF (NYSEARCA:XRT). The Census Bureau will release the all-important monthly retail sales report for May at 8:30 a.m. Tuesday and expectations are for an increase of .4% month to month. For a look at how retail sales have fared over the last 12 months please see the chart below.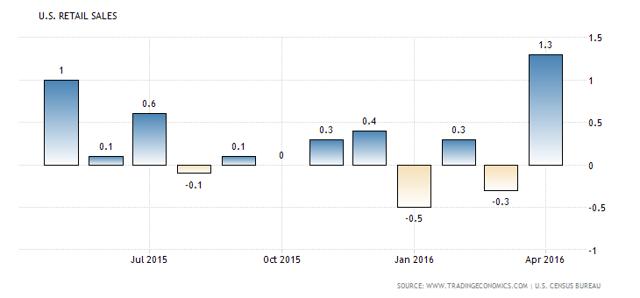 While April's 1.3% jump in retail sales proved beneficial to the overall market, it did little to nothing to help retail stocks. I'm wondering if the figure from April will be revised lower and if so to what degree? While that question will be answered tomorrow certainly, the trend in retail sales has not been robust or something we would expect some 8 years past the financial crisis. Growing as modestly as retail sales are growing and with several months of negative results, it would appear that even with substantial government stimulus and low interest rates, the consumer is pressed to spend differently than in the past.
A great deal more spending is being pushed into healthcare, autos and ever-increasing rental payments. Additionally, discretionary income is finding its way into consumer savings accounts as opposed to being spent as it has been in the past. In fact in the month of March, the savings rate hit a 4-year high at 5.9% before pulling back a bit in April to 5.4 percent. It's quite possible that some of those consumers who dipped into their savings helped to stimulate April retail sales.
Some of the increase in spending in the month of April was on items such as gasoline, health care and utility bills. These are largely expense related expenditures that consumers would otherwise use to by consumer goods or keep in their savings account.
Consumer spending data and retail sales data continues to come in choppy month after month, but one thing has remain a constant and that is the slowly deteriorating XRT and retail stocks. Some retail stocks are off as much as 30% since the Q1 2016 reporting cycle. Restoration Hardware (NYSE:RH) marked the biggest retail decline at almost 30. Restoration Hardware reported late last week an adjusted first-quarter loss per share of 5 cents, compared with the earnings-per-share forecast of 5 cents by analysts surveyed by FactSet. The company also gave a weak outlook, expecting second-quarter revenue in the range of $505 million and $520 million and adjusted EPS in the range of 28 cents and 33 cents. The FactSet consensus for revenue was $534 million and for EPS was 81 cents. Shares of RH closed June 8 th trading at $36.07 and are now hovering at $25.68 a share. Even with the extremely poor results in hand, Budd Bugatch, Raymond James calls the stock a buy.
The story doesn't get much better for retailers unless you look at Amazon (NASDAQ:AMZN), which continues to be the retail standout. The e-commerce giant is clearly impeding the progress of brick and mortar retailers as the company takes market share. Some retailers feeling the pinch from competing e-commerce retailers are Target (NYSE:TGT) Bed Bath & Beyond (NASDAQ:BBBY) J.C. Penney (NYSE:JCP) Best Buy (NYSE:BBY), Macy's (NYSE:M) and Kohl's (NYSE:KSS) just to name a few. All of the aforementioned retail stocks are down year-to-date with most being down double-digits.
What has been of particular concern regarding these companies is that some are offering buybacks and dividends and yet the share price keeps declining. Macy's, Bed Bath & Beyond, Kohl's and Target are all buying back shares at a value oriented pace and investors are shrugging their shoulders at these attempts to financially engineer a stronger stock performance. It may be that investors are tired of the same old financial engineering tactics that seemingly have put off real attempts to grow revenue and earnings. Having said that, I can't dismiss that all of these retailers have spent hundreds of millions of dollars over the last few years to participate in growing sales channels like e-commerce and digital. Unfortunately, these millions of dollars seemingly certify that the efforts are either in vein or "too little, too late". None of these retailers boast more than 4% of total net sales in the e-commerce and digital sales channel.
With all of that being said and understood, there has been a great deal of speculation for the retail stocks I've mentioned within. Most of the speculation centers on that all-important metric/hypothesis/theory called "valuation". Many if not all of the retail stocks mentioned are trading at historically low multiples. You could easily pick any retail stock and find an article that denotes how cheap they are trading for presently and over the last several months. Nonetheless these cheap stocks have only become cheaper or more value oriented.
I've argued against the proliferation of defining a value opportunity in the retail sector by the way these companies are buying back shares or boosting dividends. Even as these companies have beaten earnings expectations here and there, investors by and large desire to see expanding gross margins and organic sales growth. Target beat earnings expectations in Q1 by $.09 a share, but the stock got hammered as the company missed even the low end of its revenue guidance and lowered Q2 2016 expectations for revenues. Bed Bath & Beyond beat on both the top and bottom line during its last earnings report, but the company has seen its gross margins go from 41.5% in 2007 to roughly 38% in 2015. From 2013-2015 Bed Bath & Beyond has seen more than 200bps of gross margin contraction. Even with the home goods retailer offering its very first dividend payout in history, investors fled the stock.
In Bed Bath & Beyond there might be a unique situation developing for a takeover. The company is growing revenues largely by opening new stores and/or acquiring other brands like World Market/Cost Plus. Organic sales growth has been meager and much of any organic sales growth has come at the expense of gross profit margins. But there is not another retailer quite like Bed Bath & Beyond when you view the product offering and store format. Nobody does home goods on the scale of Bed Bath & Beyond, but everyone is competing within the home goods category for greater sales. It's possible that if Bed Bath & Beyond results stabilize with shares continuing to decline in value, the company could be ripe for a takeout. With most every other retailer mentioned, they are all fighting against the general department store trends whether it be in apparel, home goods, electronics & entertainment, sporting goods or grocery. Bed Bath & Beyond has over $5bn worth of home goods sales annually and including its BuyBuy Baby! brand of stores. Imagine the cost savings a major chain like Target or Macy's would incur should they merge or takeover a company like Target.
Oddly enough, there hasn't been any major consolidation in the retail industry even since brick & mortar chains have witnessed the growing trends in favor of e-commerce and digital sales. If the trend in retail sales and quarterly reporting doesn't turn in favor of the big-box retailers in the coming quarters, some really tough issues will have to be addressed and it becomes more likely that consolidation will be on the table in the C-Suite. As far as investing in retailers, while valuations seem enticing, we may not have hit the bottom in valuations just yet. It's really hard to say. Let's look at the 90-day XRT chart below: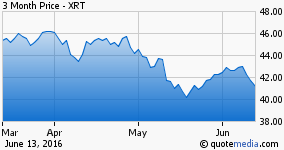 As I look at the XRT chart, we may have to retest the most recent low trading price of $39.95 before calling a bottom in retail stocks. If the chart breaks and closes below $39.95, retail stocks will likely be in for a long summer leading up to Q2 2016's reporting cycle. But the May retail sales report will have a lot to say about that so stay tuned to the data Tuesday morning.
Disclosure: I/we have no positions in any stocks mentioned, and no plans to initiate any positions within the next 72 hours.
I wrote this article myself, and it expresses my own opinions. I am not receiving compensation for it (other than from Seeking Alpha). I have no business relationship with any company whose stock is mentioned in this article.