It was around five months ago that I had recommended investors to buy shale oil producer EOG Resources (NYSE:EOG) despite a volatile oil pricing environment back in January. My thesis was based on the fact that EOG's low-cost assets will help it generate decent returns even in a weak oil pricing environment, and four months since my last article on EOG, the company has vindicated my stance by appreciating almost 37% on the market.
In fact, when EOG posted its first-quarter results last month, the company trumped the bottom line estimate by a penny. But, the more important thing is that EOG Resources has now been able to slow down the rate of decline in its gross margin and cash flow this year, despite lower oil prices as compared to last year. This can be seen in the chart given below: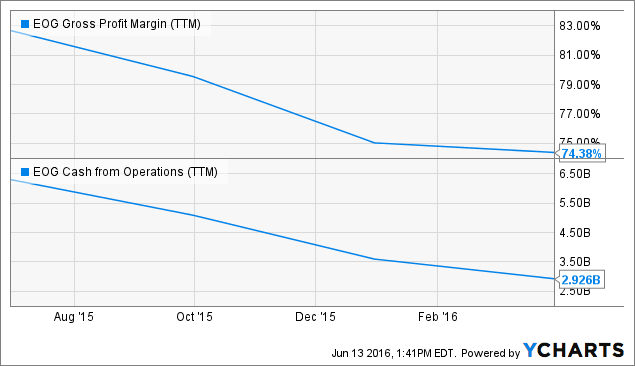 EOG Gross Profit Margin (NYSE:TTM) data by YCharts
In this article, we will take a closer look at the reasons that are driving an improvement in EOG Resources' cash flow and margins, and why the company is on track to sustain its strong momentum in the long run.
Cornerstone assets are driving value
At present, EOG Resources' cornerstone assets account for nearly 60% of its total production. Now, these assets are capable of delivering an after tax rate of return of 30% at crude oil prices of just $40 per barrel. What's more, the rate of return on these assets doubles to 60% after tax at a crude oil price of $50 per barrel, while at an oil price of $60 per barrel, the rate of returns goes into triple digits. This is shown below: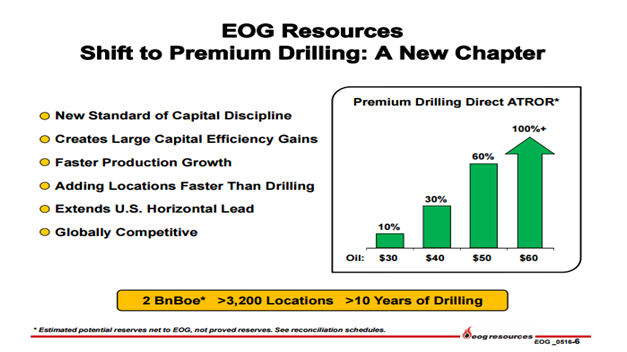 Source: EOG Resources
EOG is capable of generating such returns at its key assets because of the low cost of oil production, In fact, these assets carry a cost advantage in the range of $15 per barrel to $20 per barrel as compared to peers in the industry. As a result, EOG has decided to shift all of its drilling moves toward these assets only so that it can generate more oil at lower costs.
As a result, the 270 drilled but not completed wells, or DUC wells, that EOG Resources has at these locations are expected to go online by next year as they can generate 30% returns even in the current pricing environment. In all, EOG will bring online 70 of these wells this year itself. Moreover, the company will not have to spend any additional capital for the completion of these wells because it can complete 40% more wells in this area without the need of any additional equipment.
Moreover, the company expects these new wells to yield 50% more oil as compared to its historical wells due to high-density completion techniques. For instance, in the Wolfcamp area, EOG completed a dozen wells during the first quarter with an average lateral length of 4,500 feet. These new wells, on an average, produced approximately 2,100 barrels of oil equivalent per day for the first 30 days, with 70% of the production being oil.
On the other hand, EOG Resources completed the Leonard AC Unit 101H and the Denali Unit 101H wells at Austin Chalk last quarter. These wells produced an average of 2,715 and 3,130 barrels of oil equivalent per day for 30 days and 20 days, respectively. Driven by these results, EOG plans to drill another seven Austin Chalk wells in 2016. Also, in April, EOG completed two 7,000-foot laterals wells at the Rattlesnake 21 Fed Com 701H and 702H that produced 3,800 and 4,200 barrels of oil equivalent per day in the first 20 days.
Since these wells are delivering strong returns in the current oil pricing environment by producing more oil despite lower investments, EOG will reduce its capital expenses by 47% in 2016 but still maintain its production at decent levels. For instance, last quarter, EOG cut its exploration expenses by a whopping 62%, but its production decreased by just 7%. This can be attributed to EOG's drilling efficiencies at its premium locations, as discussed below.
Improving the operational efficiency
EOG Resources' prime focus in the current oil pricing environment is to improve its operational efficiency, and the good part is that the company has made progress on this front. For instance, during the first quarter, EOG reduced its drilling days by 14% from the end of last year to an average of 16.1 days in the Delaware Basin.
Looking ahead, EOG expects its drilling days to go down further to an average of just 8.8 days in the Delaware Basin. Similarly, in the Eagle Ford and the Bakken areas, EOG expects its drilling days to go down to record levels of an average of 3.5 days and 5.4 days, respectively, in 2016. This is shown below: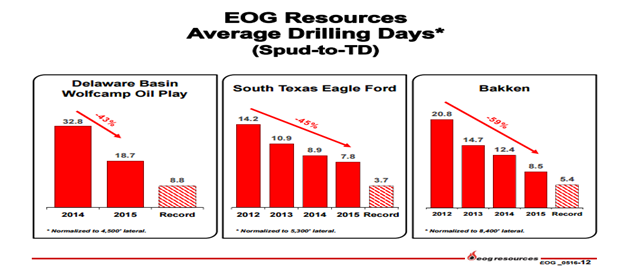 Source: EOG Resources
Now, as EOG's average drilling time comes down, the company's costs will decline as well. As such, it is not surprising to see that EOG expects its well costs at Wolfcamp, South Texas, and Bakken to drop 11%, 9%, and 14% by the end of this year. In addition, the company's plan to use brackish water for its well completions in New Mexico are also expected to generate incremental savings of $150,000 per well.
On the back of such moves, EOG has already managed to bring down its operating costs this year. For instance, in the last reported quarter, EOG lowered its cash operating costs by 22% to $11.96 per BOE as compared to $15.39 per BOE in the same quarter last year. As EOG's well costs decline further, the company will be able to further lower its lease operating expenses and increase the rate of returns from its premium assets.
Conclusion
Given its cost reduction moves and strong initial production rates at key assets, EOG Resources has managed to do well this year despite lower oil price levels as compared to last year. Looking ahead, the company's financial performance should continue to get better since it is on track to reduce costs further, while oil prices have also been in recovery mode. So, despite strong gains in the past three months, investors should continue to hold EOG Resources shares since they can deliver more upside.
Disclosure: I/we have no positions in any stocks mentioned, and no plans to initiate any positions within the next 72 hours.
I wrote this article myself, and it expresses my own opinions. I am not receiving compensation for it (other than from Seeking Alpha). I have no business relationship with any company whose stock is mentioned in this article.