Pan American Silver (NASDAQ:PAAS)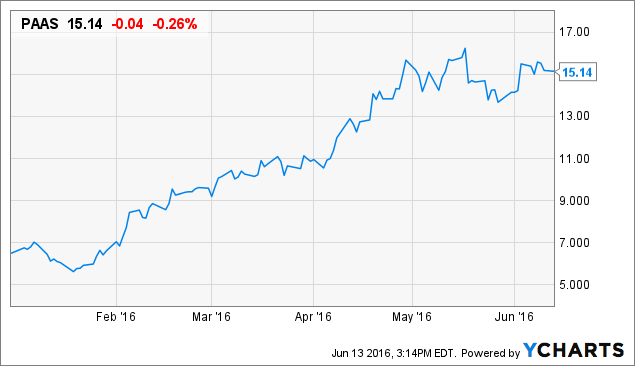 Recent Stock Price: $15.16
Shares Outstanding: 152.01 million
Market Cap: $2.3 billion
52-Week Range: $5.38 - $16.49
Pan American Silver is has been on an absolute tear to start 2016, as shares are up 133%. While part of this is due to higher prices for gold and silver, the gains can also be attributed to Pan American's strong financial performance in the first quarter. After all, Pan American has outperformed both the benchmark silver miners index (NYSEARCA:SIL), which is up 104% to start 2016, and the gold miners index (NYSEARCA:GDX), which has gained 87%; so, the gains are more than just higher metals prices.
I did not include Pan American in my list of the top silver stocks for 2016. It's not that I didn't like the stock (I did recommend shares back in June of 2015 at $9.05). Rather, I just felt there were better opportunities in the silver market at the time.
While it still has some way to go to catch up to top performers such as Great Panther Silver (NYSEMKT:GPL), which is up 232% this year, and First Majestic, which is up 285%, Pan American's performance in the first half of 2016 has led me to regret its omission from that article, and I think shares have more upside ahead.
Pan American: Strong Q1 Results
In the first quarter results released on May 11, Pan American said that it increased its silver production 6% to 6.42 million ounces and its gold production 10% to 41,200 ounces. Production is on track to hit 2016 forecasts of 24-25 million silver ounces and 175,000-185,000 gold ounces. All is well on the operational front.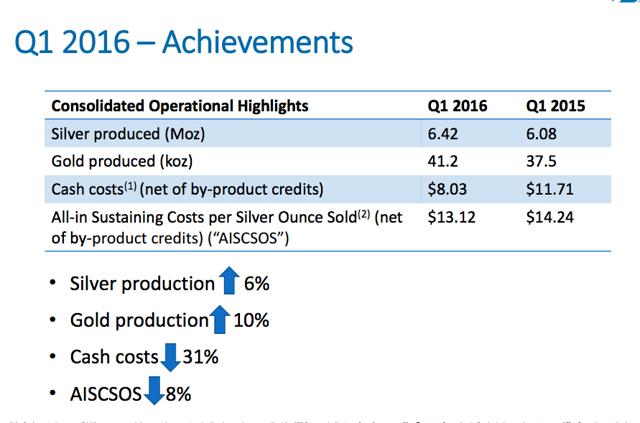 (Credit: PAAS Analyst Day Presentation)
Perhaps more importantly, cash costs continue to plummet, falling 31% to $8.03 in the quarter, with all-in sustaining costs falling 8% to 13.12% (more on this below). This resulted in strong operating cash flow of $28.4 million and a small net profit of $3.5 million or $.02 per share.
Falling Cash Costs
It's important to note that realized silver prices were $14.86, and realized gold prices were $1,177 per ounce, down 10% and 4% from Q1 2015, while zinc and copper prices also declined (silver and gold prices really took off subsequent to quarter end, while zinc and copper also rose a bit; Pan American produces some zinc and copper by-credits). All-in sustaining costs should fall between $13.60 - $14.90 this year.
Cash costs fell mainly due to lower operating cash costs, but also due to higher by-product credit of zinc, lead and copper, with production increasing 38%, 37% and 26% from Q1 2015, according to the company.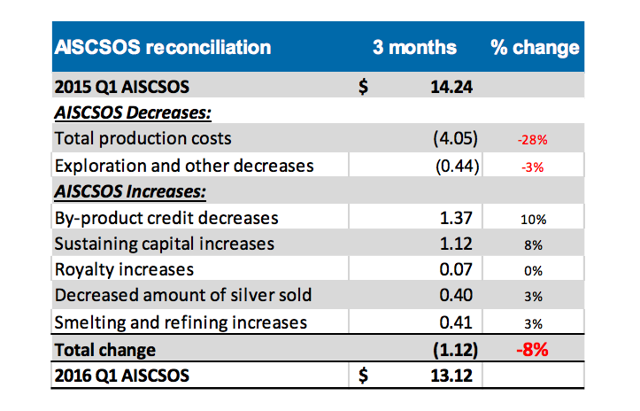 (Credit: PAAS Analyst Day Presentation)
Meanwhile, all-in sustaining costs didn't fall as much as operating cash costs, because Pan American spent 39% more on sustaining capital at its mine, primarily due to expansion spending at the Dolores and La Colorada mines. These costs were expected should come down substantially once these two expansion projects have been completed next year.
Strong Growth Ahead
One thing I think I've overlooked in the past is Pan American's growth plans and how it will affect its cash costs, as well as the company's ability to achieve this growth.
Currently, the company is working to expand its La Colorada and Dolores mines, so that's why you saw higher sustaining capital spending in Q1; La Colorada is on budget and on schedule to increase output to 1,800 tons per day by the end of 2017, while Dolores will reach full capacity by the end of 2017 as well.
At La Colorada, production will jump from 1,250 tpd to 1,800 tpd, which should increase annual silver production to 7.7 million ounces by 2018; at $19 silver prices, the company expects this expansion to yield an internal rate of return of 22% and payback of 2.5 years; proven and probable reserves at the mine have increased from 30.4 million silver ounces in 2010 to 91.2 million ounces this year, a 300% increase, according to the company.
Dolores is another important growth project, as the expansion will increase average annual silver production by 40% (from 4.5 million to 6.3 million ounces) and increase average annual gold production by 52% (from 135,100 to 205,700 ounces), while also reducing cash costs.
At $19 silver and $1,200 gold, the company expects to earn a rate of return of 27.4% at Dolores; even at $16 silver, the expansion project should bring in net cash flow of $251 million over the next 8 years, according to the corporate presentation.
Balance Sheet Strength and Royalty Spin-off
This future growth is supported by the company's strong balance sheet, as it ended last quarter with $177.6 million in cash and investments and $383.7 million in working capital. Meanwhile, total debt was just $59.5 million at the end of Q1.
The recent spin-off of Pan American's royalty and streaming assets is another great move by the company in my view. Admittedly, this is something I've completely overlooked in the past.
Here's a quick overview. Pan American owns 13 royalties and precious metals streams. The most important assets it owns include a 100% gold stream (at a cost of $650 per ounce) on its La Colorada mine, which produced 2,630 ounces of gold in 2015 and should produce 2,700-2,900 ounces for 2016. At $1,300 gold, this stream produces close to $2 million in annual cash flow for the new company based on 2,700 ounces of annual gold production, although Pan American expects gold output to increase with its expansion.
The company also owns a 1.5% royalty on all metal sales from the Taviche Oeste concession at Fortuna Silver Mines' (NYSE:FSM) San Jose mine; the first royalty payment was made in Q3 2015. Other assets include a 3% royalty on Atlantic Gold Corporation's Moose River gold project (production expected late 2017) and a 1% royalty on the Shalipayco zinc project. Other assets royalties on mostly early-stage projects, but carry long-term upside to the new company.
A company called MacMillan will issue 43 million shares of stock to Pan American to complete this acquisition and form a new company called Maverix Metals. In addition, Pan American will receive 20 million common share purchase warrants post-Consolidation, which are exercisable for five years after closing; One-half of the warrants are exercisable for CAD$0.70 per share and one-half are exercisable for CAD$1.00 per share. On a fully diluted basis, Pan American owns 63% of the new company.
This is great news, as it allows Pan American to consolidate its portfolio of royalty and stream assets (which likely went unnoticed by investors) to focus on its core operations, but gives it upside to the new royalty company via its 54% ownership. The new company will be funded with C$5.5 million in cash and can look for new royalty acquisitions to fund its growth. Pan American says it will also help the new company identify new opportunities for growth. Its long-term strategy is to monetize this position at a premium valuation.
The Bottom Line
Pan American Silver reported stronger than expected Q1 financial results and looks to increase production and reduce cash costs following the completion of two major expansion projects. The company has a strong balance sheet to support its growth and a recent move to spin-off its royalty/stream assets was also a smart move
I think the gains seen this year are justified, but shares could have further room to run if metals prices hold their gains (or increase further from here), and if Silver Standard continues its strong operational performance.
Disclosure: I/we have no positions in any stocks mentioned, and no plans to initiate any positions within the next 72 hours.
I wrote this article myself, and it expresses my own opinions. I am not receiving compensation for it (other than from Seeking Alpha). I have no business relationship with any company whose stock is mentioned in this article.