Good morning, and welcome to a Microsoft and Apple-filled June 14 edition of Seeking Alpha's Eye on Tech newsletter.
Microsoft is buying LinkedIn for $26.2B - It looks as if those April rumors among traders had some truth to them. Microsoft's (NASDAQ:MSFT) board had said it wants a faster shift towards cloud revenue streams, and buying LinkedIn (LNKD), which respectively sports 2016 and 2017 consensus estimates of $3.72B and $4.45B, certainly helps out… at a price. That price is nearly 25% below LinkedIn's 52-week high, but still equal to 45x consensus 2017 EPS.
There are two tracks along which Microsoft, the world's pre-eminent provider of IT productivity tools, can reap synergies from buying the world's pre-eminent professional social network. One is using Microsoft's resources to further the reach of and augment LinkedIn's services, which have faced some execution issues lately. LinkedIn's recruiting services (58% of Q1 revenue and taking share) can be offered by Microsoft's army of salesmen and resellers, as can its online learning services. Its Sales Navigator social selling tool can be bundled with Microsoft's Dynamics CRM apps. And - as indicated by a slide deck for the deal - LinkedIn's news feed can be enhanced with work content gleaned from Microsoft apps and pushed to Windows users via notifications. Who knows, maybe Microsoft can even revamp LinkedIn's oft-mocked UI and notifications.
Still, the second track is arguably more interesting: It involves using LinkedIn's one-of-a-kind datasets - both for the work backgrounds of its users, and the professional relationships between them and various companies and institutions - to create an identity layer for and proactively share profile/contact info and deliver business insights via Windows, Office, Skype for Business, Cortana and Dynamics. This data could also help provide better analytics tools to businesses for understanding their workforce.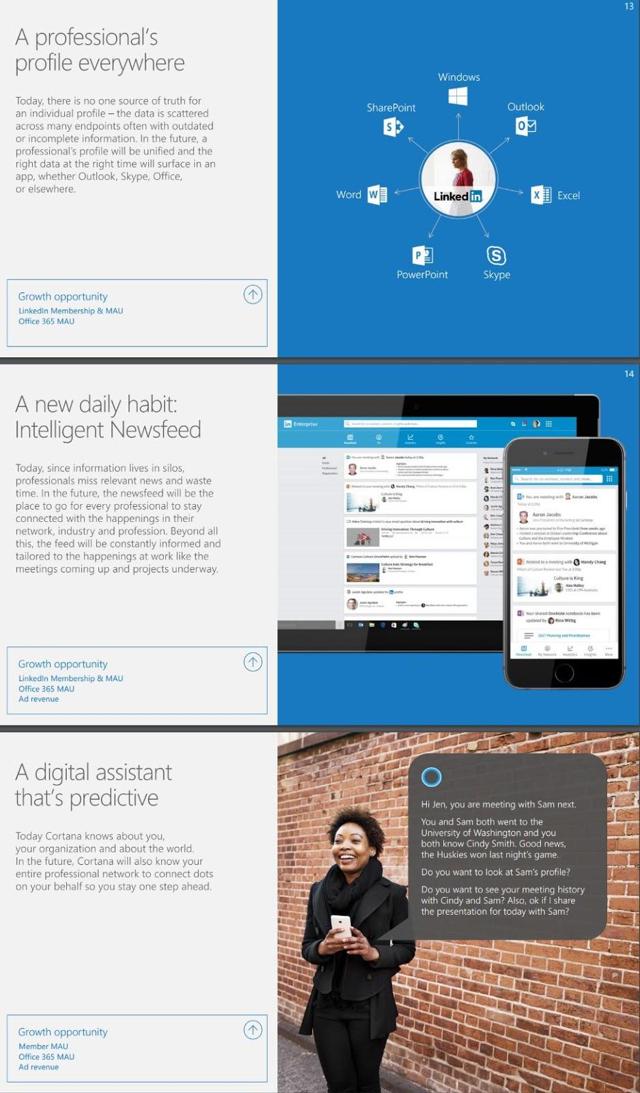 Some of the synergies Microsoft expects from the LinkedIn acquisition
While gauging the acquisition's success along the first track should be pretty straight-forward, putting concrete numbers on the second will be a lot harder. Just how much LinkedIn integration will boost sales of Office 365 or Skype for Business subscriptions or increase Microsoft's pricing power for them won't be easy to quantify. It's clear, though, the company is convinced LinkedIn's data will give it a valuable way to differentiate as it deals with Google Apps, Slack, Cisco's (NASDAQ:CSCO) WebEx and many other rival products.
Microsoft fell 2.6% following the announcement. The deal could bring a debt balance that was above $46B at the end of calendar Q1 north of $70B. Microsoft also had over $116B in cash/investments at the end of Q1, but much of it was offshore.
Microsoft unveils the Xbox One S and new gaming services, shares details about Project Scorpio - As rumored, the Xbox One S is 40% smaller than the regular Xbox One, and supports 4K video and HDR gaming/video. Its $299 start price is $50 lower than that of the PlayStation 4. Microsoft also used the E3 gaming conference to show off Xbox Play Anywhere, a feature that lets certain Xbox One games be downloaded and played on Windows PCs, with users able to pick up on a saved PC game on their console (and vice versa). In addition, users will be able to form gaming "clubs," and access a service to find other gamers to play against.
Project Scorpio - the rumored 4K gaming-capable Xbox due in 2017 - was confirmed. Microsoft disclosed the console will (courtesy of CPU/GPU supplier AMD) deliver over 6TFLOPs of GPU processing power and 320GB/s of memory bandwidth, up sharply from the 1.23TFLOPs and 68.3GB/s delivered by the current Xbox One. A 4K-capable PS4 is expected later this year.
Meanwhile, a rumored Chromecast-like streaming stick wasn't announced, and Microsoft is a few days removed from disclosing it has put plans to add DVR functionality to the Xbox One on hold. Whereas Redmond once tried hard to pitch the Xbox as a living room entertainment hub, its Xbox announcements now heavily revolve around gaming. With smart TVs and sub-$100 streaming devices proliferating rapidly, there's a logic to downplaying home entertainment ambitions and instead directing resources towards battling Sony (NYSE:SNE) for the wallets of gamers.
Apple reveals iOS 10, macOS Sierra, watchOS 3, revamped apps/services at WWDC - Siri, AI, messaging, and "open" platforms received a lot of attention during this year's batch of Apple (NASDAQ:AAPL) developer conference announcements. As rumored, Siri was opened up to developers looking to provide their Siri-powered voice assistant services. But Apple also opened up Maps to third-party extensions - examples given include making OpenTable bookings and hailing Uber/Lyft rides from the Maps app. And iMessage is joining Facebook Messenger, Tencent's (OTCPK:TCEHY) WeChat, and Line (NASDAQ:LN) in supporting third-party apps, payments and stickers. But the rumored iMessage Android app (could provide a big boost to iMessage's network effect in a very competitive market) didn't arrive.
Amid concerns Apple is falling behind Google (GOOG, GOOGL - just launched a "conversational" voice assistant), Amazon (AMZN - has built a large ecosystem for Alexa) and others when it comes to AI-powered services, Siri is getting a fresh AI infusion - "intelligent suggestions" are provided based on a user's typing. Meanwhile, AI is being deployed within Maps to suggest local places of interest, and within the Photos app to detect faces/objects and group relevant pictures. The Photos features have much in common with what Google Photos does, but its AI work will be handled on-device rather than in the cloud (Apple talks up the privacy benefits of doing so).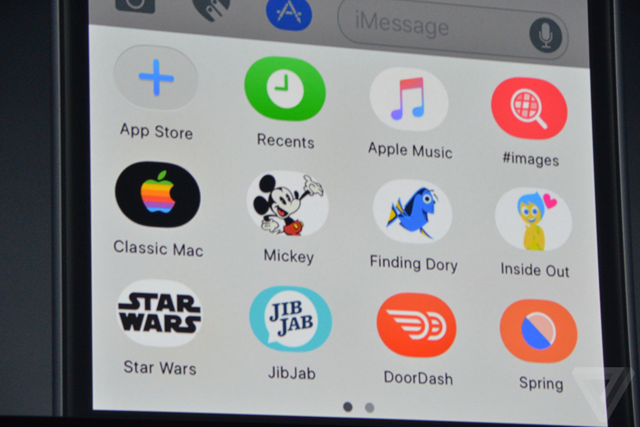 Some of the first apps supported by iMessage. Source: The Verge.
macOS (that's what it's called now, not Mac OS X) is getting Siri and the ability to see the same desktop on multiple devices. The Apple Watch/watchOS now supports Apple Pay and can have apps instantly load and show refreshed data, and Apple TV/tvOS is getting YouTube voice search and a revamped remote app. But it's worth remembering iOS powers the hardware responsible for the lion's share of Apple's profits. Here, Apple disclosed iOS 10 will support richer notifications, and can use 3D Touch to drive interactions and pull up content via both lockscreen and standard notifications. iOS 10 also adds voicemail transcriptions - a low-key but pretty useful feature.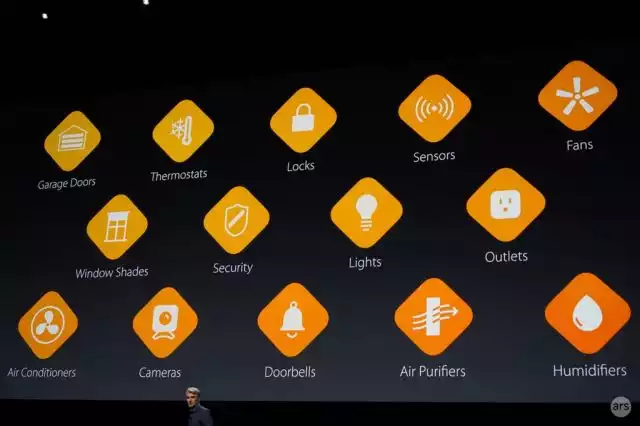 Devices that can be controlled by a new iOS Home app. Source: Ars Technica.
While nothing earth-shaking was announced - as usual, WWDC's focus is on software, services and making developers happy - Apple did open up more platforms to developers than expected, and also showed a greater embrace of AI than expected. Both moves show a healthy understanding of what the competition is doing, and of what's needed to avoid having core apps and services get marginalized as Facebook, Amazon, Microsoft, and especially Google bet big on AI-driven cloud services that can be leveraged by third parties.
A roadmap for Intel's high-speed Optane SSDs gets leaked - The roadmap, pictured below, shows the very first Optane platforms, codenamed Mansion Beach (meant for workstations) and Stony Beach (meant for server accelerator cards), arriving at year's end, with both supporting the next-gen NVMe storage interface (much faster than SATA). An Optane platform codenamed Brighton Beach (appears meant for workstations and high-end PCs) is due in early 2017.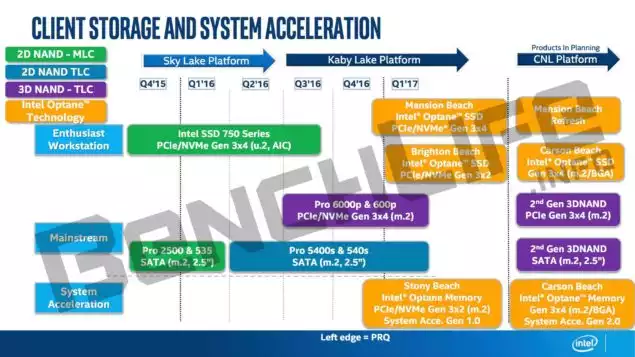 Optane relies on Intel (NASDAQ:INTC) and Micron's (NASDAQ:MU) 3D XPoint next-gen memory - it's much faster and more durable than NAND flash memory (while costing more), much cheaper and denser than DRAM (but somewhat slower), and (like NAND) doesn't lose data when power is lost. Early benchmarks have shown Optane SSDs trouncing NAND SSDs.
Baidu issues a Q2 warning; shares tumble - The warning arrives less than six weeks after a regulatory probe began due to the death of a student who attempted a cancer treatment discovered via Baidu's (NASDAQ:BIDU) paid search listings. The probe resulted in tougher regulations for medical ads, as well as in Baidu reducing the number of sponsored listings on a search page to no more than 30% of the page's total. Baidu now indicates both of these factors weighed on Q2 sales.
Two takeaways: 1) Beware Chinese regulatory probes fueled by public outcries (just ask Yum Brands). 2) Paid search, while a very lucrative business for a dominant search engine, is also one in which even slight changes to how ads are presented, sold or bid can have big ripple effects. Google is known to do extensive A/B testing for even the smallest search changes.
NXP sells analog/power management chip unit to Chinese buyers for $2.75B - One of the buyers is JAC Capital, which (in line with China's aggressive efforts to grow its local chip industry) also happened to acquire another NXP (NASDAQ:NXPI) unit last year for $1.8B. Bloomberg previously reported the analog/power management chip unit, known as Standard Products, was on the block, and that NXP could get over $2B.
Standard Products saw revenue drop 15% Y/Y in Q1. The sale will help NXP lower a debt load that (thanks partly to the company's recent acquisition of rival Freescale) totaled $9B at the end of Q1, and allow it to focus on opportunities in the automotive, IoT, networking and secure transaction (EMV/smart card/NFC) chip markets.
Google launches AI-powered Springboard app for businesses, revamps Google Sites - Though Apple's AI announcements got much more attention, Google added one more machine learning-driven solution to its arsenal. Springboard, an app meant for Google Apps for Work users, proactively delivers content and recommendations to office workers that's meant to be relevant to what they're working on (echoes of Google Now). It also lets workers search across Gmail, Docs, Drive and other Google apps/services.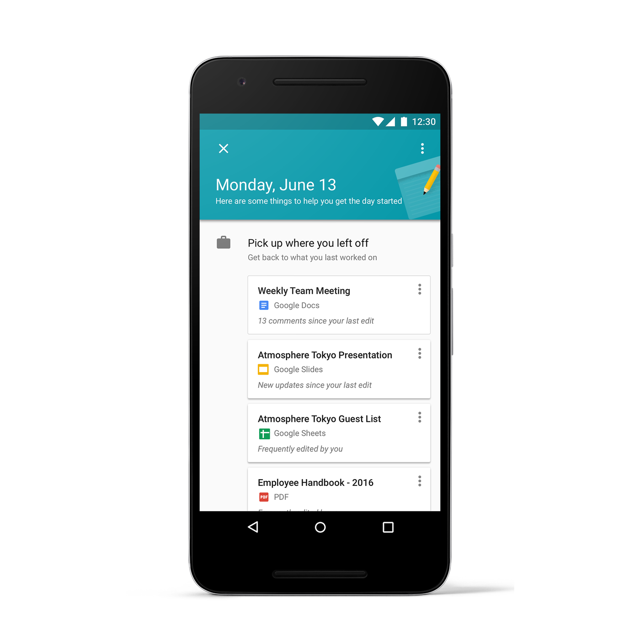 Content recommendations shared by Google's Springboard app
Separately, Google Sites, a popular business tool for building internal sites for teams, is getting a revamp that lets content automatically adjust for screen size and otherwise tries to make web publishing easier.
Citron Research shorts Facebook - "Facebook (NASDAQ:FB) is losing market share to Snapchat and overstaying its welcome in other niches ... I am not saying Facebook is a bad company, [it] just will not be a $330B company in a year," says Citron Research's Andrew Left. Though its track record isn't perfect, Citron has done pretty well lately - Valeant (NYSE:VRX), Mobileye (NYSE:MBLY) and Ambarella (NASDAQ:AMBA) are among the Citron shorts disclosed over the last 12 months that are well below where they traded when Citron first announced its position.
Facebook closed down 2.3%. Citron isn't the first to argue Snapchat's (CHAT) rapid growth is a problem for Facebook, and others have also made the case declining personal sharing is an issue. For now, daily active user growth (+16% Y/Y in Q1 to 1.09B) remains healthy, and ad revenue growth (+57% in Q1) remains torrid with the help of an all-out push to monetize Instagram.
Disclosure: I/we have no positions in any stocks mentioned, and no plans to initiate any positions within the next 72 hours.
I wrote this article myself, and it expresses my own opinions. I am not receiving compensation for it. I have no business relationship with any company whose stock is mentioned in this article.
Editor's Note: This article discusses one or more securities that do not trade on a major U.S. exchange. Please be aware of the risks associated with these stocks.