The latest OPEC Monthly Oil Market Report is out with OPEC crude only production numbers for May 2016. I have compared these numbers with those published by the EIA in their Short-Term Energy Outlook table 3a. All data is in thousand barrels per day and the last data point in May 2016 except for the projection in the one chart below.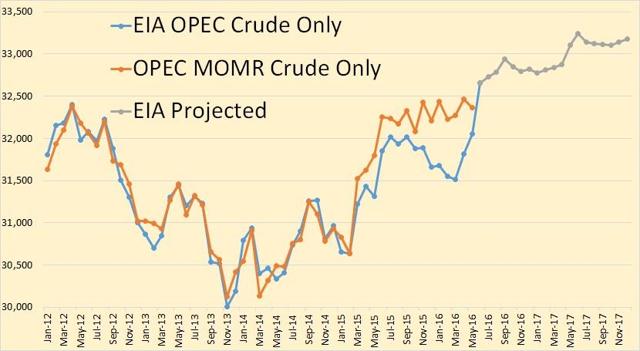 The EIA has OPEC crude production up 238,000 bpd in May to 32,052,000 bpd while OPEC's "secondary sources" has OPEC production down 100,000 bpd to 32,31,000 bpd in May. The MOMR still has their May production 309,000 bpd more than the EIA.
However that all changes next month, according to the EIA. They have OPEC crude production jumping by 600,000 bpd in June to 32,652,000 bpd. They did not project individual countries however, so we have no idea where they believe all that oil is going to come from. Frankly, I just don't believe it is going to happen.
Here are the actual production numbers according to "secondary sources."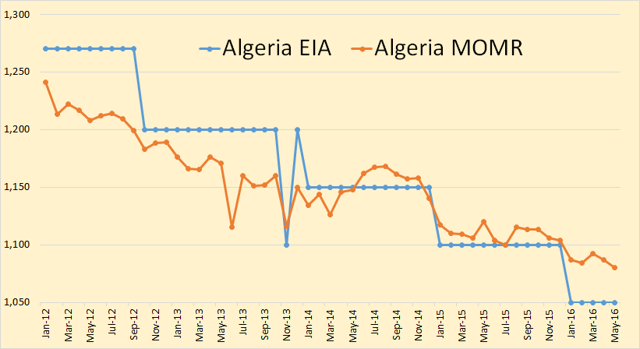 Here we see the tendency the EIA has to, for some OPEC nations but not all, just carry last month's production forward until they detect production had changed enough to change their numbers. At any rate Algerian oil production is clearly in decline.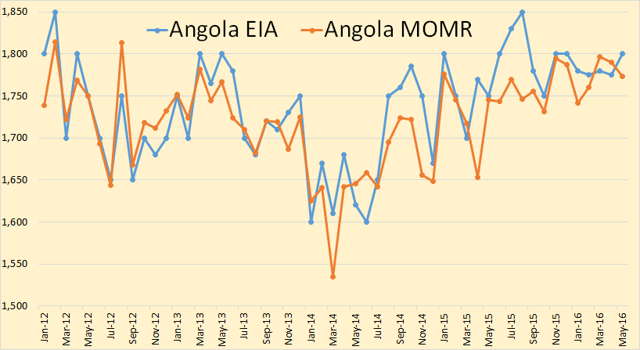 The EIA and the MOMR have Angola production going in different directions in May. The EIA has Angola up 25,000 bpd in May while the MOMR says they fell by 17,000 bpd.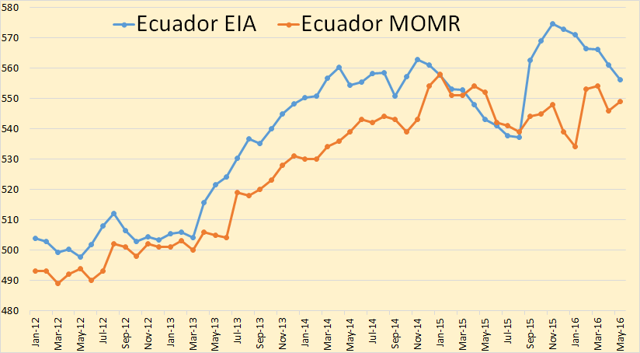 The EIA has Ecuador declining for the past six months while the MOMR does not see it that way. The EIA has Ecuador production down 18,000 bpd since November while the MOMR has them up 1,000 bpd since November.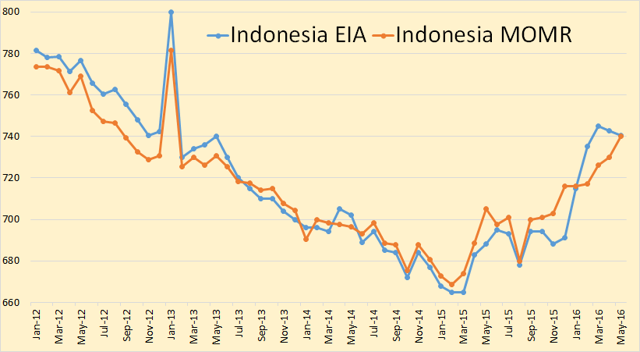 Indonesia, in decline for years, has increased production by about 75,000 bpd over the last year or so.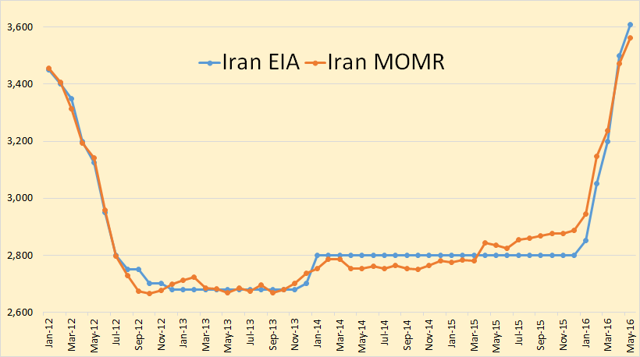 Iran, since December, has increased production by 810,000 bpd according to the EIA or 675,000 bpd if you are looking at the MOMR numbers. At any rate the increase is slowing down now and will likely come to a complete halt in a month or so.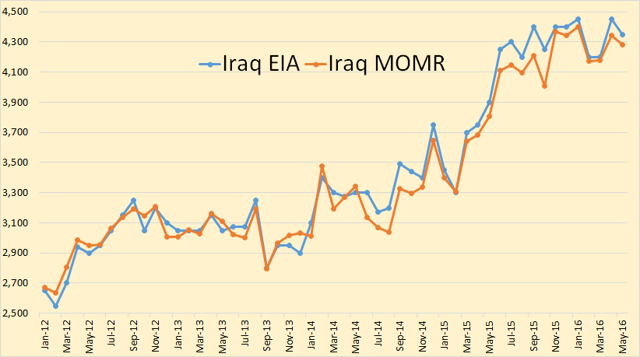 Okay, is there any doubt now that Iraq's oil production grand assent has petered out? They are struggling to increase production but not having much luck. And ISIS is not helping one bit.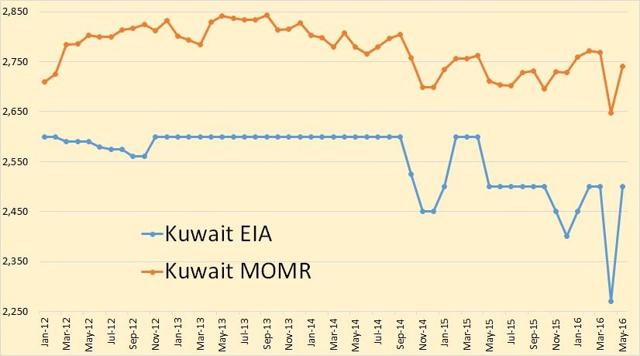 OPEC's "secondary sources" has Kuwait producing, on average, about 225,000 bpd more than the EIA says they are producing. This is the only OPEC country where such discrepancy exists. I have no idea why.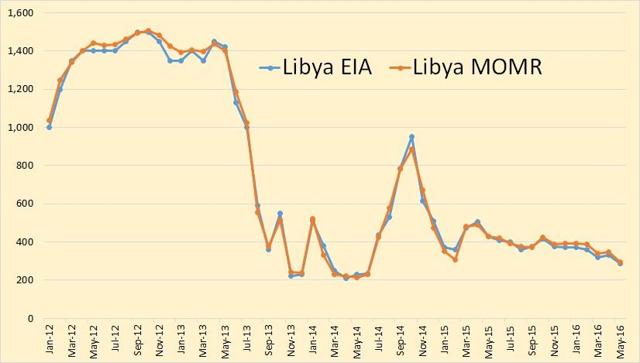 In contrast with Kuwait, the EIA and the MOMR agree almost to the barrel on what Libya is producing. Libya, one day, will bring production back up but that day will not happen any time soon.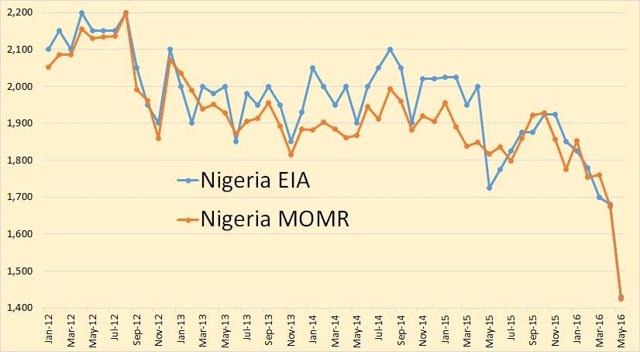 Nigeria is headed to the same place where Libya is right now, racked with violence and falling oil production.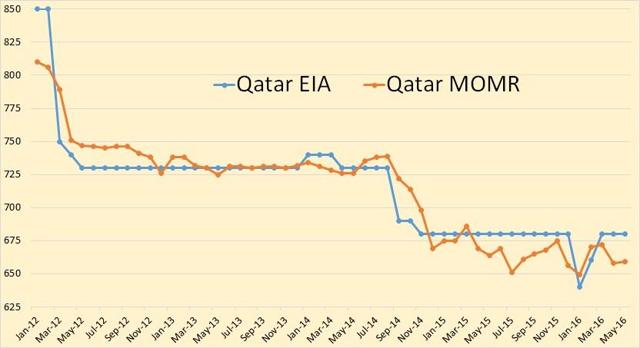 Qatar has lots of natural gas but not much oil. And what they do have is in decline.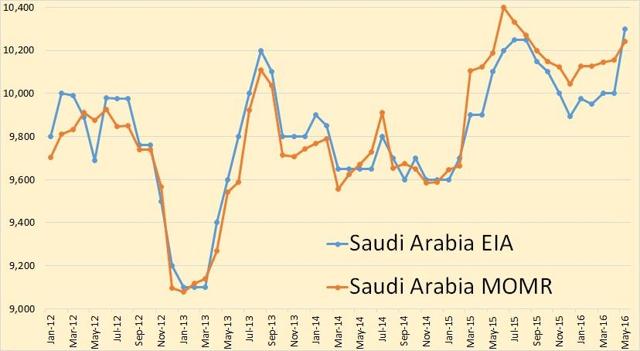 The EIA says Saudi Arabia increased production by 300,000 bpd in May. OPEC's "secondary sources" says the increase was only 84,000 bpd to 10,241,000 bpd.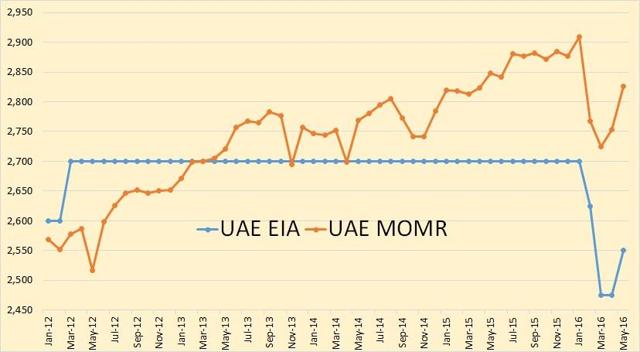 This is a very strange chart, or at least the EIA portion is strange. No one believes crude oil production in the Untied Arab Emirates was absolutely flat for almost four years. And had it not been for that sudden decline in production in February and March, they would likely still have production flat. But there comes a time when even the EIA cannot deny what is obviously happening. At any rate UAE production seems to be recovering.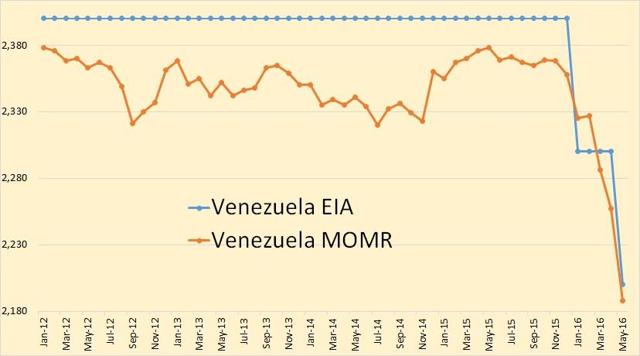 And their chart for Venezuela is just as silly. But Venezuela production is not recovering, and is not likely to.
In conclusion, I am not nearly as optimistic about OPEC production as is the EIA. OPEC may hold, close to current production, for the next few months. But I think the trend will have to be down, given what is happening in Nigeria, Venezuela and Iraq. Iran is topping out and cannot increase production much further. And the other big OPEC producers, Saudi Arabia, the UAE and Kuwait are clearly producing every barrel they can possibly produce and have, in my opinion, only downside potential to any great extent.
In other Non-OPEC news:
China Oil Output Cut by Most in 15 Years
China's crude production dropped by the most in 15 years in another sign that OPEC's strategy of flooding markets to drive out higher-cost suppliers is working in the world's biggest energy consumer.
The Asian nation reduced oil output in May by 7.3 percent from a year ago to 16.87 million metric tons, according to data from National Bureau of Statistics released on Monday. That's the biggest decline since February 2001.