As volatility heightened over the last year across global markets, China has come under the spotlight as a key source of global turmoil. We believe the country's economy has now come to a tipping point that could create large-scale distress for global financial markets. Recent volatility in the Chinese equity market underscores some of the deep-seated economic concerns the country is currently experiencing. In particular, we are concerned with the country's rising debt levels, slowing GDP growth, and potential for significant currency devaluation.
Chinese Equity Market
Chinese equity performance over the past year has been nothing short of volatile, as seen in Figure 1. Specifically, the Shanghai Stock Exchange (SSE) Composite Index experienced a tremendous rally during the first half of 2015, gaining roughly 60% into June. However, the index pulled back just as abruptly and declined 31.5% from its peak on 6/12/15 through to the end of the year. In addition, as of 3/31/16, the SSE Composite Index has continued its downward trend, falling another 15% year to date.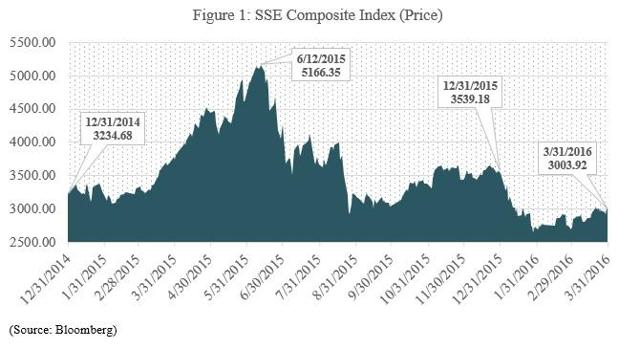 The recent correction in the Chinese equity markets was driven by investor backlash to excess market leverage, accumulating data of slowing economic growth, and surprise currency devaluations employed by the government. In result, volatility spiked to its highest level since the financial crisis as the benchmark's rolling 12-month standard deviation climbed to 44% as of 2/29/2016, roughly 1.7x higher than its 20-year average. This type of volatility has disturbed investors globally and has compelled us to investigate the true risks underlying China's financial markets and economy.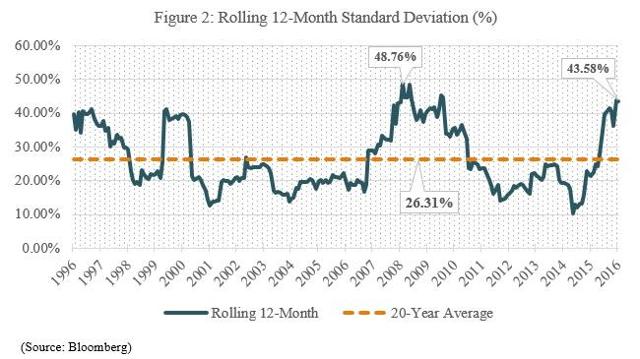 GDP Growth: Slowing and Transitioning
Historical Rise in China's GDP
China's economy enjoyed rapid growth through the latter part of the 20th century and into the new millennium. The country's real GDP has more than doubled since 2004 and has gone up by more than 10x over the past 25 years, growing at an average annual rate of just over 9%. Figure 3 illustrates how this consistent growth has compounded over the years to reach roughly $5.3 trillion U.S. dollars (USD) at the end of 2014. China was able to achieve such superior growth rates by utilizing its massive supply of cheap labor and capital stock to ramp up its manufacturing and exports. Chinese exports grew at an astonishing average annual rate of 18% between 1990 and 2014.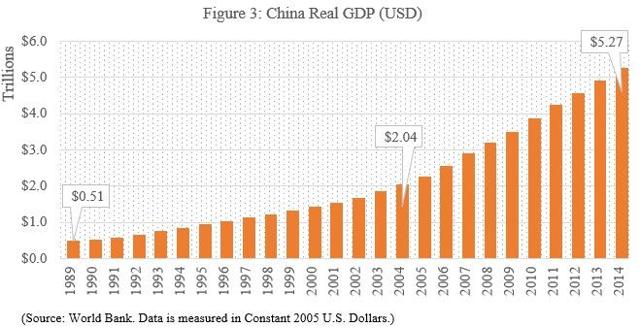 Slowing GDP Growth
The economic reality of growing GDP at 9% into perpetuity is not possible because the economic base that China must now consequently grow off of has compounded to enormous levels, as evident in Figure 3. Therefore, GDP growth must inevitably retreat, which is already apparent in the growth rates seen in recent years. While the export and industrial components of China's economy were such a large driver of GDP growth during the past few decades, these factors have displayed diminishing growth since 2011. The inevitable byproduct of the country's emergence into global trade as an export-oriented economy was a substantial capital account surplus and a steady appreciation of the renminbi, ultimately making its export industry less competitive in relation to that of other countries. Figure 4 shows the magnitude of the renminbi's appreciation relative to its competitors over the past 5 and 10 years.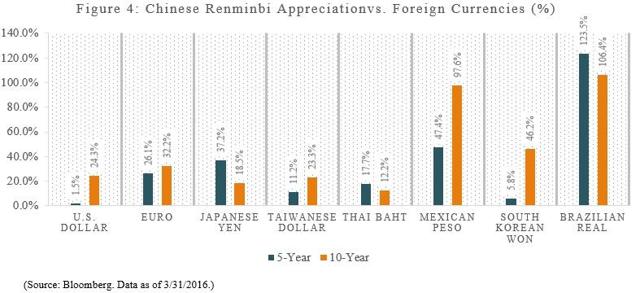 This appreciation has negatively affected China's export and manufacturing industry, as buyers have looked elsewhere for cheaper alternatives. Thus, export growth has declined from 18% over the past 25 years to roughly 7% over the past three years. In consequence, GDP growth has digressed from 10.6% in 2010 to 7.3% in 2014, with estimates indicating the trend of slowing growth will continue.
Transition of China's Economy and GDP Growth
The country economy is now in a transitional state that is progressing from an industrial-led economy to one that is driven by services and domestic consumption. This is clearly evident in Figure 5, which illustrates the percentage contribution to GDP growth for each portion of China's economy.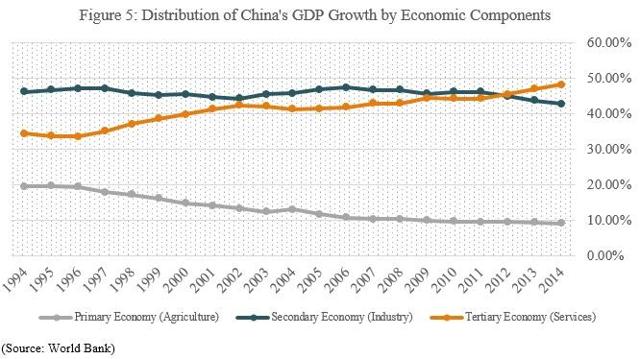 In 2012, China's tertiary economy finally eclipsed its secondary economy as the largest contributor to overall GDP growth. This was an important milestone for the country, because it confirmed that the transition was taking hold in the economy. This transition, however, has implications and trade-offs for how its economy will grow in the future. One of the main advantages of this shift is that a consumption-driven economy leads to more stable, sustainable growth over the long term - an objective that China desperately seeks in order to remain a world economic power. However, the trade-off is that a consumption-driven economy leads to lower absolute growth rates, as is being witnessed in the decelerating growth over the past few years. Even though the services industry and domestic consumption have been growing, this portion of the economy will not be able to produce the same growth previously generated by the secondary economy, and thus, overall growth will continue to fall until it settles at a more sustainable long-term rate.
Risks and Concerns
This shift is a complicated process for the country, as such massive economic reform is multi-faceted and laden with risk for the economy. The objective for China, and ultimately its investors, is the completion of this transition in a smooth, uninterrupted fashion without a hard landing to the economy. However, the underlying risk is that China's government will not be able to control the deceleration of growth in the economy, and portions of the economy may falter or collapse. This process has become increasingly more difficult for the government due to the bubbling debt problem, which is explained in more detail in the following section. Since the country has historically financed its growth through significant debt creation, the collapse of this growth driver could consequently force the economy into a tailspin and hard landing.
Debt Overhang
Rising Debt and Diminishing Growth
The rising debt level in China poses one of the greatest overarching risks to the economy and the potential for a crisis event. Over the past decade, debt levels in the country have skyrocketed, evidenced by the growth of total debt from $4.5 trillion USD in 2005 to roughly $25.7 trillion USD in 2015, as seen in Figure 6. The ratio of total debt-to-GDP has soared to roughly 250%. The acceleration in Chinese debt has been predominantly fueled by the increase in corporate credit. Corporate debt has escalated from roughly 100% of GDP ten years ago to 165% of GDP as of 12/31/2015, as seen in Figure 7.

Over the previous decade, China's credit expansion has been generally viewed as a positive driver of the country's superior GDP growth rates. With China's growth decelerating to levels not exhibited since the 1990s, this boom in debt has now created an over-leveraged economy. In recent years, the increased debt has not translated to increased growth. On the contrary, the rapid growth in total debt has produced declining marginal growth in GDP over the past five years, as seen in Figure 5.

It is believed that the new issuance of debt is increasingly going toward repayment of prior debt obligations rather than used toward new investment projects, resulting in stifled growth and creating a negative debt spiral for borrowers. This ultimately begs the question whether Chinese borrowers will be able to continue servicing their debt obligations successfully without increasing defaults.
Deteriorating Debt Quality and NPLs
China's debt expansion has induced a deterioration of credit quality and the growth of non-performing loans (NPLs). As of 12/31/2015, on-balance sheet NPLs of Chinese banks were reported as 1.67% of total loans, a ratio which has ticked up from 1.0% just two years ago. Likewise, the absolute amount of NPLs has sky-rocketed along with total debt, and now stands at 1.27 trillion renminbi, or $196 billion USD.
The real issue with non-performing loans goes much deeper than what is being reported. Due to the swell in shadow banking and off-balance sheet bank assets, the total amount of NPLs is estimated to be much higher than currently reported by banks. Shadow banking has emerged as a popular financing alternative for many Chinese businesses and borrowers. According to Bloomberg data, the shadow banking sector has increased from $184 billion USD at the end of 2006 to $3.57 trillion USD in 2015, a cumulative increase of roughly 18.5 times. Part of shadow banking's appeal for savers was that it offered a way to earn a higher return than through traditional banks, which have previously employed interest rate ceilings. The explosion of shadow banking is significant because the quality of this debt tends to be of much lower quality due to the at-risk borrowers that utilize shadow banking as a last-resort financing solution, in addition to the less stringent regulatory restrictions placed on the sector. And while these loans are typically not reported on bank balance sheets, banks overwhelmingly shoulder the credit risk of these loans, as many banks hold the beneficiary rights to the underlying shadow banking companies, leaving them exposed to the potential consequences of defaults.
Using estimates from leading analysts at JPMorgan and Goldman Sachs as well as from investment manager Hayman Capital, the true ratio of NPLs to total bank loans is conservatively forecasted to be somewhere in the range of 7-10%. While banks maintain the loan loss reserves to be able to cover their reported NPL levels, they are not adequately capitalized to cover a 7-10% loss of their loan books, setting up for a potential liquidity crisis or bank run if the government does not step in. This situation is becoming increasingly problematic for banks as growth continues to decline, making it more difficult for borrowers to repay their debt obligations.
Scenarios
We have detailed a few possible scenarios China could take in response to its current situation as well as the potential consequences of these actions.
Scenario #1: "Kick the Can Down the Road"
If China continues to downplay the significance of its debt problem, the government could delay any decisive action to resolve the situation. They could, instead, decide to focus their attention on economic growth by employing further stimulus to expand credit growth and increase leverage to maintain the current GDP target growth rates. This would likely be administered through further cuts to the required reserve ratio and interest rates, as well as the NPL coverage ratio. This would free up more bank capital, help sustain the expansion of credit and likely dilute the overall ratio of NPLs to bank loans. However, with diminishing incremental growth of GDP relative to incremental growth in credit, this scenario would likely not meet the desired growth results, in addition to compounding the banking sector's debt problems. This scenario sets the banking sector up for larger problems down the road by flooding the market with more loans, leading to diminished loan quality, increased amounts of NPLs and the potential for a higher NPL-to-loans ratios. This scenario presents a short-term reprieve, but not a long-term resolution. It creates the risk for a catastrophic event if the debt expansion does not translate into sustained economic growth. Ultimately, the longer China takes to address its debt problem, it will only become increasingly more perilous for the country's economy as well as for the rest of the world.
Scenario #2: Government Intervention and Recapitalization of the Banking System
Another likely scenario to the rising amount of non-performing debt in the economy will be government intervention and the recapitalization of the banking sector. While this seems to be the most probable outcome, China's unwillingness to recognize such a problem may affect the ultimate timing and duration of this action. Whenever banks do begin to realize the losses from their elevated levels of NPLs, they will not have the necessary capital to cover these defaults. As a result, the government will need to step in to help bail out and recapitalize the banks. Using estimates derived by analysts at JPMorgan, the total commercial banking system would need to receive between 0.6 trillion RMB and 3.1 trillion RMB, depending on the NPL ratio. Digging deeper, the necessary funds required to recapitalize listed banks would be equivalent to roughly 12-27% of their existing equity.
The government will have the option to finance the recapitalization of the banking sector through the use of foreign reserves or by having the People's Bank of China (PBOC) print money to replace the lost capital. While China currently has enough reserves to fund the estimated shortfall, it could potentially deplete its surplus. Therefore, it is likely that a combination of the two options would be used to fund the recapitalization. However, both techniques would, in all likelihood, result in downward pressure on the currency, creating an environment for a considerable devaluation.
Scenario #3: Let the Banks Default
If loan defaults start to accelerate, banks are in a precarious position because, as mentioned above, the banking sector does not have the adequate capital to cover the estimated losses that would be incurred. Consequently, if the government does not step in, it would create a liquidity crunch in the banking sector and the potential for a bank run.
This is the most unlikely scenario, because it would ultimately lead to the largest economic fallout for China and potentially inspire even more impactful political consequences. A collapse of the banking sector would not only destabilize the economic progress of the country, but it would create despair among the population and place overwhelming pressure on the future of the communist regime.
Outlook
China's government has a variety of different paths to choose from and tools to utilize to help stem the economic problems the country is currently facing. However, we believe there will be a similar outcome inherent in each scenario, which is the predictable devaluation of the renminbi. China will have immense difficulty being able to reignite its export growth or adequately combat its debt crisis without using its currency as the valve to release pressure on the economy. The country has been stubborn in the defense of its currency over the past year (save for a few one-time devaluations), but will need to let its currency depreciate considerably in order to ease its own internal economic problems. As a result, the devaluation of the renminbi alone creates a negative environment for foreign investors exposed to Chinese equity markets. It could additionally create a spillover effect on other countries as they vow to keep their own currencies competitive to maintain export levels, creating the possibility for a global currency war. Moreover, if China realizes a debt crisis or is unable to cushion the deceleration of GDP growth, resulting in a hard landing, its economic perils could spill over into the Asia region and global markets to varying degrees due to the sheer size of China's economy and its integration through global trade.
Investment Recommendation and Considerations
We advise that clients with exposure to the Greater China region substantially reduce their allocation until further notice. More aggressive investors may want to consider investment strategies attempting to capitalize on a bear scenario in the country. These strategies are designed to profit from the reality of a hard landing in China. However, our main goal is to protect capital, so with any tail risk strategy we consider, we will rigorously examine the potential downside risks, such as direct costs, duration, and liquidity.
Disclosure: I/we have no positions in any stocks mentioned, and no plans to initiate any positions within the next 72 hours.
I wrote this article myself, and it expresses my own opinions. I am not receiving compensation for it. I have no business relationship with any company whose stock is mentioned in this article.