Introduction
Centamin (OTCPK:CELTF) is an interesting company; it operates the large Sukari gold mine in Egypt which is producing in excess of 100,000 ounces of gold per quarter, but even though the company is cash flow positive, I'm not sure I'm still willing to accept the risk to invest in a single-asset company (the early stage exploration projects in Burkina Faso and Ivory Coast don't really count) in Egypt.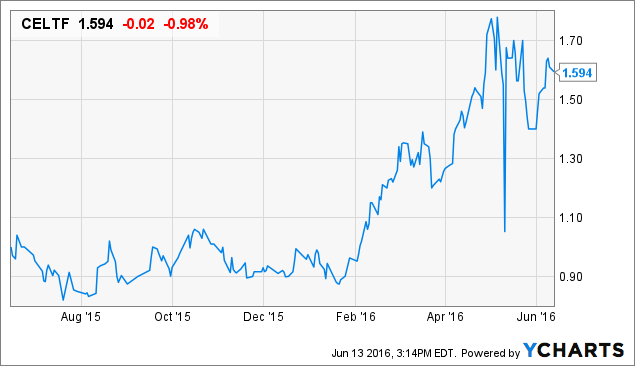 Centamin has its main listing on the London Stock Exchange where it's trading with CEY as its ticker symbol. Considering the total average daily volume is approximately 3M shares, you might want to consider trading in Centamin's shares through the facilities of the LSE.
Q1 indicates an annualized production rate of half a million ounces
The first quarter of the year was once again pretty strong for Centamin as its Sukari mine produced just in excess of 125,000 ounces of gold which is a 6% increase compared to the gold production in the final quarter of last year, and an impressive 15% increase compared to the first quarter in the previous financial year. The average grade did remain stable, but the main force behind the strong performance in the first quarter was the higher throughput at the mill as the Sukari processing plant processed almost 2.88M tonnes which is approximately 5% above the nameplate capacity.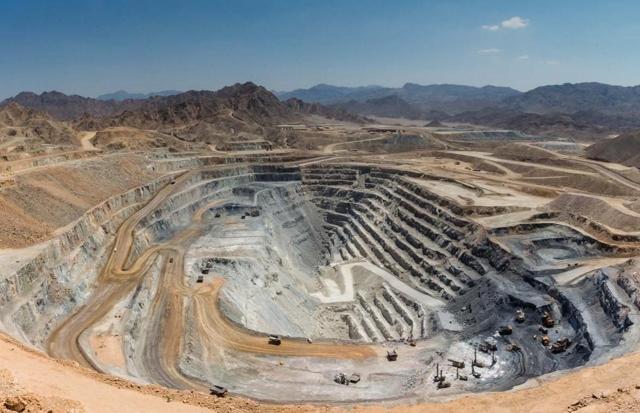 Source: company presentation
That's pretty impressive but I will have to be a spoilsport here as the company mined less than 2.7 million tonnes of ore, so it had to take almost 200,000 tonnes of ore from the existing stockpiles. That's fine, but Centamin will have to monitor its mining rate. The higher production rate also created more efficiencies and the total production cost fell quite sharply; whereas the AISC was $851/oz in Q4 2015, this fell to $758/oz in the first quarter of the year.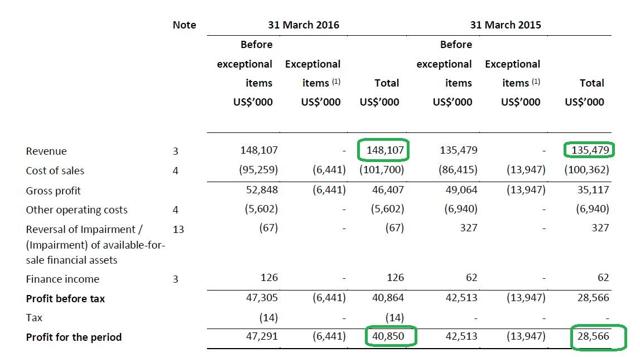 Source: financial statements
The total revenue in the first quarter was $148M, which resulted in a gross profit of $46.4M and a net income of $41M. That's really good, but as I have written numerous times before, I don't really care about a net income as I think the cash flows of a mining company are offering a better overview of the real strength of the operations.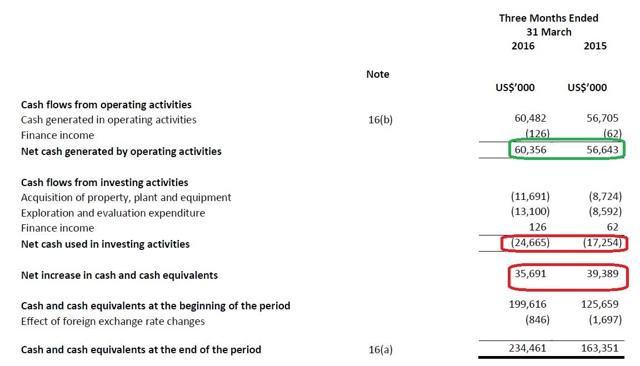 Source: financial statements
Centamin generated a total operating cash flow of $60M which was slightly higher than last year but as the total exploration and capital expenditures also increased, the net free cash flow fell by approximately 10% to just short of $36M. Is this bad? Well, not necessarily. I don't really mind it when a company does an effort on the exploration front as it might create additional value for shareholders further down the road. A part of the exploration expenditures were aimed at the underground drill program at Sukari where Centamin was targeting to find the extensions of high-grade ore, and as the company intersected 2.6 meters of 3.5 ounces of gold per tonne of rock as well as 9.5 meters of 2.5 ounces of gold per tonne, I'd dare to say the exploration program was quite successful.
The cash flow remains strong, but not strong enough for me
Yes, a free cash flow of $36M is really good and as the gold price is currently trading quite a bit higher than the average gold price in the first quarter, there's little doubt Centamin's financial results will continue to be strong (on the condition the other parameters don't change).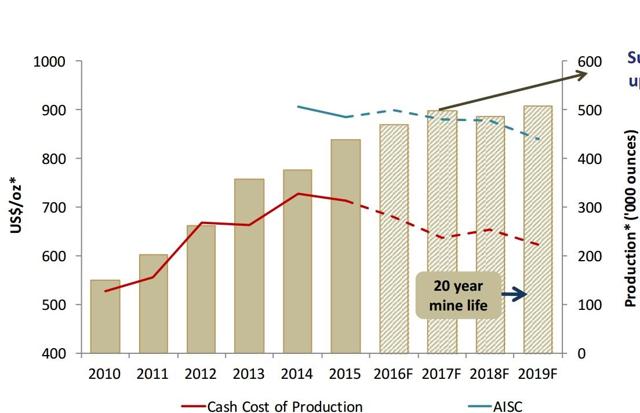 Source: company presentation
That being said, I'm not convinced a quarterly free cash flow of $36M is good enough to warrant the company's total market capitalization of almost $1.9B. Centamin's advantage is obviously its $230M cash position, resulting in an enterprise value of approximately $1.7B. This would mean the total free cash flow yield on the EV would be in excess of 8%, which indeed is very respectable, especially as the company is reducing its all-in cost in the next few years.
However, I found an article in the Egyptian media which claims the Egyptian government will try to enforce a 50/50 profit sharing rule before the end of this month, and if this would indeed be implemented, Centamin's net income (attributable to its shareholders) and free cash flow results would be severely impacted. This would result in the company being overvalued rather than being fairly valued (which is the situation right now).
Investment thesis
This profit sharing deal would be implemented much faster than originally expected (as the company expected it would have to share its profits from next year on, rather than H2 2016), and as long as this uncertainty is part of Centamin's 'issues', I'm not too keen on jumping into the deep without really knowing what I'm getting into. It's perfectly possible Centamin's free cash flow will be slashed by 50%, in which case a FCF yield of 4% for a one-trick pony in Egypt is definitely not sufficient to get me excited.
Add the fact the company's chairman has been selling in excess of 17 million shares (valued at almost $25M) in the past three weeks (!), and you'll understand why I'm not extremely confident in Centamin's future. The company will remain profitable, but its net profit will be sharply reduced.
Disclosure: I/we have no positions in any stocks mentioned, and no plans to initiate any positions within the next 72 hours.
I wrote this article myself, and it expresses my own opinions. I am not receiving compensation for it (other than from Seeking Alpha). I have no business relationship with any company whose stock is mentioned in this article.
Editor's Note: This article discusses one or more securities that do not trade on a major U.S. exchange. Please be aware of the risks associated with these stocks.