Introduction
OnDeck Capital (NYSE: ONDK) stock has gotten crushed in the past year and is hovering around book value. In its latest quarter, the company announced a shift away from "Marketplace" funding, which the market saw as a sign of a failure in the company's business model. This was also coincident with a blow-up in LendingClub (NYSE:LC), which is facing similar pressures in originating loans. This created the perception of a "perfect storm" for ONDK, yet I view it as the company taking short-term pain for long-term gain. Tightness in the markets implied the company did not receive ideal pricing for its loans, and it chose to hold them on its own balance sheet. This is crucially different from LendingClub, as ONDK is underwriting its loans safely instead of simply being an originator (more detail on this later). That notwithstanding, with the stock basically at book value, the downside risks appear fully priced in, and ONDK now represents a hugely asymmetric risk-reward.
Marketplace Funding and its Implications
To begin with, one should fully understand the implications of the shift away from marketplace funding. As the market learned this quarter, marketplace funding is more fickle than was previously thought, and access to capital has become tougher for the company despite improving credit metrics. With risk premiums for marketplace loans increasing substantially, ONDK saw Gain on Sale premiums decline from 9% in 4Q15 to 5.7% in 1Q16, even though its own loans have thus far performed in line with internal expectations. As a result, marketplace funding is expected to drop from 35-45% of term loan originations (or 31-40% of total originations) to 15-25% of term loan originations (or 13-22% of total originations) in 2016. This will have an outsized impact on near-term revenue and profitability given the high upfront revenues and margins associated with the marketplace funding model. In contrast to balance sheet funding (in which ONDK recognizes deferred interest income and upfront provision expenses), the marketplace model is fundamentally higher-margin and results in a transfer of risk. It should be noted that this could reverse if credit market conditions improve, yet a return to the Gain on Sale premiums of 2015 are likely not in the cards in the immediate future.
Risk premiums have elevated (leading to lower pricing for ONDK) for a number of reasons, primarily due to worse-than-expected performance from the first few securitization deals. The issues associated with LendingClub are well known by now. Another securitization deal by Prosper was downgraded by Moody's, as a change in Moody's model raised the expected losses to 9% from 6%. Even as the performance of the underlying loans may have been unaffected, the downgrade will naturally impact investor perceptions. Given the relatively short track record of marketplace ABS securities, and the claim that these platforms have better underwriting ability than traditional financial institutions, even slight (perceived) underperformance is likely to have an impact on risk premiums. Marketplace-backed securities are relatively illiquid as well, which has markedly impacted performance in a market environment which is receding from risk-taking behavior. This has all resulted in expectations for slowing origination growth: ONDK lowered 2016 origination growth expectations to 30-35% versus prior guidance of 45-50%. As ONDK holds a larger mix of loans on its own books, it is naturally opting for a more prudent stance.
So, how should a current or prospective investor think about this? In terms of revenue recognition, the company's balance sheet-funded loans recognize interest income over the life of the loan. ONDK's Marketplace loans are sold to investors at a premium to their carrying value, which the company immediately recognizes as a gain on sale (it also earns servicing fees over the life of its sold loans). So, ONDK's balance sheet-funded loans accrue more revenue across the life of the loan, but Marketplace-funded loans boost profitability immediately as a result of no related provision or funding costs. When the company funds its loans through its own balance sheets, it is also required to expense provision costs upfront. For a fast-growing company, this can lead to severely distorted financials. Revenues accrue over the life of the loan, while major expenses are provisioned immediately. This will mean ONDK's GAAP profitability will be diminished for some time. Crucially, however, it does not signal the death of its business model. To begin with, the company utilizes a hybrid funding model, and does not solely require originations to fund its loans. Its entire premise is to devise a data-driven approach to small business lending, and is quite capable of holding loans on its own books. That is, of course, if the loans themselves are performing well. Contrary to what the price of the stock might imply, most credit metrics are actually quite robust, and the company is executing on its strategy well.
Progress is Being Made
As just one example, one can see the company's delinquency ratios moving down significantly. ONDK is one of the few (possibly the only) financial companies to provide a 15-day delinquency ratio. As ONDK receives a considerable amount of insightful data throughout the life of its loans (which are fairly short-term to begin with), it has tremendous advantages in lending over banks and other financial companies. The company has substantial levers to pull to correct if it starts to see credit deterioration, which it can do on a fortnightly basis. If recent trends are any indication, the reduction in delinquency rates shows an ability to manage credit risk intelligently.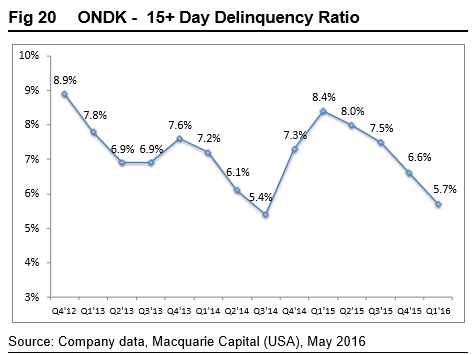 (Source: Macquarie Capital)
Another common concern for ONDK is that it is simply another subprime/payday lender destined to fail. It charges excessively high rates, will likely have poor quality borrowers, and will be wiped out at the turn of the next credit cycle/recession. While the company is obviously sensitive to macro factors, one has to take a more balanced view. Obviously, the company's credit metrics tell a different story when it comes to poor-quality borrowers. ONDK's underwriting capabilities are expanding across the broad range of the credit spectrum, and it is developing the ability to service a broad range of small business needs. Seen in the graph below, its Earned Interest Yield (EIY) has exhibited a steadily decreasing pattern. The company is successfully moving upmarket and is shifting its mix towards line of credit products (which are lower-APR than its term loans). ONDK is NOT a predatory lender, and the fact that it can move its EIY downwards while increasing credit quality is the strongest indication of this.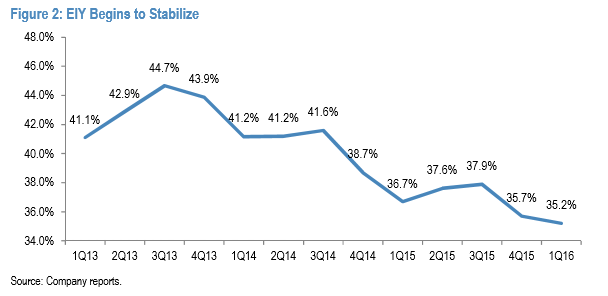 (Source: JPMorgan)
Long-Term Bull Case Intact
With all of the excitement over the company's shifting mix, and the problems that some other prominent fintech companies are experiencing, I think investors have forgotten what the investment thesis in ONDK really entailed. Investors have to think, is the long-term value of this company truly impaired? Remember, this is a company that is revolutionizing the process of small-business lending with a massive runway for growth. According to the FDIC, there are $190B of business loan balances under $250,000. Oliver Wyman believes there is an additional $80-120B of unmet demand. This implies a roughly $270-310B Total Addressable Market opportunity for ONDK. Relative to its current roughly $1B loans outstanding, this represents a huge opportunity. As the largest online small business lender, ONDK is ideally positioned to capitalize on this opportunity. Like many other technology platforms, it benefits from a virtuous cycle. The more loans that ONDK's algorithm underwrites, the more data it ultimately gains access for improving its algorithm. A more successful algorithm allows for more underwriting, and the cycle repeats. As the largest revenue generator, it also has more capital to deploy towards R&D, all of which contribute towards superior technology, underwriting capability, and value proposition for its borrowers.
I am not claiming ONDK will dominate this space, as all manner of traditional and new lenders will enter soon. However, the market is large enough and the competitive advantages of the company deep enough that it still has substantial runway for growth. Being able to capture just a small percentage of this $270-310B market will lead to a stock valuation multiples above the current one. As a testament to this, one should keep in mind that even with disruptions to its funding model, the company is still guiding towards 30-35% growth in originations. For all of this investors, investors could have purchased the stock at less than 1X Q1 2016 book value of $4.60. The stock fell below that, so investors could have purchased a company with runway for 30+% growth for years to come at less than liquidation value. With a liquid book comprised of cash and rapidly amortizing loans, 1X book value should theoretically cover the downside. So, it does not seem as if investors are paying a considerable amount for ONDK's upside potential at all at current prices. At book value and below, the growth potential is an entirely free call option - this is a growth company at a value price.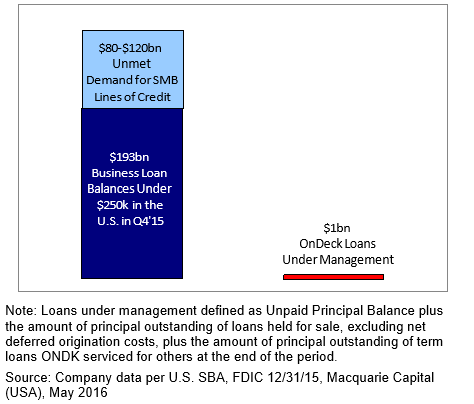 (Source: Macquarie Capital)
Aside from benefiting from major tailwinds and substantial TAM opportunity, ONDK provides a meaningful value proposition for SMBs. In addition to servicing a need for shorter-term, smaller-dollar SMB credit that traditional banks generally are reluctant to fulfill, the company's online platform meaningfully improves the simplicity, speed, and convenience with which SMBs can access capital. The application process for a business loan from a traditional bank takes an average of 33+ hours (according to a 2014 Federal Reserve Bank of NY study). ONDK's streamlined web platform creates a business loan application process that can be completed in minutes. Moreover, a traditional bank may require weeks or months to approve or deny an application for a business loan. By contrast, ONDK can use its proprietary risk assessment system, the "OnDeck Score" to evaluate and score the creditworthiness and financial health of a small business within seconds. The company's algorithm gathers data from 100+ different data sources and collects an average of 2,000+ data points for each applicant. ONDK claims its credit scoring system is 89% more accurate in identifying credit risk for an SMB relative to the common bank practice of relying exclusively on the personal FICO score of the business owner. Upon completion of the approval process, ONDK borrowers receive funding at a comparatively faster rate, often on the same day. This all translates into favorable Net Promoter Scores (a metric commonly used as a proxy for customer satisfaction), with ONDK receiving scores in the high 70s (on a scale ranging from -100 to 100). It's difficult to imagine that the value proposition ONDK brings to small businesses changes wildly based on the company's funding mix. To make matters even better, all of this upside comes for free with the stock at book value.
Disclosure: I am/we are long ONDK.
I wrote this article myself, and it expresses my own opinions. I am not receiving compensation for it (other than from Seeking Alpha). I have no business relationship with any company whose stock is mentioned in this article.