Introduction
In 2014, when new management was brought into Hertz (NYSE: HTZ), the operational mission and investor sentiment appeared focused on executing price increases to benefit the highly consolidated nature of the car rental market. The narrative often invoked comparisons to the airline industry, where consolidation has resulted in fairly substantial value creation.
The market quickly came to grips with some important differences in competitive structure, barriers to entry, unit economics and other fundamental drivers between airlines and car rental. Seeing as the pricing tailwinds imagined by certain investors obviously have not materialized, the stock has fallen in sympathy. The narrative has now shifted towards costs savings, and in that area, the company is executing.
Despite a tough first quarter, Hertz is progressing well on its restructuring initiatives, and is on track to achieve its ambitious cost-cutting targets. While the market is primarily concerned with the impact of structural changes (such as the rise of Uber (Private:UBER) and its peers) and the resultant lack of pricing power, HTZ shares have been beaten to the point where cost savings alone can drive meaningful upside.
An upcoming catalyst, the equipment rental (HERC) spinoff, will also result in meaningful value creation. HERC is an attractive merger candidate in the fragmented rental industry and should benefit from a rebound in the Oil & Gas markets.
Restructuring Efforts
On the cost-saving front, HTZ drove $70M in cost takeout in the quarter, attributable to reductions in direct operating expenses and SG&A. HTZ expects cost savings to accelerate in the second half of 2016 and reiterated its $350M FY16 savings target. In FY15, cost savings of $230M were 35% weighted in 1H15 and 65% weighted in 2H15. HTZ reiterated its FY16 guidance calling for adjusted EPS of $0.95 to $1.10 on a consolidated adjusted EBITDA of $1.6B to $1.7B (RAC adjusted EBITDA of $1.0B to $1.050B), US RAC revenue growth of flat to -1.5%, and U.S. RAC capacity of -3.0% to -2.0%.
HTZ maintained its FY16 cost savings estimate of $350M and non-fleet CAPEX of $200m$225m, in addition to its Free Cash Flow guidance of $400M-$500M. In its investor day last year, management had outlined an ambitious $875M (at the midpoint) savings opportunity (see below). This is a management team led by a CEO handpicked by Carl Icahn specifically for turning around the company and helping it unlock its earnings potential. While it is true that the idea that consolidation would lead to rationalized pricing may be wrong (at least thus far), it does not imply that the company has no further levers to pull.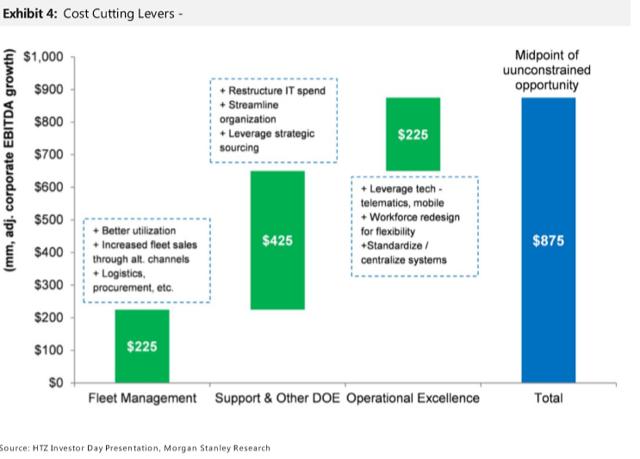 Source: Morgan Stanley
From the company's press release regarding John Tague's appointment:
"Mr. Tague previously spent eight years at United Airlines, Inc. and UAL Corporation, where he served in a number of leadership roles, including President and Chief Operating Officer. He served as President of United Airlines and Executive Vice President of UAL Corporation until the closing of United's merger with Continental Airlines in 2010. In that role, Mr. Tague was responsible for all airline management functions, including actions to modernize the fleet. In the year prior to his announced departure from United, United delivered a $1.2 billion revenue improvement, generated a $750 million profit improvement, tightly managed its costs and increased its margin by 16 points, delivering the industry's leading profit margin year to date at that time."
Clearly, this is an executive team capable of executing on cost-savings initiatives, and one that is already progressing on them with HTZ. Yet, the market seems to be giving virtually no credit for the transformation that Hertz is undergoing (likely, because many have given up on the name after the oligopoly failed to create higher pricing).
HERC Spinoff
Within the HERC segment, management reaffirmed adjusted EBITDA guidance of $600M to $650M. HERC target leverage has been set to 3.75X, driven by improved operating performance and capital market conditions. The spinoff will be completed June 30, 2016. During 1Q, the ongoing weakness in upstream oil and gas continued to adversely impact HERC's performance as Adjusted EBITDA excluding upstream oil and gas improved 14% YoY, but -4% including upstream oil and gas.
In the first quarter, HERC increased new account revenue by 20%, new customer accounts by 41% and worldwide volume by 1%, driven by improved vendor and fleet management tools, in-house equipment maintenance efficiencies and reduction of oil & gas exposure. It is difficult to gauge what the appropriate multiple is for this asset given the heavily depressed fundamentals and expected cyclical recovery in O&G markets.
As a base case, one can assume a discount to United Rentals (NYSE: URI) would be appropriate. However, one should not rule out the possibility of M&A. Given the fragmented equipment rental market (see below), it would not be a stretch to assume that HERC would represent an attractive merger candidate. As liquidity and valuations (so that a stock transaction might be made possible) improve, a HERC and URI merger would not be surprising. Given Icahn's involvement (and historical tendency to push companies towards M&A), this should be seen as a fairly optimistic, but probable scenario.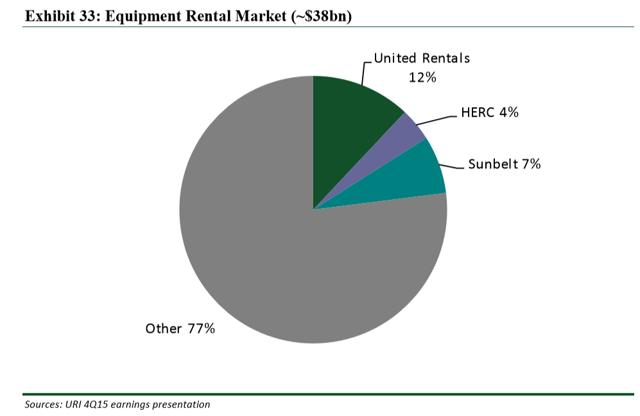 Spinoff Valuation
Despite these impending developments, most analysts don't even incorporate major cost savings in their models beyond or look at what HERC might be worth as a standalone entity. See the table below for an average Sell-Side valuation. It gives the company virtually no credit for improving margins, does not conduct an SOTP analysis for HERC and HTZ. It even assumes shares outstanding will remain unchanged despite a major buyback in place!
While HTZ did not repurchase shares this quarter, it was primarily because the company was focused on liquidity conservatism driven by the challenged revenue environment, target leverage ratio and the upcoming HERC separation. The company indicated they will continue to reevaluate their repurchase strategy, particularly as the improving revenue environment and HERC separation continues to unfold.
For FY15, the company repurchased 37M shares for $605M, implying $395M remaining under its existing buyback plan. So, even if the company does not expand its existing plan, one can still expect a roughly 35M share reduction at current prices.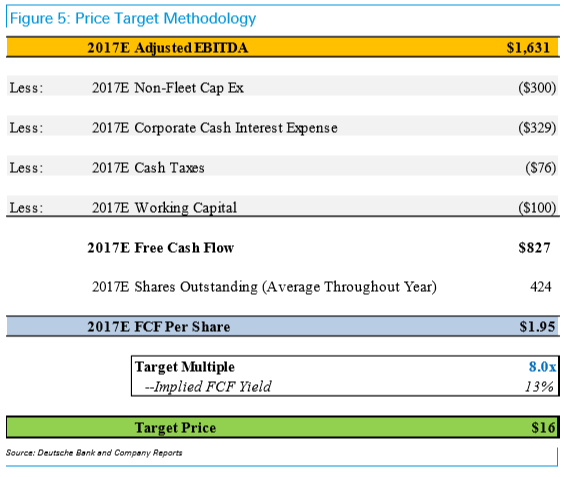 Source: Deutsche Bank
With that said, I believe the most optimal way to value HTZ is to do a SOTP analysis. To value the RAC (car rental) asset, one should look at earnings power pro-forma for continued restructuring. For 2016, the company's low-end EBITDA guidance is for $1.6B. They are expecting $875M (at midpoint) of cost savings through to 2015, with $350M incorporated into 2016 guidance. This implies $525M of additional cost savings is still possible.
Management is guiding towards $600M of EBITDA for HERC, implying $1B for RAC. Pro-forma for cost cuts this implies roughly $1.525B in RAC EBITDA. For 2015, Maintenance CapEx, defined as corporate-level expenditures (non-fleet), net of disposal proceeds, was $212M. As the company does not provide segment-level interest expense, I am simply allocating it in proportion to their EBITDA distribution (pro-forma leverage will be roughly the same for both companies).
The tax rate is assumed to be 35%, although I will note that this is conservative. The cash taxes paid by the company have always been minimal (as the company frequently points out), due to the fact that fleets typically depreciate more quickly than their actual economic life.
It is difficult to say what the tax treatment will look like if the company achieves its targets, so for the sake of simplicity and conservatism, let us assume a 35% rate. Finally, the model assumes that the remaining repurchases are assumed at an average price of $15/sh. Using these assumptions to build a bridge to pro-forma FCF yields the following result:
| | |
| --- | --- |
| | Value (M, except per share) |
| Pro-Forma EBITDA | 1,525 |
| Cap Ex | 212 |
| Corporate Interest Expense | 206 |
| Tax Expense | 379 |
| FCF | 704 |
| Shares Outstanding | 398 |
| FCF/Share | 1.81 |
Assuming these targets are reached by 2018, the stock trades at 10X FCF (CAR trades at 12X), discounting it back two years at a 15% discount rate implies $13.68 per HTZ share in Present Value for RAC alone. With the stock around $10, HTZ investors are getting a free option on HERC with an imminent catalyst to realize that value. Let's assume HERC trades at 5.5X EBITDA, which is a trough valuation on trough earnings power (note that it should benefit meaningfully from an O&G rebound). This would add an incremental $2.50 share in value, for a SOTP value of $16.18. This represents 54.5% upside as of the latest closing price.
Of course, this does not entail any upside from rational pricing, or the Lyft (Private:LYFT) partnership. It simply assumes that HERC does not continue to deteriorate and the company is able to meet its savings targets. It also leaves open the idea that HERC could be sold, or that its end-markets realize a meaningful pro-cyclical recovery. I believe both are likely, and would both undoubtedly result in a greater valuation than 5.5X EBITDA. Given that, HTZ represents an attractive event-driven opportunity at current levels.
Disclosure: I am/we are long HTZ.
I wrote this article myself, and it expresses my own opinions. I am not receiving compensation for it (other than from Seeking Alpha). I have no business relationship with any company whose stock is mentioned in this article.