We've been writing about our S&P 500 (NYSEARCA:SPY) bearishness for some time now (See Our SA Page). One of the key reasons for the bear was the US dollar weakness. We think the US dollar (NYSEARCA:UUP) is about to get weaker with Brexit and that will drag down the US market.
Historically the US Dollar and the US market trade together. We've been pointing out there has been a tight correlation between the US market and US Dollar. But that correlation diverged.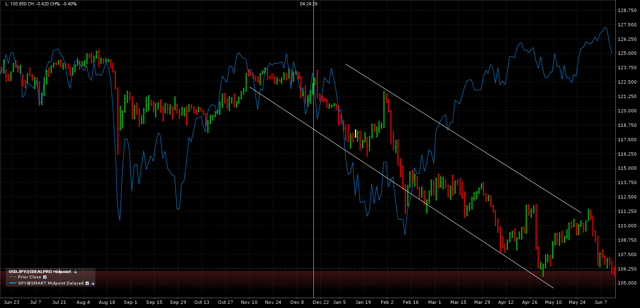 The Yen/Dollar (NYSEARCA:YCS) in red and green has been moving down while the S&P 500 stayed up.
The same is true for the Euro (NYSEARCA:EUO).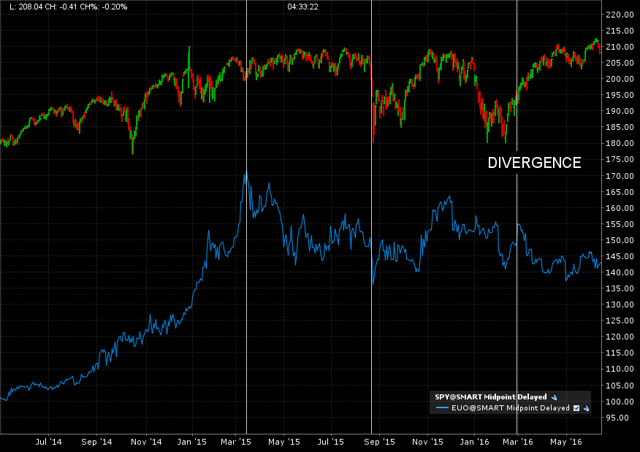 The red and yellow above is the S&P 500 and the blue is the EUO which is the short-Euro ETF. The left two lines show peaks and troughs of each align. The right line shows that since this year the two have diverged.
We've written before that we think problems in foreign economies are causing governments to pull in their investments from overseas. While it may negatively effect their exports because their home currency rises, they, more importantly are able to provide capital to their banks to keep them solvent.
Europe saw the interconnectedness of banks in the US in 2008 and understands that the first priority is solvency not exports.
After a long run in the dollar, governments are forced to bring their currency home which sells dollars.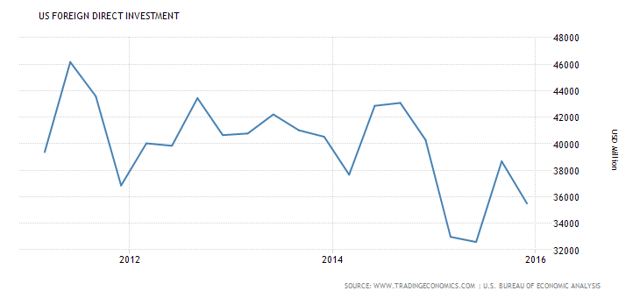 The above chart shows lower highs and lower lows of US investment by foreigners. That causes less Dollar demand.
Brexit: UK Likely Takes The Trade
We believe the UK will pull out. The "leave" camp has gone on top. Besides that fact, we think the UK is better served going it alone. We believe that while the UK GDP has been leading Eurozone GDP slightly, the amount of risk when attached to multiple countries is higher. We think as the world economic risk grows, UK is making a safer trade to go it alone.
The US has been a key driver to the world economy. The US numbers, however, are slowing.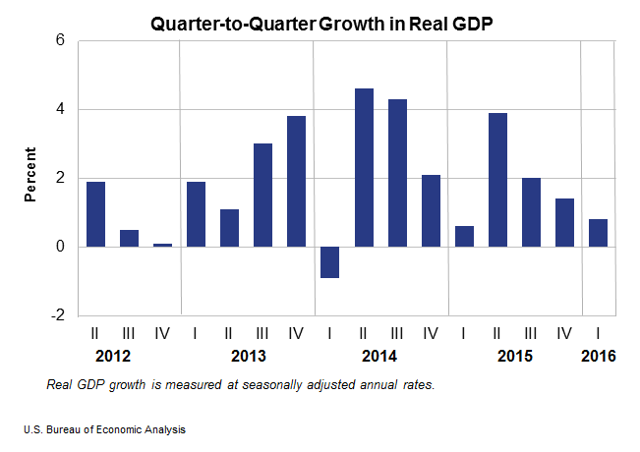 And the US is extremely indecisive on their rate decisions which is causing more global risk. (Yellen We Don't Believe You and Center Court)
Think about any company, team, or coach. When they can't make up their mind, the team is in trouble. Our US economic leaders are back and forth (as we show) probably 10 times this year. That is a risk scenario.
As the US risk scenario builds so does the world risk scenario.
Therefore Europe is more at risk and tied to weaker country players.
For this reason we expect the UK to take their Euro trade and buy back their own currency.
Brexit drives UK to bring cash in
As the UK decides to leave they are likely bringing investments home. They are selling other currencies to strengthen their own in a risky currency and economic period. They also likely keep powder dry in case the currency swoons.
Eurozone is positioning for the same. They don't want their currency to drop as well because weak banks could take a hit. They also need to support their currency values, their banks footing, and have powder dry in case their own Euro swoons.
Setup: Demand For Currencies Other Than Dollars
That leaves us with a playing field set up to buy their home currencies. They are likely already buying (as seen by the Dollar down charts) and likely have powder to buy more. Believing in that set up you can picture Dollars are likely going to be in less demand and sold.
As Dollars Get Sold So Does The S&P 500
As Dollars get sold the value of their foreign assets goes down. Investors in those assets need to sell at stop losses. The Dollar or the Investment itself can trigger that. For this reason we think Dollar selling will, in the end, cause stock selling.
Conclusion
We previewed our concern over the last few months and more specifically this weekend (Catalysts This Week For Downside). We pointed out then and other times that the Fed said Brexit would be a risk. Risk means down markets. We wanted to believe the Fed. Especially when the market was not factoring in risk as seen by the VIX below. We are short S&P 500 and the US Dollar.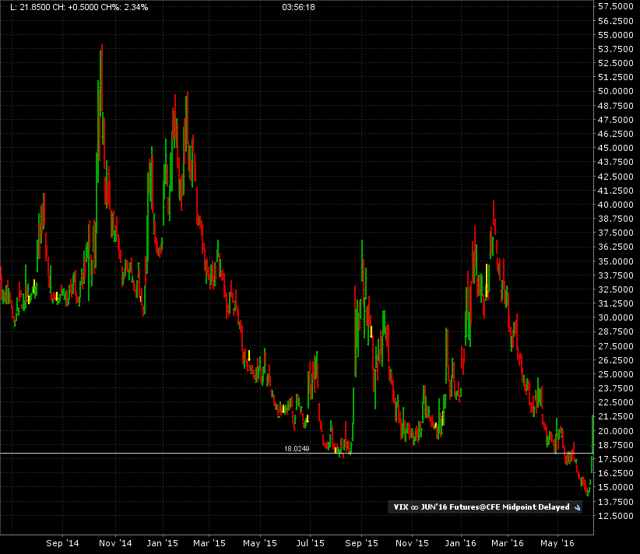 Good luck and please be in touch. All of your comments teach US a ton.
See more from Elazar Advisors, LLC on SA
Elazar Advisors, LLC specializes in earnings and predicts, analyzes and reacts to earnings and earnings events as well as developing current company and macro stories with a hedge fund perspective.
If you want Elazar's analysis on Seeking Alpha, scroll to the top of the article and hit "Follow." Elazar also writes real-time pieces as earnings and news are reported on Seeking Alpha. If you want to be among the first updated, be sure to check the box for "Real-time alerts on this author" under "Follow."
Disclaimer: All investments have many risks and can lose principal in the short and long term. This article is for information purposes only. By reading this you agree, understand and accept that you take upon yourself all responsibility for all of your investment decisions and to do your own work and hold Chaim Siegel, Elazar Advisors, LLC, bestideas, their related parties, and its authors harmless. #in, $spy, $qqq, $iwm, $vxx, $ycs, $fxe, $EUO, $YCS, #elazaradvisorsllc
Disclosure: I am/we are short ES AND US DOLLAR BUT THAT CAN CHANGE AT ANY TIME.
I wrote this article myself, and it expresses my own opinions. I am not receiving compensation for it (other than from Seeking Alpha). I have no business relationship with any company whose stock is mentioned in this article.