Why Relypsa Is Likely A Zero: The Chronic Hyperkalemia Treatment Market Is Small
Summary
Hyperkalemia, or high potassium in the blood, is unnecessary to treat unless it's at a severe level.
Most medicare and most insurance companies don't cover Veltassa for a reason.
Veltassa is inferior to its competitor, ZS-9, because ZS-9 can treat both acute and chronic hyperkalemia patients, while Veltassa can only treat the chronic market.
Veltassa's black box label is a big drawback.There are problems with the drug and its trials, as revealed by government-funded researchers.
A potential Veltassa black swan event, and Relypsa's CEO, John Orwin's, previous company's deadly drug.
Relypsa (NASDAQ:RLYP) is a single-drug company that sells Veltassa, which treats hyperkalemia, or high potassium in the blood. With RLYP's cash burn, and a chronic hyperkalemia market that is in reality very small, the stock could be a zero. So far, sales have been meager, and if they don't pick up rapidly this year, RLYP will find itself out of cash by the first half of 2017, with no funding options. Due to the limitations of Veltassa and its small market, this appears to be the most likely scenario.
The Chronic Hyperkalemia Treatment Market Is Small
If a patient with chronic kidney disease (CKD) has hyperkalemia that reaches severe levels, it can be life-threatening and must be immediately treated. However, if someone has mild-to-moderate hyperkalemia, the hyperkalemia itself isn't harmful.
From Brenner and Rector's The Kidney:
Hyperkalemia, particularly if severe, is a marker for an increased risk of death. However, there is disagreement regarding whether a modestly elevated serum potassium level directly causes significant problems. One viewpoint is that mild to moderate hyperkalemia is a secondary effect that denotes significant underlying medical problems.
When someone has mild-to-moderate hyperkalemia, there are no symptoms, aside from maybe having less energy. Therefore, it's unlikely that they'll be taking a drug like Veltassa to treat it. Most people are unlikely to treat an affliction that's likely harmless and doesn't have any symptoms. Veltassa's market are elderly, sick individuals who might be taking 10+ different medications. They aren't going to take an additional drug that they don't need, especially since Veltassa causes side effects such as nausea, constipation, and flatulence. The drug doesn't improve their quality of life.
According to Eleanor Lederer, MD, from Medscape, once a person's potassium level is restored to normal, the potassium-lowering therapies can be discontinued. If a patient's hyperkalemia remains at severe levels, even after episodic treatment, there are many options they can take to keep their potassium levels down besides taking medication. They can change their drug regimen and/or change their diet to eat foods with less potassium - for example, eating less bananas.
If taking drugs are the only option a patient has to keep down his potassium, the current standard of care is Sodium Polystyrene Sulfonate (SPS). This drug has been around for 50 years and works well to treat hyperkalemia.
Speaking to an expert in nephrology about drugs like Veltassa and SPS, and how small the market is, he said:
I cannot stress enough that a person on SPS (or Veltassa) are not people with sprained ankles and will be better in a week. They are on their last legs. and on the road to transplant or death. The market requires broken humans. Very rare.
In the US, 20% of CKD patients die after 3 months of dialysis initiation. The median survival of CKD dialysis patients is about a year, depending on age. This is the chronic hyperkalemia market that will take Veltassa. It's not a big market.
Most Medicare And Insurance Companies Don't Cover Veltassa For A Reason
Most medicare and most insurance companies don't cover the drug. Especially in today's political environment, Medicare and insurance companies will push back against covering expensive, mostly unnecessary drugs like Veltassa.
From drug prescription website Goodrx.com here:

There are some Medicare plans that cover Veltassa, but not every patients can get it who wants it. They need to get a prior authorization first.They usually need to have a special reason to get it, for example from having a bad reaction to other treatments.
As shown below, the only health insurance companies that cover Veltassa are Express Scripts (ESRX) and Kaiser. Without insurance, Veltassa is very expensive at around $600 per month. The people taking the drug are senior citizens aged 60-90. Most can't afford it because they're retired and also usually paying for a plethora of other medications.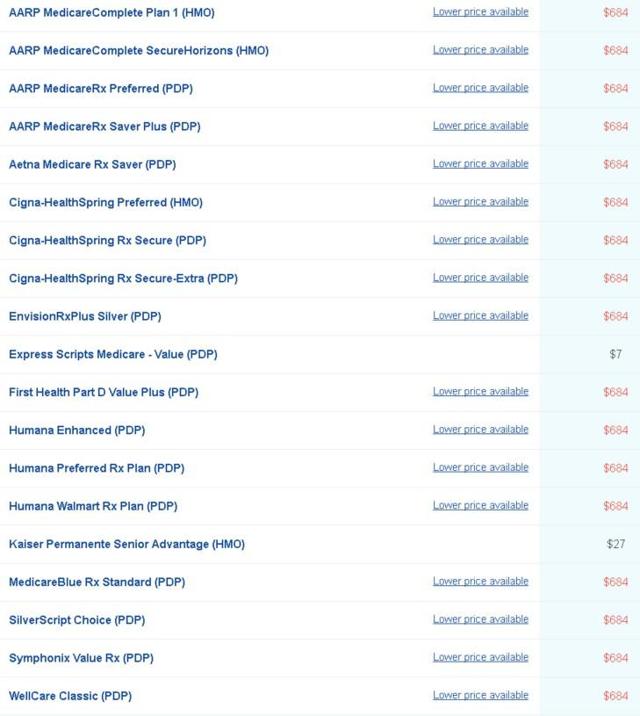 In discussing RLYP with a bullish analyst, she gave me the comparison with Ironwood Pharmaceuticals (IRWD). IRWD is also a single-drug company with drug called Linzess used for the treatment of constipation. She mentioned how it had a slow launch at first, but then sales picked up rapidly over the next couple of years. Note that IRWD never got acquired, it just partnered with Allergan (AGN).
There are a few big differences between the two companies. First, most insurance companies and Medicare immediately covered Linzess. From Goodrx.com: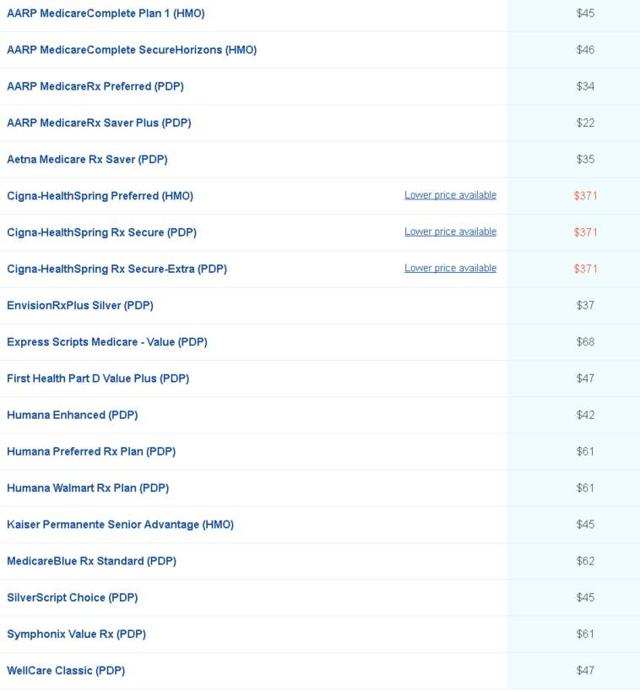 Besides much better insurance coverage, there are other key differences between Veltassa and Linzess. Linzess is a drug that treats constipation. You can imagine how happy patients are to finally find a drug that successfully treats their constipation problems. It increases their quality of life, and this encourages them to continue taking it.
Veltassa, on the other hand, only decreases the potassium in patients' blood. People don't even know they have hyperkalemia - there are no noticeable symptoms from it. They aren't going to be feeling better after taking the drug, so won't have many happy feelings from it. This causes many patients to discontinue taking the drug unless they have end-stage renal disease, are on daily dialysis, and need a drug like Veltassa to stay alive. Doctors tell patients it isn't necessary for them to take Veltassa if their hyperkalemia is manageable.
While Veltassa Is Only Used For Chronic Hyperkalemia, ZS-9 Will Be Used For Both Acute And Chronic
ZS-9 is the main competing drug against Veltassa. Consensus says it will be on the market in six months to a year after a delay by the FDA due to manufacturing issues. The drug got acquired by AstraZeneca (AZN) for $2.7B from ZS Pharma. However, Veltassa is worth far less than that, because it can only be used for chronic hypokalemia, while ZS-9 can be used for both acute and chronic hyperkalemia.
From a 2015 study on ZS-9:
The efficacy of ZS9 has been shown in patients with chronic hyperkalemia, offering promise for conditions such as HF, where optimized therapy with RAASi and MRA is often limited by a concomitant, drug-induced increase in potassium. Further, in acute hyperkalemia it has potential to become an important option by rapidly lowering potassium levels, thus delaying or potentially averting the need for emergent dialysis.
Notice the key point in the above statement says ZS-9 "rapidly lowers potassium levels". This means it can be used in hospitals for acute treatment. The acute hyperkalemia market is the big market and where the money is, not the chronic hyperkalemia market. AZN will be able to sell ZS-9 to hospitals all over the world to rapidly treat patients in the emergency room for severe hyperkalemia. It can also be used for chronic use thereafter.
Veltassa, on the other hand, takes 5-7 hours to take effect. Therefore, it isn't suitable to treat acute hyperkalemia in hospitals, only the management of chronic hyperkalemia.
The drug has no place in the acute hyperkalemia market. From an evaluation of patiromer (aka Veltassa) by the Oregon Health Authority:
Due to the slow onset of patiromer, there is currently no place in the acute treatment of hyperkalemia.
Drawbacks From Veltassa's Black Box Label
Veltassa has a black box label with many warnings and drawbacks. The major one is the requirement to be taken either six hours before or six hours after taking other oral drugs. The longer duration of the medication regimen and increased complexity of the medication schedule represent risk factors to adherence, with mid-day dosings being particularly problematic.
Chronic kidney disease patients are on an average of 12 meds per day. Lots of potential drug-drug interations and coordination of medications. Less complexity goes a long way in this area of medicine.
ZS-9 doesn't require the spacing of the medication, and this gives it a major advantage over Veltassa, because patients won't have to adjust their medication regimen.
Veltassa has gastrointestinal side effects, and the label advises to avoid the drug in patients with constipation, bowel obstruction, or impaction and abnormal postoperative mobility disorders (these patients were excluded from the Phase 3 study due to the possibility of serious adverse events like colon necrosis).
Unbiased Researchers Say Veltassa Trials Were Inconclusive And Biased
The Oregon Health Authority submitted a report in May that was critical of the Veltassa (patiromer) clinical trials and had a negative conclusion on patiromer. This is a key report because the Oregon Health Authority is a state-funded company. It has no bias or preference as to whether Veltassa works well or not.
Statements from the report:
Major limitations of the (patiromer) data include a high risk of performance bias and selection bias.
Due to the slow onset of patiromer, there is currently no place in the acute treatment of hyperkalemia.
The trials were short-term and not designed to detect differences in any long-term complications of chronic hyperkalemia (sudden cardiac death or ventricular arrhythmias). There is insufficient evidence that patiromer prevents long-term complications.
Longer studies are needed to assess the safety of long-term use and to appropriately define its place in therapy. It remains unclear whether patiromer will allow for the long-term administration of RAAS therapy in patients with CKD or HF and hyperkalemia.
Safety of patiromer is an issue for doctors who are considering trying this new drug. The Oregon Health Authority states regarding patiromer's AMETHYST-DN trial:
There is low evidence, provided by AMETHYST-DN, that patiromer is safe and effective for use for 52 weeks.

The above adverse effects were from short term use of patiromer in the AMETHYST-DN trial. Long term use could intensify these adverse effects and/or cause new ones for patients.
This report from VA (Veterans Affairs) pharmacy benefits management services also raises doubt over the efficacy of patiromer. It also advocates use of SPS over patiromer where appropriate.
The report states:
If it is determined to initiate chronic therapy for hyperkalemia, a trial of sodium polystyrene sulfonate should be considered, where appropriate.
Researchers Find There Is No Evidence To Suggest Veltassa Is Superior To Similar Treatment Options
A nephrologist whom we interviewed asked why would he prescribe something for chronic use at Veltassa's price when he can simply prescribe SPS (sodium polystyrene sulfonate) for a period of seven to ten days and get the same result. SPS is the current in- and post-hospital treatment drug for severe hyperkalemia.
It has been the standard of care for the past 50 years. It works well - sometimes too well. In this clinical study on SPS in 2011, hyperkalemia patients were treated with daily SPS for a median length of 14 months. Some patients even went to the other extreme and developed hypokalemia, or not enough potassium in the blood, after extended use. The study showed SPS to be safe and effective as a preventive measure for hyperkalemia in CKD patients with heart disease.
Most researchers and insurance companies are pushing SPS use over Veltassa. They suggest only prescribing Veltassa to patients who have a negative reaction of some kind to SPS. Veltassa is between 10-20 times the price of SPS, and there is no evidence that it produces better results.
From the Oregon Health Authority report, see Approval Criteria #4:

The above table says to only prescribe patiromer to patients who cannot tolerate SPS.
PDL, a healthcare insurance company, gave Veltassa non-preferred status. In PDL's Drug Review on Veltassa, it states:
There is no evidence at this time to support that Veltassa® is safer or more effective than the currently available, more cost effective medications. It is therefore recommended that Veltassa® remain non-preferred and require prior authorization and be available to those who are unable to tolerate or who have failed on preferred medications.
RLYP bulls often say that SPS can cause colonic necrosis. The truth is, SPS-associated colonic necrosis is most commonly seen in patients who have recently had an abdominal injury, bowel injury, or intestinal dysfunction. It is a rare event, on the order of 0.2-0.3%.
No Savvy, Reputable Biotech Investors Own Relypsa
Looking at RLYP's major shareholders, there are no famous biotech investors holding the shares. Most of the holders are index-style funds and retail investors. Steve Cohen from 72 Point Capital doesn't own RLYP - and he is very keen on owning shares of companies with a unique, dominant drug or product. 72 Point is, or was, a shareholder of biotechs Acadia Pharmaceuticals (ACAD), Celator Pharmaceuticals (CPXX), and Catalyst Pharmaceutical Partners (CPRX). The Baker Brothers, well-known biotech investors, don't own any RLYP. Baupost Group doesn't own any shares of the company, but it does own over 40% of Keryx Biopharmaceuticals (KERX), which sells a similar drug that treats kidney disease patients. If RLYP was a takeover target, Baupost would likely own some shares. It owned 35% of hepatitus C biotech Idenix before it was acquired by Merck (MRK).
Potential Veltassa Risks, And Relypsa's CEO, John Orwin's Previous Company's Deadly Drug
It says something about the character of RLYP's management that their CEO, John Orwin, was previously the CEO of a company, Affymax (OTC:AFFY), that sold a drug that caused patients to die. The drug, Omontys, had side effects that are linked to 22 deaths. It was recalled after less than a year on the market. Like Veltassa, it also treated patients with chronic kidney disease who are on dialysis.
If RLYP really had a valuable, solid drug, couldn't the company have found a better CEO without such a huge blemish on his record?
On February 12, 2013, less than two weeks before Omontys was recalled, Mr. Orwin told Affymax investors regarding the drug:
Obviously, the safety and efficacy were established, and are typically best established in a comparative Phase 3 program. Fortunately for us, we had a very large program, and a very comprehensive evaluation of both safety and efficacy.
Then, on February 25, 2013, Mr. Orwin told investors:
As announced this weekend in our joint press release with Takeda, we voluntarily recalled all lots of OMONTYS as a result of recent post marketing reports of serious hypersensitivity reactions. This is a surprising turn of events given the collective positive feedback we have been receiving from customers using OMONTYS.
Is Mr. Orwin a CEO you can trust to give shareholders the straight and narrow? We don't think so.
Research firm Favus Institutional Research issued a report about Veltassa possibly causing serious harm, and sometimes death, to patients. This report was disputed and dismissed by RLYP shareholders, namely from this report by TheStreet biotech analyst Adam Feuerstein. However, Mr. Orwin has pushed a drug that caused patient deaths in the past. If Veltassa is found to be toxic and recalled, it would be a black swan event, and RLYP stock would swiftly be destroyed like what happened to Affymax.
In Conclusion: Relypsa Is Not Acquirable
Many RLYP shareholders are long just for the buyout possibilities. They don't understand the dynamics of the drug as explained in this report. The proof is in the pudding. As sales grows at a very small pace, shareholders will realize that there really isn't a market for chronic hyperkalemia. They will realize that no big pharma company would pay the current share price for RLYP for a drug that sells so poorly.
Additional disclosure: White Diamond Research is not a registered financial advisor and does not purport to provide investment advice regarding decisions to buy, sell or hold any security. White Diamond Research currently holds a short interest in RLYP and during the past 12 months has shared fundamental and/or technical research with investors who hold a short position in the stock. White Diamond Research may choose to transact in securities of one or more companies mentioned within this article within the next 72 hours. Before making any decision to buy, sell or hold any security mentioned in this article, investors should consult with their financial adviser. White Diamond Research has relied upon publicly available information gathered from sources, which are believed to be reliable and has included links to various sources of information within this article. However, while the author believes these sources to be reliable, the author provides no guarantee either expressly or implied.
Editor's Note: This article covers one or more microcap stocks. Please be aware of the risks associated with these stocks.
This article was written by
We provide deep research and valuable information on small cap stocks to hedge funds and high net worth individuals. We specialize in the technology and healthcare sectors. We have an over 80% success rate, see our reports at whitediamondresearch.com. See the 3rd party verified return on each of our bearish reports over the last 24 months at: https://breakoutpoint.com/as-summary/white-diamond-gvmtg/To inquire about becoming a premium subscriber, send a PM here or email us at research@whitediamondresearch.com.Follow us on twitter @whiteresearch.
Analyst's Disclosure: I am/we are short RLYP. I wrote this article myself, and it expresses my own opinions. I am not receiving compensation for it (other than from Seeking Alpha). I have no business relationship with any company whose stock is mentioned in this article.
Seeking Alpha's Disclosure: Past performance is no guarantee of future results. No recommendation or advice is being given as to whether any investment is suitable for a particular investor. Any views or opinions expressed above may not reflect those of Seeking Alpha as a whole. Seeking Alpha is not a licensed securities dealer, broker or US investment adviser or investment bank. Our analysts are third party authors that include both professional investors and individual investors who may not be licensed or certified by any institute or regulatory body.