I have been bullish on silver (NYSEARCA:SLV) for some time and feeling increasingly bullish regarding gold (NYSEARCA:GLD)(NYSEARCA:IAU) despite it not being my preferred play on precious metals.
In fact, ongoing global economic weakness, the fragile U.S. economic recovery, the uncertainty surrounding the outlook for China and weaker commodity prices which have derailed growth in a number of emerging markets, leaves me feeling increasingly bullish on the outlook for gold and silver. With silver offering investors' considerable upside as explained in my earlier articles I have taken the time to review the performance of the three silver miners previously recommended and add two more suggested by readers.
Recapping why the outlook for silver remains bullish
I have written extensively on the outlook for silver and have been particularly bullish on the precious white metal's prospects since late 2014. Over the last year its price has rallied by 9% as it follows the recent surge in gold with the lustrous yellow metal throwing off the yoke of a protracted bear market.
There are signs that gold's rally still has plenty of legs and it will move higher, taking silver with it because of the close correlation between the prices of the two metals.
These factors include growing uncertainty over the direction of the fragile U.S. economic recovery, the marked impact of sharply weaker commodity prices on emerging markets, lackluster growth prospects among a range of developed economies and increasing geopolitical uncertainty.
All of these factors are increasing market volatility and fueling uncertainty about global economic prospects, making gold along with silver attractive hedges against growing global economic distress and uncertainty.
I have taken a closer look at these issues in my article; ' The Rise Of Gold, China, And The Economic Barbarians At The Gate' and ' Silver: The Best Precious Metals Investment Opportunity Of The Decade'.
Why silver miners are superior investments to bullion or an ETF
One of the biggest questions among investors is which is the superior means of investing in silver; physical bullion, an exchange traded fund or silver miners?
There is a wealth of material available on each of these investments and they all possess their own unique characteristics and weaknesses. My preference has for some time been to invest in physical bullion, with the large majority being silver ingots, which possesses a range of benefits and liabilities.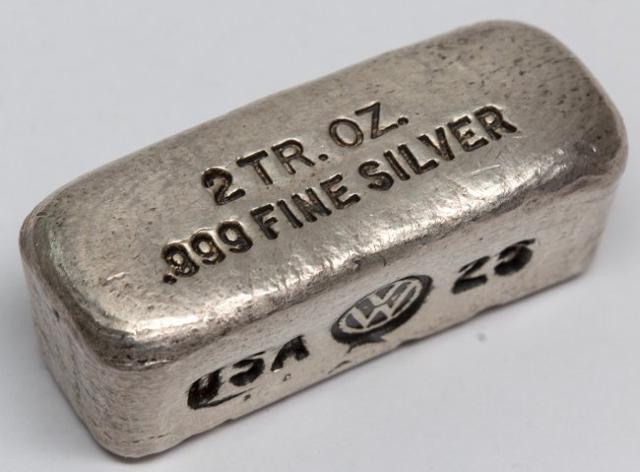 The biggest benefit of holding physical bullion either in ingots, coins or rounds is its tangible nature. There is nothing more pleasurable than looking at and holding physical ingots and in times of severe societal distress, just like gold, it can be used a currency.
The biggest issue with physical bullion besides the need to have a suitable place to store it is the lack of liquidity. This makes the physical ownership of bullion problematic, with wide buy sell spreads, making a significant price hike imperative if the investment is to be profitable.
I have also amassed a large collection of collectible vintage silver coins but this has been primarily for personal satisfaction rather than as a direct investment in silver.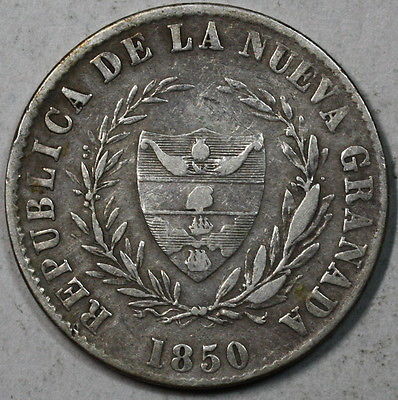 8 Reales Republica de Nueva Granada (Colombia): from the author's collection.
Obviously, collectible coins fashioned out of precious metal track the price of that metal but their value is ultimately determined by their collectability and rarity, much of which is subjective, requiring considerable knowledge and a little luck. For this reason I would not recommend this as the best means of gaining exposure to silver.
Another option is to invest in a silver ETF with the largest being the iShares Silver Trust ETF. This gives investors considerable liquidity but it comes at a cost with an annual expense ratio of 0.5% payable for the privilege of investing.
The final and what I believe is the best option for investors to consider is silver miner and precious metals streamers. These provide investors with the ability to obtain leveraged exposure to the price of silver, which means that as silver rises the returns they are able to generate will be far higher but the same also happens in reverse.
They are superior to any of the silver miner ETFs such as the Silver Miners ETF (NYSEARCA:SIL), iShares MSCI Global Silver Miners ETF and the PureFunds ISE Junior Silver ETF (NYSEARCA:SILJ) because of the additional cost or expense ratio of those ETFs, which at this time is 0.65%, 0.39% and 0.69%, respectively. This over time eats into the returns that investors are able to generate and this makes them unattractive investments.
Many of these silver miner ETFs also have exposure to miners that are struggling to perform well because of cost, asset quality and operational issues, thereby dragging down their overall performance.
Nonetheless, these ETFs just like individual miners offer investors leveraged exposure to the price of silver and this means in an environment where the price of silver is set to rise they offer better returns than either bullion or silver ETFs.
Earlier this year I published an article setting out my top three silver miners for 2016 and in this article I will review their performance and offer two more investment opportunities.
#5 Silver Wheaton (SLW)
Silver Wheaton was my third rated pick last time around and it has performed quite well for the year-to-date with its share price up by 71% and 16% since my last article.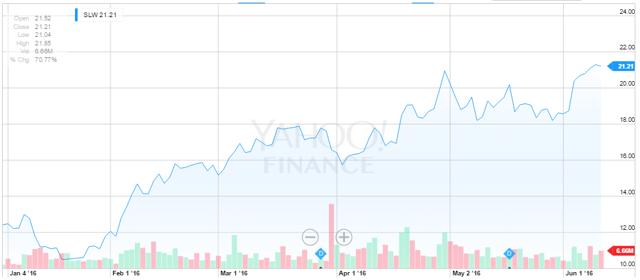 Source: Yahoo Finance.
Surprisingly, Silver Wheaton has performed strongly despite the headwinds it is facing, the most significant being an investigation by the Canada Revenue Agency or CRA.
Silver Wheaton has stated it will defend the matter and that it has not breached its tax obligations or relevant laws. The total quantum that Silver Wheaton is exposed to should the CRA make an adverse finding, including additional taxes and penalties comes to $575 million.
Nevertheless, this has been priced in by the market and should there be an adverse finding the impact on Silver Wheaton would be minimal.
The company is well positioned to absorb any adverse finding, having already posted a C$192 million deposit with the CRA and possessing considerable liquidity, with cash on hand of $87 million along with $607 million raised through a bought deal equity financing.
The quality of Silver Wheaton's operations, business model and long life reserves can be seen by its solid operational performances despite the protracted slump in silver. It has remained profitable despite the ongoing slump in silver and has been able to steadily grow revenues and its earnings.
For the first quarter 2016, revenues were up by 44% year-over-year and net earnings and this can be attributed to the company's ongoing growth with silver and gold ounces produced both rising by 21%, compared to the same period in the previous year.
Nonetheless, adjusted net earnings were down by 24% because of thinner margins and higher costs with corporate costs rising by 27%. Regardless of these higher overall costs, Silver Wheaton is an attractive investment because of its low operating cost structure.
For the first quarter it reported cash costs of $4.44 per ounce, which was 3% lower than the previous quarter and 44 basis points lower than the first quarter 2015. These are lower than the majority of the primary silver miners and is a key reason why Silver Wheaton has been able to remain profitable despite the harsh operating environment.
While these cash costs do not represent the full costs associated with its operations they are the bare costs incurred in order to continue production from its existing streaming agreements. Even if silver plunged further it means that Silver Wheaton would remain cash flow positive from its existing operations.
Silver Wheaton is well positioned to take advantage of any rally in silver with it focused on boosting 2016 production to 54 million ounces or a 13% increase over 2015. There is also its sustainable dividend, yielding 1% which will reward patient investors as they wait for its share price to appreciate.
#4 First Majestic Silver (NYSE:AG)
First Majestic Silver which is a new addition to this list, has faced considerable headwinds in recent years, weighing heavily on its share price.
Nonetheless, these headwinds have been beneficial for the company forcing it to focus on making its operations more sustainable in a harsh operating environment dominated by sharply weaker silver prices. For the year-to-date its share price has performed quite strongly, almost quadrupling as the chart shows.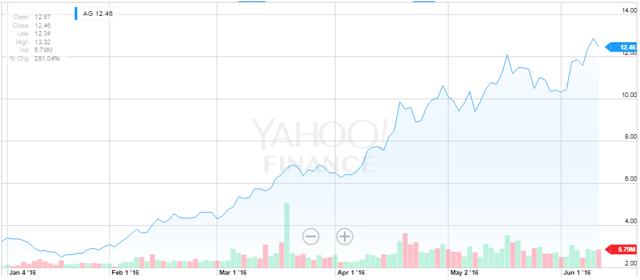 Source: Yahoo Finance.
What makes First Majestic appealing is its portfolio of high quality long-life assets and its ongoing focus on costs, which has seen it capable of significantly reducing its operating costs.
In fact, one of its most impressive attributes is its extremely low AISCs which were $8.97 per ounce for the first quarter 2016, representing a remarkable 20% reduction quarter-over-quarter and a 35% reduction year-over-year. These low costs coupled with Silver Majestic's focus on boosting production, which shot up a notable 30% year-over-year for the first quarter 2016, means it is well positioned to benefit from rising silver prices.
Importantly, First Majestic finished the first quarter in a solid financial position with $62 million in cash, a 21% increase compared to the previous quarter, and only $41 million in long-term debt.
Each of these attributes will give its bottom line a healthy bump and further underpin increases in its share price.
#3 Coeur Mining (NYSE:CDE)
Coeur Mining is a new addition to the list, with it having been recommended by a number of readers of my last article on silver miners. Like its peers it has performed strongly for the year-to-date with its shares rising 244%.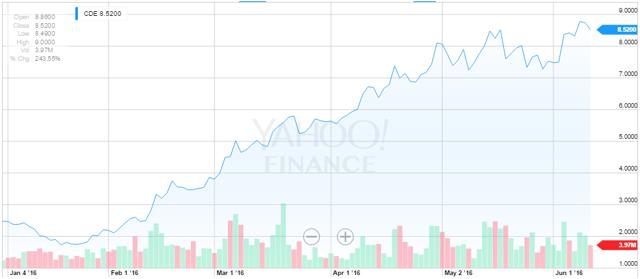 Source: Yahoo Finance.
While this significant increase in value can be attributed in part to higher silver prices and the fervor surrounding beaten silver miners, it is also a quality miner that still offers considerable upside for investors.
Coeur is the largest U.S.-based primary silver miner operating globally a diversified portfolio of mining assets with the majority located in stable low risk political jurisdictions. These are long-life assets with 156 million ounces of silver and 2.4 million ounces of gold reserves.
It maintains a healthy balance sheet which is impressive, given the capital intensive nature of mining and weaker silver prices which have impacted cash flows.
By the end of the first quarter 2016 it had a net debt of 2.7 times EBITDA which is almost half of where it was for the equivalent period in 2015. All of its long-term debt doesn't fall due until 2020 or later, giving it plenty of time to take advantage of higher silver prices and build up its cash reserves.
Coeur's also has a high degree of liquidity with $179 million in cash at the end of the period and $27 million in undrawn credit facilities. This, along with growing cash flows, will ensure it is capable of funding the ongoing development of its existing assets including expanding its Rochester mine as well as the La Preciosa and San Jaoquin projects in Mexico and Argentina.
These projects on completion will boost Coeur's silver and gold reserves as well as its production, certainly allowing it to take full advantage of higher silver prices.
I also like the fact that it remains focused on streamlining its operations and divesting itself of non-core operations, raising $25 million from non-core asset sales during the first quarter.
One of Coeur's most important attributes is its low operating costs. For the first quarter it reported all-in-sustaining-costs or AISCs of $13.73 per ounce and given these represent the total costs associated with sustaining its operations means that it was able to generate a healthy margin, even with weaker silver prices.
It also means that as the price of silver appreciates, Coeur's margins and hence profitability will grow quite strongly, giving its bottom line a healthy bump and helping its share price to appreciate further.
#2 Hecla Mining (NYSE:HL)
In my last article, gold and silver miner Hecla Mining was my second pick and it remains in that position. For the year-to-date it has returned 138% and 20% since the publication of that last article.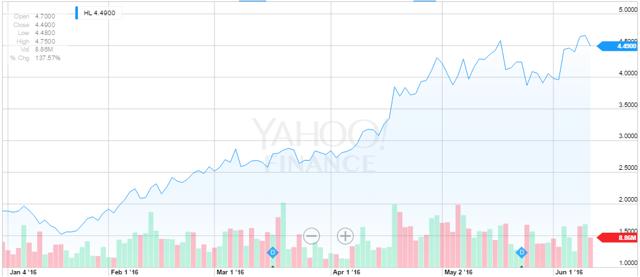 Source: Yahoo Finance.
Of all the miners covered in this article I believe that Hecla offers considerable upside to investors, in part because it has not experienced the same upside as the other miners but also because of its efforts to reduce costs and improve its operations.
Hecla holds a portfolio of high quality gold and silver assets located predominantly in the low risk jurisdictions of the U.S. and Canada. Its gold and silver reserves have the lowest reserve prices of its peers at $1,100 and $14.50 per ounce, indicating they are economic to mine at current prices.
Hecla provides investors with exposure to silver and gold, with it earning 43% of its revenue from silver and 41% from gold, thereby allowing it to benefit from the rallies of both metals.
More importantly, Hecla has a low cost operating structure which for the first quarter 2016 saw it report cash costs per silver ounce of $3.96, which despite being a 23% increase year-over-year represented an impressive 32% decrease quarter-over-quarter. Such low cash costs leave it on track to achieve its target of $5 per ounce for 2016, highlighting that cost cutting measures are taking effect.
Hecla remains focused on boosting its production and this saw it report record silver production of 4.6 million ounces for the first quarter and record silver equivalent production of 12 million ounces. As a result, it has increased its guidance for silver production during 2016 from 14 million ounces to 15 million ounces, and this coupled with its low costs will allow Hecla to take advantage of higher silver prices, thereby giving its bottom line a healthy bump.
Importantly, Hecla maintains a solid balance sheet which at the end of the quarter was highly liquid with $134 million in cash and $100 million available through a senior secured revolving credit facility. This leaves it well positioned to meet its financial obligations and continue its exploration and pre-development activities that will ensure its silver and gold reserves continue to grow.
For all of these reasons I remain positive on outlook for Hecla, particularly with the majority of its mines operating in stable low risk jurisdictions, its growing production, its exposure to silver and gold and low costs.
#1 Great Panther Silver (NYSEMKT:GPL)
My top pick in the last article was Canadian small-cap miner Great Panther Silver and it remains my top pick. For the year-to-date its share price has soared by a massive 236% and it has returned 17% since my last recommendation.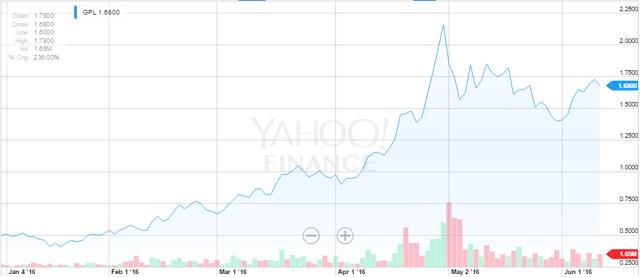 Source: Yahoo Finance.
While this gain has been quite substantial I believe that Great Panther still offers considerable upside over the long term.
It holds a portfolio of high quality assets and reported some solid first-quarter 2016 results, with metal production growing by 2% year-over-year, while cash costs fell by a remarkable 52% to just $4.20 per ounce.
Furthermore, its AISCs dropped by an equally notable 32% to $9.25 per ounce, indicating that its operations are highly sustainable and capable of generating sold margins even after allowing for exploration and other non-cash costs.
One pleasing aspect of Great Panther is the company's focus on maximizing its return from capital deployed and as a result of poor drilling results it terminated its Guadalupe de los Reyes or GDLR project during the first quarter.
More impressive is the strength of Great Panther's balance sheet with the company remaining debt free, a notable achievement in a capital intensive industry.
As a result, Great Panther is well positioned to benefit from the rally in silver and as silver prices rise will experience a healthy bump in its bottom line that will ultimately propel its share price higher.
Final thoughts
Investing in precious metals such as silver is not for every investor; but with its mix of attributes that allow it to behave like a precious metal and as a commodity, silver is an interesting play on the rebound in precious metal prices. The silver miners listed are high quality companies with low operating costs, minimal debt and high quality long life reserves that will see them poised to continue rising in value as silver appreciates.
Disclosure: I/we have no positions in any stocks mentioned, but may initiate a long position in GPL, HL, CDE over the next 72 hours.
I wrote this article myself, and it expresses my own opinions. I am not receiving compensation for it (other than from Seeking Alpha). I have no business relationship with any company whose stock is mentioned in this article.
Additional disclosure: I/we have extensive investments in physical gold and silver bullion as well as collectible antique gold and silver coins.