June is the month for weddings, and fittingly, it should bring some kind of ending to the unhappy engagement between Energy Transfer Equity (NYSE:ETE) and the Williams Cos. (NYSE:WMB).
Williams' suit to compel ETE to go through with the merger will be heard June 20-21 in Delaware Chancery Court, as well as related lawsuits they have filed against each other.
ETE wants to strand its bride at the altar. It points to the contract and says the deal is dead unless it can get a favorable 721(a) tax opinion out of its attorney Latham & Watkins LLP by June 28, after which the deal would expire. The tax opinion would say the stock portion of the deal is not a taxable event to Williams shareholders.
Williams says Energy Transfer isn't using reasonable good faith to get its attorneys to find a solution to close the deal, as the contract requires. It wants the court to turn the engagement into a shotgun wedding, assuming its shareholders approve in a vote that closes June 27.
Under the deal, if all shareholders took a mixed election, each Williams share would be exchanged for 1.5274 shares of an ETE equivalent plus $8 cash. At Monday's closing prices, that represents a 27% premium to the current WMB value, a spread that has widened in the last couple weeks, as the table shows.
Date
WMB
ETE
WMB merger value
Spread
5/25/2016
21.25
11.13
25
1.177
5/26/2016
20.81
11.01
24.82
1.193
5/27/2016
21.48
11.64
25.78
1.2
5/31/2016
22.16
12.64
27.31
1.232
6/1/2016
22.59
13.66
28.87
1.278
6/2/2016
22.6
13.69
28.92
1.279
6/3/2016
22.83
13.58
28.75
1.259
6/6/2016
23.38
13.72
28.96
1.239
6/7/2016
23.58
13.81
29.1
1.234
6/8/2016
23.18
14.07
29.5
1.272
6/9/2016
23.28
13.53
28.67
1.232
6/10/2016
22.04
12.94
27.77
1.26
6/13/2016
21.8
12.87
27.66
1.269
Here is a look at how WMB shareholders could position themselves in anticipation of the court ruling:
Case One: Williams wins the suit
Reading Williams' lawsuit, the company appears to have a strong case, as this excellent analysis by Small Cap Capital indicated.
Latham cannot be compelled to provide a tax opinion - but more importantly, merger agreement specifically states that tax opinion must be received from Latham instead of having the option of getting it from an "equivalent" law firm. This restrictive language effectively made the transaction a call option from ETE's perspective - this would have been a completely different dynamic if any independent tax advisor were permitted to render the 721 opinion.

In the merger agreement, all parties are obligated to use "reasonable best efforts to cause the merger to be completed and to take all actions necessary to resolve objections". While "reasonable best efforts" may seem vague, it is hard to argue that ETE has not been doing sketchy things since deal announcement when you look at the fact pattern (insider pref deal, 721 opinion situation, Jamie Welch calling WMB shareholders to block the deal before he got terminated, etc.).
If Williams wins, the spread will all but disappear in anticipation that one of three things has to happen by the end of June:
--The deal closes on schedule, or as soon as an FTC waiting period expires in July.
--It is renegotiated to give Williams shareholders more stock in the merged enterprise instead of cash.
--Energy Transfer pays Williams a substantial breakup fee.
Note that Williams' board would have control over whether to force closing, renegotiate or graciously accept cash to go away and never again darken the mood of ETE CEO Kelcy Warren.
If Williams wins, we don't know if its stock will go up or down. When the deal has seemed more likely to close, Energy Transfer has gone down so much (because of the $6 billion cash component) it has dragged Williams down with it, since the stock portion of the deal would be worth less. You can see the effect in late May.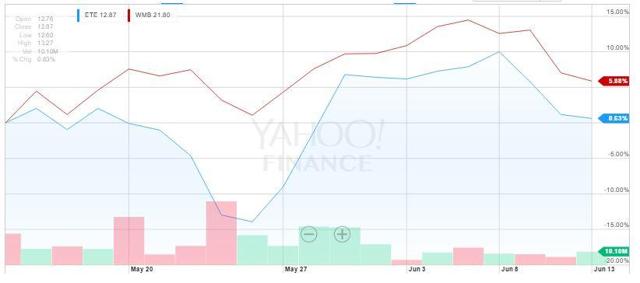 Source: Yahoo Finance
Because we can be reasonably sure the spread will go to near zero if it looks like the deal will go through, shareholders can assure a profit by hedging long WMB position. There are several ways of doing this, including:
--Short 1.5 shares ETE for each share WMB held long.
--Buy 1.5 ETE puts for each 100 shares WMB held long.
Case Two: Energy Transfer wins the suit
Some analysts, like Baird Equity Research, believe the court will agree with Energy Transfer the contract language allows it to get out of the deal.
ETE short interest went down substantially in the last report. This indicates at least some major players are betting Energy Transfer will win, or think the two sides will reach a deal more favorable to ETE.
Again, we don't know if this is good or bad for Williams stock. Analysts argue the pipeline company is worth more on a standalone basis than it is trading for now, but the company has said the dividend will be cut if the merger doesn't go through, and we don't know how shareholders will react if this becomes a reality.
We do know, however, that this case is great for Energy Transfer--it's off the hook for the $6 billion and won't face a credit downgrade. To take advantage of this, we could:
--Buy 1.5 shares ETE for each share of WMB held long.
--Buy 1.5 ETE calls for each 100 shares of WMB.
Case Three: There is no clear ruling
If WMB shareholders approve the deal June 27, their shares can no longer be traded if they have been tendered, and possibly not even if they haven't, because it's unclear if there will be a public market.
It's possible the merger won't be able to close until after July 11 in any case because of a 30-day comment period on the FTC ruling requiring divestiture of a Florida interstate pipeline system.
The absence of a clear court ruling could make the delay even longer, sending Williams and its shareholders drifting through outer space unattached, with no clear idea on which solar system they will arrive.
There's no real way to hedge against this without selling your stake.
Fortunately, Delaware is sophisticated about corporate affairs and its court is likely cognizant it needs to make a speedy ruling.
Case Four: Hedging bets
If you're not certain which way the court will rule and hold a long position in WMB you think will ultimately prove profitable either way, consider buying a straddle in ETE, again at the ratio of 1.5 straddles for each 100 shares of WMB owned.
Owning both ETE puts and calls protects you whichever way the court decides, though it also reduces the potential profit since one or the other will expire worthless.
An expiration date of July 1 goes through the merger closure date. ETE $13 calls (slightly out of the money) closed Monday at $.0.95, $13 puts (slightly in the money) at $1.30. Thus, each straddle would cost about $225 (plus commission). You're paying for high implied volatility, so the strategy doesn't seem that attractive.
Conclusion: My personal opinion (I'm not an attorney) is Williams has a better than even chance of winning the suit, based on how Dow Chemical (NYSE:DOW) was backed into a 2009 merger with Rohm & Haas after it became financially unattractive, a case also governed by Delaware law. However, based on the decline in ETE short interest, the smart money may be betting the other way. Step right up and place your bets!
Disclosure: I am/we are long WMB.
I wrote this article myself, and it expresses my own opinions. I am not receiving compensation for it (other than from Seeking Alpha). I have no business relationship with any company whose stock is mentioned in this article.