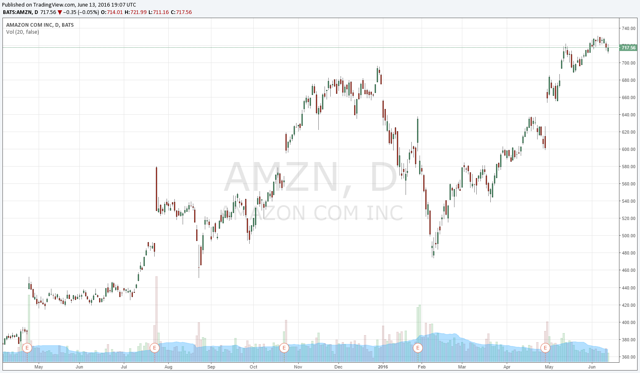 By The Valuentum Team
Amazon (NASDAQ:AMZN) operates as an online retailer with free cash flow generation that has become nothing short of impressive as of late, having increased to $7.3 billion in 2015 from $1.9 billion in 2014, a whopping increase from the many year's prior (free cash flow had averaged $1.9 billion during 2008-2012). The company truly has hit an inflection point, and the strength has continued into the first quarter of 2016. We're huge fans of free cash flow generation, in general, and we like what we see.

Image Source: Amazon's slide deck
A great driver for Amazon's growth is its cloud platform (Amazon Web Services), which brought in net sales of $8.9 billion during the first quarter of 2016 (up 64% from the prior year's quarterly mark). What really caught our eye was that AWS' operating income increased to $604 million in the first quarter of 2016 from $195 million in the first of 2015, a three-fold increase (and representing steady, secular growth). This quarterly profit increase is important because Amazon's 'North America' and 'International' segments, by comparison in the same quarter, collectively generated operating income of ~$460 million, with North America leading that charge (the company is still losing money internationally). We think AWS will continue to be the large profit and free cash flow driver for the company, but we're not ruling out improvements in 'North America' and 'International' either.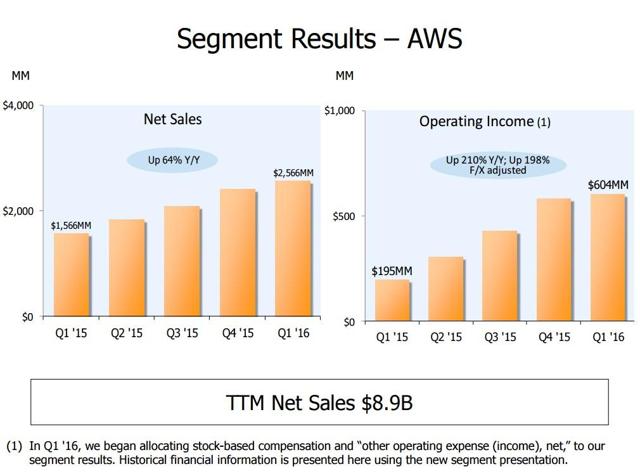 Image Source: Amazon's slide deck
Since going public almost 20 years ago, Amazon has delivered high revenue growth in an industry that remains highly competitive. In response to Amazon's success and ever-changing consumer tastes, major retailers like Wal-Mart (NYSE:WMT) and Target (NYSE:TGT) have invested greatly in online services and sales, attempting arguably fruitlessly to chip away at Amazon's online supremacy. Other big box retailers including Best Buy (NYSE:BBY) have been trying to challenge Amazon's moaty business by offering promotions that will match Amazon's prices, but growth at the online behemoth continues. Amazon could falter in adapting to evolutional changes in the retail market, but if its corporate history says anything, it will be the long-term winner.
What's more, Amazon is committed to continuously enhancing the customers' experience and improving process efficiency through rapid technology developments while operating at an ever-increasing scale. The enhancements to Amazon Prime, which continues to gain traction, in the form of its online movie/digital content is just another great way for the company to connect with its customers, increasing switching costs. Management boasts Prime's two-day selection has grown to over 30 million items and offers members one-hour delivery on important subsets of the selection. Amazon is truly a unique enterprise, and not one saddled with too much debt. As of the first quarter of 2016, Amazon held a net cash position of ~$8 billion. This is rare for a company growing so fast, generating so much free cash flow to have such a very healthy balance sheet.
Amazon's Investment Considerations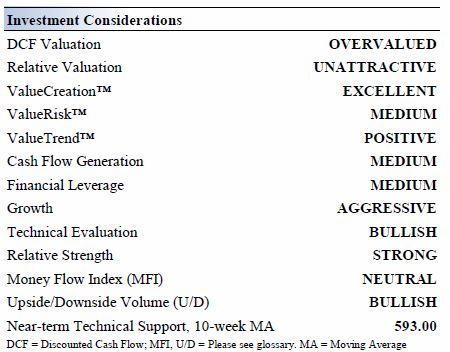 Investment Highlights
• Amazon operates as an online retailer. The firm seeks to be the center for four primary customer sets: consumers, sellers, enterprises, and content creators. The company also provides advertising services and co-branded credit card agreements. It stands as the best example as to why the dot-com boom of the late 1990s wasn't a complete bust.
• Investment in Amazon is fraught with risk. Due to its massive revenue and low-margin operation, its fair value estimate is ultra-sensitive to normalized, mid-cycle margin expectations. A one percentage point change in its Year 5 operating margin assumption results in a $70 per share fair value change.
• The online retailer continues to focus on taking market share and damaging its brick-and-mortar competitors. Kindle Fire variants, tablets that sell for roughly breakeven, have been top selling products on Amazon. Recent events such as raising prices on Prime members indicate that profit growth has become a higher priority.
• In the past, Amazon has notoriously been less concerned with maximizing profits. More recently, however, the company has turned the corner with respect to profitability, and if the company turns the spending gushers down more, free cash flow would explode higher. We like the recent changes.
• Amazon is truly a special company. From millions of new Prime members, to creating its own content, to delivering packages via drones, to expanding into becoming a logistics company and beyond, Amazon is a wonder of an enterprise.
Business Quality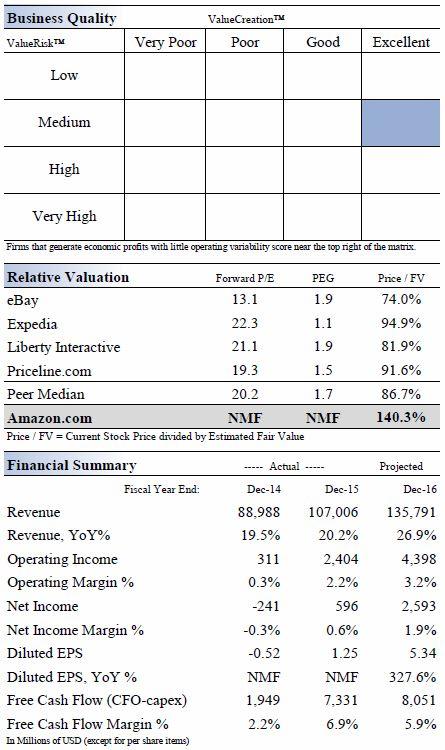 Economic Profit Analysis
In our opinion, the best measure of a firm's ability to create value for shareholders is expressed by comparing its return on invested capital with its weighted average cost of capital.
The gap or difference between ROIC and WACC is called the firm's economic profit spread. Amazon.com's 3-year historical return on invested capital (without goodwill) is 19.8%, which is above the estimate of its cost of capital of 10.5%. As such, we assign the firm a ValueCreation™ rating of EXCELLENT.
The concept of an economic moat - or sustainable competitive advantages - focuses purely on the sustainability and the duration of the competitive advantages that a firm possesses. The concept of an economic moat does not consider the cumulative sum of a firm's potential future economic profit creation, but only that at some point in time in the future, a moaty company will continue to have an economic profit spread and a no-moat firm will not. Let's examine the problem that arises by focusing exclusively on companies that have economic moats, or sustainable and durable competitive advantages.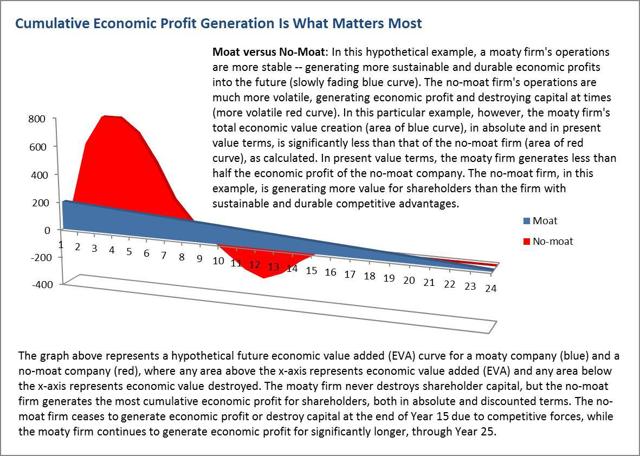 Image Source: Valuentum; EVA is trademarked by Stern Stewart & Co
In the chart below, we show the probable path of Amazon's ROIC in the years ahead based on the estimated volatility of key drivers behind the measure. The solid grey line reflects the most likely outcome, in our opinion, and represents the scenario that results in our fair value estimate.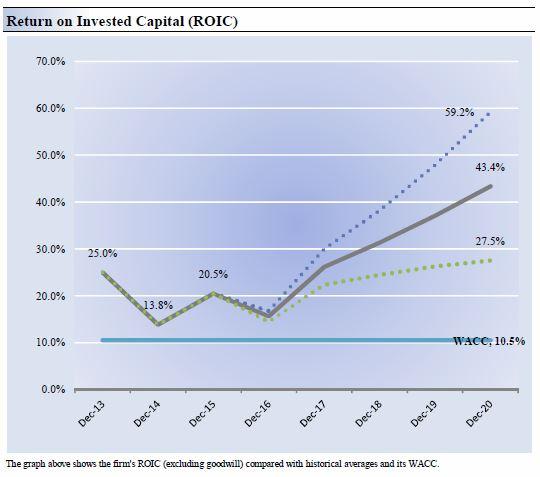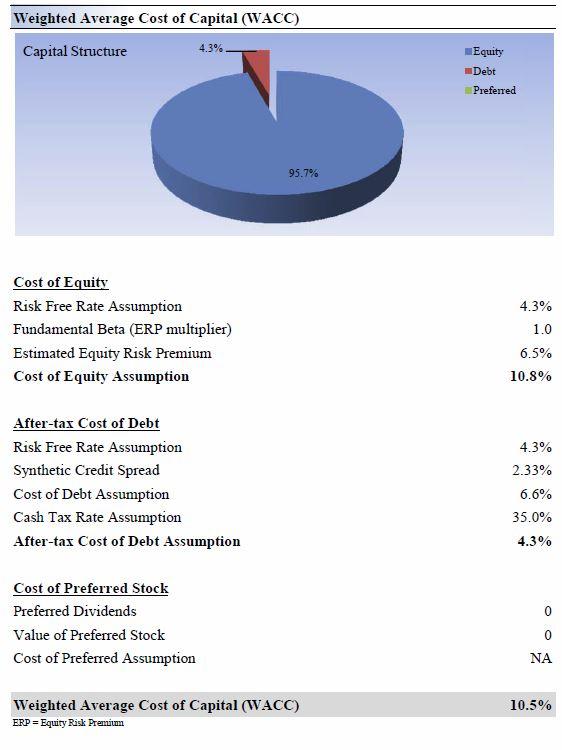 Cash Flow Analysis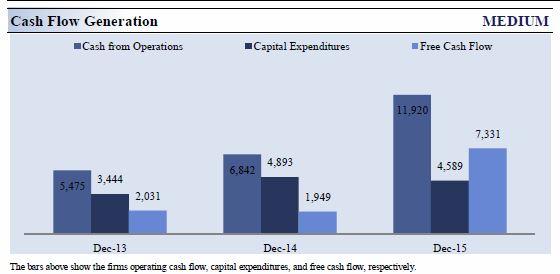 Firms that generate a free cash flow margin (free cash flow divided by total revenue) above 5% are usually considered cash cows. Amazon.com's free cash flow margin has averaged about 3.9% during the past 3 years. As such, we think the firm's cash flow generation is relatively MEDIUM.
The free cash flow measure shown above is derived by taking cash flow from operations less capital expenditures and differs from enterprise free cash flow (FCFF), which we use in deriving our fair value estimate for the company. At Amazon.com, cash flow from operations increased about 118% from levels registered two years ago, while capital expenditures expanded about 33% over the same time period.
In the first quarter of fiscal 2016, Amazon reported a trailing twelve month cash flow from operations of ~$11.3 billion and capital expenditures of ~$4.9 billion during that same period, resulting in free cash flow of ~$6.4 billion, a 101% increase from the prior year's trailing twelve month free cash flow.
Valuation Analysis
This is the most important portion of our analysis. Below we outline our valuation assumptions as well as derive a fair value estimate for shares.
Our discounted cash flow model indicates that Amazon.com's shares are worth between $353-$587 each. Shares are currently trading at ~$714 per share, past the upper bounds of our fair value range. This indicates that we feel there is significantly more downside risk than upside potential associated with shares at this time.
For 2016 and 2017, we are expecting strong top-line growth in the mid-20% range and significant earnings expansion as Amazon continues to grow at an impressive rate. We see little reason as to why the firm's overall growth should slow in the near term, as online shopping becomes an increasingly important portion of the average consumer's everyday life. We're also projecting ongoing investment into Amazon's business via capital expenditure growth over the 5-year forecast period.
The margin of safety around our fair value estimate is derived from the historical volatility of key valuation drivers. The estimated fair value of $470 per share represents a price-to-earnings (P/E) ratio of about 376.2 times last year's earnings and an implied EV/EBITDA multiple of about 25.1 times last year's EBITDA.
Our model reflects a compound annual revenue growth rate of 21.7% during the next five years, a pace that is higher than the firm's 3-year historical compound annual growth rate of 20.5%. Our model reflects a 5-year projected average operating margin of 4.4%, which is above Amazon.com's trailing 3-year average.
Beyond year 5, we assume free cash flow will grow at an annual rate of 5.9% for the next 15 years and 3% in perpetuity. For Amazon.com, we use a 10.5% weighted average cost of capital to discount future free cash flows.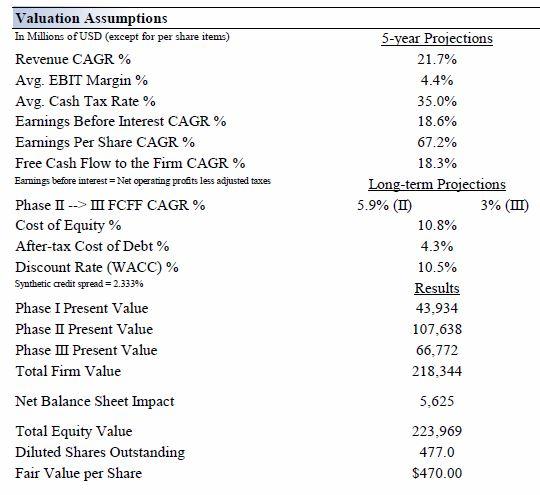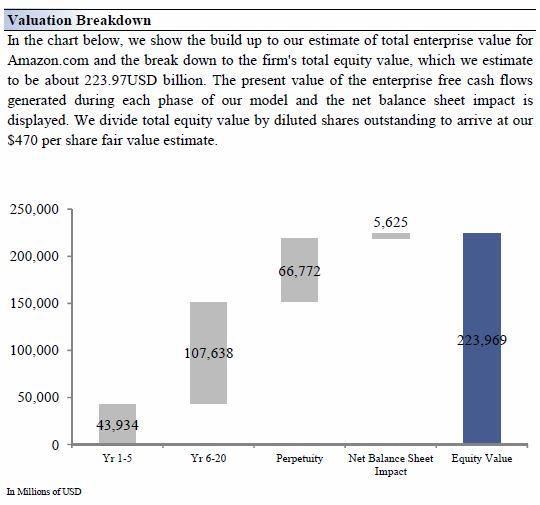 Margin of Safety Analysis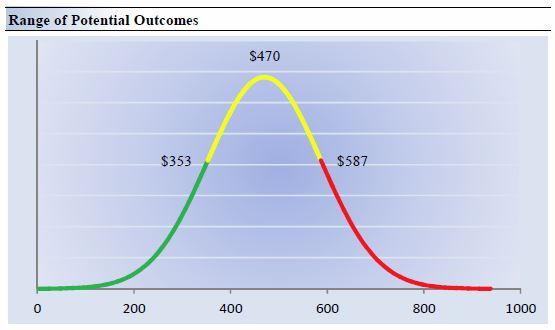 Our discounted cash flow process values each firm on the basis of the present value of all future free cash flows. Although we estimate the firm's fair value at about $470 per share, every company has a range of probable fair values that's created by the uncertainty of key valuation drivers (like future revenue or earnings, for example). After all, if the future was known with certainty, we wouldn't see much volatility in the markets as stocks would trade precisely at their known fair values.
In the graph above, we show this probable range of fair values for Amazon.com. We think the firm is attractive below $353 per share (the green line), but quite expensive above $587 per share (the red line). The prices that fall along the yellow line, which includes our fair value estimate, represent a reasonable valuation for the firm, in our opinion.
Future Path of Fair Value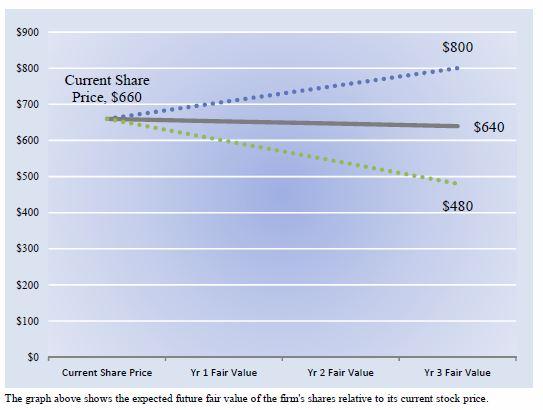 We estimate Amazon.com's fair value at this point in time to be about $470 per share. As time passes, however, companies generate cash flow and pay out cash to shareholders in the form of dividends. The chart above compares the firm's current share price with the path of Amazon.com's expected equity value per share over the next three years, assuming our long-term projections prove accurate.
The range between the resulting downside fair value and upside fair value in Year 3 represents our best estimate of the value of the firm's shares three years hence. This range of potential outcomes is also subject to change over time, should our views on the firm's future cash flow potential change.
The expected fair value of $640 per share in Year 3 represents our existing fair value per share of $470 increased at an annual rate of the firm's cost of equity less its dividend yield. The upside and downside ranges are derived in the same way, but from the upper and lower bounds of our fair value estimate range.
This article or report and any links within are for information purposes only and should not be considered a solicitation to buy or sell any security. Valuentum is not responsible for any errors or omissions or for results obtained from the use of this article and accepts no liability for how readers may choose to utilize the content. Assumptions, opinions, and estimates are based on our judgment as of the date of the article and are subject to change without notice.
Disclosure: I/we have no positions in any stocks mentioned, and no plans to initiate any positions within the next 72 hours.
I wrote this article myself, and it expresses my own opinions. I am not receiving compensation for it (other than from Seeking Alpha). I have no business relationship with any company whose stock is mentioned in this article.