Natural gas prices continue its ascent upwards with a minor gain yesterday. Canadian gas (AECO) woke up from its slumber and rocketed 32.80% higher!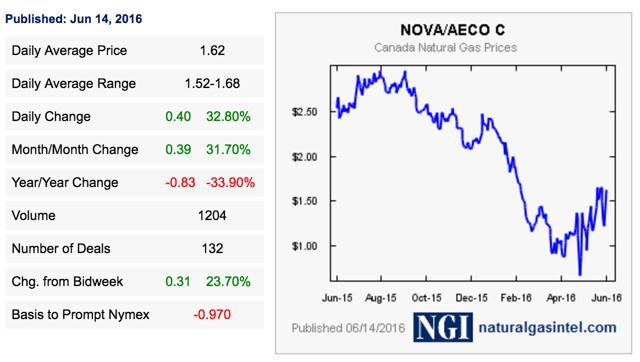 After the ferocious rally that has trapped many natural gas bears, one has to start wondering what exactly is the right price?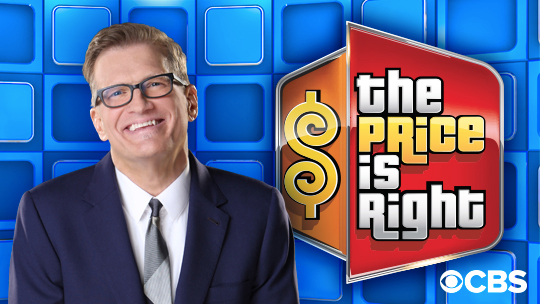 Similar to the hit show on CBS, "The Price is Right," we attempt to make an educated guess as to what the new long-run equilibrium price is.
Most of the natural gas followers we talk to have now completely ignored rig counts. Natural gas rig counts have been in a non-stop downward trend since 2008. At that time, natural gas prices were above $5/MMBtu. The average price between 2004 and 2008 was above $4/MMBtu by a solid margin, and most of the production then was from offshore and conventional sources.
Now, over 50% of US gas production comes from shale, and we can all thank the Marcellus and the Utica for contributing a bulk of the supply growth.
With prices now hovering around $2.6/MMBtu, what exactly is the right price producers need to grow?
Rig counts, at the end of the day, matters and those who have completely given up on following the statistic will soon regret it. The reason why US gas production grew despite falling rig counts was due to productivity and technological improvements. Before the Barnette, shale was thought to be impossible to drill as the costs were too high. Thanks to a few wildcatters, shale is now viable today.
The Marcellus and the Utica are the true reasons why we have a surplus storage today. The prolific wells, and the capable producers there have allowed the US to become a net exporter of natural gas. The key then is to figure out at what price do these producers think the long-run price should be.
In the many names that we follow, one particular company's commentary caught our eyes. EQT's CEO David Porges talked about what he thinks the long-run price should be.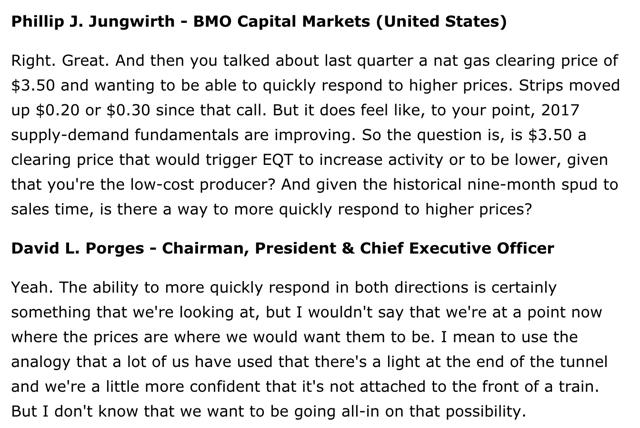 From the Q1 commentary, it's obvious that prices aren't anywhere close to where EQT would quickly bring online production. At $3.50/MMBtu, however, EQT would consider bringing on additional production. This is what David said in Q4 2015: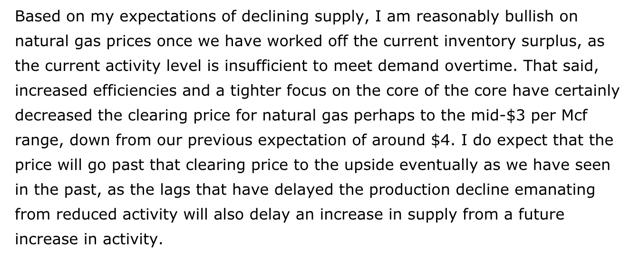 For producers that we follow, $3.50 seems to be the magical number for many. At that price, the lean producers can grow while producing enough free cash flow to deleverage. The leveraged producers will continue to struggle and face debt issues. This price could potentially eliminate high cost production, but bring on cheap production. The two-way effect would likely slow the production growth and allow a more balanced market in the years ahead.
With structural demand increasing, any supply shortfall will adversely impact storage levels and could temporarily boost natural gas prices higher.
For investors, the most important thing is finding the producers that can thrive in a $3.50/MMBtu environment. The second most important thing is finding the producers that not only can thrive, but that are cheap enough to offer a good risk/reward ratio.
At HFI, we think the long-run natural gas price should hover around $3.50/MMBtu. Because of our forecast, we have positioned a large percentage of the HFI portfolio in natural gas (NYSEARCA: UNG) producers that will outperform significantly if prices continue to recover.
Since the launch, the HFI portfolio has outperformed the S&P 500 by 17.07% and returned 27.72% on a gross basis. For investors interested in how we are managing the portfolio, please consider signing up for our premium service. We look forward to you joining the HFI community. And as always, if you liked our natural gas daily write-up, please be sure to click "Follow" and read our other articles as well.
Disclosure: I/we have no positions in any stocks mentioned, and no plans to initiate any positions within the next 72 hours.
I wrote this article myself, and it expresses my own opinions. I am not receiving compensation for it (other than from Seeking Alpha). I have no business relationship with any company whose stock is mentioned in this article.