Introduction
Ensco (NYSE: ESV) is an offshore drilling company headquartered in the United Kingdom, though its countries of operation vary widely as its rigs move around. The company operates as the world's second largest offshore drilling and well company with a fleet of drilling rigs used in offshore oil exploration.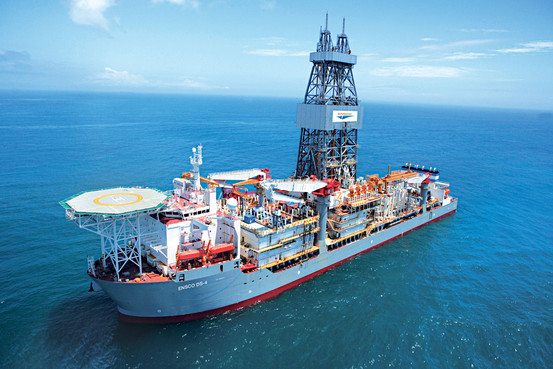 Ensco Drilling Rig - Wall Street Journal
However, despite its market leader position in the offshore drilling industry, Ensco has had a difficult time recently along with all other offshore drillers. The company has watched its stock price crash from almost $60 per share before the 2014 oil crash to lows of less than $8 per share in February of this year. Since then, the company's stock price has recovered but the company's stock still remains at just over $10 per share.
Current Market Conditions
Ensco's recent difficulties have stemmed from the fact that capex is cut much faster than oil prices. That is, for a company like ExxonMobil (NYSE: XOM) that produces millions of barrels of oil per day, unless prices go to $0 per barrel, the company will continue bringing in revenue. However, Ensco instead relies on drilling contracts, and in an environment of low oil prices as companies cut capex, Ensco will struggle to bring in any respectable revenue.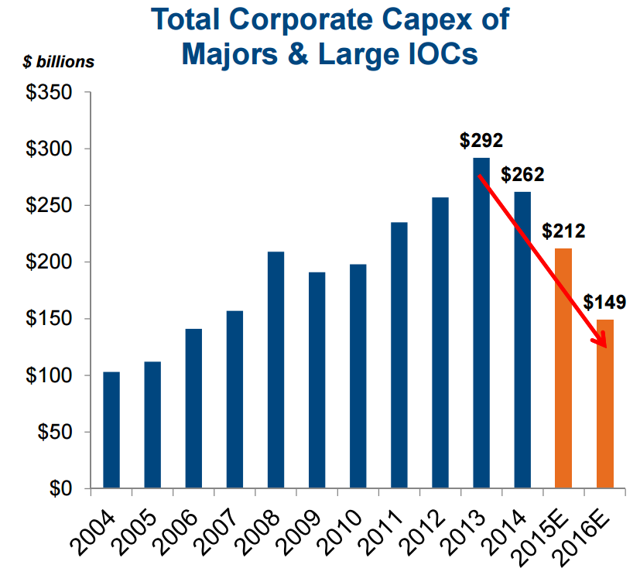 Total Capex of Majors & Large IOCs - Ensco Investor Presentation
The following overview of current market conditions shows how fast the capex of oil majors and large integrated oil companies has been decreasing. Since a peak in 2013 when oil prices maxed out, capex has dropped from $292 billion to $149 billion in 2016, a drop of almost 50%. More importantly, the recent doubling of oil prices from less than $30 per barrel in January to roughly $50 presently will likely not have a significant impact on capex. This significant drop in capex has made contracting rigs difficult which is what has put Ensco in its present difficult position.
Ensco Financial Position
Right now, for Ensco and other offshore drillers, the name of the game is survival. In the event of a recovery in both capex and oil prices, Ensco will likely get a number of new contracts that will drive a strong recovery in its equity. However, until that time, as Ensco needs to fight for contracts, the name of the game is survival. As a result, Ensco's strong financial position will help it survive the current market.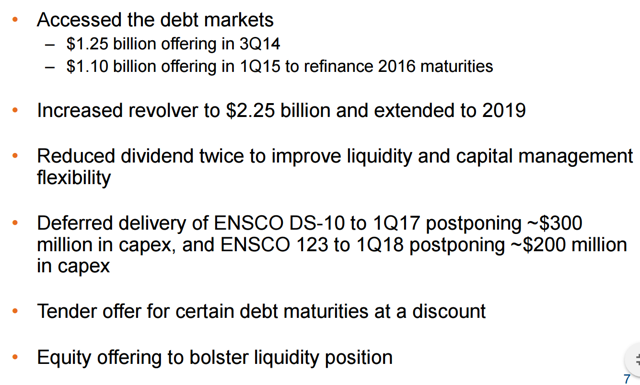 Ensco Debt Markets - Ensco Investor Presentation
The following image shows the steps that Ensco has taken to improve its financial position. The company has accessed the debt markets twice since the start of the crash. Right after the crash, in 3Q 2014, the company accessed the debt markets for a $1.25 billion offering. Two quarters later, the company made another $1.10 billion offering to refinance 2016 maturities.
While this total of $2.35 billion in debt offerings has cost Ensco additional interest expenses, the company's access of these markets immediately after the start of the oil crash shows its understanding of the long-term nature of the present oil crash. At the same time, the company has increased its revolver to $2.25 billion and extended it to 2019 providing it with the option to either make an accretive acquisition or pay its expenses until a recovery in the oil market.
Lastly, the company has deferred the delivery of 2 rigs to 1Q 2017 and 1Q 2018 respectively postponing $500 million in costs. While I would like to see the company pay off the rigs immediately and attempt to find a contract for them to bring some income, the company's choice to offer to repurchase debt at a discount should further improve its long-term financial performance while decreasing interest expenses.
However, I am disappointed by the company's equity offering to boost its liquidity position. The company's equity offering increased the company's shares outstanding by 25% and provided the company with almost $0.6 billion in net proceeds. In total the company has $1.3 billion in cash and short-term equivalents. This cash can allow the company to cover its operating expenses and pay back its debt increasing its ability to survive the present oil downturn.
The company has used this immensely strong financial position to access the debt markets and is repurchasing some of its debt. More importantly, while this is expected to change in the coming years, the company is still earning respectable profits. This means that the company is continuing to earn additional money while decreasing the cost of its interest payments.
As a result, despite the additional income that Ensco earned from its equity offering, I find that the company's equity offering was unnecessary and feel that it is punishing to shareholders who have already suffered significantly. Had the company not made its equity offering its share price would be 25% higher than it was today.
Despite this, I feel that the company's equity offering was a one time thing to bolster financial strength in the event of a drawn out oil crash. Investors looking to get involved today are investing after the dilution not before it, and they are investing in an undervalued company with a strong financial position.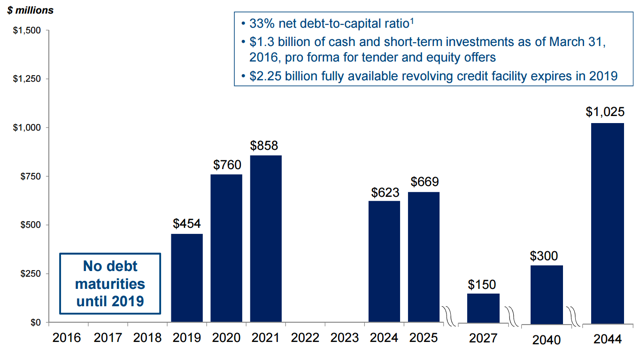 Ensco Debt Maturity Schedule - Ensco Investor Presentation
Now that we have a look at Ensco's financial position and the company's recent acquisitions, it is now time to look at the company's debt maturity schedule. Ensco has no debt maturities until 2019 and $2.1 billion in debt maturities from 2019 - 2021. It is important to keep in mind that the company has $1.3 billion of cash and short-term investments along with $2.25 billion in a revolving credit facility that expires in 2019. Using just the company's cash and short-term investments the company could purchase back its 2019 - 2020 debt and then from now until 2021 it would need to earn just $170 million a year to pay off its 2021 debt.
More importantly, much of the company's debt costs in the early to mid-2020s has a yield of roughly 4.5-5%. That means should the company spend its $1.3 billion in cash and short-term equivalents on repurchasing debt that means that the company will save $65 million annual interest costs. This cut in interest costs is enough to make up much of the $170 million in annual income that the company needs.
Ensco Fleet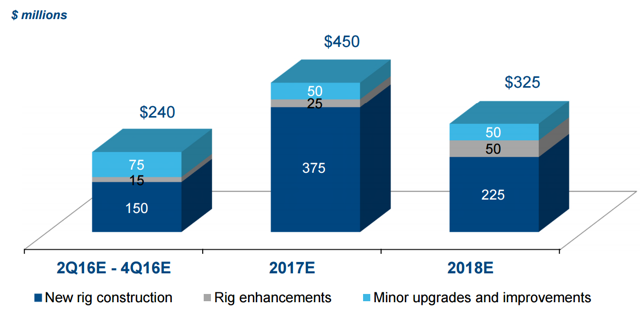 Ensco Capex Spending - Ensco Investor Presentation
However, the company continues to have costs during the period mainly stemming from the company's newbuild program. From 2016 - 2018 the company expects to have average annual costs of around $350 million of which roughly 65-70% are to be spent on new rig construction. The other $100 million in annual spending from the company will be spent on a combination of rig enhancements and minor upgrades / improvements. It is expected that this $100 million represents a minimal level for the company's capex regardless of how long the oil crash gets dragged out.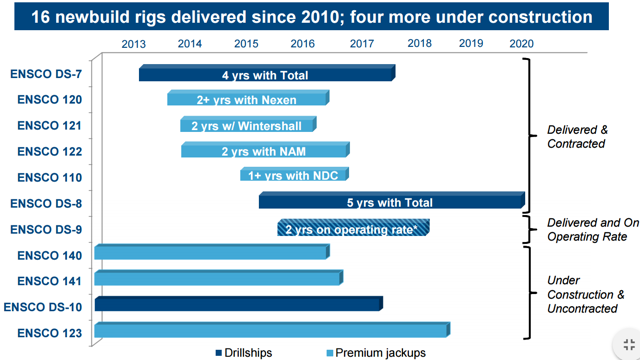 Ensco Newbuild Program - Ensco Investor Presentation
At the same time, the company has an impressive newbuild program that it has been using its capex for. The company has delivered 16 new rigs since 2010 significantly decreasing its average age and the company has four more rigs presently under construction. These new rigs will significantly decrease the company's average fleet age and make it easier for the company to compete for contracts.
However, in the above chart of the company's contracts we also see a potential issue. While most of the company's rigs were on contract for the start of the oil crash in the 2014 - 2015 time period, the company's rigs are expected to start rapidly going off contract in the 2016 - 2017 time period. This will provide a double whammy to the company's revenue as no longer will these rigs be earning the company money but the company will have to start spending money to keep the rigs stacked even though they aren't doing anything.
Market Recovery
So far, we have discussed the current market conditions along with Ensco's financial position and fleet. Ensco has a young fleet of just over 10 years compared to more than 20 years for Transocean (NYSE:RIG). And despite the company's recent equity offering, which I think unfairly punished beaten down investors, the company has an impressively strong financial position. In fact, we have determined from the company's debt maturity chart that the company can likely survive a crash that goes until the mid-2020s without major difficulties from its debt. Now it is time to try and come up with a timetable for a market recovery to see how long the company will have to survive.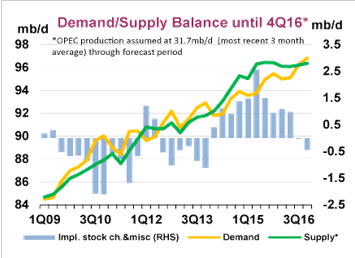 Oil Demand & Supply Balance - David White
The above image provides an overview of oil supply and demand up until 4Q 2016. Here, you can see how oil supply and demand went out of balance in 3Q 2013 and it took approximately 9 months for the crash to start. At that point it took approximately another 9 months until the initial oil prices hit their first bottom in the January to March 2015 time frame. That means it took 18 months for oil prices to crash originally.
According to the above table, we can expect the oil supply and demand balance to fix itself in late-2016. For our purposes let us assume that the supply demand balances out in December 2016 to January 2017. As we saw above, it took 18 months for oil prices to crash originally allowing us to pencil in 18 months for a recovery. Since it is currently mid-2016, that means we can expect it to take 18 months for prices to recover after supply and demand balances in late 2016 (according to the above graph) leading to a price recovery in mid-2018. With the first major capex cuts occurring in 2014 to 2015 it can be expected that capex will recover as prices recover in the 2018 to 2019 time frame.
It is important to keep in mind that Ensco has no debt even due until 2019. From 2019 - 2021, Ensco has several major debt maturities due. From 2022 - 2023, Ensco again has no debt due. As we determined, the company's cash and short-term investments are good for covering the company's 2019 - 2020 debt maturities meaning that the company really only has its 2021 debt maturity to worry about for the next 7 years.
However, even with this debt maturity, as we can see from the above information, oil prices are expected to recover by mid-2018 before the company even has any part of its first batch of debt due. Even if oil prices take another 2 years to recover from our estimation, the company's present cash that it is holding means that the company will still have to earn no income. All of these things point towards Ensco's impressive financial strength and mean that the company can more than handle a drawn out recovery in oil capex.
And when a capex recovery does occur, Ensco will likely receive a number of new lucrative contracts greatly increasing its earnings. At the same time, the company will increase its dividend providing and see its equity price recover rapidly. In fact, I would not be surprised to see Ensco become a five-bagger (price recovery towards $50 per share) in the event of a major recovery.
Conclusion
Ensco, like all other offshore producers, has had an incredibly difficult time. The company has watched its stock price drop by more than 80% since the start of the oil crash as the capex spent by oil majors on offshore drilling has dropped drastically. However, despite this, Ensco has impressive potential and has taken a number of steps to make its survival of the oil crash nearly certain.
Ensco has decided to dilute equity holders by 25% raising a very respectable $0.6 billion in cash. At the same time, the company has a $2.25 billion revolving credit facility due in 2019 fully available and $1.3 billion in cash and short-term investments. This provides the company with more than its entire market cap ($3 billion in liquidity) allowing the company to easily pay back much of its debt or make a highly accretive acquisition.
As a result of these actions, I expect that Ensco could easily survive the present oil downturn until the mid-2020s or later. Since my calculations show that oil prices should have mostly recovered by 2019, this leaves Ensco with an enormous buffer in the event of a slower recovery. However, despite this buffer, Ensco's equity stands to gain significantly in the event of an oil recovery and is very undervalued as of present. As a result, I recommend interested investors look to the present downturn as an opportunity to invest in Ensco.
Disclosure: I am/we are long ESV, XOM.
I wrote this article myself, and it expresses my own opinions. I am not receiving compensation for it (other than from Seeking Alpha). I have no business relationship with any company whose stock is mentioned in this article.