It's best to view this index as an academic example of the power of the phenomenon of convexity. Triple leveraged ETPs exhibit negative convexity over time. This strategy index seeks to capture this negative convexity through shorting instruments which decay over time.
The results are enormously robust, because sideways movement in the underlying markets results in positive returns for this strategy index.
Investors have been having a horrible time picking stocks, as Bill Ackman so convincingly demonstrates. In addition, traditional discretionary macro traders have found it very hard to generate returns as well.
Culturally, if you tell someone that they're a value investor, they tend to pick stocks. Conversely, if you tell someone that they're a macro trader, they tend to pick market direction.
ZOMMA suggests a new approach. Convexity effects continually create mispricings in the ETP space. Literally, triple leveraged ETPs are consistently overvalued over time. Applying a value-based statistical approach to leveraged ETPs is a way of extending the domain of value investing to new areas.
With that in mind, here are the index's rules:
I. Short SPXU (SPXU) with 50% of the dollar value of the portfolio.
II. Short TMV (TMV) with 50% of the dollar value of the portfolio.
III. Rebalance weekly to maintain the 50%/50% dollar value weighting between the two instruments.
Here are the results in a log scale: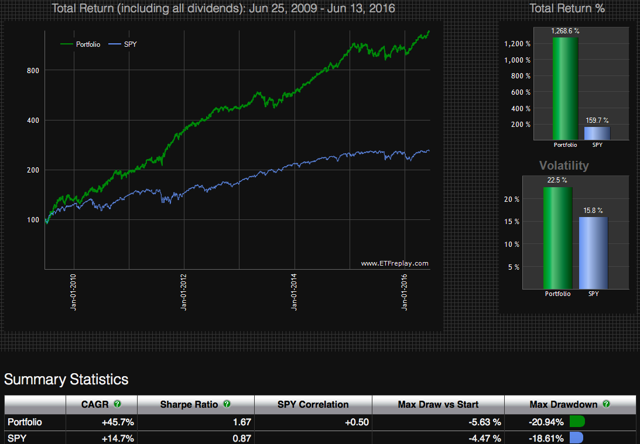 Because this strategy index uses potentially explosive instruments with almost unlimited tail-risk, this strategy index is far from my favorite. But the index has performed, because convexity is a robust phenomenon associated with leveraged ETPs.
HOWEVER, THIS STRATEGY INDEX IS DANGEROUS, BECAUSE MASSIVE MOVES IN STOCKS OR BONDS COULD CREATE ALMOST LIMITLESS DOWNSIDE THAT FAR EXCEEDS THE ORIGINAL INVESTMENT DUE TO THE USE OF SHORTING.
Even though this strategy index has tempting performance, the open-ended tail risk is simply unacceptable.
For enterprising hedge funds which believe they can potentially hedge the tail risk (an intellectual position I would caution against), I would encourage them to consider the use of call options on the VIX index as a method of indirectly hedging tail risk for the SPXU leg of the index. For all others, I would run in the opposite direction, while admiring the power of shorting leveraged inverse ETPs from afar.
AGAIN:DO NOT TRY THIS AT HOME. POTENTIAL LOSSES COULD BE ALMOST LIMITLESS.
Thanks for reading. We feature far more impressive strategy indices in our subscription service that don't use shorting. If this post was useful to you, consider giving it a try.
Hypothetical performance results have many inherent limitations, some of which are described below. No representation is being made that any account will or is likely to achieve profits or losses similar to those shown; in fact, there are frequently sharp differences between hypothetical performance results and the actual results subsequently achieved by any particular trading program. One of the limitations of hypothetical performance results is that they are generally prepared with the benefit of hindsight. In addition, hypothetical trading does not involve financial risk, and no hypothetical trading record can completely account for the impact of financial risk of actual trading. For example, the ability to withstand losses or to adhere to a particular trading program in spite of trading losses are material points which can also adversely affect actual trading results. There are numerous other factors related to the markets in general or to the implementation of any specific trading program which cannot be fully accounted for in the preparation of hypothetical performance results and all which can adversely affect trading results.
Disclosure: I/we have no positions in any stocks mentioned, and no plans to initiate any positions within the next 72 hours.
I wrote this article myself, and it expresses my own opinions. I am not receiving compensation for it (other than from Seeking Alpha). I have no business relationship with any company whose stock is mentioned in this article.