Cloud communications startup Twilio, which filed its S-1 initial public offering May 26, has today, three weeks later, filed an amended S-1 which updated the filing to include a $12 to $14 per share price range suggesting an enterprise value range (market cap less cash as Twilio has no debt) of ~$900M to $1.1B.
I've previously covered Twilio's S-1 highlights here and provided initial share price estimates 12 days ago supporting a $16 to $18 offering price. In that article I also noted Twilio may take a conservative offer price range to ensure demand amid a weak IPO market -- which they've clearly done. There are at least 4 reasons this current offer range is extremely conservative for Twilio (i.e. a ludicrous bargain).
1. Range suggests NO valuation premium is baked into offer price
Public markets reward growth companies with premium valuation. One way to illustrate this premium and Twilio's pricing conservatism is to line up the universe of SaaS / On-Demand companies by trailing twelve month (TTM) revenue growth and plot each one's current enterprise value multiple of trailing twelve month revenue.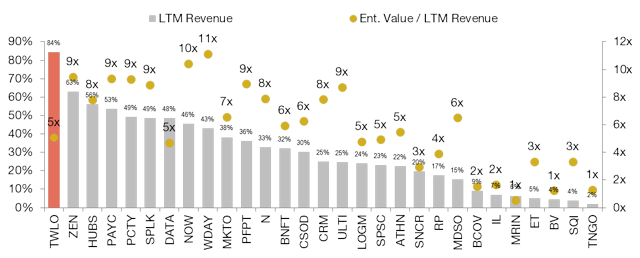 Per the above chart, Twilio's offer range midpoint ($13/share) suggests a TTM revenue multiple of ~5x (the bubble) despite unparalleled revenue growth of 84% year over year, representing a valuation multiple in line with the lowest peer valuation multipleamong "high growth" comparables (those above 20% year-over-year growth). Twilio's offer range prices them like Tableau (NYSE:DATA), LogMeIn (NASDAQ:LOGM), SPS Commerce (NASDAQ:SPSC), and AthenaHealth (NASDAQ:ATHN). If Twilio were to trade at 8-10x TTM in line with other high-growth peers, share prices should trade up to $19 to $21, representing a 45-60%+ premium to offering midrange.
2. Filing amendment discloses that 15% of the 10 million shares are already spoken for by existing investors.
T. Rowe Price led Twilio's $130 million July 2015 Series E round (the Pre-IPO round). Pre-IPO rounds help companies socialize their story with key institutional investors likely to be public market investors who may be interested in paying to play before an IPO (which in theory can provide valuation arbitrage opportunity but also helps ensure allotment of IPO shares for investors).
In the amendment, (and disclosed in 7 different places in the amendment), Twilio disclosed that 1,500,000 shares or 15% of the stated offering size of 10,000,000 have been spoken for by "entities advised by T. Rowe Price Associates, Inc., certain of which are existing holders of shares of our capital stock".
With all IPO proceeds going to the balance sheet and such a large participation by existing investors, the stage is likely being set to maintain a conservatively "priced" offering that should see a great post-offering share price jump once trading begins.
3. Midpoint of IPO offering range ($13/share) represents 15% step-up to the July 2015 Series E Round share price of $11.30
Even at the conservative $13 / share midpoint range in the amendment filing, Series E shareholders will have achieved a 15% increase in share value in one year ($11.30 / share investment cost basis). Again, given the IPO is all primary shares (no selling shareholders), the gains to Series E shareholders will be well above 15%.
4. Twilio's IPO "Negatives" are more than offset by significant upside opportunity
Twilio has multiple "negative" investment considerations including:
Two class share structure (Class A vs Class B) - Class A, being offered, has 1/10 the voting power of Class B (10 votes per share vs 1 vote for Class A) - means that 99% of voting power held by 66% of Class B shareholder units (got to believe Bessemer Venture Partners, Union Square Ventures, and Management won't fly off the deep end)
WhatsApp concentration - 15-17% of revenue without a long-term contract comes from the Facebook-owned messaging app, which verifies new and existing customers using Twilio's programmable voice and message products
Amazon / Competitors - Twilio has a low gross profit margin given it outsources all cloud infrastructure to Amazon Web Services (AWS) - Twilio is currently the best toolkit for voice integration for developer's, however reliance on third party providers like Amazon and telephone leave it vulnerable for price undercutting for a vertically integrated provider
Upside considerations:
Clearly scaling to profitability with core voice programming messaging business (Twilio will likely achieve profitability in the next 18-24 months and not be dependent on the whims of current market conditions to raise capital)
New offerings that accelerate growth (addition of Facebook Messenger to its API offering, unified notification API, programmable SIM cards, an add-on marketplace, two-factor authentication capabilities, MMS messaging features, programmable video launched 2015, etc.)
International growth - minimal investment to date
Its clear that Twilio is conservatively setting the stage for strong after-market trading performance post IPO. I'll be eagerly awaiting the next developments along Twilio's path to IPO.
Disclosure: I/we have no positions in any stocks mentioned, and no plans to initiate any positions within the next 72 hours.
I wrote this article myself, and it expresses my own opinions. I am not receiving compensation for it (other than from Seeking Alpha). I have no business relationship with any company whose stock is mentioned in this article.