An update on Fifth Street Finance Corp
I last wrote about Fifth Street Finance Corporation (FSC) last fall here, when the stock was surging from the news that RiverNorth Capital Management, an activist investor, had taken a 6% stake in the company.
At the time of writing I assumed that other investors were as optimistic as I was that RiverNorth would help drive meaningful changes to FSC. I was anxiously awaiting the arrival of new directors, significantly reduced management fees, and potentially even the removal of Fifth Street Asset Management (FSAM) as asset manager.
Fast forward now into 2016 and the year seemed to be starting out well with the implementation of a modest .25% reduction in the management fee which was effective January 1, 2016. Sadly that's where the good news stopped. In February RiverNorth settled and left with a gain by selling its shares to Fifth Street Asset Management and Len Tannenbaum.
FSC shareholders did not reap any of the benefits that I had hoped for, receiving only the promise that the Company would repurchase an additional $50 million in stock. With FSAM and Tannenbaum now holding just under 15% of the company, management appears to be more firmly entrenched than ever. Additionally, with the activist investor no longer in play, I took my lumps and sold my shares when I rebalanced my portfolio back in March at a price of $5.07. You can read about my portfolio here.
As would be expected, with the activist investor removed from the equation and continued financial underperformance, FSC stock has resumed its downward spiral, and as of the time of writing again trades sub-$5 per share, well off the highs seen last fall when RiverNorth was involved.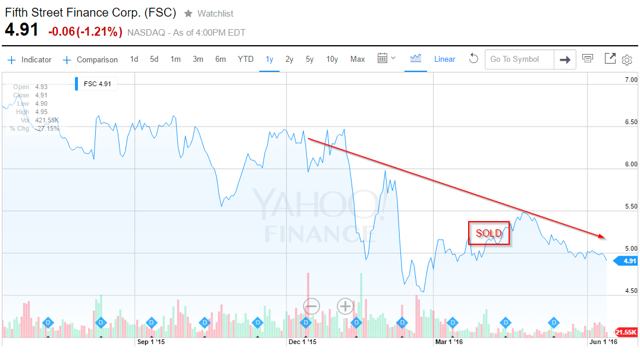 Source: Yahoo Finance, June 13, 2016
Reviewing the conference call and Q2 earnings
Management described the quarter as being the weakest quarter in six years which it characterized as having muted origination volumes. This seems to be an adequate depiction of the quarter, one in which it was more of the same. Income has continued its quarter over quarter and year over year descent.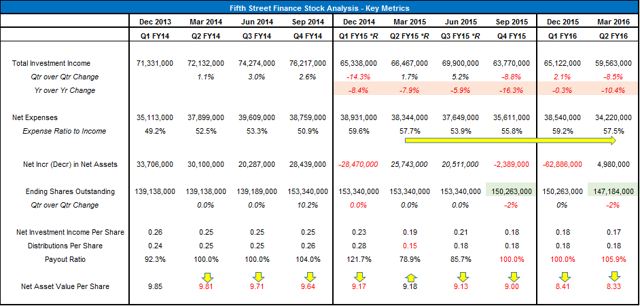 Source: Data obtained from FSC's SEC Filings
For me personally, ever since the slashing of the distribution back in Q2 2015, I have been waiting to see some measure of stability in FSC's investment income and NAV. This stability has yet to happen; however, as through the first half of the fiscal year both income and NAV have continued to fall, even in light of the recent share buybacks.
I would point your attention to the fact that Q1 net investment income actually failed to cover the distribution for the first time since the distribution was cut about a year earlier. Any degree of safety that was present has quickly gone away, and one wonders if the cuts were deep enough.
As it relates to this failure to cover, management was quick to point out that net investment income would have covered the distribution had it not been for professional fees. Do you remember that reduction in base management fees that was going to be accretive to shareholders? In the current quarter any savings in this area were more than erased by the professional fees that FSAM charged across.

Source: FSC 10-Q Filing, comparing March 31, 2016 and March 31, 2015
As it relates to professional fees, Todd Owens, CEO stated that:
Going forward, we anticipate that our professional expenses will decrease, although such expenses could remain at elevated levels due to the pending litigation.
Management did note that professional fees also included costs related to the company's annual meeting, but did not indicate how much of the total this piece was. I would assume the bulk of the charges were related to legal fees, and as the litigation is on-going, there is no guarantee that the company will see these come down anytime soon.
Thinking back on the commitment to $50 million of buybacks that FSC mentioned in its press release, Todd noted on the conference call that:
Since the end of the March quarter, we have purchased - we have repurchased an additional $10 million of common stock, bringing the total repurchase this calendar year to $25 million. These repurchases combined with the $20 million of repurchases in the fourth fiscal quarter last year, represent north of 5% of our public float at today's prices.
So at $25 million of stock repurchased they are at half of the amount that was promised to shareholders earlier this year. When pressed by an analyst on whether there is room for buybacks beyond what was done subsequent to the quarter-end, Todd responded that:
Yes, look I think there is room for additional repurchases as and when we decided to pursue that with our Board. But as we get nearer the top end of our range, it does reduce somewhat our flexibility there…
My takeaway from this is not to expect any more meaningful buybacks as management is using the debt-to-equity ratio, reported at .77, which they consider to be hovering near the top end of their .6 to .8 range, to restrict their ability to reduce equity any further. It seems that the $50 million of buybacks will really be closer to $25 million.
Summary
The first two quarters of 2016 have been more of the same, characterized by declining revenues and NAV while fees held steady. Any measurable fee relief has yet to materialize as while management charged less in base fees, they more than made up for it by passing on significantly higher professional fees. In total there was not much relief and year-over-year expenses as a percentage of investment income were flat.
Given management's tone during the conference call it would seem that they are anticipating a better quarter, but given their track record I will believe it when I see it. For me personally I'm done with FSC for the time being. I took my lumps and moved on. I will continue to monitor this one from the sidelines. I would rather pay $6 or $7 per share for a FSC that has begun to turn around than $5 per share for a FSC that has shown no stability and only continued quarter after quarter of declines.
If you were enticed to purchase FSC for its low valuation, outsized yield and potential for capital returns (it's trading at a 40% discount to NAV), be aware of the risks and management's thus far unproven track record.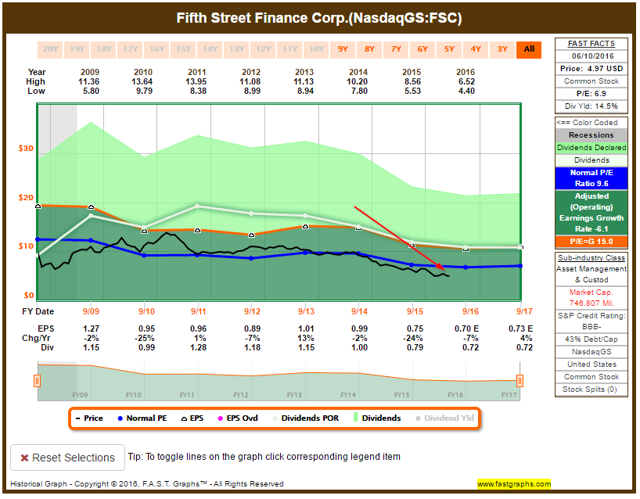 Source: F.A.S.T.graphs.net, June 13, 2016
The catalysts for an accelerated turn-around, including both activist investing and buybacks now appear to be off the table. Further, the high payout ratio has me a bit concerned that should the portfolio continue to degrade, that the distribution could be in danger of another cut. Lets see if management can get their act together in Q3.
Disclosure: I/we have no positions in any stocks mentioned, and no plans to initiate any positions within the next 72 hours.
I wrote this article myself, and it expresses my own opinions. I am not receiving compensation for it (other than from Seeking Alpha). I have no business relationship with any company whose stock is mentioned in this article.